Update #7  Sunday, February 15, 3:30 pm: 
Warmer air will surge in earlier than expected, meaning that only rain will fall in the Atlanta metro on Monday.  Late in the day and overnight, the rain may change to freezing rain and/or sleet, especially east of a Cedartown to Douglasville to Conyers to Athens line (the climatological cold-air damming region).  North of Atlanta, significant icing is possible.  As the storm system moves across the state late Monday night, much colder air will filter in, with temperatures Tuesday morning falling into the upper 20s.  I will update with future data, as necessary.  As of Sunday afternoon, the following advisories will go into effect:

A Winter Weather Advisory will be issued by the National Weather Service for the north metro, including Haralson, Cobb, Paulding, North Fulton, Gwinnett, Dekalb northward.  A Winter Storm Warning will be issued for the mountains.

I will continue to monitor all future data as this storm evolves (currently developing over Texas).  I will post updates if there are any changes to my current thinking.  I expect rain during the day Monday, then changing to freezing rain late, especially east of a Cedartown to Douglasville to Conyers to Athens line.

---
Update #6  Saturday, February 14, 4:00 pm:  Winter Storm Watch Now in Effect
A Winter Storm Watch has been issued for the northern 1/3 of Georgia, including the entire Atlanta metro. All areas shaded in blue are under a Winter Storm Watch.  Bookmark this page and check back for further updates.  I am still going through new data, but there are no changes to the forecasts that I have posted for the past couple of days.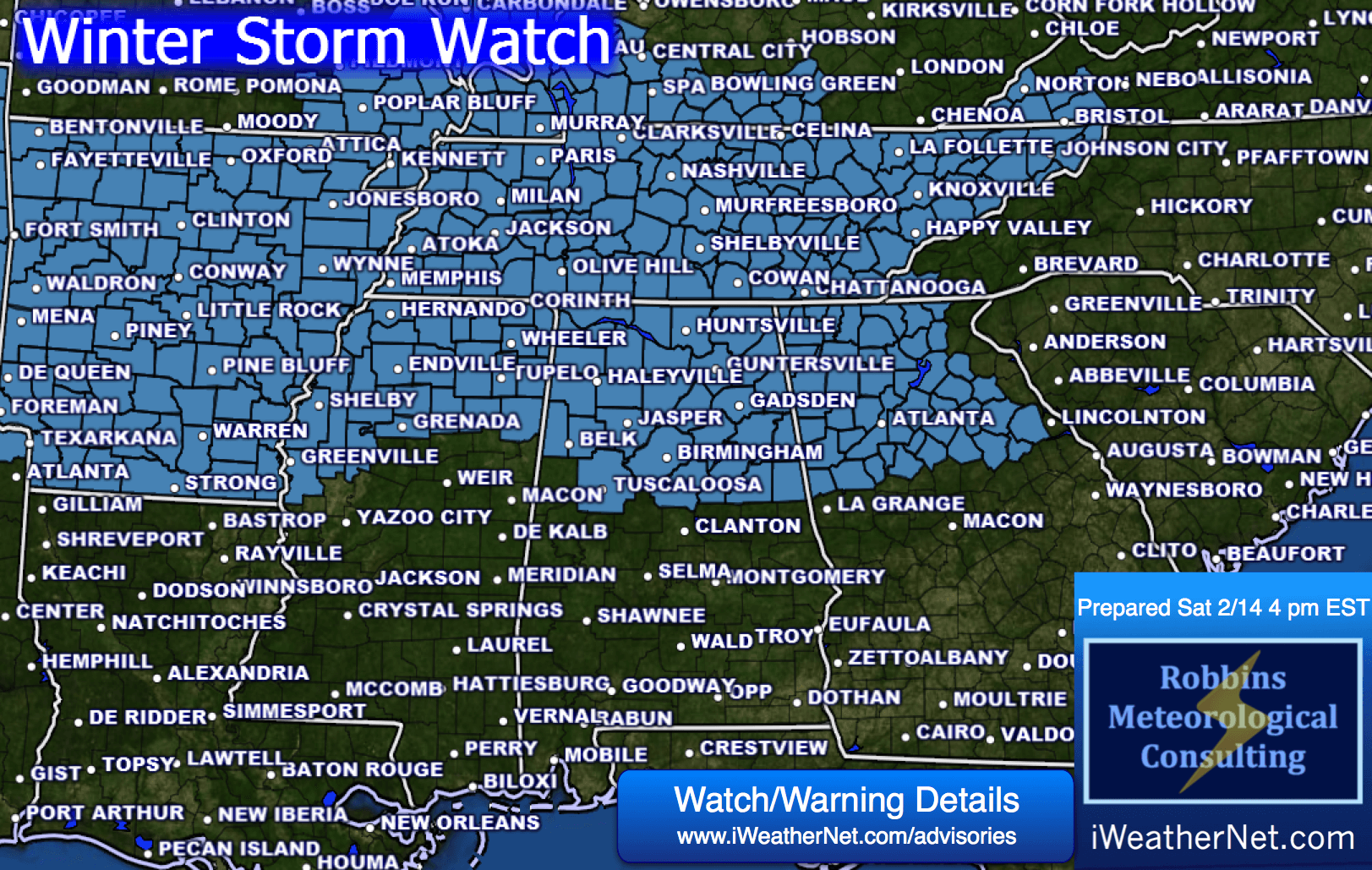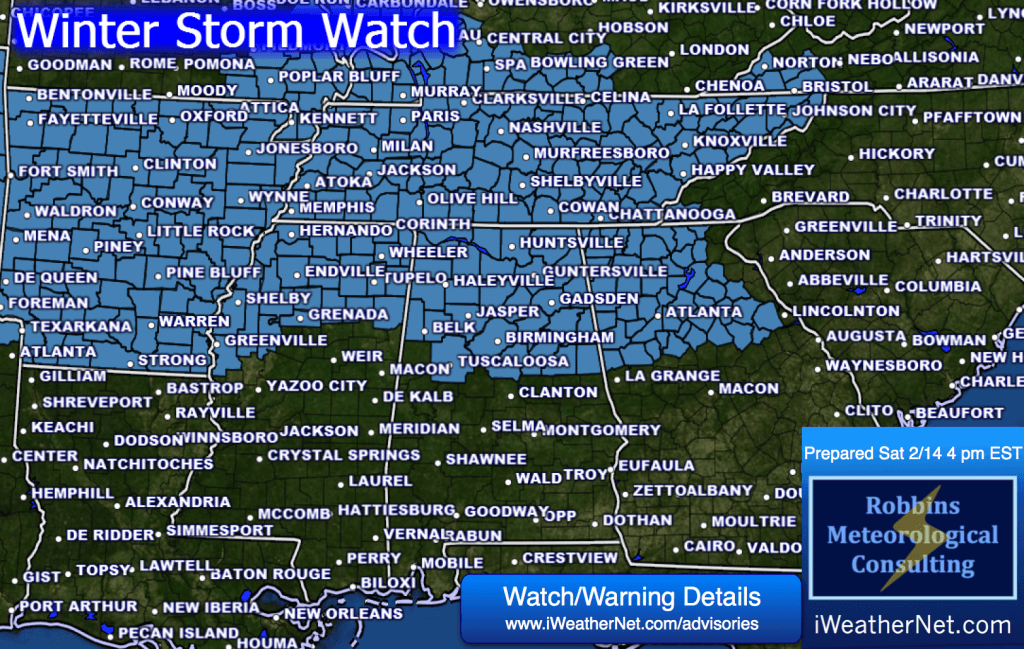 Update #5  Saturday, February 14, 10:30 am: 
My forecasts have been consistent for a couple of days now, and I still fear that this evolving storm system will be a rain/freezing rain mess, especially for Atlanta northward into the mountains.  It's time to tackle some specifics:
Very thorough analyses of all model-simulated thermodynamic profiles continue to reveal a very pronounced warm layer aloft on Monday (see Update #4 below).  This means freezing rain, possibly beginning as sleet at the onset.
If you are hearing a lot of chatter about snow, it would behoove you to think more about the impacts of freezing rain (especially north of Atlanta).  There will be NO SNOW in Atlanta.
This could be a problematic ice storm for parts of the area, especially areas northeast of a line from Cedartown to Atlanta to Athens. This is the area where subfreezing temperatures will persist the longest (the climatological cold-air damming region).
The precipitation will begin Monday morning, with temperatures in the upper 20s, then rising.
I believe the freezing rain will change to RAIN Monday night (especially in the western counties), as warmer air at the surface moves from southwest to northeast across the area (i.e., temperatures will RISE Monday night).
This is an extremely complex storm system. Winter Storm Watches will likely be needed within the next 24 hours or so, so stay tuned. /Chris Robbins
---
Update #4 Friday, February 13, 11:15 pm:  This is one of the data fields that I use to predict winter precipitation. This shows the vertical thermodynamic profile at any given place/time (in this case, Atlanta, Monday afternoon/night). The warm layer in this profile has appeared in all of the data that I've examined for the past few days. It starts off very shallow Monday morning, at which time the precipitation may begin as a sleet/snow mixture (although I can't rule out freezing rain at onset). However, as the warm layer intensifies and deepens, it will result in a changeover to all rain/freezing rain. Where freezing rain falls will be a function of the surface temperature, which I will monitor very closely. This is why I have been discussing sleet/freezing rain in my posts. It's quite possible that parts of the area could see an ice storm. On Tuesday, the warm layer appears to erode, and there may be a changeover to snow before ending. I will continue to monitor the data and post updates as this very complex and convoluted storm system evolves.


Update #3 Friday, February 13, 5:15 pm:   No changes to the forecasts that I have been posting this week or from yesterday's update.  I still expect oddly mild temperatures on Saturday (compared to the surrounding days) with temperatures in the mid to upper 50s, followed by an Arctic front Saturday night.  A couple of disturbances moving through the Southeast on Monday/Tuesday will bring winter precipitation.  A very careful analyses of the vertical thermodynamic profile throughout the period (Monday through Tuesday) reveals that this will not be a clear-cut case of snow vs. rain like we typically see in the Southeast. Rather, periodic intervening warm layers in the mid-levels of atmosphere will cause the precipitation to fall in various forms.
The precipitation may begin as sleet/snow Monday morning, then change to rain/freezing rain during the day (and through Monday night) as the warm layer aloft intensifies and deepens.  The warm layer aloft appears to erode on Tuesday, which may result in a changeover to snow, before ending.  This is a very complex exercise in atmospheric thermodynamics, and predicting the evolution and movement of each perturbation throughout the life cycle of a dynamic storm system is extremely complicated.
I will continue to update with future data.  Meanwhile, this is a good time to review the various winter storm alert types and their criteria.  Winter Storm Watches or Advisories could be issued at some point this weekend.  After the kerfuffle last year regarding the difference between a "watch" and an "advisory", I want everyone to be prepared.
---
Update #2 Thursday, February 12, 2:30 pm:  I have growing concerns about a potential winter weather event for Monday and Monday night.  Stay tuned as I continue to analyze all atmospheric data.  This is a very complicated pattern/storm system, and I will do my best to provide updates as often as possible.
---
Update #1 Thursday, February 12, 2:00 pm:  The cold front is entering the northern Atlanta metro, with temperatures falling rapidly into the 30s north of the front.  The front will clear the metro over the next hour or two, with lows tonight in the teens to around 20º.   This map shows temperatures and the frontal position as of 2 pm: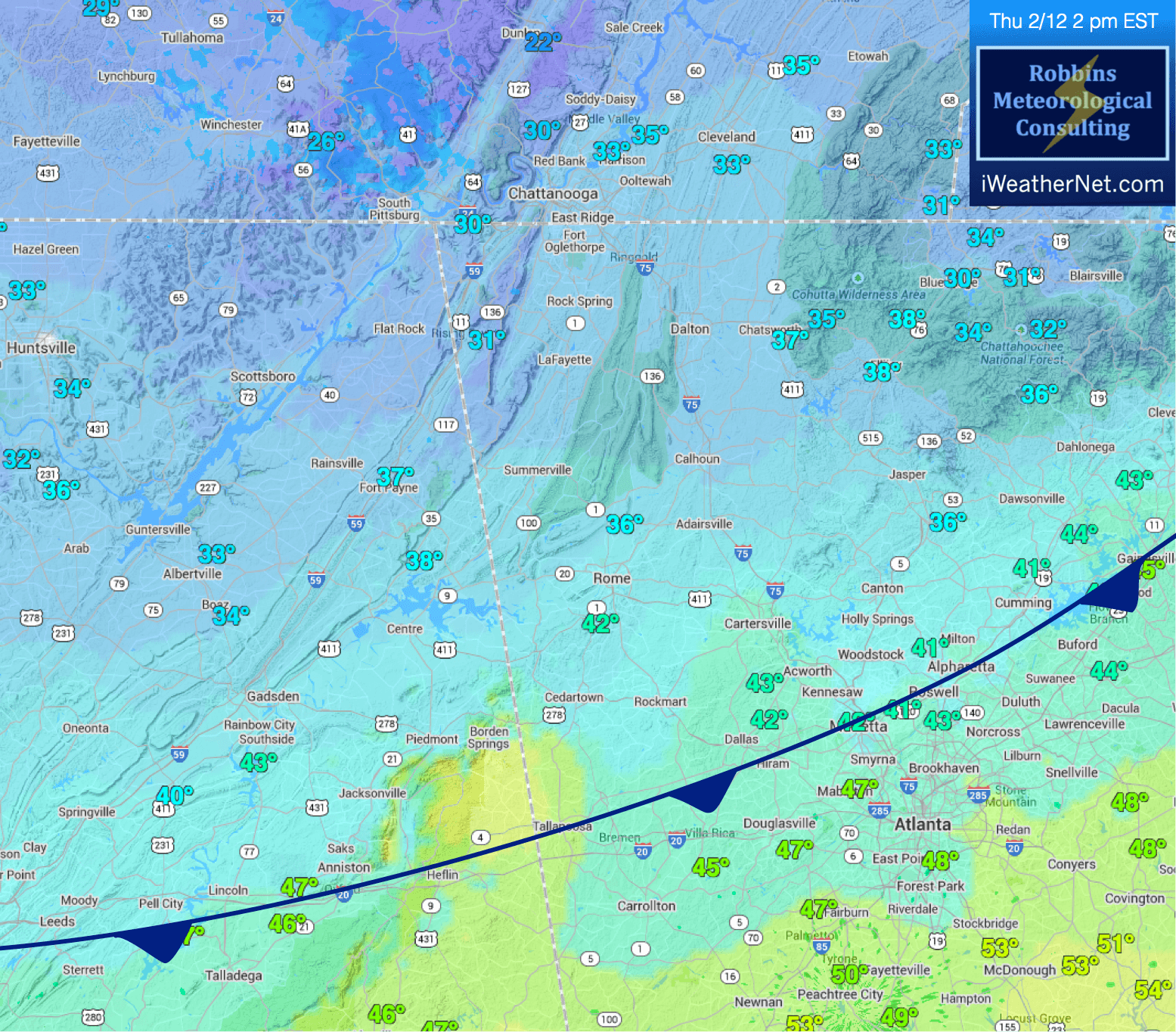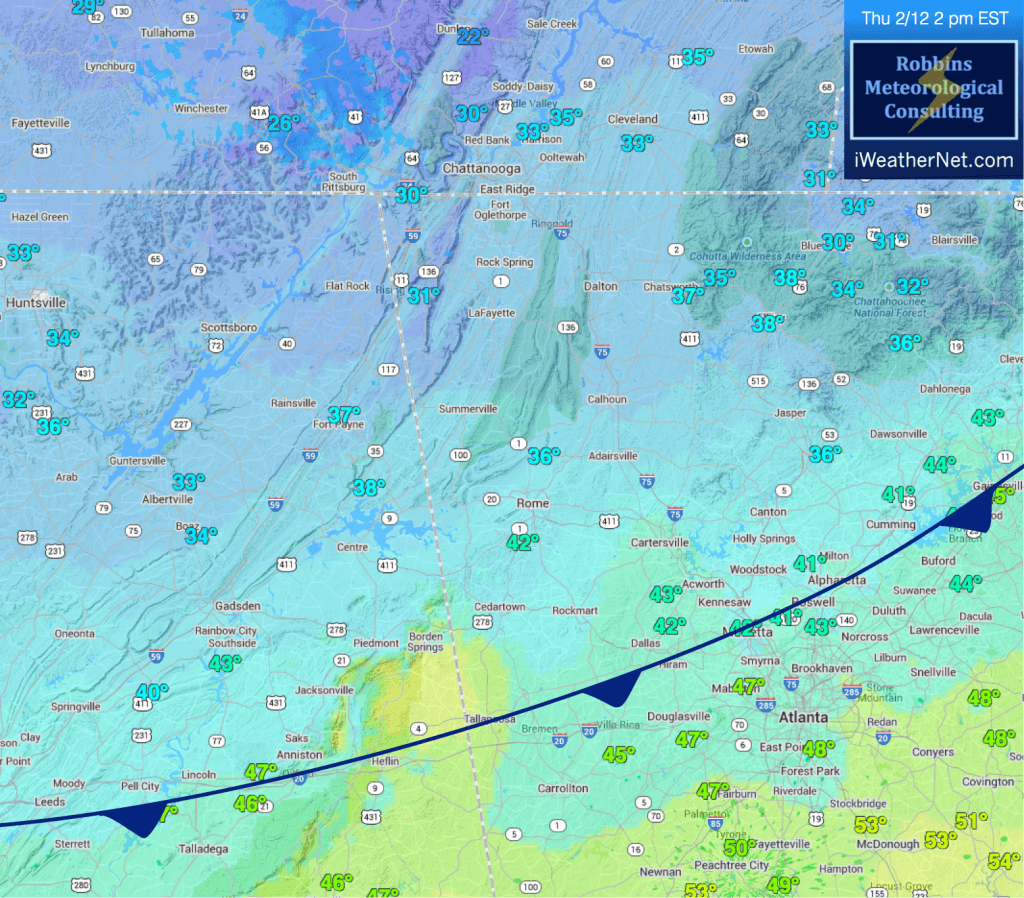 ---
Previous Forecast From 2/10/15 [Updated Monday's Forecast on Thurs 2/12]
Winter is finally showing up.  A strong cold front will move through the Southeast on Thursday, with falling temperatures during the afternoon.  Gusty winds to 30+ mph on Thursday (2/12) will result in wind chills in teens and 20s (during the late afternoon and evening).  A brief warmup on Saturday will be followed by a second front Saturday night.  Temperatures Sunday morning will be in the 20s, with highs Sunday afternoon only in the mid 30s.  On Monday, a storm system developing along the northern Gulf of Mexico will bring increasing clouds, with precipitation developing from the west.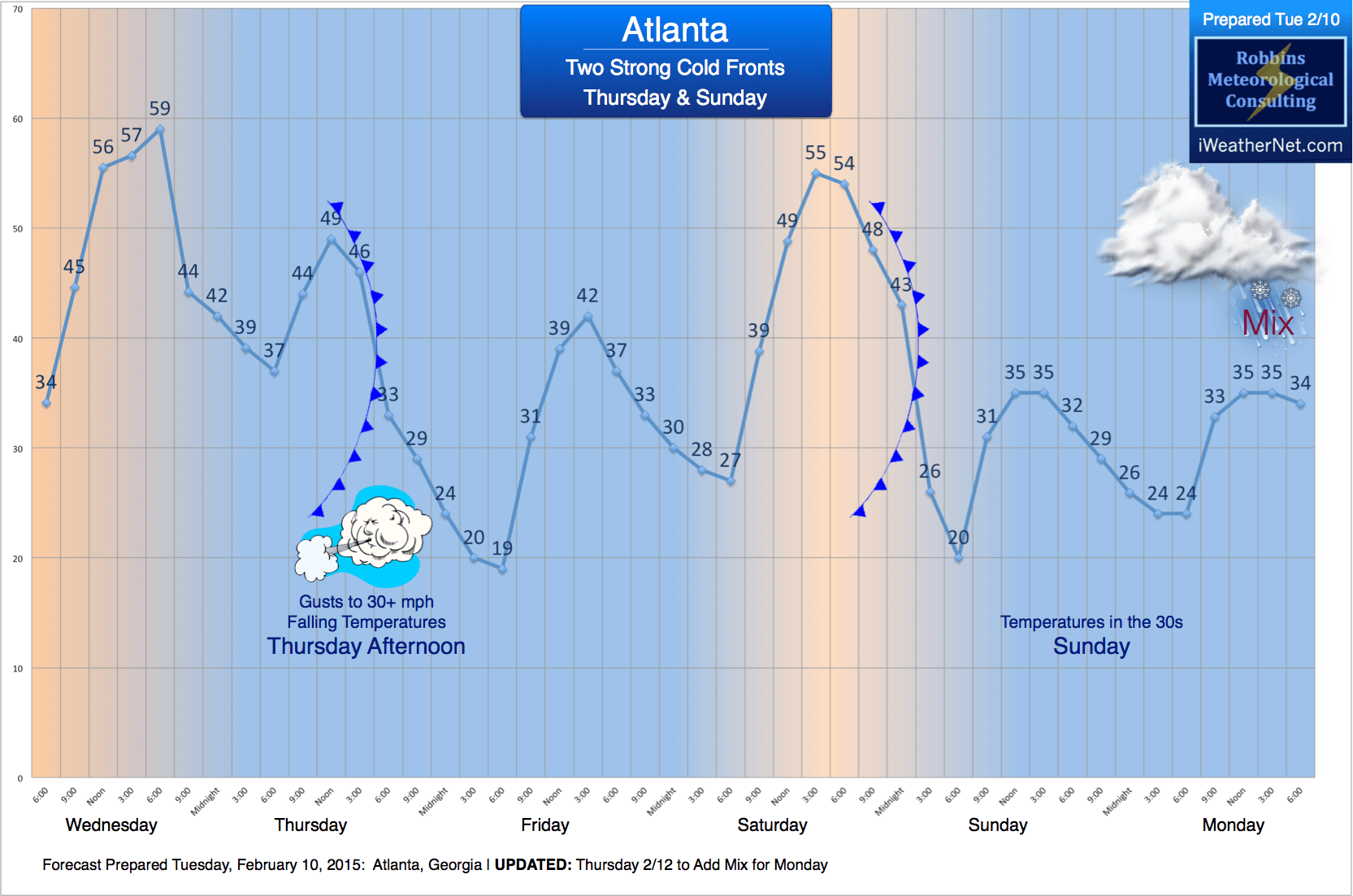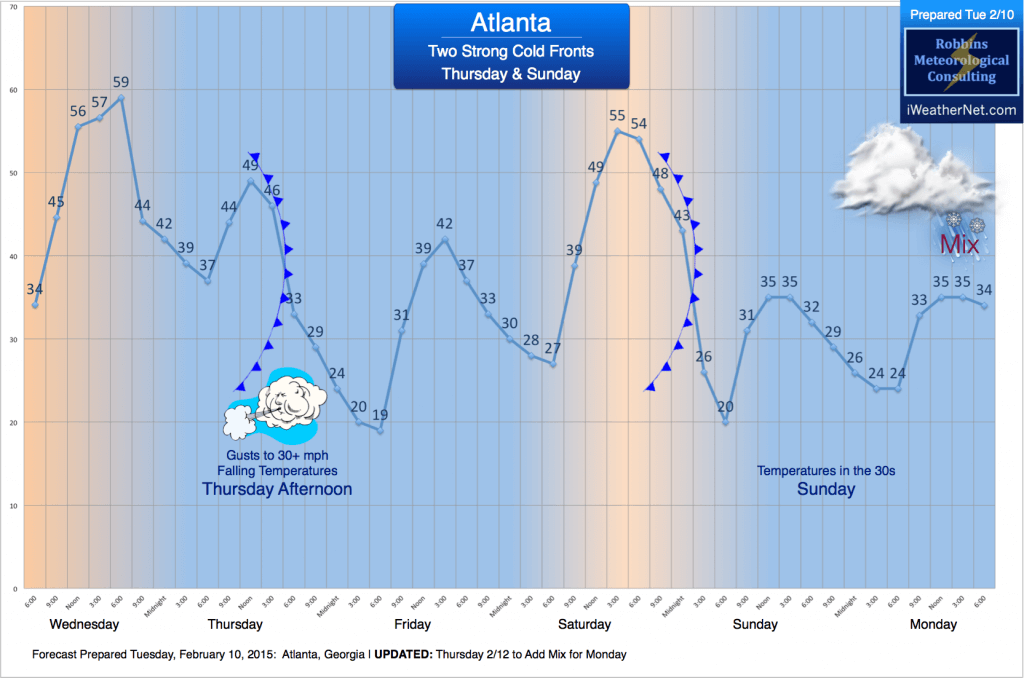 Temperatures for Saturday night/Sunday morning (2/15)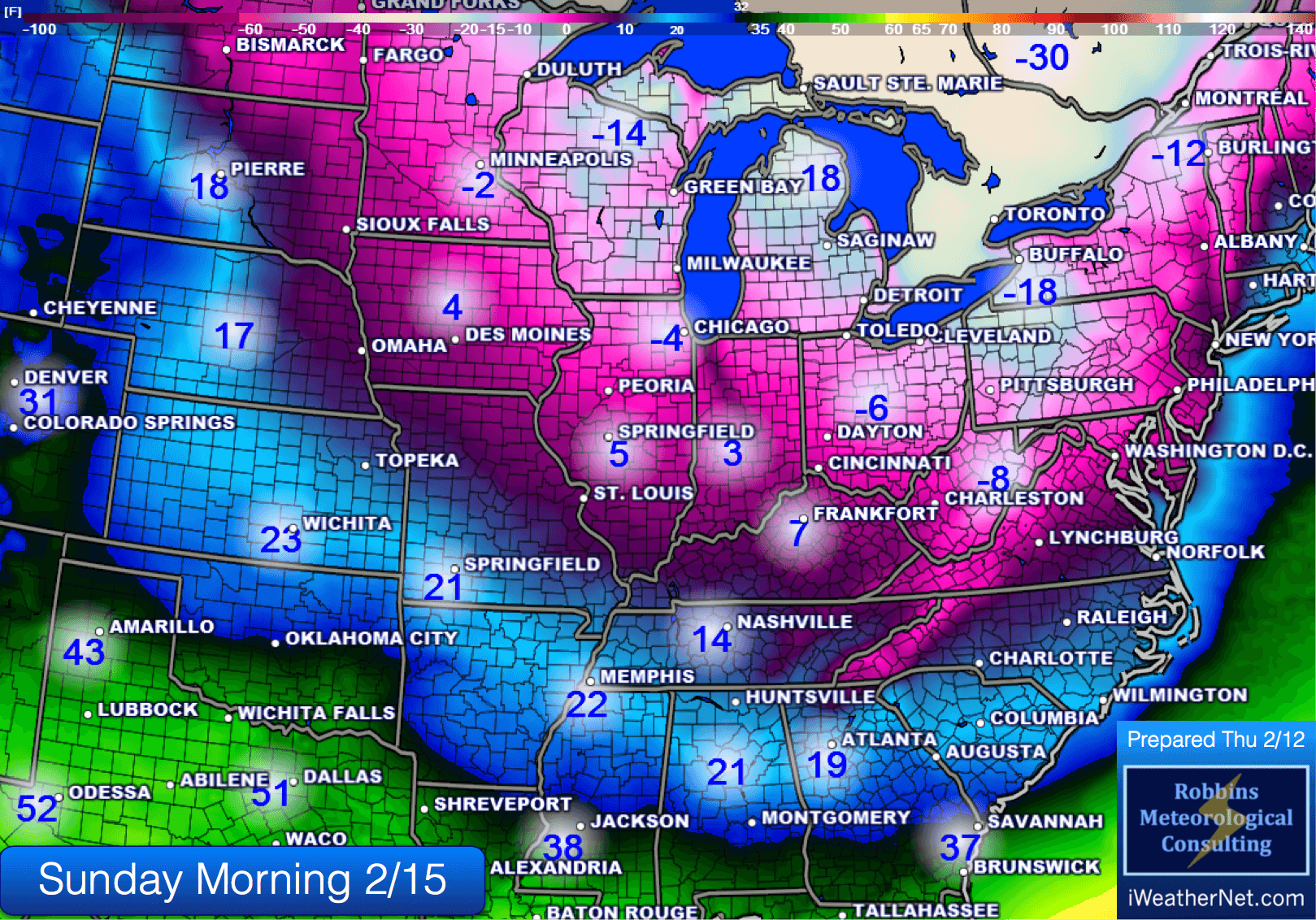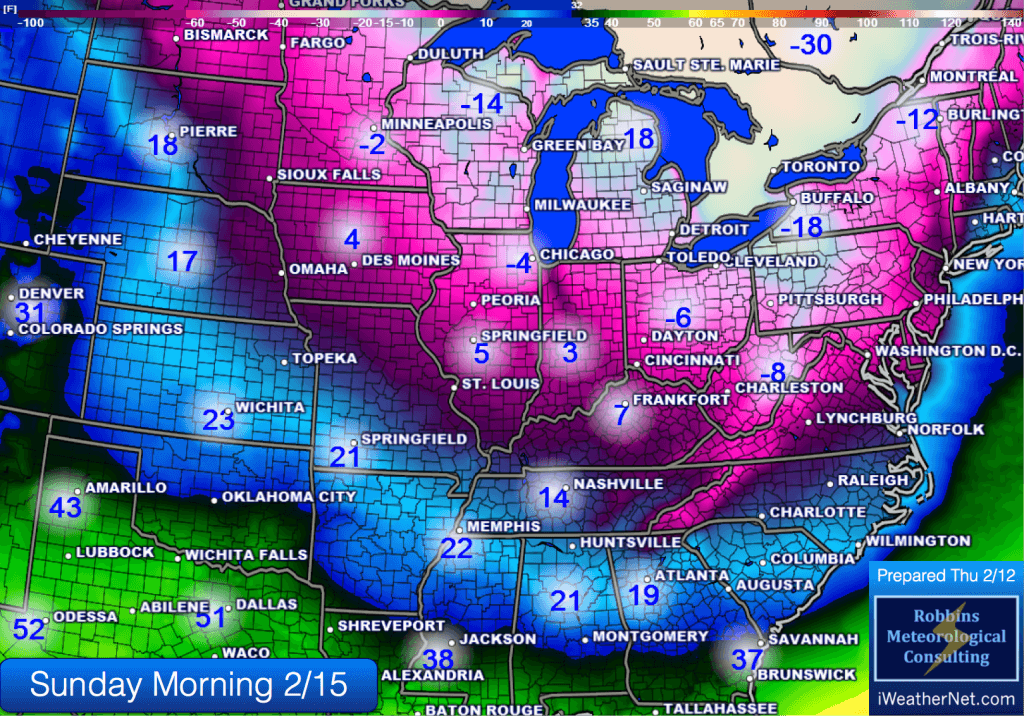 Quick Forecast Summary
Wednesday:  High around 60º
Thursday:  Temperatures falling into the 30s in the afternoon. Winds gusting to 30+ mph.  Lows in the teens to lower 20s.
Friday:  Mostly Cloudy early. Clearing in the afternoon. High in the lower 40s.
Saturday:  High near 60º.  Second cold front Saturday night. Low around 20º
Sunday:   High around 35º
Monday*:  Increasing clouds. Precipitation developing. High around 35º.
*Temperatures Monday will be highly dependent on precipitation, precipitation type, and evaporative cooling.
Animation of Model-Simulated Temperatures
This animation reveals the surges of Arctic air into the Deep South from Thursday 2/12 through Thursday 2/19.
Note:  The forecast is subject to change with future data.  I will do my best to provide updates, as necessary.