Extremely warm and dry conditions across southern Georgia and Florida has set the stage for the eruption of wildfires and brushfires. The largest fire, West Mims, was triggered by lightning in early April and has burned over 225 square miles. A extremely high fire danger is likely to continue across these areas, with little hope of relief anytime soon.
West Mims Fire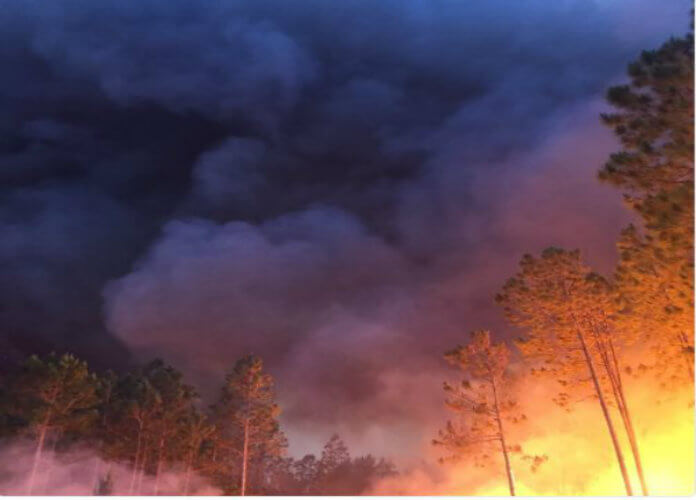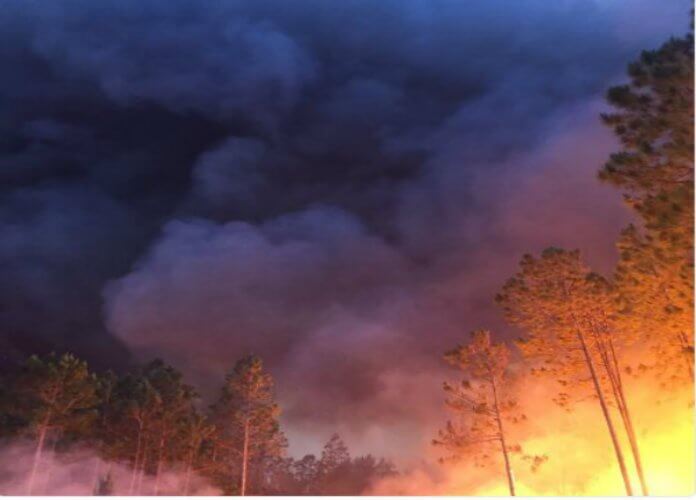 For the past few months, areas from extreme southern Georgia to central Florida have encountered well above average temperatures and below average rainfall. This had led to tinder dry conditions that are conducive to wildfires. In fact, most of this area has seen less that one half of their average rainfall since March 1st.
Shockingly, through May 11th, Orlando, Florida has only recorded 0.25 inches of rain since March 1st. This is compared to an average rainfall of 7.27 inches, according to the National Weather Service in Melbourne, Florida.
On April 6, 2017, a lightning strike triggered a wildfire at the Okefenokee Wildlife Refuge around the Georgia-Florida border. This has been labeled the West Mims Fire by the Georgia Forestry Service. The fire spread rapidly due to the aforementioned hot and dry conditions, in addition to shifting winds.
Through May 11th, the fire had burned nearly 150,000 acres, or 225 square miles. Fortunately, no one had been injured and there has been no structural damage. A mandatory evacuation of southern Charlton County in Georgia was ordered this week, however.
Well over 700 firefighters have been battling the blaze but as of May 12th, the fire had only been 15 percent contained. It could continue burning for months as well. Crews on the ground have been plowing containment lines on the south side of the fire, while air tankers have been pouring millions of gallons of water on the fire.
Smoke from the fire has been impacting multiple counties in southern Georgia and northern Florida. The smoke has been particularly thick around Jacksonville, Florida, where the school system cancelled outdoor extracurricular activities this week. To make matters worse, a record high temperature of 96 degrees Fahrenheit was recorded at Jacksonville International Airport on May 11th.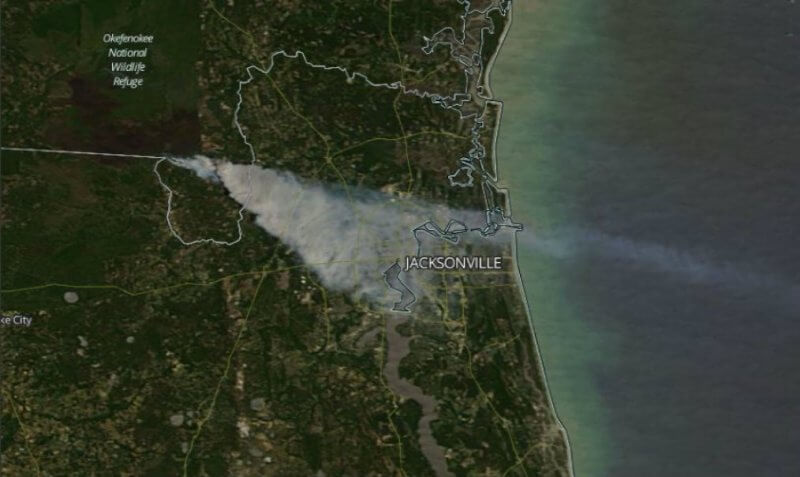 Florida Wildfires
Meanwhile, the number of brushfires across parts of Florida continue to expand at an alarming rate. Once again, hot temperatures, little rainfall, and shifting winds continue to be the culprits.
According to the Florida Forest Service, there are 137 active wildfires across the state that are impacting nearly 30,000 acres as of May 13, 2017. Smoke from these fires are posing a health hazard. Many counties are issuing health warnings and tips on how to deal with the smoke.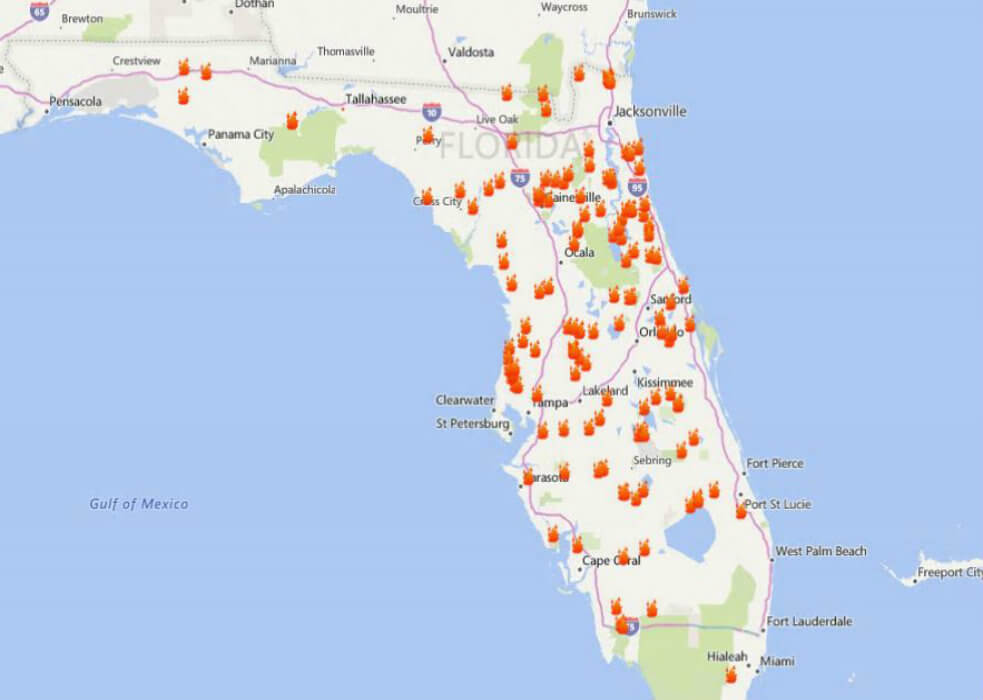 The Florida Department of Health in St. Johns County issued a news release on Thursday, May 11th, to warn residents about the health effects of wildfire smoke as a respiratory irritant. The wildfire smoke can cause throat irritation, coughing, headaches, or irritated eyes and congestion. Smoke can also worsen asthma, and other chronic lung or heart conditions. Dust generated from increased wildfire response activity on dirt roads may also worsen these conditions. Unfortunately, computer weather model guidance indicates that there is very little chance for any significant rainfall in the affected areas in the near future.
Please use caution if you are driving in the affected areas because smoke can severely limit visibility.
Setup for hot and dry conditions
Over the past few months, a persistent ridge of high pressure aloft has prevailed over areas from the Gulf of Mexico and eastward across Florida. This overall pattern has favored above average temperatures and below average rainfall from southern Georgia on southward through much of the Florida Peninsula.
Under a ridge of high pressure, air sinks and warms and that inhibits cloud formation. There has been a steady flow of storm systems riding from west to east across the country but rain from those weather systems have, for the most part, been thwarted to the north of this area.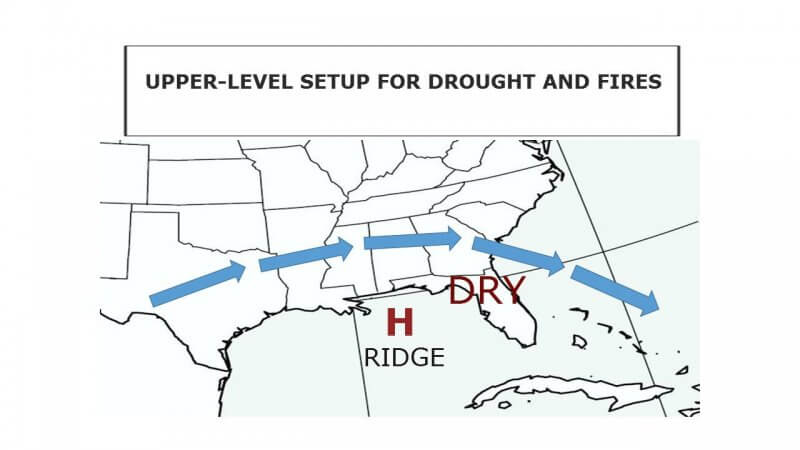 Since there is no indication that this weather pattern will change anytime soon, we will probably see more wildfires, and smoke across these areas. We can only hope that the effects of these conditions on people and property will be kept to a minimum.