Summary & Forecast Verification [Thursday 8/20/15 8 pm]
***Today Among Our Coldest August Days on Record***
A few days ago, I predicted that our strongest cold front in 3 months would move through North Texas (below). The forecast worked out perfectly (and to the contrary of the armchair meteorologists who declared otherwise on the day that I posted the forecast).
Stats:
1) The high today (Thursday 8/20/15) was 75º. This is the 2nd coldest high temperature ever recorded on this date (#1 is 73º in 1927 and the #3 spot is way up at 84º back in 1940).
2) Our high of 75º falls into the top-5 coldest HIGH temperatures ever recorded during the month of August in D/FW.
The Top 5 "Coldest" August Temperatures on Record:
#1: 71º
#2: 72º
#3: 73º (3 times)
#4: 74º (6 times)
#5: 75º (8 times, plus today makes 9)
3) If you count July with August, today's temperature ranks as #22 among the coldest high temperatures on any day in July/August at D/FW since records began (total number of July/August days in the dataset: 7,066). This means our high temperature today, ranking #22 out of 7066, is below the 0.35 percentile for all temperatures in the historical dataset (in other words, 99.65% of the 7,066 temperatures were warmer).
4) Finally, today was our coldest day in over 3 months… the last time our high temperature was below 76º was on May 12 (72º).
---
Original Forecast Discussion
As of 3:20 pm CDT, temperatures across the Northern Plains were in the 50s behind an unseasonably strong cold front for August.  This cold front will move through North Texas on Wednesday with falling temperatures.  As it looks right now, temperatures will peak during the morning, then fall into the 70s and 80s during the afternoon.
Showers and a few thunderstorms should develop behind the front Wednesday evening/night.  Check out the temperature animation below — it's impressive, or skip to the forecast summary.
Temperatures/Winds as of 3:19 pm 8/18/15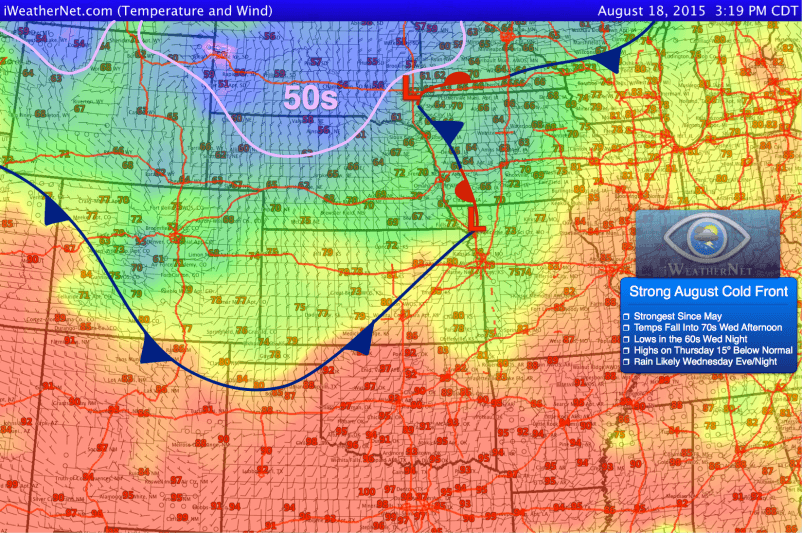 Model-Simulated Temperatures/Cold Front on Wednesday 8/19/15
Forecast Summary: Cool Down Will Be Brief
I expect a warming trend into the weekend, with temperatures warming back into the 90s.  Here is a summary of forecast expectations for the next few days:
[table "12" not found /]