Update #4 [Sunday January 15 at 1 pm EST] – Tom Moore
The multi-day ice storm continues in the nation's heartland. So far, the greatest amount of ice, reported by the NWS from this storm (.50″-1.00″), has occurred from parts of northern Oklahoma to southern Kansas and into southwest Missouri.
Dangerous conditions continue Sunday from much of Kansas into western Missouri as freezing rain continues.
Temperatures will be edging above freezing soon from eastern Kansas to western Missouri so any precipitation will fall as rain or drizzle (this includes Kansas City where the NFL playoff game was moved to 8:20 pm EST).
Temperatures have already moved above freezing in eastern Missouri (including St. Louis).
The greatest accretions of ice (.25″ to.50″)  will most likely occur from parts of southwest Kansas to northeast Kansas on Sunday.
Freezing rain will move into eastern Nebraska and southern Iowa by late Sunday and Sunday night (including cities like Omaha and Des Moines).
Freezing rain will likely change to sleet across parts of western Nebraska and western Kansas Monday.
On Monday, the greatest chance for freezing rain will extend up to southeast Minnesota and into Wisconsin.
A mix of freezing rain and rain will occur across parts of northern Illinois and southwest Michigan on Monday morning, but temperatures will be around 32 degrees.
Roadways will be extremely dangerous in the affected areas stay home if possible. Air travel has also been affected so call ahead if you have air travel plans in these areas.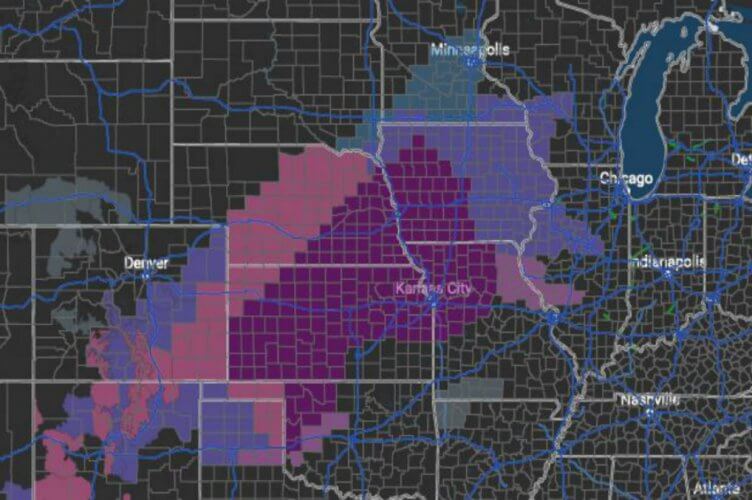 ---
Update #3 [Saturday January 14 at 1 pm EST – Tom Moore
The combination of warm air coming in aloft and an upper disturbance has created freezing rain with thunder over parts of the Oklahoma and Texas Panhandles. This will continue into Saturday afternoon before surface temperatures gradually rise above freezing by Saturday evening.
Temperatures will gradually rise above freezing over much of Oklahoma Saturday so precipitation will become all rain (except for northwest sections of the state).
More significant freezing rain will develop Saturday afternoon and evening over much of Kansas, except for the far northwest and southeast sections of the state.
Freezing rain will also increase over parts of northern and central Missouri by Saturday evening.
Lighter and more sporadic areas of freezing rain are likely Saturday and Saturday night over parts of central, Illinois, north central Indiana, central Ohio and eastward to parts of southern Pennsylvania, western Maryland and northwest Virginia.
The greatest chance for ice accretions greater then .50″ is over parts of Kansas from Saturday afternoon through Sunday afternoon.
The NFL playoff game at Kansas City (Chiefs vs. Steelers) has been moved ahead from 1:05 pm to 8:20 pm to allow time for streets to be cleared.
By Monday, the threat of freezing rain will extend from parts of southern and eastern Nebraska through southern Iowa to parts of northern and central Illinois.
Be very careful and avoid traveling in the affected areas if possible. Air travel will also be affected.
Be prepared for some power outages in the affected areas.
---
Update #2  [Friday January 13 at 10 am EST] – Tom Moore
For the northern Texas Panhandle to western Oklahoma, periods of light freezing rain or drizzle will develop late Friday and Friday night. Even a light glaze can create a sheet of ice on bridges and overpasses.
More substantial  freezing rain is likely to develop Friday afternoon and evening from parts of northern Oklahoma through southeast Kansas to Missouri and southern Illinois.
On Saturday, the freezing rain threat area will expand northward to Kansas and northern Missouri and eastward to parts of southern Indiana and Ohio, and parts of southwest Pennsylvania, northern and eastern West Virginia, western Maryland and northern Virginia.
Areas farther north such as eastern Nebraska, southern Iowa, and parts of northern Illinois and Indiana are likely to see freezing rain on Sunday.
The greatest threat of ice accretions of a half inch or more include parts of northern Oklahoma, southern Kansas and a significant portion of Missouri from this event.
Major disruptions to road and air travel are likely.
Roadways such as I-35, I-40 and I-70 are in the greatest threat area.
Downed trees and power lines are likely to create widespread power outages in the affected areas.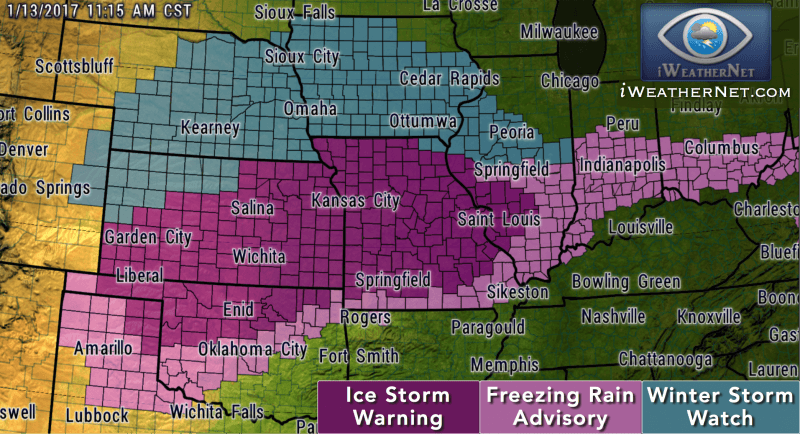 ---
For those traveling over the upcoming holiday weekend, we wanted provide some preliminary information about the potential for freezing rain from extreme northern Oklahoma northward to Nebraska and east into the Midwest. Areas to the south, over Texas and central/southern Oklahoma, heavy rain may put a damper on outdoor plans.
Freezing Rain Potential
Current operational model guidance indicate deepening low pressure over the central U.S. by the weekend, with widespread precipitation.  Further, vertical thermodynamic profiles suggest that freezing rain may occur within the cold sector over the central Plains (i.e., northern Oklahoma to Kansas/Nebraska) beginning on Friday, spreading northeastward into to the Midwest over the weekend. 
Set Up For Widespread Freezing Rain
Atmospheric conditions have to be just right in order for freezing rain to occur. On Friday into Saturday, we have a strong high pressure system that will be moving from the Upper Midwest through the Great Lakes. Cold air will be in place across parts of the Midwest and it will spill southward into parts of the central and southern Plains. The cold air will be shallow; however, and confined to the lowest levels of the atmosphere
In the upper levels of the atmosphere, we have a deep trough of low pressure (dip in the jet stream) and an associated area of low pressure at the surface. Relatively warm and moist air will flow poleward from the Gulf of Mexico, and it will "overrun" the shallow Arctic air near the surface.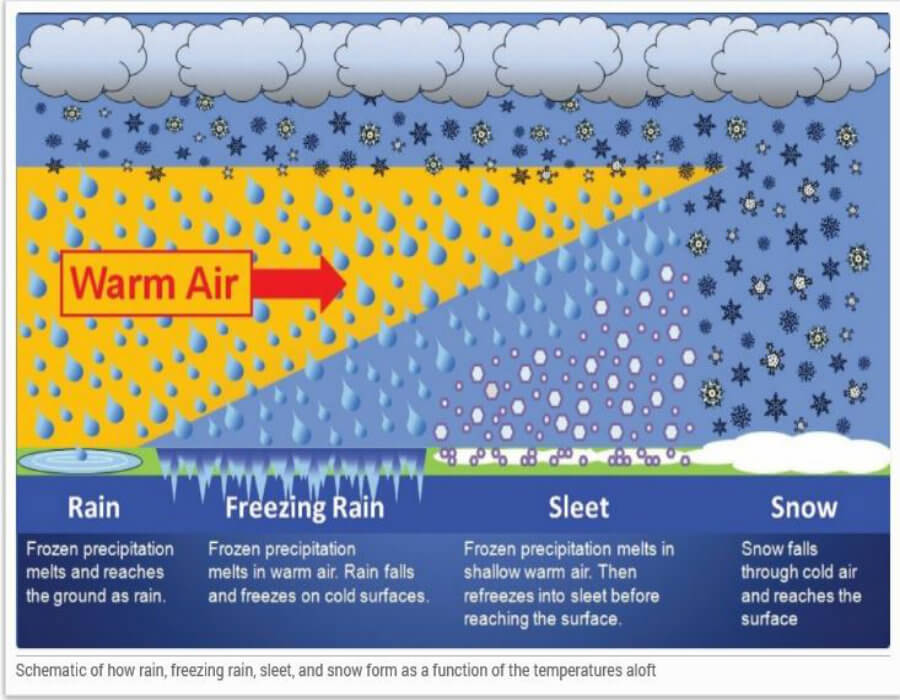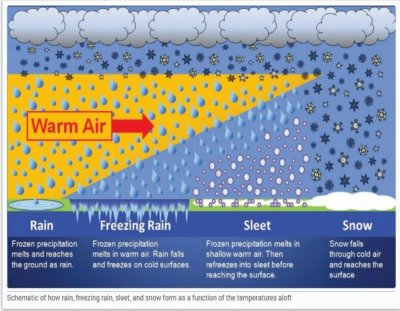 The temperature will be very near freezing (+/- 1°C to 2°C) at the surface, but there will be a substantial layer of above freezing temperatures aloft. The jet stream aloft will aid in enhancing the precipitation as a source for upper air forcing. Rain will fall but when it comes in contact with the surface that is below freezing, it will *immediately freeze. Ice forms on elevated bridges and overpasses more quickly so hazardous driving conditions will be likely to occur. 
Timing And Greatest Area Of Concern
On Friday, we could see areas of freezing rain develop over northern Oklahoma, spreading north and eastward into Kansas and Missouri, and eventually into central and southern Illinois, southern Indiana, and perhaps portions of southwest Ohio.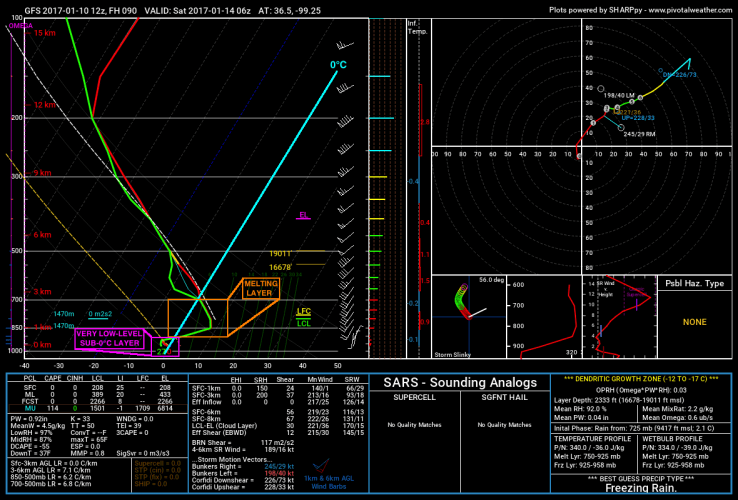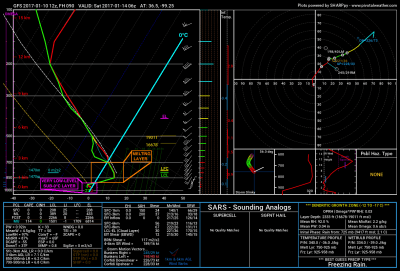 On Saturday, some freezing rain will likely hang on in the Plains. Meanwhile, it will likely spread through parts of Ohio and Indiana and perhaps into parts of northern Virginia.
The ice threat could also extend into Sunday for parts of the Plains and Midwest and perhaps up to the Upper Midwest by Monday.
It's still too early to tell how much freezing rain will fall. The heaviest amounts of freezing rain could be sporadic and freezing rain could be mixed with sleet at times. Needless to say, this situation could cause many headaches for those driving on the roadways and for air travelers.