Saturday, May 21st, was the start of a week long period of severe weather across the Great Plains. From southern Texas to the High Plains in North Dakota, isolated tornadoes, large hail, and severe winds, were forecasted. Perusing model guidance the night before on Friday, May 20th, we had an idea of our target for Saturday: Western Kansas. We were treated to some spectacular and classic supercell structure near Leoti (pronounced Lee-OH-tuh), Kansas.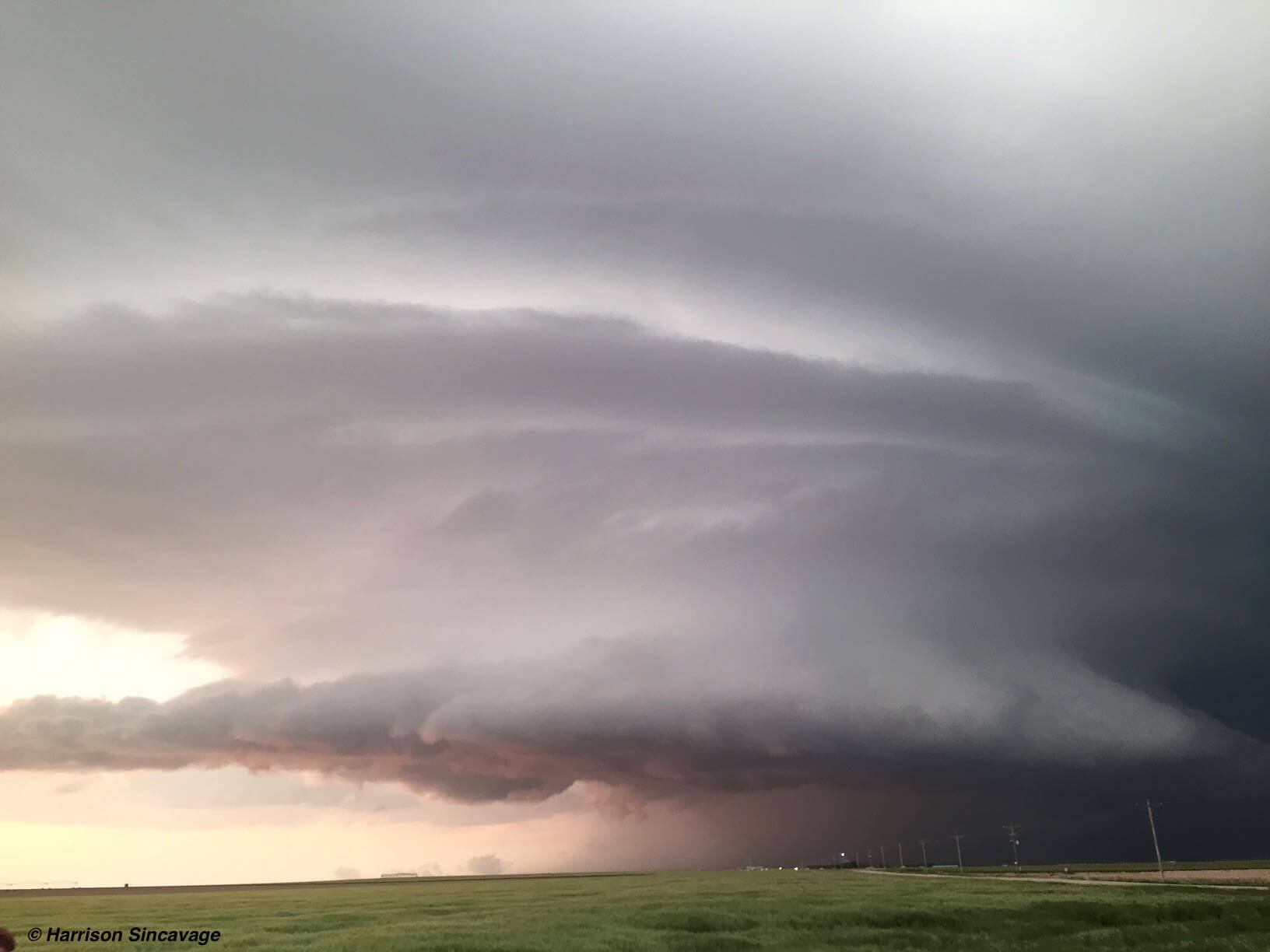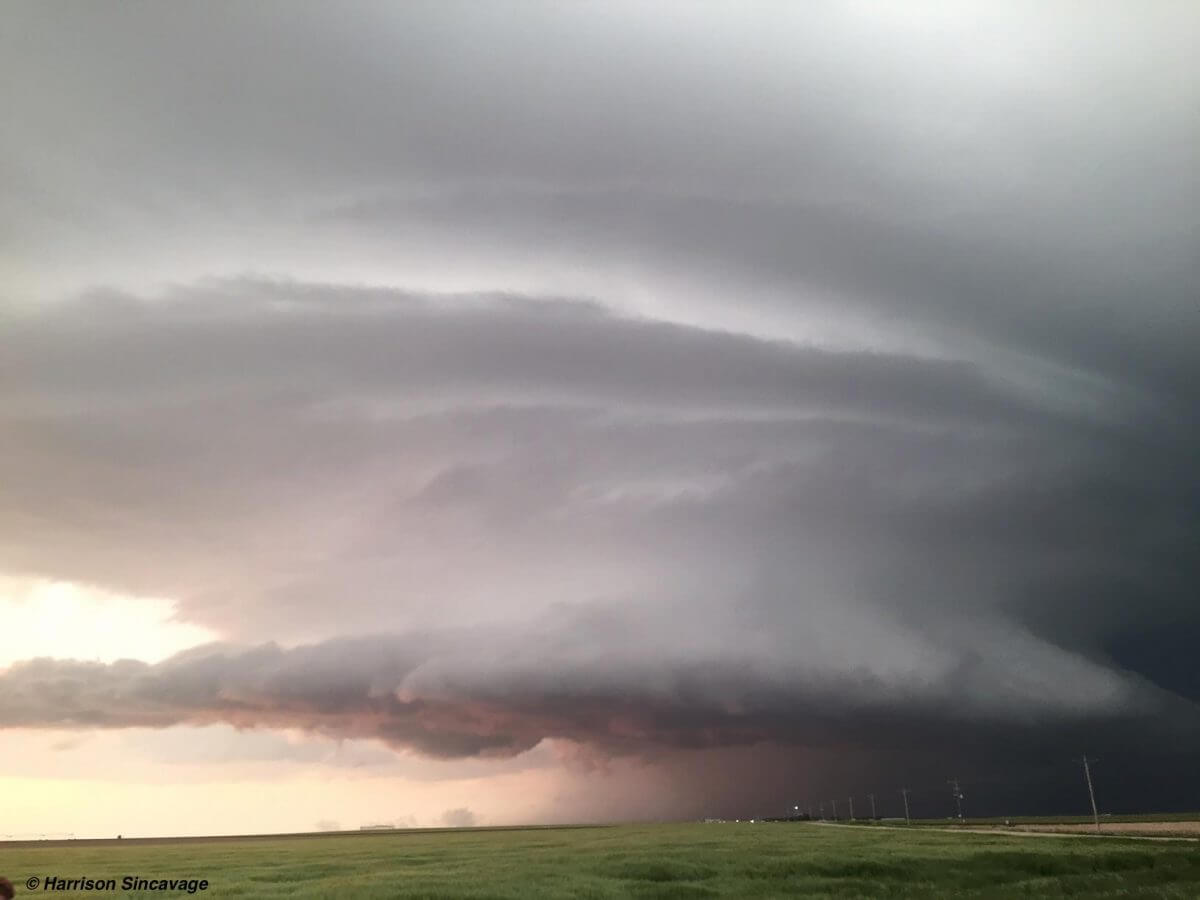 On Saturday afternoon, we made our way towards the town of Leoti, Kansas, only two counties east of the Colorado border. The afternoon surface analysis showed a moistening and increasingly unstable airmass ahead of the mid-level shortwave (the lifting/forcing mechanism required for storms to form).
As we were arriving to our target area, I outlined the potential area of interest for thunderstorm initiation. The blue dot within the red circle was our location around 2:15pm CDT, just shortly after the time stamp on the surface analysis.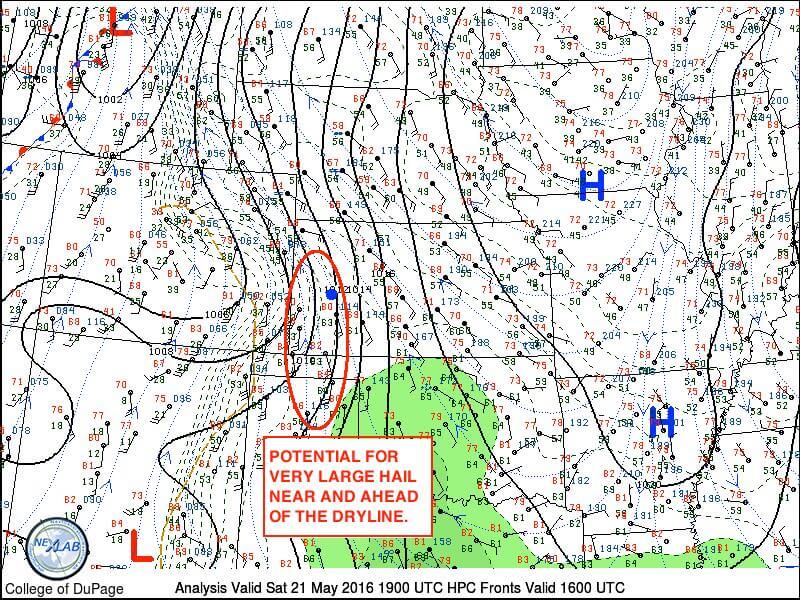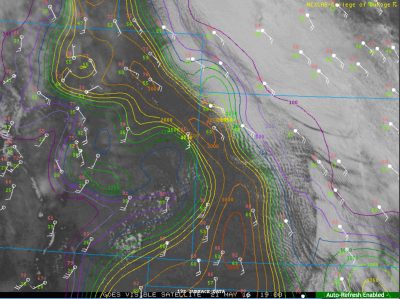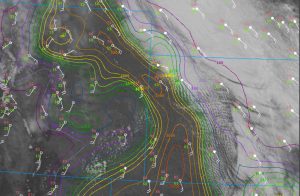 Upon arrival in Leoti, the surface winds were backed (meaning they were blowing in a counterclockwise direction out of the southeast). That is a good sign needed or the potential development for tornadoes as it enhances low-level wind shear. However, strong capping delayed thunderstorm initiation by a few hours.
After waiting over two hours with blue skies, cumulus towers were able to break the cap. Given strong instability, storms became severe quickly. As storms matured, they began to produce hail up to golf ball size. To an untrained eye, the hail core and rain shaft may have looked like a tornado to some, but it was not.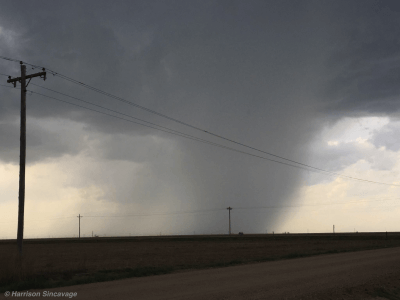 The environment on Saturday was favorable for storm splits, where a storm will split into right and left moving storms after it matures. However, weak mid-level winds resulted in a slow to near stationary storm motion.
After multiple storm splits, supercells ended up merging together due to the weak winds aloft. The supercell drifted north of town and began to produce even larger hail up to baseball size. As the cloud base height (lifted condensation levels; LCL) lowered, there was a narrow window for an isolated tornado potential. We positioned about one mile south of the hail core, and observed three brief tornadoes. The tornadoes were later confirmed by observations from the Doppler on Wheels involved with the TWIRL project.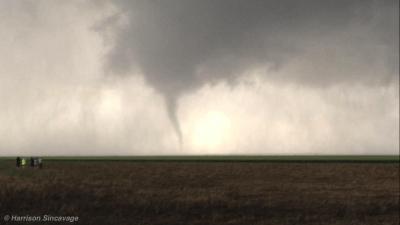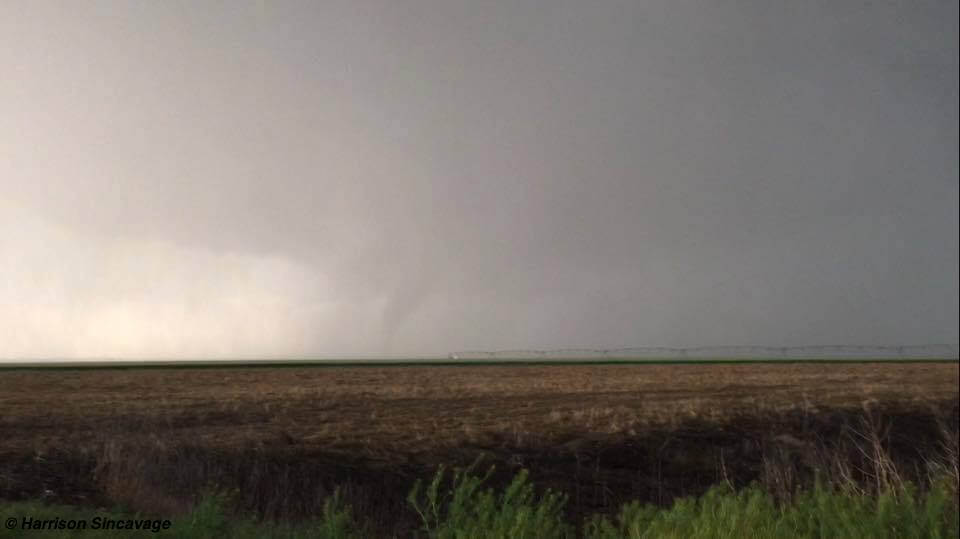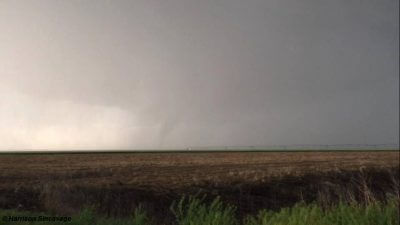 As the sun began to set and the tornadoes dissipated, the storm became outflow dominant and produced over five inches of rain north of Leoti. The supercell was stationary for nearly two hours, and produced hail that was observed at softball size (in excess of 4.0″ in diameter). Heading back south, we were awe struck by the beautiful storm structure and mammatus clouds that were underneath the storm's 50,000ft tall anvil.
Mammatus clouds form on the underside of the anvil, and resemble a bubble-like formation due to sinking motion underneath the anvil. The sinking motion then condenses due to decreases in the atmospheric pressure. It thus takes on its sac like shape due to turbulence in between the pockets of sinking and rising motion.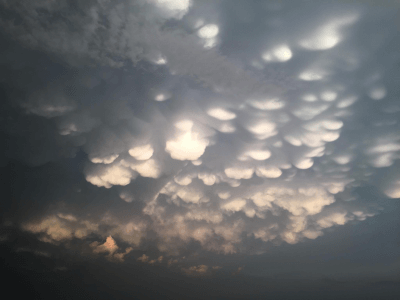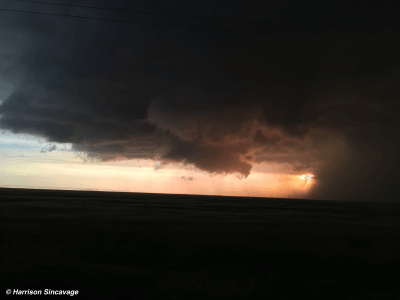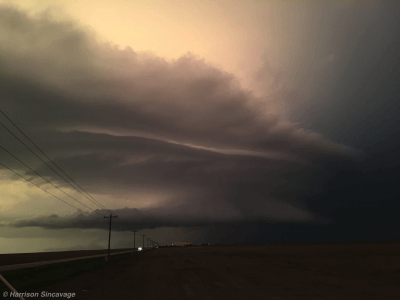 Woodward, Oklahoma, on May 23rd, 2016
Our next chase day was Monday, May 23rd, as conditions looked even more favorable for classic supercells in northwestern Oklahoma with the potential for isolated tornadoes as well. Analyzing the morning surface observations and visible satellite imagery, it was clear that there were lingering outflow boundaries across south-central Kansas and western Oklahoma from the overnight thunderstorm activity.
Outflow boundaries do not function the way regular fronts do, and can be both lifting and stabilizing mechanisms for severe thunderstorms. However, with ample sunshine and moisture, it was likely for an isolated supercell or two to initiate off the dryline Monday afternoon. Our target: Woodward, Oklahoma.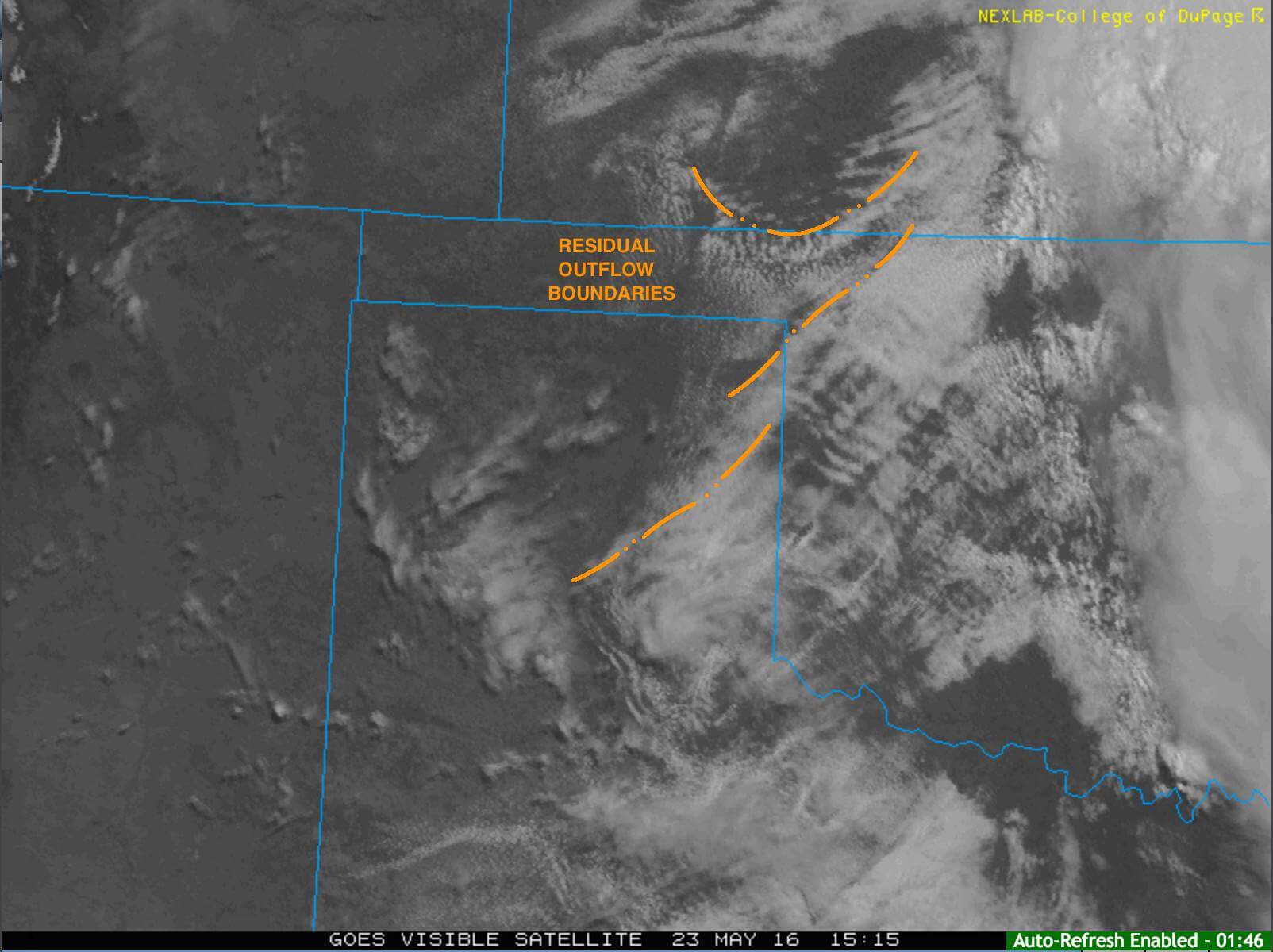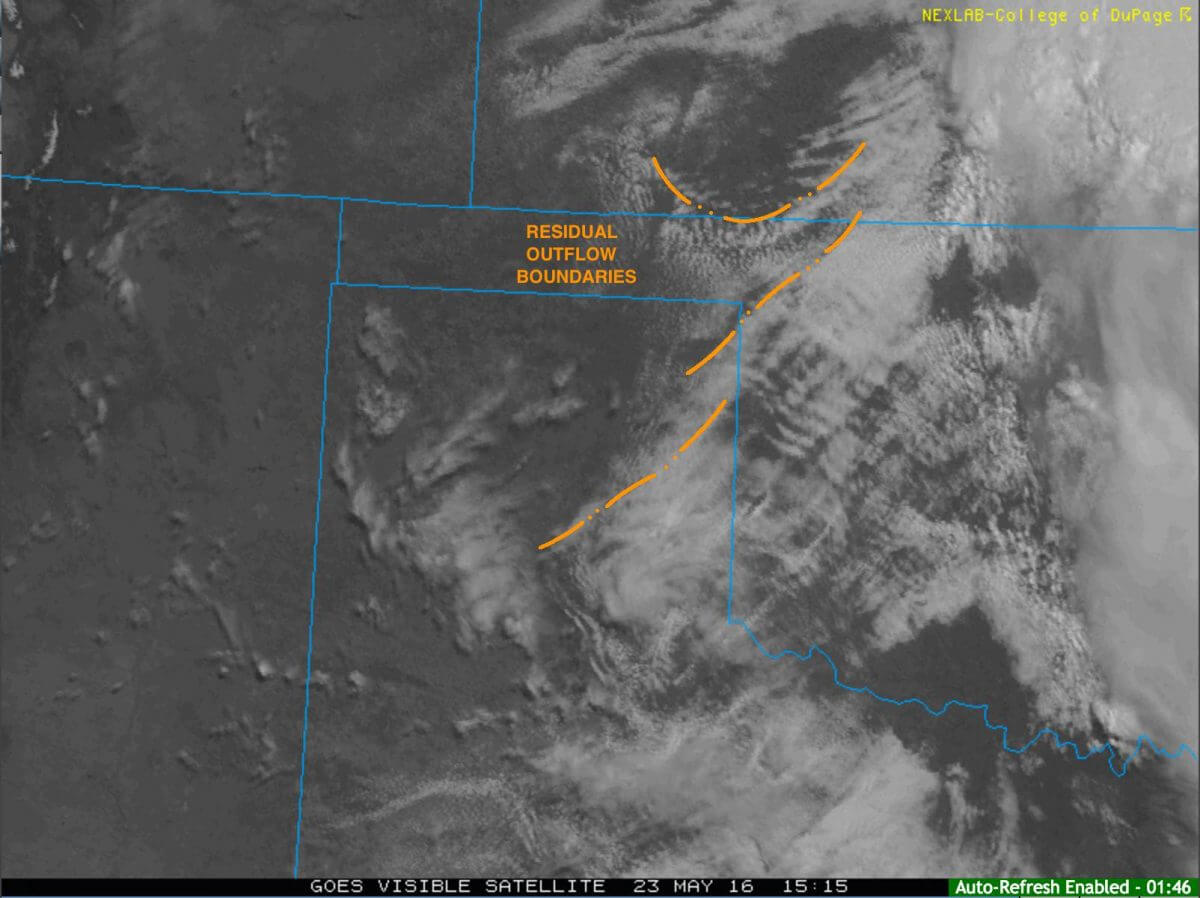 Short term model guidance indicated that temperatures would rise into the upper 80s and lower 90 degree Fahrenheit range. It should be noted that any type of forecast model should be used as guidance, as they cannot pinpoint exactly where storms will form.
An important factor in the initiation of severe thunderstorms Monday afternoon was the arrival of the mid-level jet maximum, as it was the forcing needed for storms to form along the dryline given the already extreme instability in place.
Convective Available Potential Energy, or CAPE, was in excess of 4,000 J/kg (Joules per kilogram), which is more than enough for severe thunderstorm potential. CAPE values ≥1,000 J/kg are usually required for severe thunderstorms. CAPE values ≥2,000 J/kg can result in significant severe weather if there is the appropriate wind shear and other dynamic meteorological variables in place.
We arrived in Woodward and watched an LP (low precipitation) supercell form just to the west of town as it slowly moved off to the northeast. To get a better visual, we drove about 10 miles back to the east and found a back road that had a near perfect view of the storm.
Observing a few lowerings, and eventually a wall cloud, we decided to drive approximately 3 miles back west and perched ourselves on a hill top that gave us an excellent vantage point 7 miles to the west of Woodward.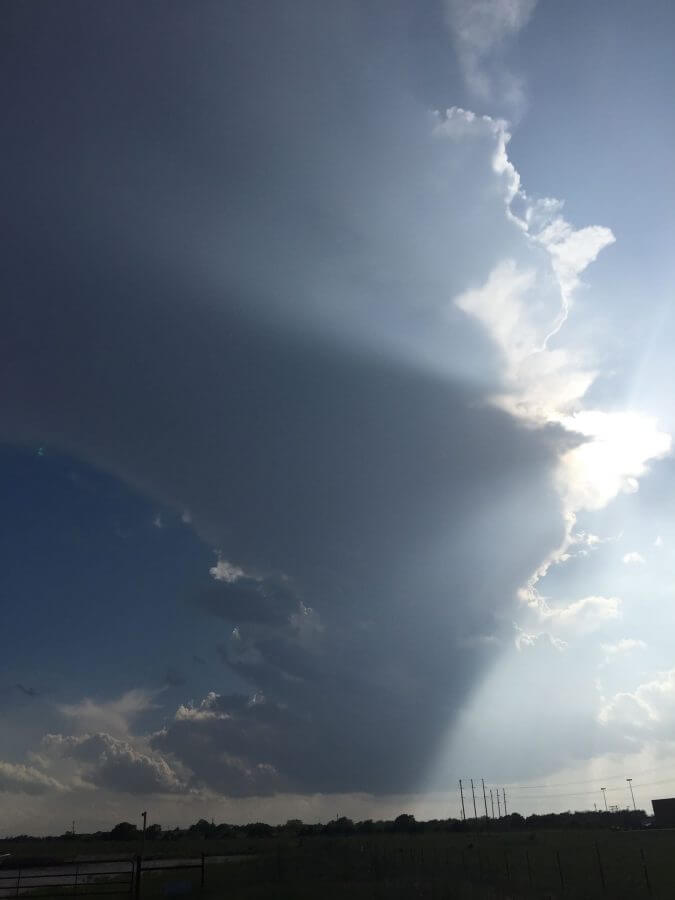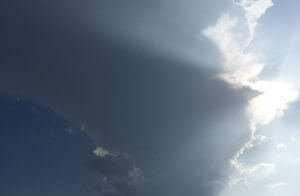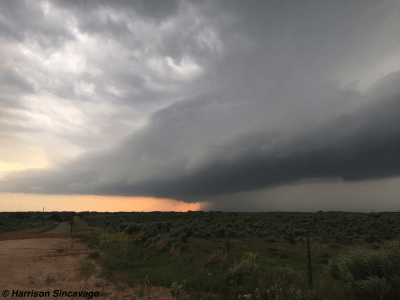 Warm, moist, and relatively strong inflow resulted in stronger rotation within the mesocyclone. A distinct wall cloud developed that was rapidly rotating. Eventually, a funnel cloud lowered out of the base of the supercell and touched down. We observed two total tornadoes Monday evening near Woodward. The first was a cone tornado and after that tornado lifted, another stovepipe tornado formed.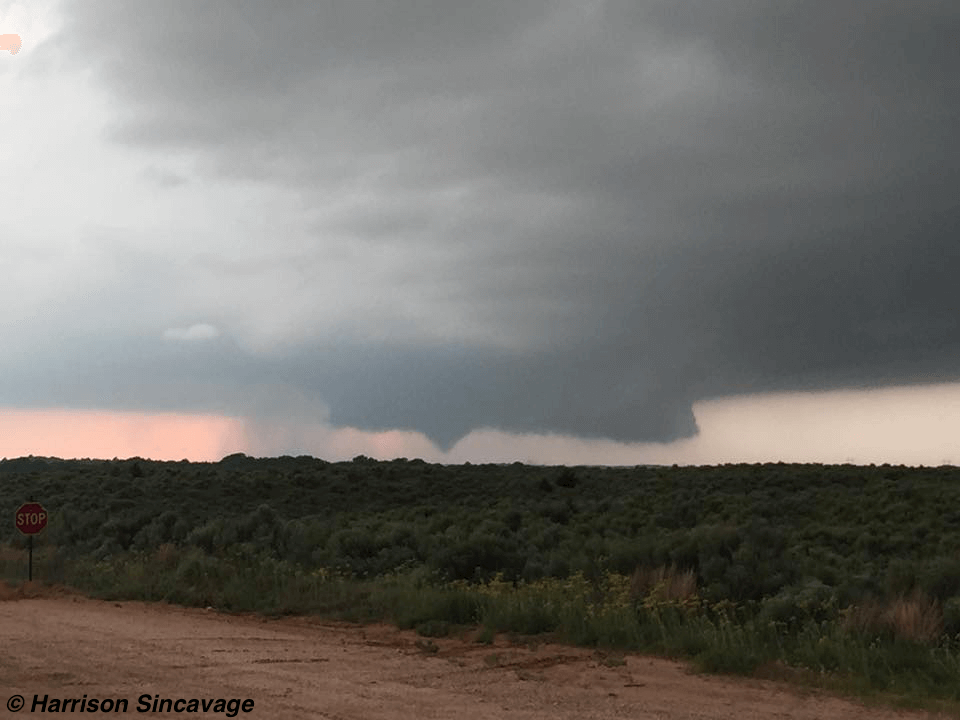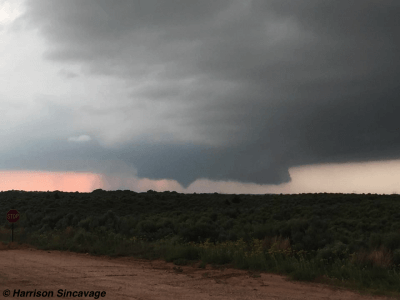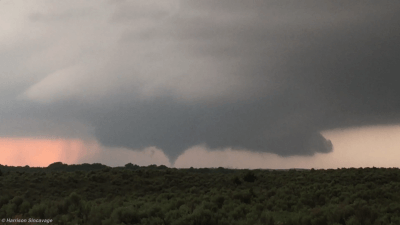 Given the rain curtains and height of the cloud base within the supercell, the light (photons) from the sun were being scattered through the water droplets unveiling a luminous red iridescence in the background of the storm. What we encountered next was one of the most phenomenal sunsets I have ever witnessed: A tornado at sunset.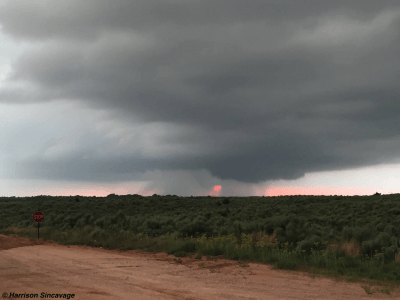 None of these tornadoes did damage, and as the rear-flank downdraft (RFD) wrapped around the tornado, the timing was such that the sun began to set behind the curtains of rain. It gave an incredible glow of deep red as the sunlight was obscured by the water droplets falling out of the downdraft. The tornado eventually occluded as it became wrapped in rain and its inflow was undercut by cooler outflow.
Our position was approximately one mile south of the main hail core that was producing observed baseball sized hailstones. A few hailstones were flung far out of the downdraft and landed at our location. Given the abundance of very dry and cold air aloft, these hailstones underwent a dry hailstone growth. As a result, this hailstone which was about ping-pong ball size split upon impact and had a textbook denotation of the layers, or "rings" like that of a tree, of ice that coalesced around one another as it was suspended in the updraft.
Saturday and Monday, May 21st and May 23rd, respectively, resulted in some spectacular storm structure across the western Great Plains. These two days were the first of many days of severe weather across the Great Plains that occurred last week. While supercells remained isolated on Saturday and Monday, a more widespread severe weather event was forecasted to occur throughout the rest of the week across the central Great Plains including the threat for extremely large hail, damaging winds, and strong-to-violent tornadoes.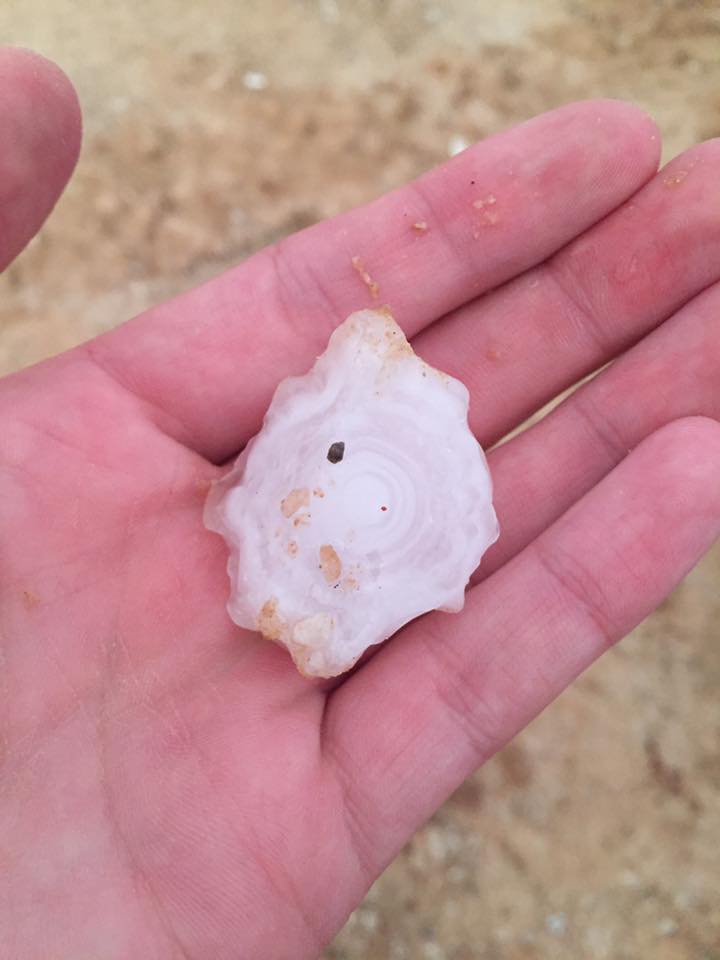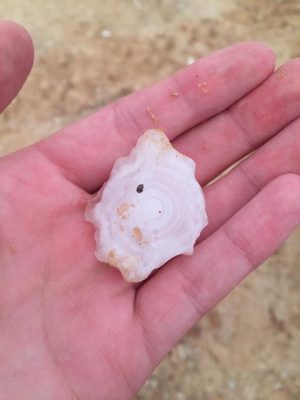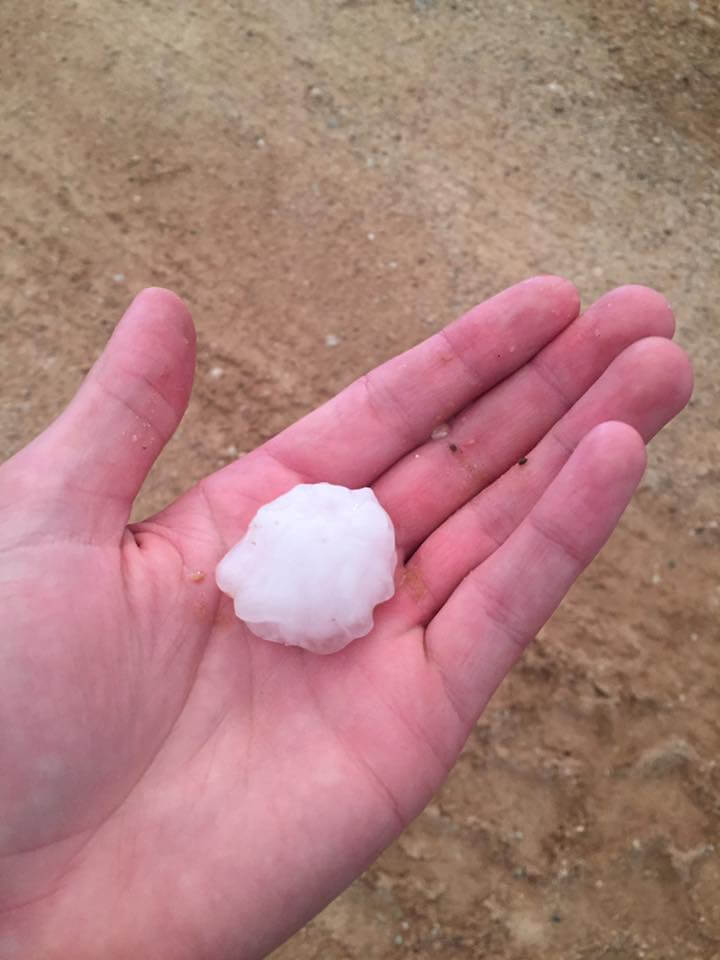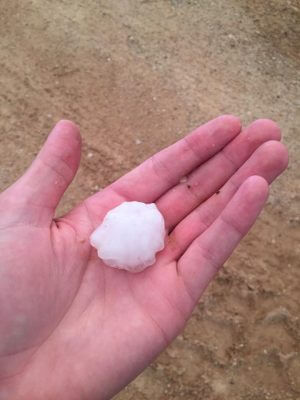 Video of the supercell and tornadoes near Woodward, Oklahoma
Similar Posts: