Whether you are searching for potentially life-saving weather information, a local forecast, or even historical weather data, there are a number of government and private weather sites that you can visit.
Since your tax dollars fund government weather organizations such as the National Oceanic and Atmospheric Administration (NOAA), I will focus on some of their useful sites. Dedicated meteorologists, using the latest forecast guidance, satellite and radar products, and other tools, work around the clock to analyze, assemble, and communicate this critical information.
National Hurricane Center
The National Hurricane Center, located at Florida International University in University Park, Florida, is responsible for tracking and predicting tropical weather systems. This includes the entire Atlantic Basin and the eastern Pacific Ocean. This site is easy to navigate, and some of their main products are highlighted below.
Daily tropical weather discussions and tropical weather outlooks are issued (during the hurricane season). Tropical weather outlooks are also produced, in graphical form, along with percent chance of tropical cyclone formation for 48-hour and 5-day periods. These discussions are for the entire Atlantic Basin (which includes the Caribbean) and the eastern Pacific (Hawaii is covered by the Central Pacific Hurricane Center, while the western Pacific (including Guam) is covered by the Joint Typhoon Warning Center.
Tracking of all tropical cyclones (including tropical depressions, tropical storms and hurricanes) and forecast intensity and track (come) for each system.
Frequent advisories on all tropical cyclones, including all watch and warning areas.
Satellite and some radar data around the tropics and for all tropical cyclones.
Updated recon info from Hurricane Hunter Aircraft, including vortex data, on tropical cyclones.
Track history of former tropical cyclones can also be found here.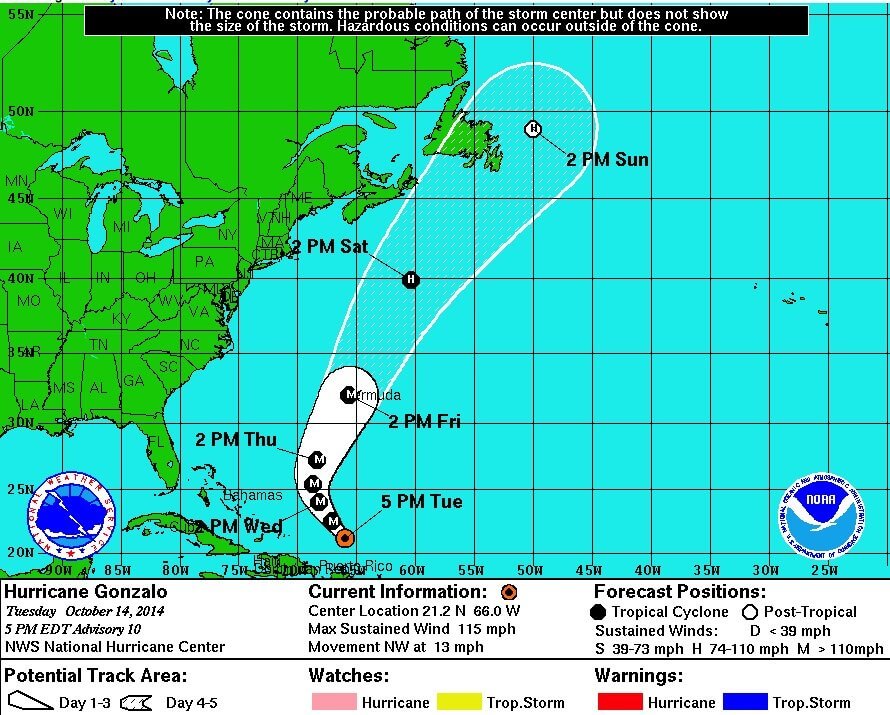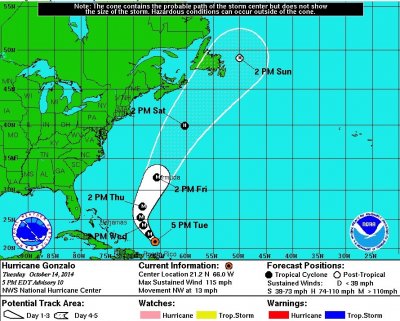 Storm Prediction Center
The Storm Prediction Center is located at the National Weather Center in Norman, Oklahoma. Their primary responsibility is to forecast the risk of severe thunderstorms and tornadoes across the United States. They accomplish this task in a variety of ways and some of the products that are available are listed below.
Convective outlooks are issued several times a day. These are both probabilistic and categorical forecasts which cover Day 1 through Day 8. The categorical risks indicate that probability of thunderstorms, including: general thunderstorms (light green), marginal (dark green), slight risk (yellow), moderate risk (red), and high risk (magenta).
Mesoscale discussions highlight areas where a severe thunderstorm or a tornado watch could be issued in the near future. Discussions for heavy snow potential are also issued.
All severe thunderstorm and tornado watches are issued by the Storm Prediction Center.
Current and past storm reports (severe weather including wind, hail, and tornadoes) can be easily accessed.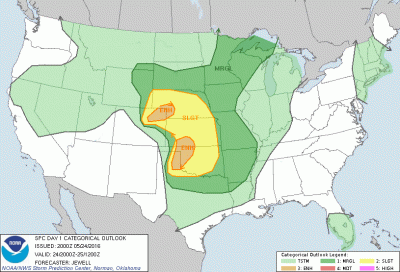 Weather Prediction Center
The Weather Prediction Center, located in College Park, Maryland, is responsible for issuing quantitative precipitation forecasts and medium range forecasts for up to 8 days. This site is particularly useful for acquiring information associated for flooding events, and winter weather events as well.
They issue a variety of helpful products and some of these are listed below.
Quantitative Precipitation Forecasts (QPF) can be seen in graphical form for up to 7 days.
Probability of snow or freezing rain (and amounts) for a 3-day period.
A variety of detailed discussions dealing with short and extended range forecasts, excessive rainfall and heavy snow. Computer model diagnostic discussions are also featured (several computer model forecasts can be viewed on the National Center for Environment Protection's website).
Current weather analysis (including highs, lows and fronts) for the U.S. and Canada and surface forecasts for 7 days.
Advisories for tropical cyclones that have moved inland, and have been passed on by the National Hurricane Center.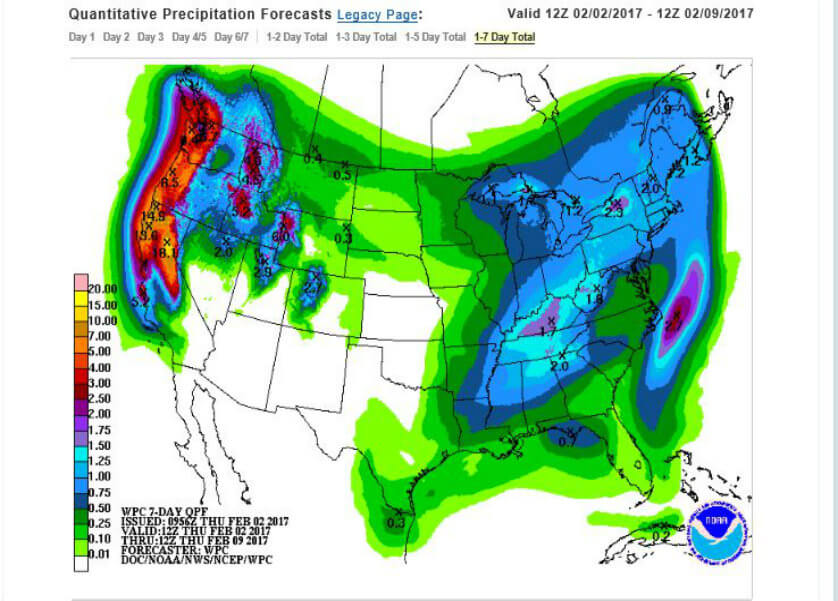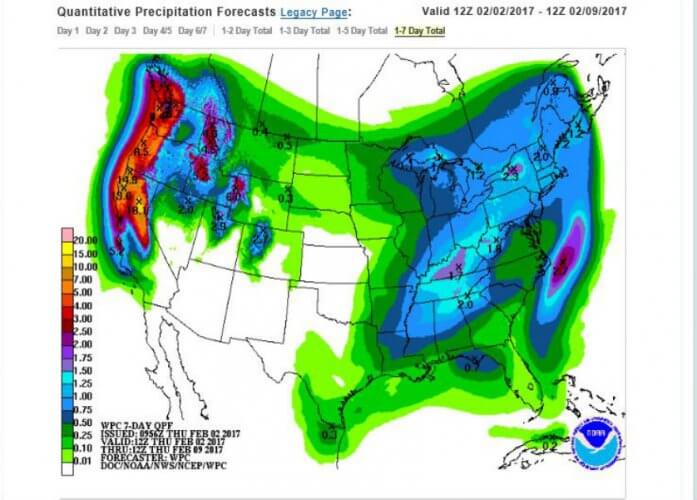 United States Drought Monitor
The United States Drought Monitor assesses drought conditions across the nation. It is a collaborative venture between the National Drought Mitigation Center, The U.S. Department of Agriculture and the National Oceanic and Atmospheric Administration (NOAA).
This information is especially helpful to agricultural concerns, wildlife management and water use for states and municipalities. It is released every Thursday at 8:30 a.m. EST with updated information.
You can view a national map with drought designations that range from D0 (abnormally dry) to D4 (exceptional drought), along with a written summary.
You can also view the drought monitor for various regions, and even individual states.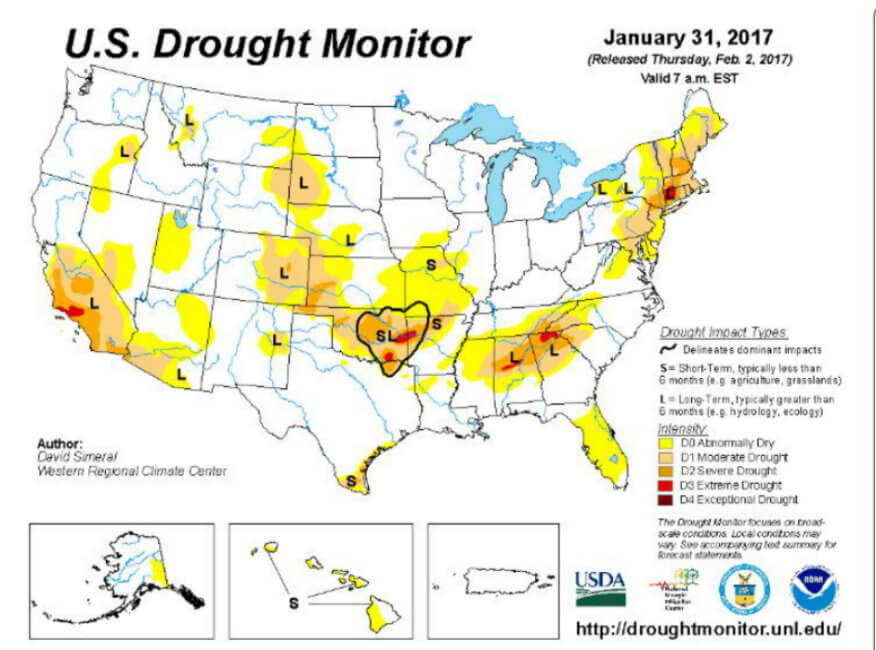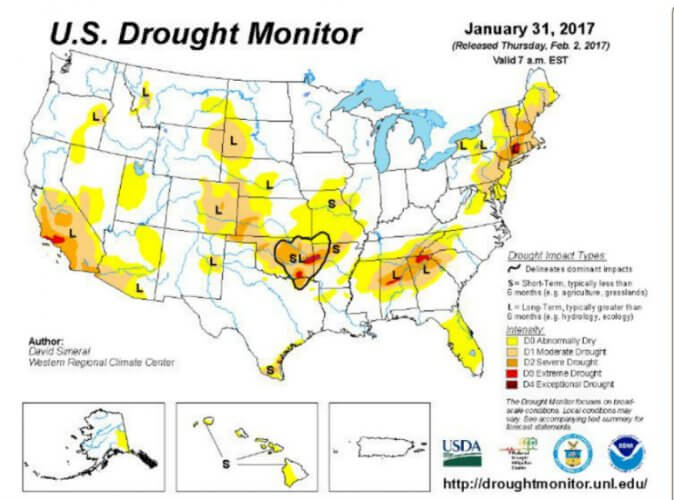 National Weather Service
For information pertaining to your local area or region, there is a National Weather Service (NWS) office close by. Just go to the NWS website and click on your area, and it will take you to your closest office. Local National Weather Services offices offer a wide variety of information. Some of examples of their products can be seen below.
Local forecasts are available for any site within area of the particular forecast office.
Short and long-term forecast discussions relating to upcoming weather are featured.
Many offices feature a graphical storyboard with vital information concerning upcoming significant weather events.
Severe thunderstorm and tornado warnings are issued by local NWS offices. They issue all flood watches and warnings.
A plethora of local and climate data for some cities within a particular forecast area can be easily obtained.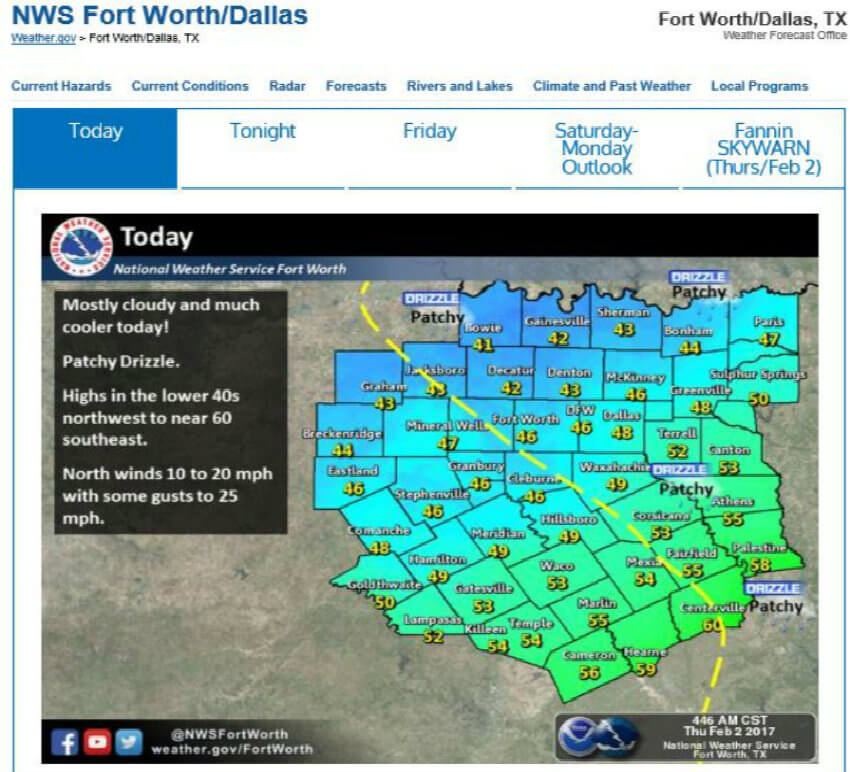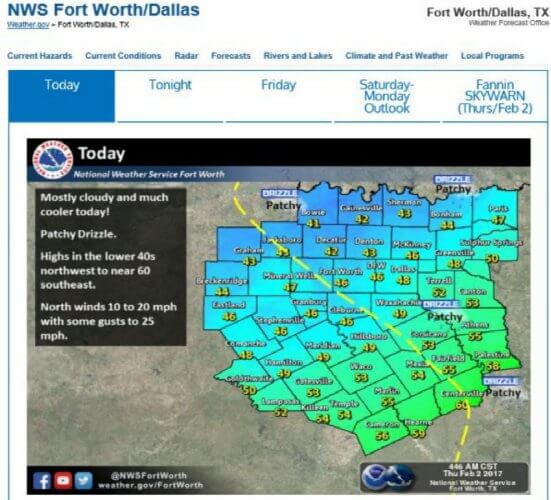 Hopefully, this is helpful information for you to be well informed and weather ready. Of course, you are always invited to visit iWeatherNet for the latest forecast information for the Atlanta, Georgia, metropolitan area, and the Dallas/Fort Worth metroplex. You can view the latest hazardous weather advisories not only for our forecast areas, but for the entire nation as well. The advisories page can be found here.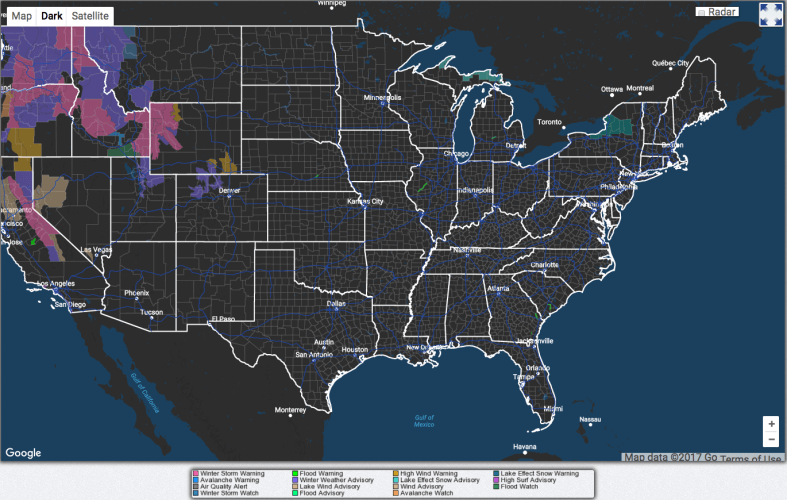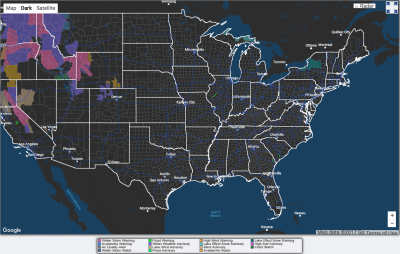 We offer a variety of forecast products that are available for free, including real-time weather conditions for the DFW metroplex, and the Atlanta metro area. Chris Robbins, Meteorologist, M.S., and our team have added user-friendly tools such as real-time interactive radar, satellite imagery, and real-time lightning displays to track severe storms.