Every four years, our nation conducts a ceremony for the newly elected president to begin a new term. There has been a wide variety of weather conditions over the years and I thought that it would be interesting to highlight some past inaugurations where weather played a significant role.
Inauguration History
The first inauguration ceremony was held for George Washington on the balcony of Federal Hall in New York City on April 30, 1789. By all accounts, there was sunshine and a temperature around 60 degrees for that event. After George Washington, the inauguration date became March 4th and it stayed that way until 1937, when it was changed to January 20th. If the day falls on a Sunday, the event is moved to the next day.
Washington, D.C. Average Weather For January 20th
According to the National Weather Service in Sterling, Virginia here's what we can expect on January 20th. The inauguration ceremony usually occurs around noon.
Average high temperature 43 degrees
Average noon temperature 37 degrees
There is about a 1 in 6 chance for measurable precipitation during the ceremony
There is about a 1 in 20 chance for measurable snow during the ceremony
There is about a 1 in 6 chance for at least an inch of snow already on the ground
Official weather records have only been kept since 1871, and here are some highlights:
The warmest March 4th Inauguration was Woodrow Wilson (55 degrees) in 1913. The warmest January 20th Inauguration was Ronald Reagan's first in 1981 (55 degrees).
The coldest March 4th inauguration was Ulysses S. Grant in 1873 with a bone chilling 16 degrees and wind gusts to 40 mph. The coldest January 20th Inauguration was Ronald Reagan's second (7 degrees) and a wind chill around -15. That ceremony had to be moved indoors.
Here are some of the more notable Inauguration Days in weather history according to the National Weather Service in Sterling, VA.
William Henry Harrison –  March 4th, 1841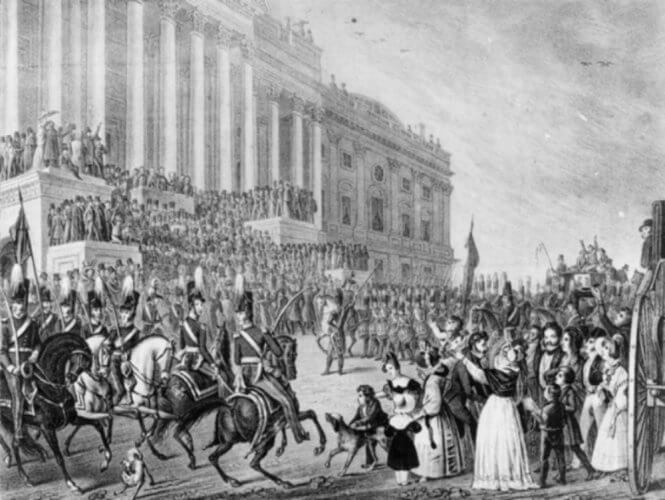 If you read your history books, this one is mentioned often. Rain had let up before the ceremony but it was a damp and blustery day with a temperature estimated to be in the upper 40s. According to the story, Harrison, who had caught a cold, delivered a 100 minute speech at the Capitol and rode back to the White House without a hat or coat. He ended up developing pneumonia and died just a month after taking office.
Ulysses S. Grant – March 4th, 1873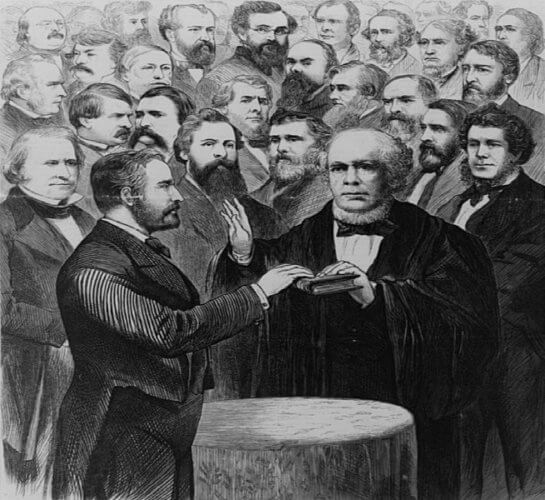 The skies were sunny but it was a bitterly cold day. The day began with a temperature of 4 degrees and it had only reached 16 degrees by noon. A stiff wind made it feel more like 15 degrees below zero. To this day it remains the coldest March day on record for Washington, D.C.
William H. Taft – March 4th, 1909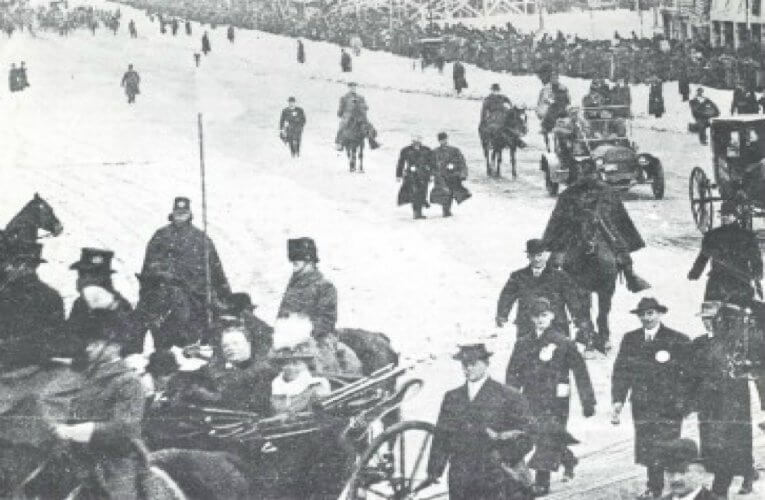 A snowstorm had begun the day before and ended just after the inauguration ceremony. Overall about 10 inches of snow was dumped on Washington, D.C. Strong winds accompanied the storm and were downed trees and telephone poles across the city. Over 6,000 men were deployed to shovel the parade route. A large crowd gathered outside of the Capitol for the event but the ceremony itself was forced indoors. The temperature hovered around 32 degrees for most of the day.
Franklin D. Roosevelt – January 20th, 1937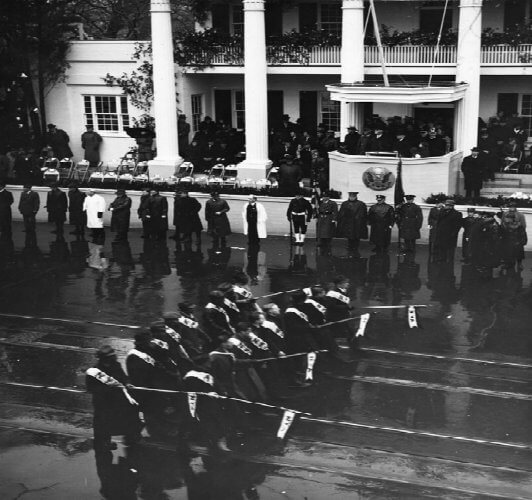 Weather conditions were cold and damp, and significant amounts of rain fell. Total rainfall that day was 1.77 inches, and 0.69 inches fell between 11:00am and 1:00pm. In addition, the temperature was a cold 33 degrees. President Roosevelt insisted that he ride back from the Capitol to the White House in an open car. There was a half inch of water on the floor. He then watched the inaugural parade in the rain and cold.
John F. Kennedy – January 20th, 1961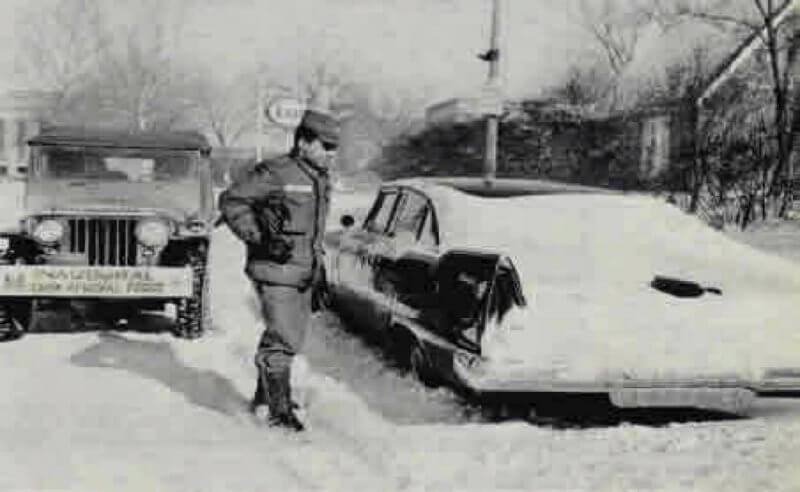 This inauguration is always remembered because millions took the time to watch the ceremony on television. I was able to see it because a television was wheeled into my 3rd grade class for all to watch. You could see the new president's breath as he delivered his inaugural address and all of the snow that was on the ground.
The temperature at the time of the ceremony was a very cold 22 degrees. A snowstorm had begun the day before and it snowed all night before ending in the morning. All told, about 8 inches of snow fell in the storm.
Hundreds of cars were abandoned across the city and there was a feverish attempt to remove those cars and to clear the streets of snow. The Army Corps of Engineers were summoned to help with this endeavor.
My Personal Experience – Jimmy Carter January 20th, 1977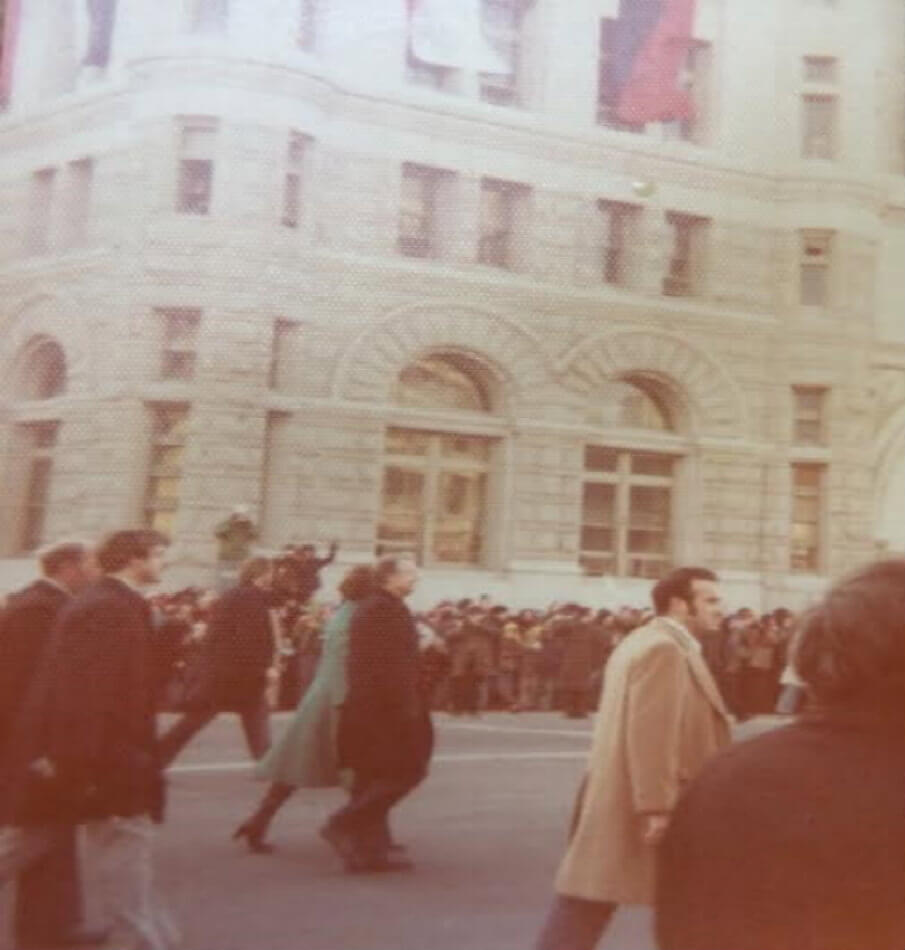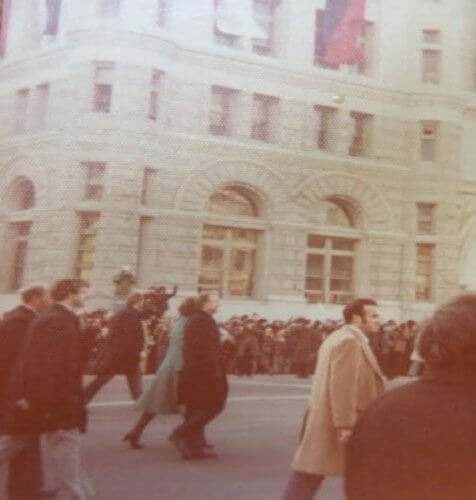 I'm adding this because I got to experience this day firsthand. At the time, I was living in Arlington, Virginia, and I was employed by the Federal Government. As a government employee, I had Inauguration Day off so I decided to go into the city and experience some of the festivities.
It was very cold when I arrived at the Washington Monument in the early morning to witness a speech by Martin Luther King Sr. "Daddy King". The morning temperature was in the teens.
Despite the many thousands that were around me, I heard someone shout out my name. I happened to see two guys that I had gone to college with. One of them was the son of a congressman and they invited me to come along and have breakfast at the congressional dining room, along with the congressman.
They all had tickets to the inauguration, but not for me, so we parted ways and I walked over to Pennsylvania Avenue and found a place to stand near the FBI building.
Although the skies were clear, the temperature never did make it out of the 20s that day and the wind chill was in the teens. It was so cold standing out there as I viewed the parade.
I had also heard that President Carter and his wife, Rosalynn, would be walking from the Capitol to the White House. Sure enough they did and they passed right in front of me as I snapped a picture.
I remember being frozen solid as the parade ended and I walked briskly, for about a block and a half, to the lobby of the Hotel Harrington where I was able to slowly thaw out.
More recently, the weather has been generally more favorable for these events but there was a bit of rain and fog for the first inauguration of President George W. Bush on January 20th, 2001.
There doesn't appear to be any major weather problems in Washington, D.C. on January 20th, 2017. There will be periods of light rain and temperatures will be on the cool side, however.