Special Update (Wednesday, January 7 at 8 pm EST)
Temperatures are already falling into the teens in the western and northern suburbs. Current temperatures are a couple of degrees colder at this hour than model guidance had indicated. Dew points (a measure of atmospheric moisture) continue to drop, and temperatures tonight should certainly be on the lower end of my predicted range. The final low temperature tonight depends on the winds (they should begin to subside later tonight). When the winds subside, more efficient radiational cooling can occur. I still expect lows in the range of 7º to 10º in the suburbs (I can't rule out a 5º reading in rural areas) and in the range of 10º to 14º in the city.  /Robbins

Current temperatures (Wed 1/7 8 pm EST)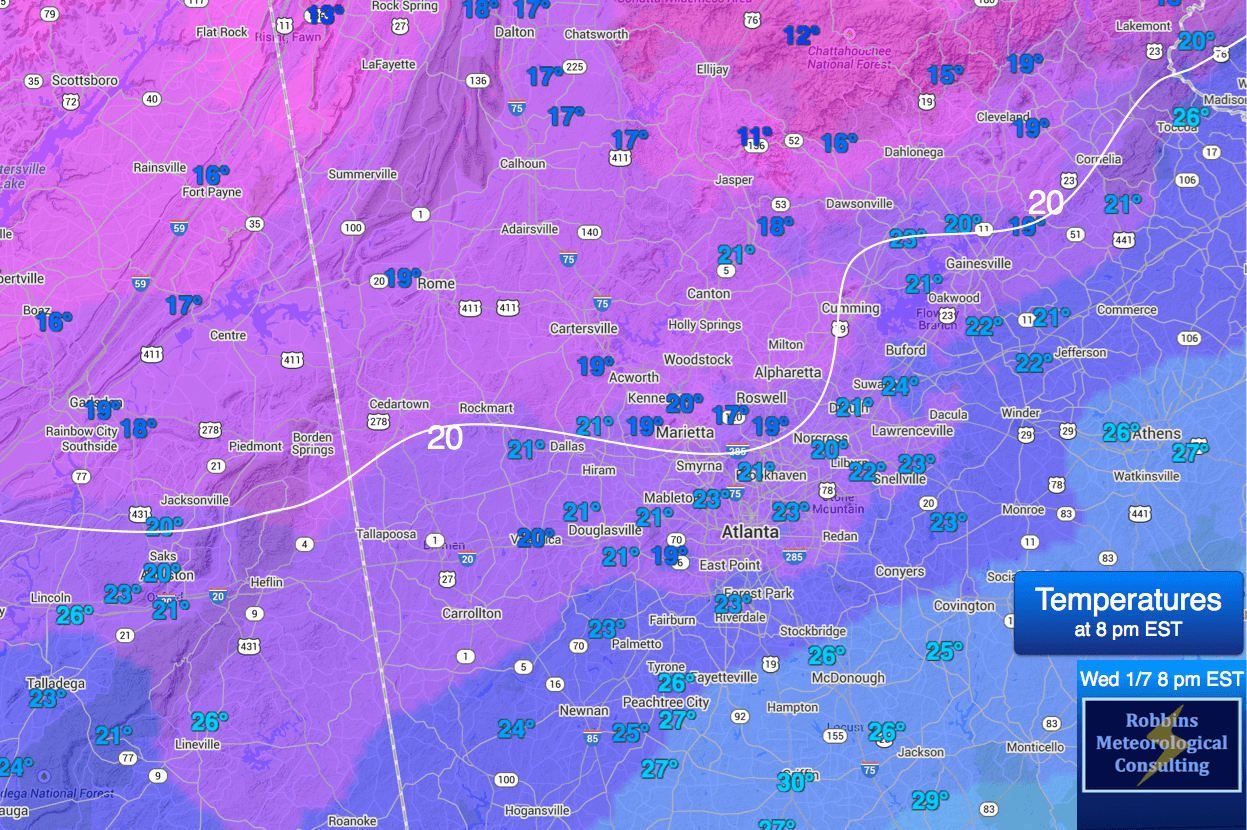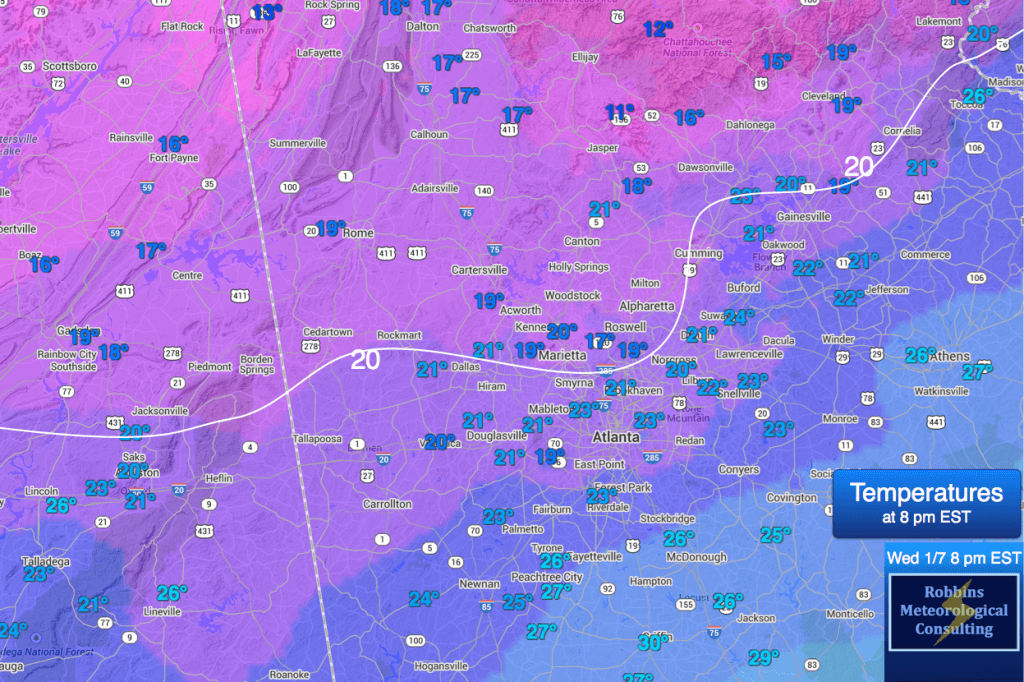 Previous Forecast Discussion (Posted Sunday, January 4, 2015)
The coldest airmass so far this season will move into the Southeast Tuesday night/Wednesday morning.  At this time, I believe temperatures will stay below freezing for 40+ hours. I have a little uncertainty about whether temperatures can rise above freezing on Wednesday, but I do not expect temperatures to rise above freezing on Thursday.  If temperatures stay below freezing on Wednesday, this would put the subfreezing duration toward the upper-end of that range (rising above freezing Friday morning).  I will update this with future data.
Temperature Forecast Summary:
Tuesday: Mild, highs in the low to mid 50s
Wednesday: High in the mid to upper 30s, falling late into the 20s after 4 pm
Wednesday night: 8º to 14º (coldest in the suburbs)
Thursday: 25º to 30º
Thursday night: 12º to 18º (coldest in the suburbs)
Friday: 40º to 45º (temps rise above freezing by 11 am)
Evolution of the Surface High
I created the following animation which shows the remarkable evolution of the surface high pressure, which may become one of the highest surface pressures on record in the contiguous United States.  The current record is 1064-mb in Miles City, Montana on December 24, 1983.  All of the model guidance suggest that the surface pressure will peak around 1060mb in South Dakota/Nebraska on Wednesday, which would be quite remarkable. As you can see in the animation, the airmass has its origins over the Northwest Territories of Canada, north of the Arctic Circle.  The surface high intensifies as it builds/propagates southeast through midweek.
I do want to point out that there are vast differences between the current pattern and that of the Christmas 1983 record-cold event, but I will not go into that just yet. I may elaborate in a future post or in a supplement to this article.
Wednesday 3 pm EST Temperatures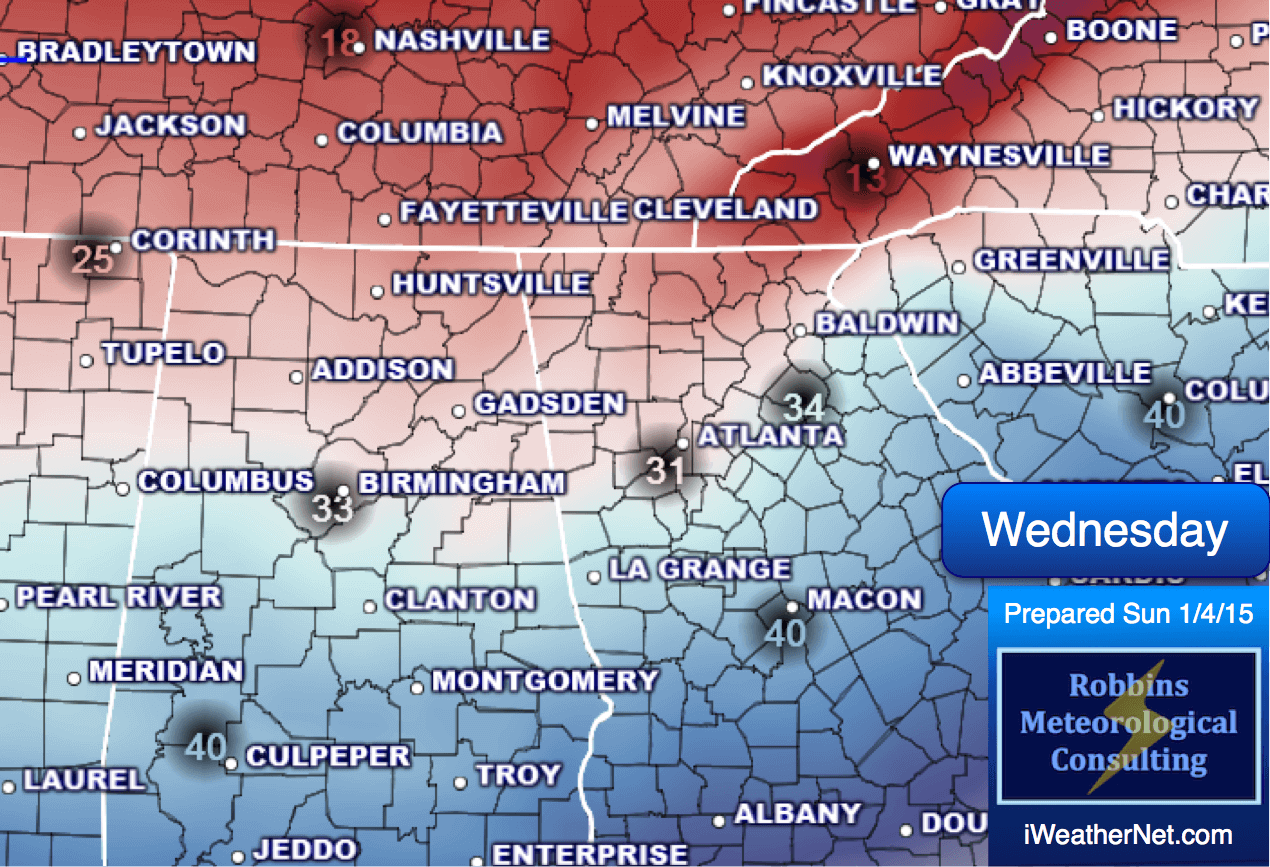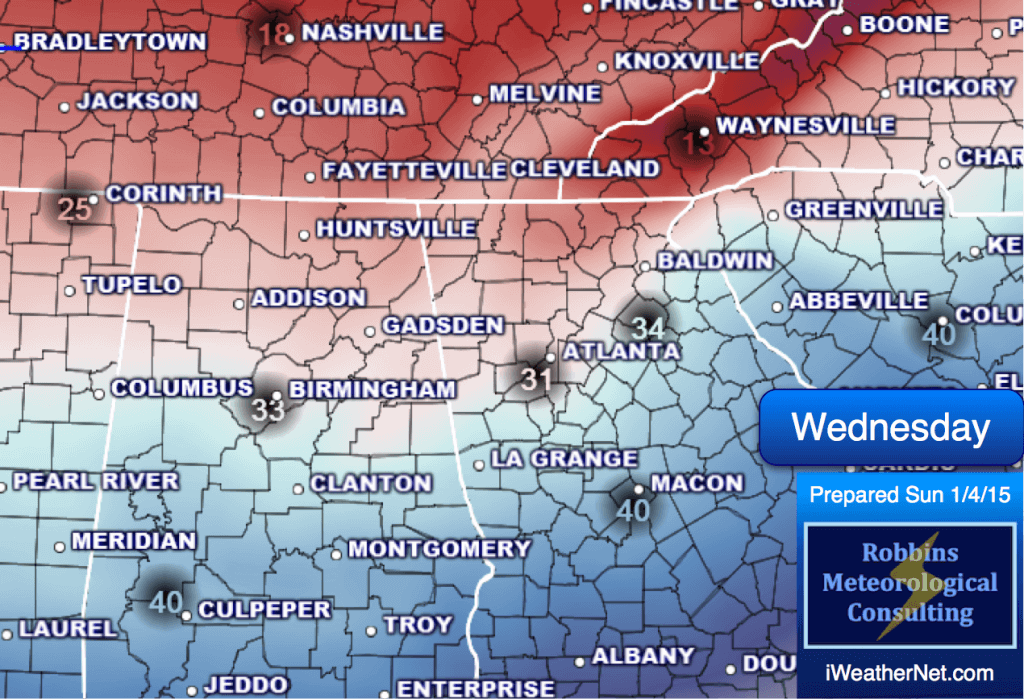 Wednesday Night Lows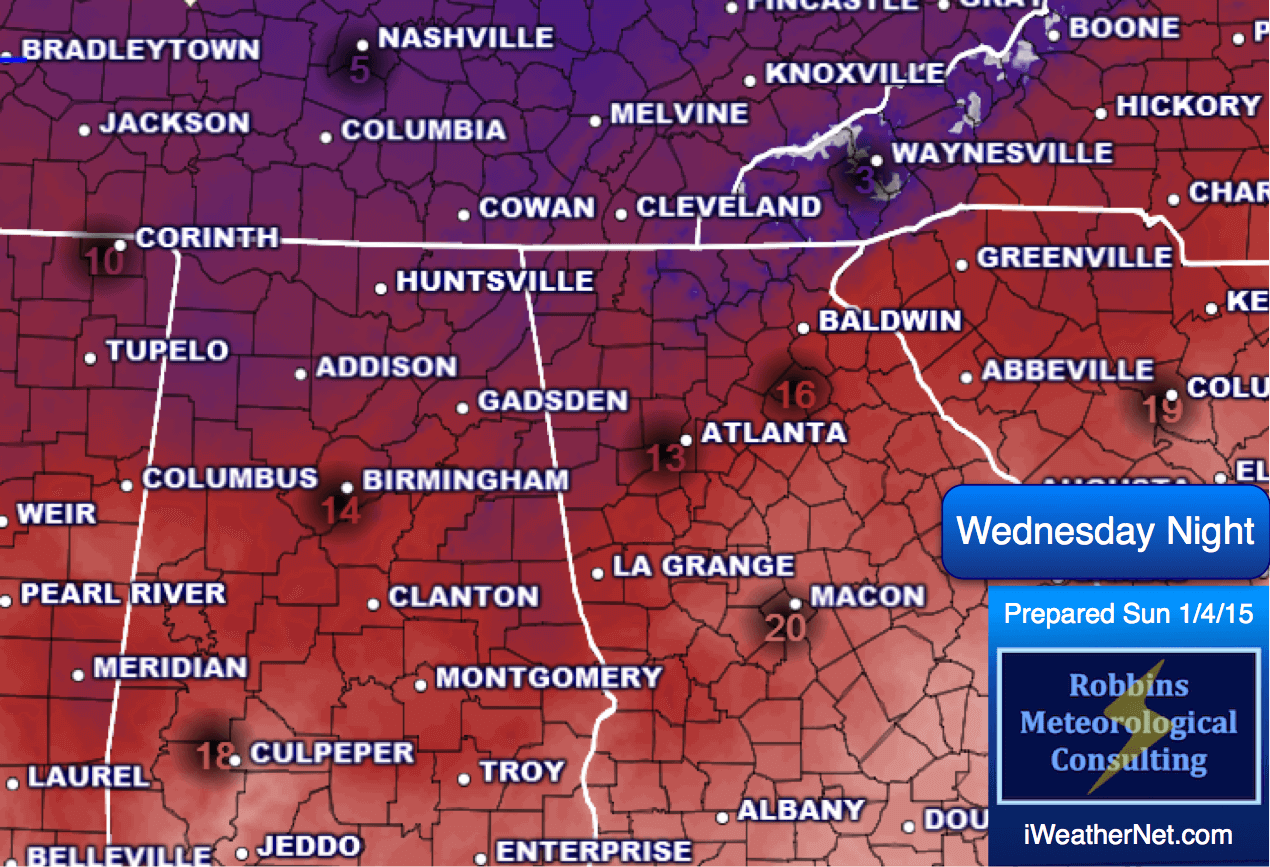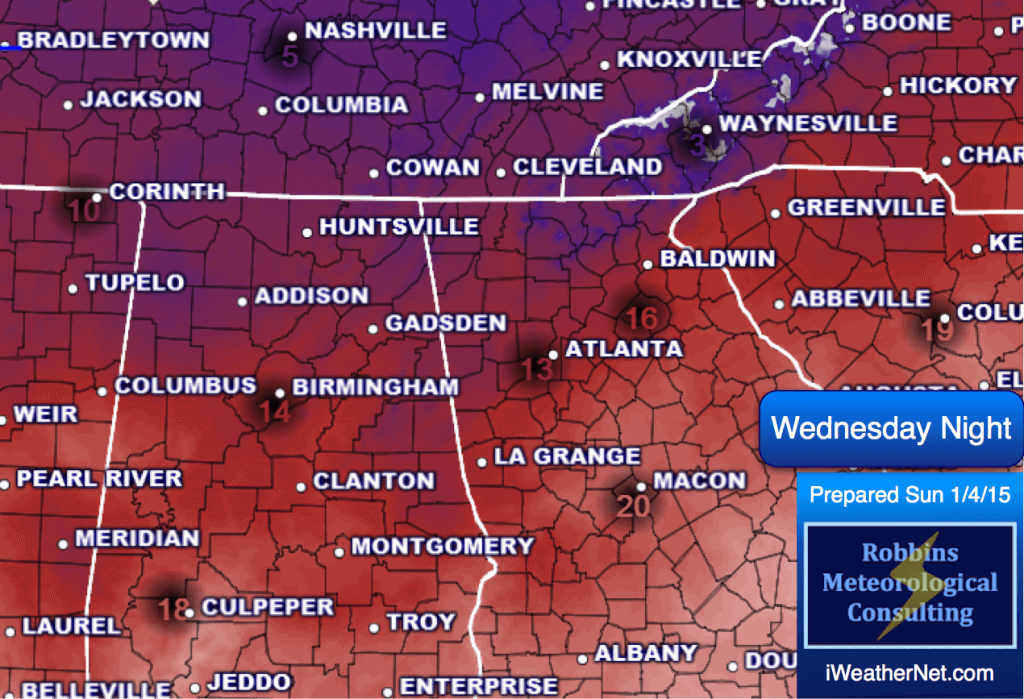 Thursday High Temperatures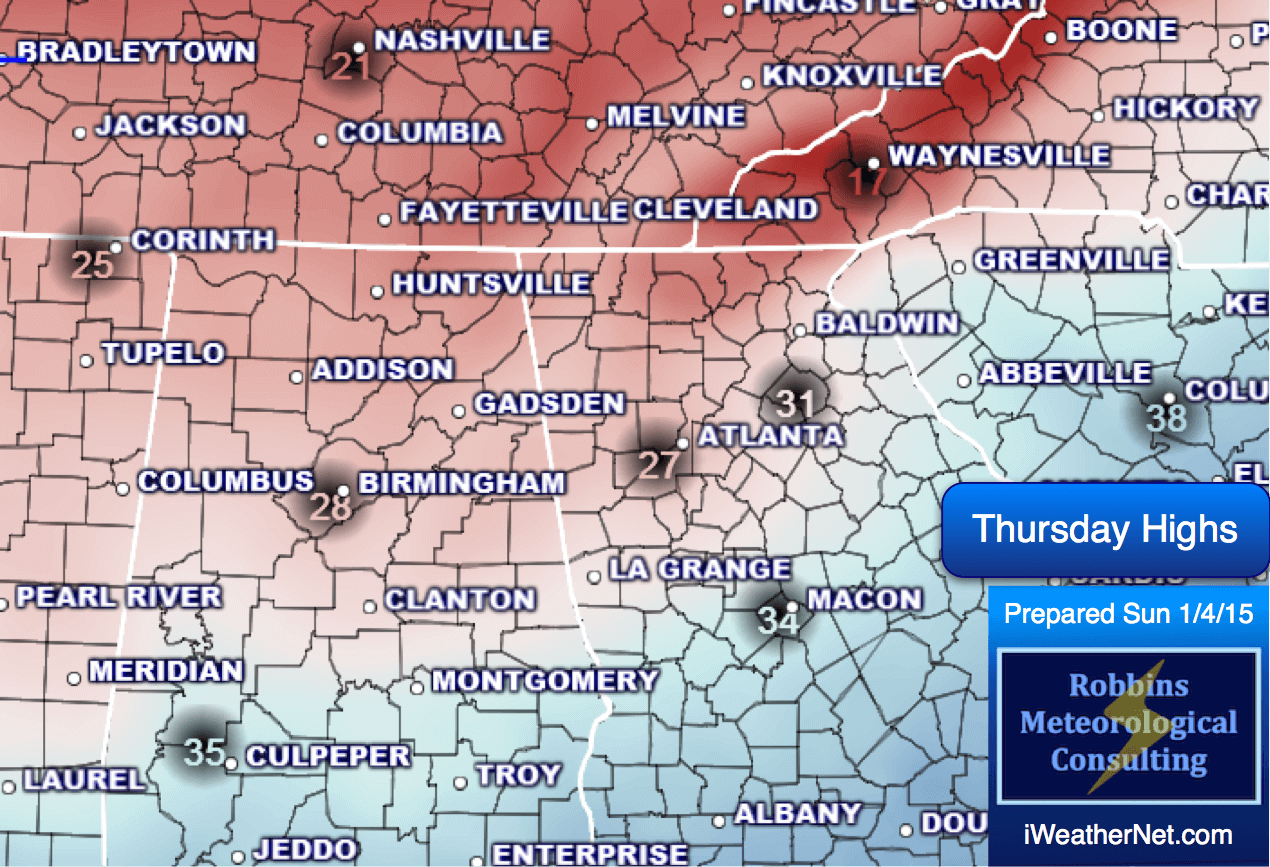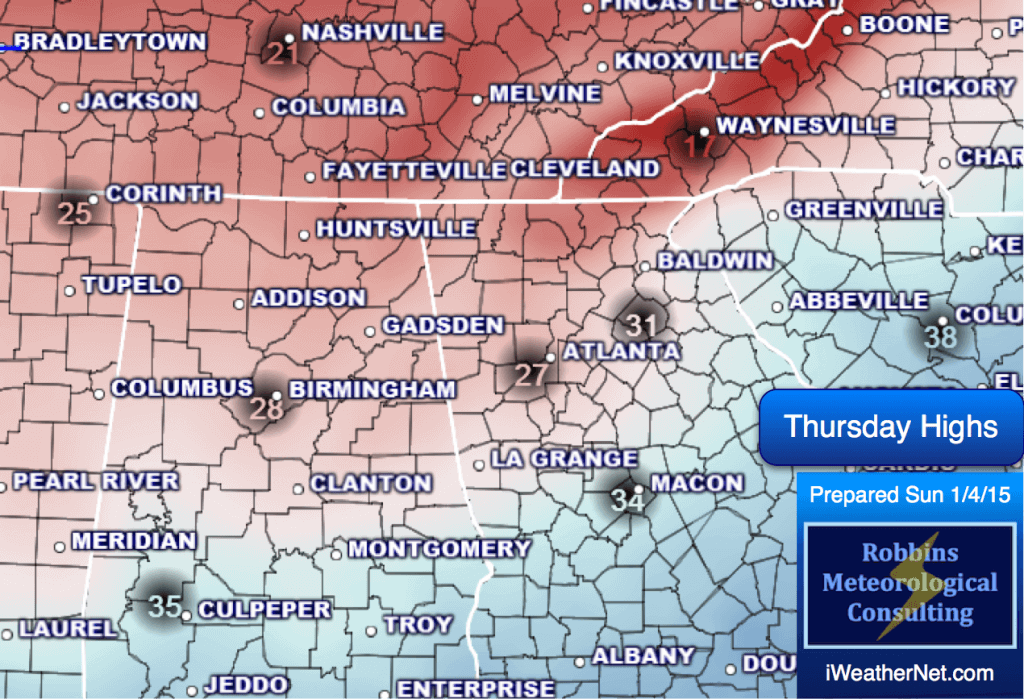 Temperature Trend (Meteorgram)
I have indicated temperatures below freezing all day on Wednesday, which would place the sub-freezing duration at nearly 60 hours. However, as I mentioned in the introduction at the top of the page, I have some uncertainty about Wednesday, because temperatures may manage to rise above freezing until mid-afternoon, which would break that duration down to the range of 40 to 44 hours (Wednesday afternoon through 11 am Friday morning).  At this time, I am not forecasting any precipitation this week. However, a disturbance may bring some rain by the weekend.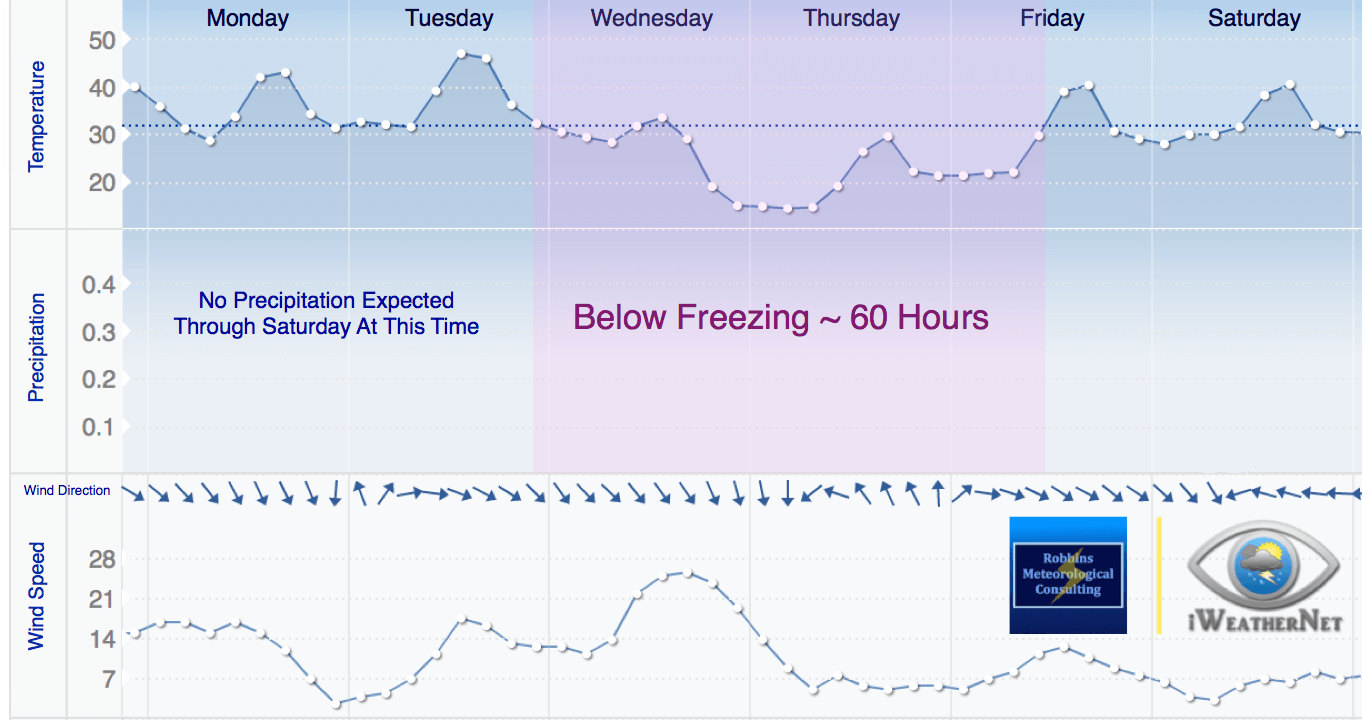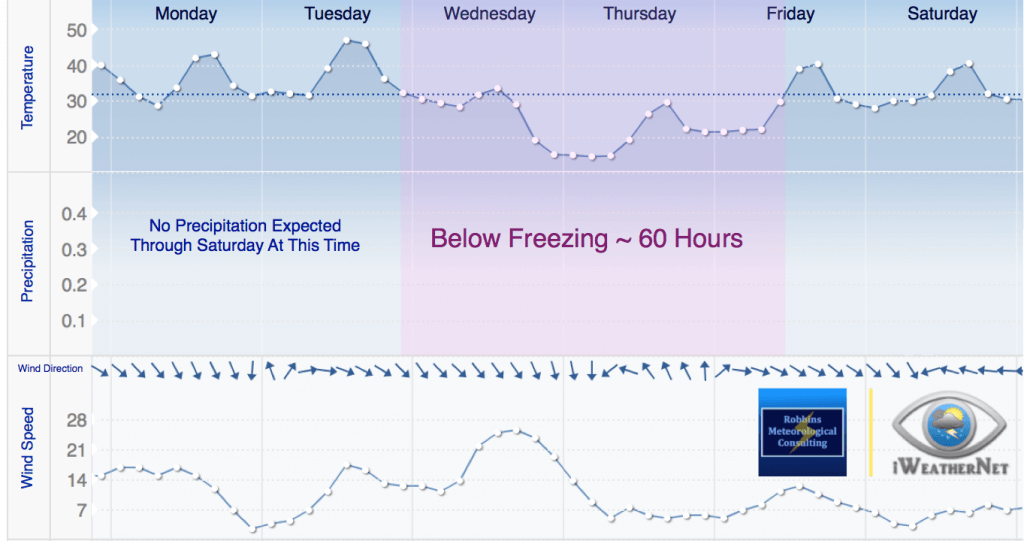 Note:  Additional information will be added to this page.  My forecasts may be fine-tuned with future data, so bookmark the page and check back for further updates.