→ Read my initial forecast published on Saturday, March 21
---
Final Update – Observed Low Temperatures on the morning of March 29, 2014
The freeze that was predicted for over a week verified perfectly. All locations in northern Georgia fell below freezing for 4 or more hours Saturday night/Sunday morning. I've gone through the observations, and mid 20s were common. Fulton County Airport, for example, dropped to 26º and was below freezing for 4 hours. Marietta/Dobbins also fell to 26º. As expected, Hartsfield was warmer (always the case), but still reported a low of 31º. This freeze may have caused considerable damage to early spring growth, but I hope the early forecast allowed folks to prepare. Hopefully there will not be any additional freezes, but I can't rule it out completely (and I certainly can't rule out another frost).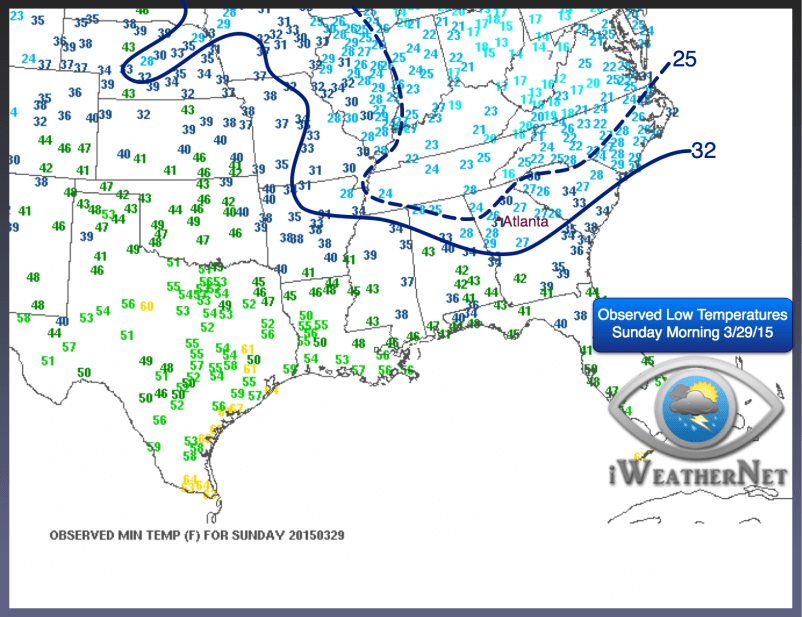 ---
Update #4 Posted Saturday 3/38/15 at 4 pm:  ***Freeze Warning Issued***
As predicted a week ago, the unseasonably cold airmass has moved into Georgia, and I still expect a freeze areawide tonight.  Full radiational cooling and a very dry airmass will cause temperatures to drop rapidly after sunset. I am still forecasting lows tonight in the mid 20s (suburbs) to around 30º in the city. Temperatures have not been below 30º since March 7th at Fulton County Airport and March 6th at Hartsfield.
As always, temperatures within the urban heat island of Atlanta will be warmer than surrounding suburbs. I do expect the suburbs to fall into the mid 20s. Considering the time of year, this freeze has potential to cause significant damage to early spring vegetation. Earlier this week, I ran a column in the Douglas County Sentinel offering some tips for protecting sensitive/tender vegetation.  I believe temperatures will be below freezing for about 4 hours tonight.
A warming trend will begin tomorrow (Sunday), with high temperatures near 60º. By Monday, high temperatures will be in the mid 60s (after morning rain). After tonight, I do not foresee anymore freezes for the next 7 days, and hopefully until fall.
---
Update #3 Posted Friday 3/27/15 at 4 pm:  ***Freeze Warning Issued***
If you've been following my forecast updates since last Friday, you are well aware of the freeze that will occur over much of northern Georgia this weekend. My forecast remains the same, and all preparations to protect recently planted gardens and other tender vegetation should be rushed to completion. Here are some of the latest developments:
• The NWS in Atlanta has issued a Freeze Warning for tonight (2 am through 10 am Saturday) for the northwestern third of Georgia, roughly north of a line from Franklin to Fayetteville to Lawrenceville to Homer. This includes the Atlanta metro.
• A Freeze Watch remains in effect for the entire area as far south as Hamilton to Macon to Louisville for Saturday night. Much of this watch will likely be upgraded to a Freeze Warning tomorrow.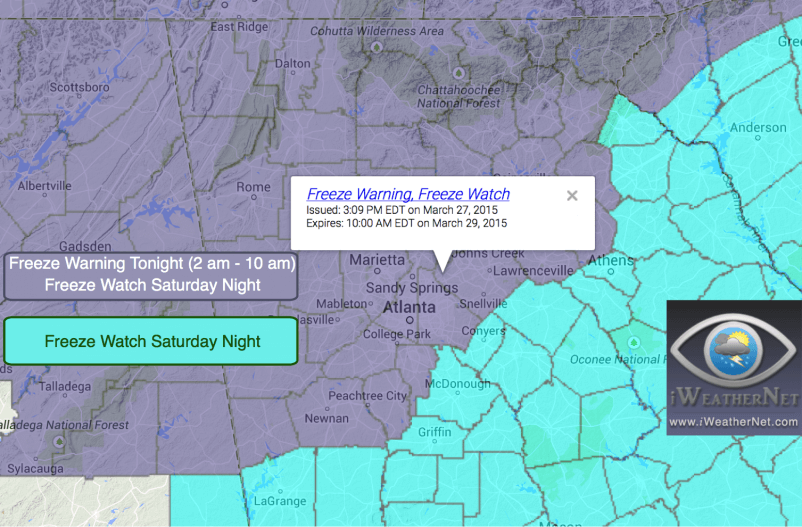 ---
Update #2 [Wednesday 3/25/15 at 7:45 am] In case you've bookmarked this page and are checking back for updates, I don't want you think the page was abandoned for lack of updates.  There simply are no changes to my forecasts.  What you see below from 4 days ago is still my forecast. Cold front moves through Atlanta late Thursday evening.  -Chris Robbins
---
Forecast Posted Saturday 3/21:

Spring Freeze Expected Next Weekend (March 28-29)
I'm sorry to say that Old Man Winter is not going out without a fight. It appears that a very cold airmass will surge south into the Southeast by the end of the week, with a freeze possible in areas very far south into Georgia and Alabama. This includes Atlanta and Birmingham. For now, I have created two forecast maps depicting low temperatures for next weekend (Saturday 3/28 and Sunday 3/29).  At this time, it looks like the primary cold front will pass through Atlanta on Thursday (3/26), followed by a secondary surge on Friday.  High temperatures on Saturday will only be in the 40s.  As always, I will post updates with future data. If you haven't planted those spring flowers, you may want to hold off a little longer.
Possible Record Cold
The following records may be in jeopardy this upcoming weekend:
1) Saturday Morning Low: The record low for March 28th is 28º set in 1913.
2) Saturday's High: The coldest high temperature ever recorded for March 28th is 46º set in 1955.
3) Sunday Morning Low: The record low for March 29th is 25º set in 1887
Numbers 2 and 3 are the most likely to be broken.  Number 1 is possible, but clouds Friday night may keep temperatures above 28º (as depicted on the first map below). I do not expect the high temperature on Saturday to rise above the mid to upper 40s.  Then, for Saturday night, I think skies will be clear, which will allow for full radiational cooling and temperatures falling into the mid 20s.
Forecast Maps [Prepared Sunday 3/22]