Special Update (Thursday 1/21 3:30 pm)
Flood Watch now in effect for tonight through Saturday morn
Winter Weather Advisory for accumulating snow effective Fri 3 pm – Sat 7 am.
NOTE:  I do not expect any snow in the metro prior to 6 pm.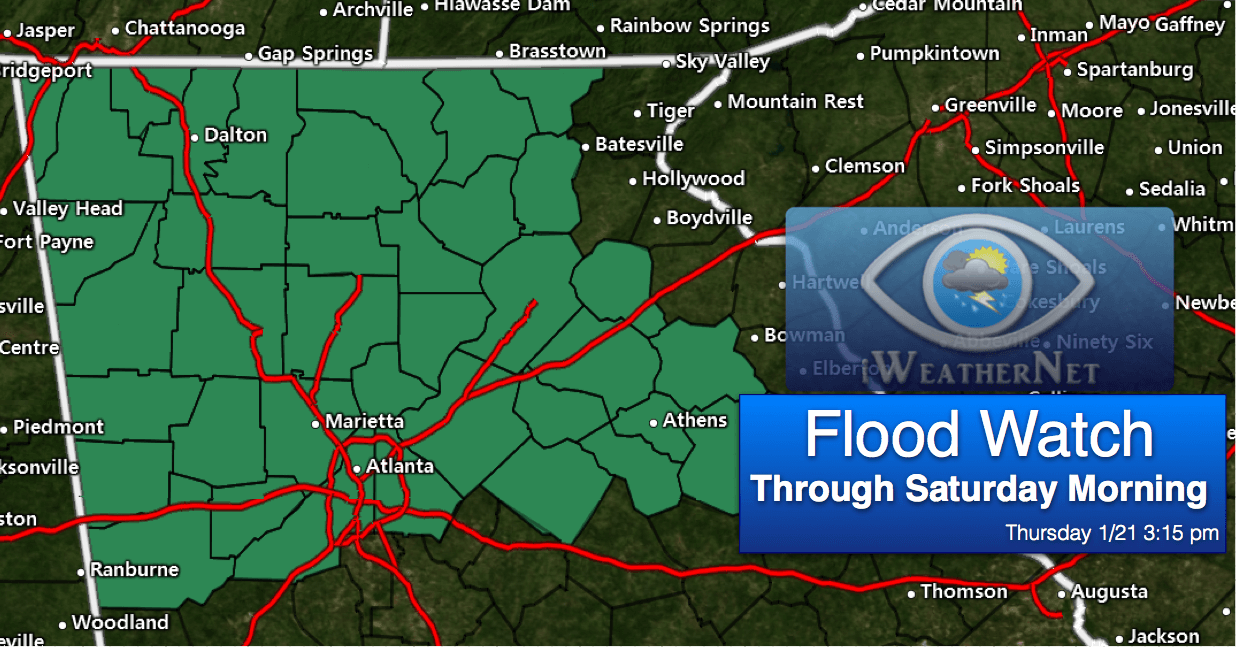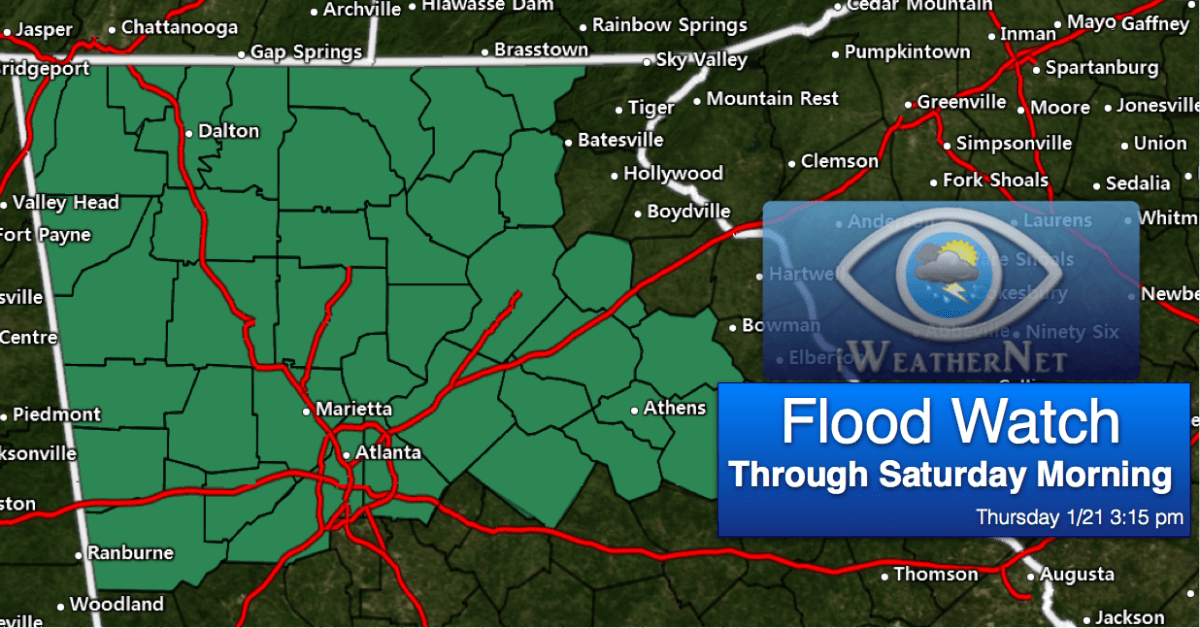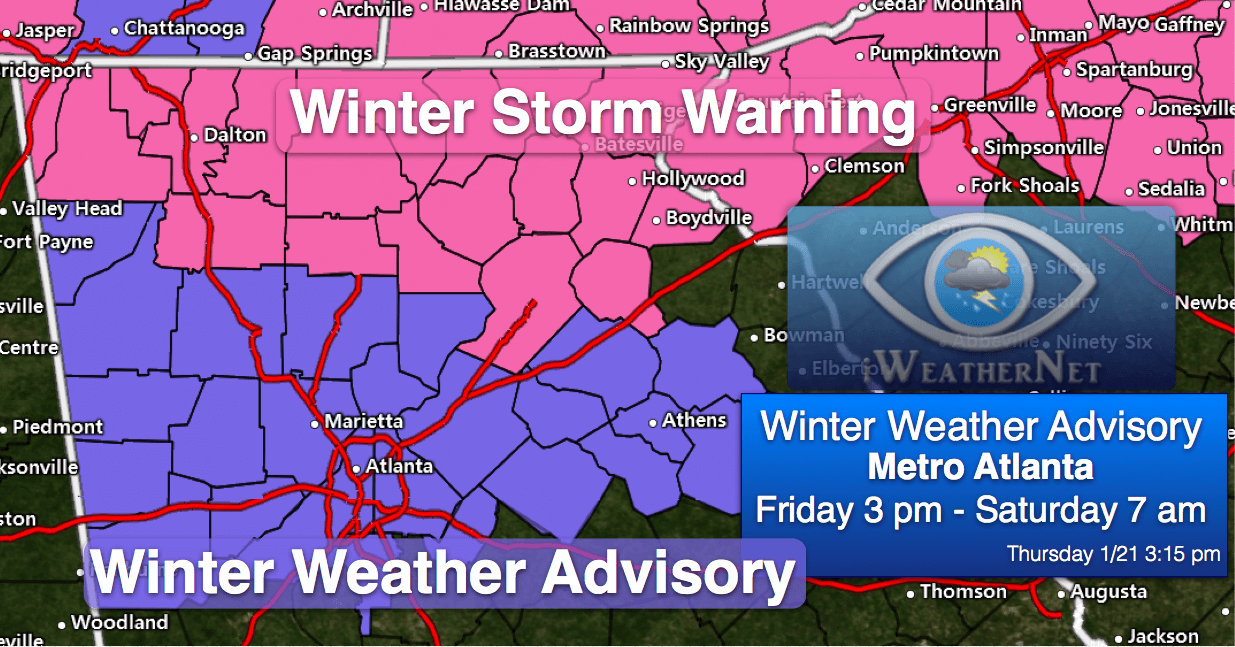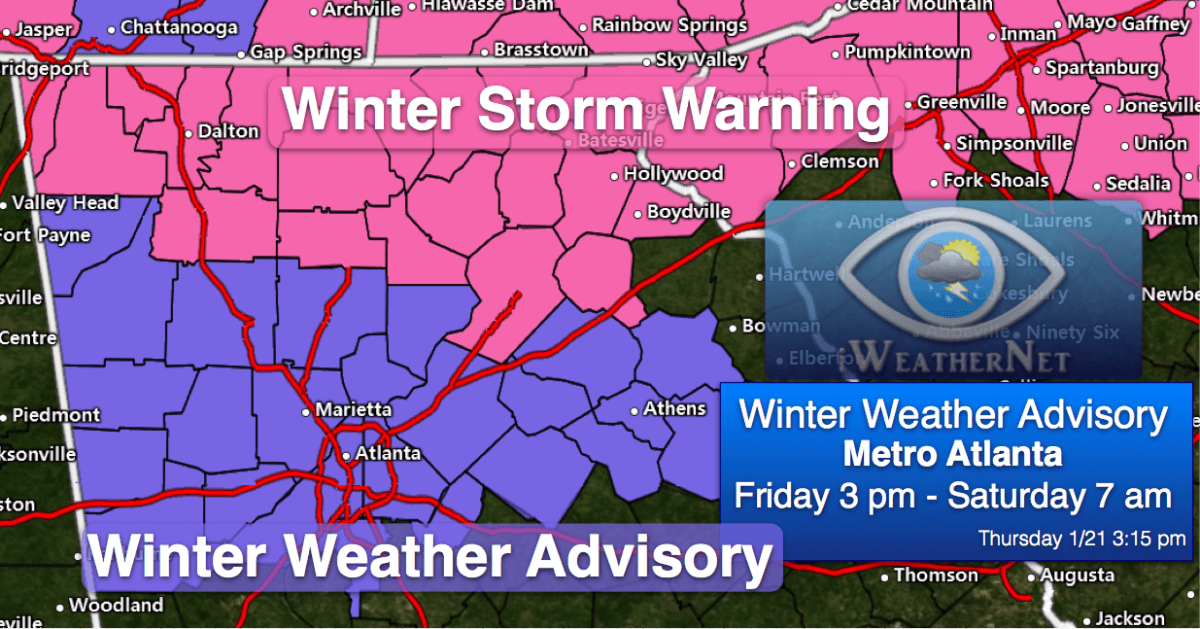 Latest Forecast Update (Posted Thursday 1/21)
Heavy Rain Event Tonight/Friday
◙ Very moist air is advecting northward into Alabama/Georgia from the Gulf of Mexico ahead of the next storm system and by tonight, atmospheric precipitable water content will approach the 95th percentile for this time of year.
◙ Precipitable water content that high is conducive to rainfall rates up to 1 inch per hour at times, especially within thunderstorms. I am forecasting widespread 2 to 3 inches of rain within the pink shade on this map, with locally higher amounts.
◙ Localized flooding will be possible in the typical low-lying, urban, and general flood-prone areas.
◙ The rain will increase in coverage from the southwest later today and especially tonight.
Rain changing to snow Friday evening
Accumulations of 1 to 3 inches in the metro
◙ A vigorous upper-level disturbance is deepening and has induced a surface low over Texas. This surface low will deepen and intensify over the next 24 hours as it moves into the Southeast.
◙ As the low propagates northeast into northern Alabama, the energy will be transferred to the lee side and force the surface low to propagate southeast around the western periphery of the cold-air damming/"wedge" currently in place; or, it may induce a new surface low altogether over southeast Georgia. Regardless, the troposphere will cool rapidly during the afternoon on Friday and will become cold enough for the changeover to snow in metro Atlanta after 5 pm.
◙ The changeover will occur much earlier in the mountains, then develop southwestward into the Atlanta metro Friday evening. The snow may be moderate/heavy at times in the evening, before tapering to light snow.
◙ With temperatures falling into the 20s Friday night, icy roads may develop.
◙ Winter Storm Watches/Advisories may be needed for much of North Georgia at some point today or tonight.
◙ I will post updates as I continue to analyze all future data.
Expected Rainfall Amounts Tonight through Friday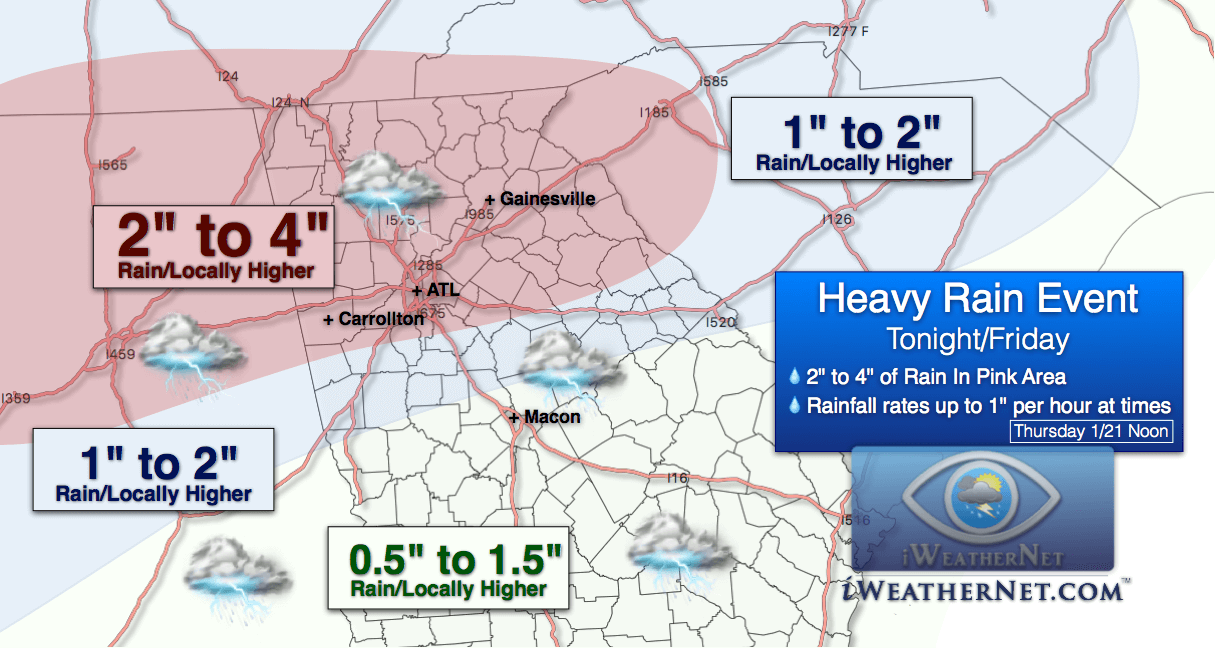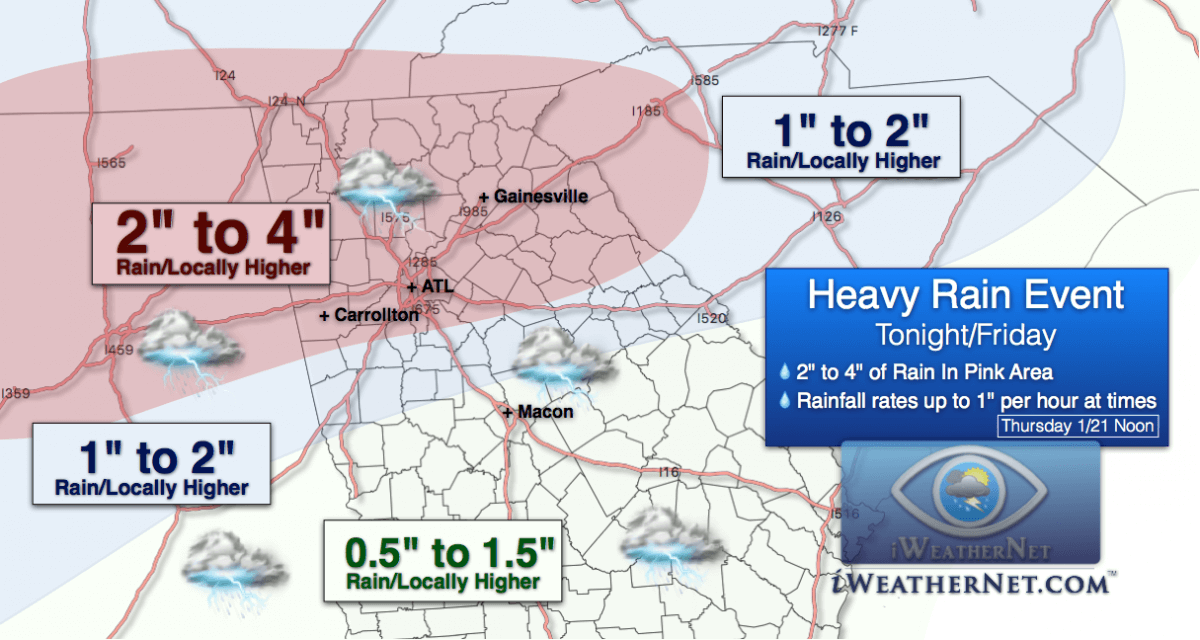 Snowfall Accumulation Map for Atlanta and Vicinity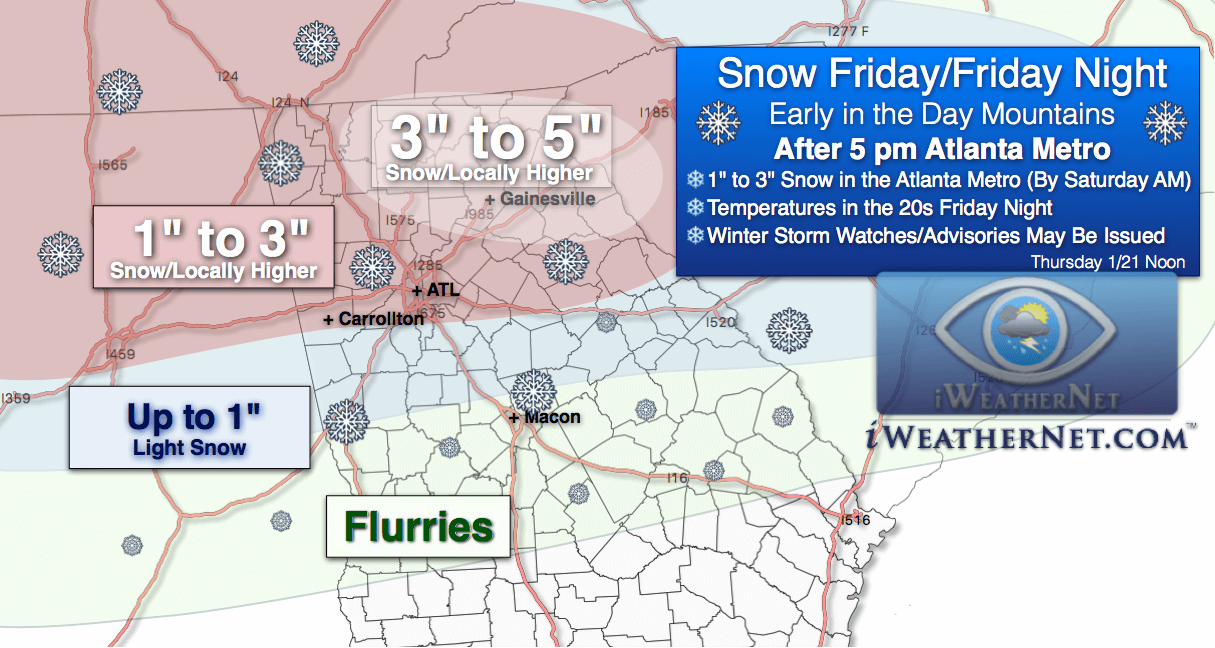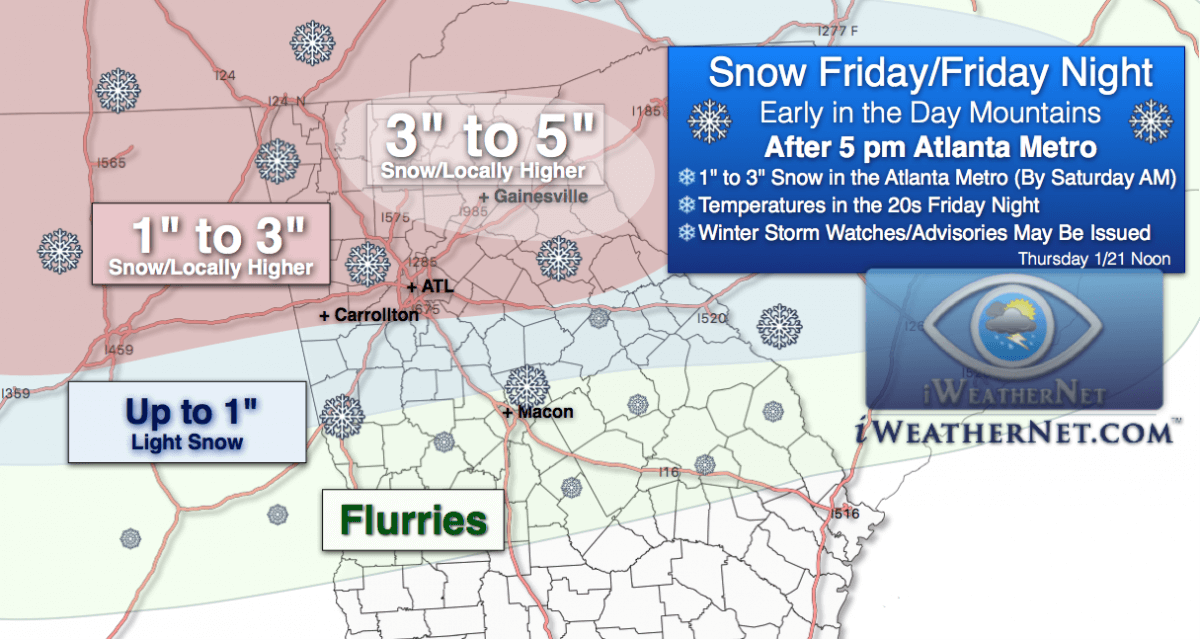 Over 20-Inches in the Mid-Atlantic with Possible Snowfall Records
Forecast #1 Posted Tuesday 1/19
Locally Heavy Rain Thurs/Friday
◙ Last night was the coldest night so far this season. In fact, it was the coldest night since February 20th of last year. Lows this morning were in the range of 15º to 20º (officially 20º at Hartsfield, with teens in the suburbs).
◙ Today will be clear, but cold, with highs only in the mid 30s.
◙ Clouds will increase tonight, becoming overcast after midnight. The clouds will help to keep temperatures up a bit higher than they were last night, but it will still be very cold at morning rush hour tomorrow. Lows tonight in the low to mid 20s. If the overcast is a little slower to develop, lows may be slightly colder.
◙ Tomorrow, a weak and very fast-moving disturbance will bring light rain by afternoon/evening, with highs in the mid 40s.
◙ A stronger storm system will move into the Southeast for Thursday/Friday. In advance, another round of rain (heavy at times) will develop late Thursday/Thursday night and last through the first half of the day Friday.
◙ All tolled, I am forecasting widespread 1 to 2 inches of rain by the time the rain ends Friday afternoon.
Quick Forecast Summary
● Today: Clear. High in the mid 30s.
● Tonight: Increasing clouds. 20º to 25º.
● Weds: Overcast. Light rain late. High in the mid 40s.
● Thurs: Rain likely late. High in the lower 50s. Chance of rain is near 100%.
● Thurs night & Friday: Periods of rain. Rain may be heavy at times. Chance of rain near 100%. Lows Thursday night in the lower 40s. High on Friday in the lower 50s early, then falling.
● I'm watching Friday evening/night for a possible changeover to light snow, but I am not ready to commit just yet.  Check back for future updates this week.
?View my forecast for Atlanta