(Forecast Posted Tuesday 1/20/15) …Widespread heavy rain & possible winter weather event for North Texas…
In my forecast yesterday (Monday), I noted that Thursday's high temperature would occur at midnight (40s) then fall into the mid 30s for the daytime. This continues to be a very difficult forecast, because there isn't a preexisting cold airmass in place.  The air temperature as far north as the Canadian border is no colder than the 30s (some 20s in Montana) as of 8 pm tonight (Tuesday 1/20).  However, a vigorous upper-level storm system will develop/intensify from the merger of two smaller disturbances, and it appears that the atmosphere will cool via dynamic processes (i.e., through the physics of vertical motions and evaporative cooling). The question is: will there be enough dynamic cooling to support winter precipitation in North Texas? That is the most challenging aspect of this forecast.
Drought Status and Much-Needed Rainfall (1 to 3 Inches)
At the very least, I am 100% confident that we will receive much-needed rainfall. I still expect rain to overspread N. TX tomorrow evening (Wednesday evening) through Thursday morning. The rain will become heavy at times, with a few thunderstorms possible.  As the atmosphere cools early Thursday, the rain may mix with some wet snowflakes from DFW northward, with no accumulation.  The rain will taper by mid-morning Thursday, followed by another round of light rain during the afternoon.  I foresee the precipitation coming through in three rounds:
Wed pm/Thurs am: Rain heavy at times. May mix with snow Thurs morn (DFW northward/no accum)
Thursday afternoon: Another round of light rain and drizzle possible
Thursday night, the parent upper low will enter west Texas and yet a third round of precipitation will develop
Texas Drought Monitor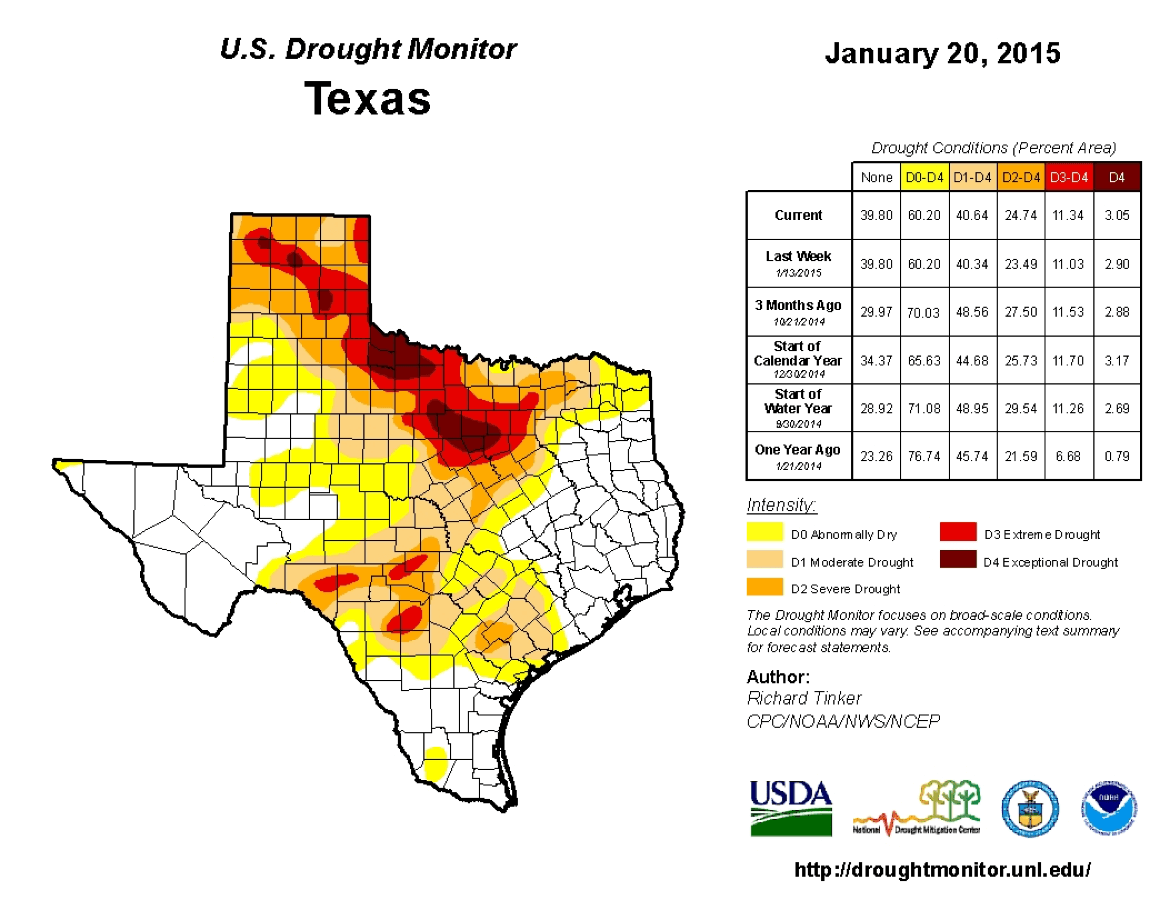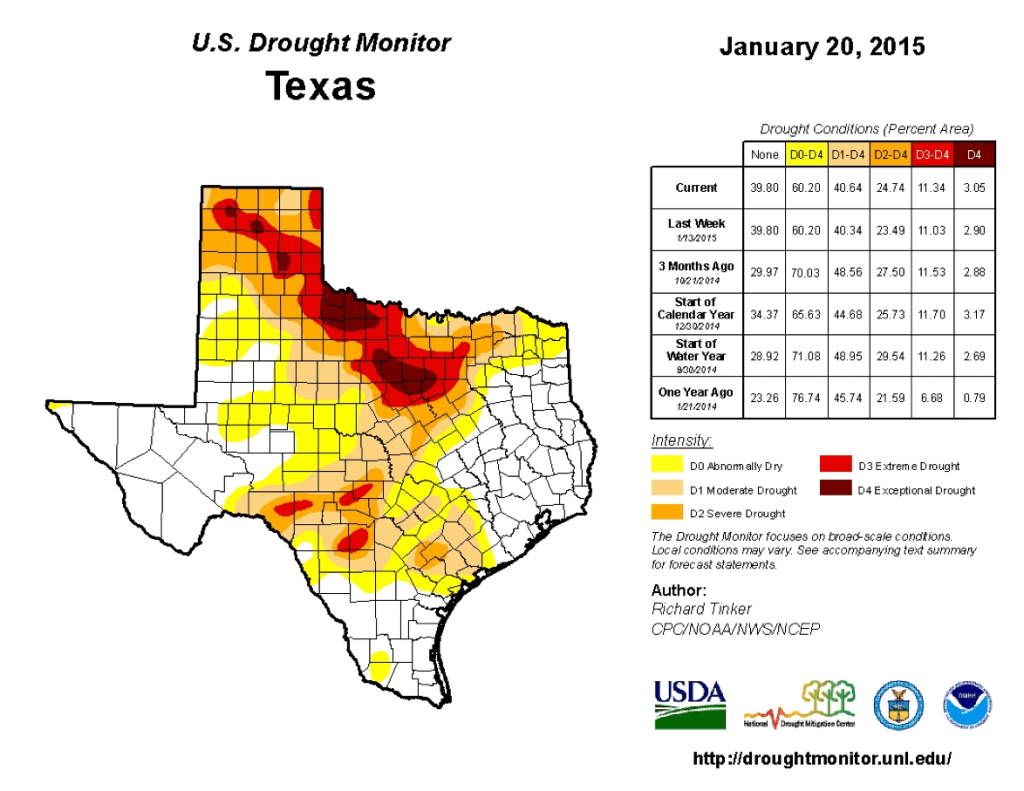 Potential for Winter Precipitation
From Thursday afternoon through Friday morning, particularly as the main upper low approaches North Texas, the thermodynamic profiles may become cold enough to support a rain/snow mix.  For snow, I am most concerned with the third round (listed above). As it looks right now, the snow should only occur within the bands of heaviest precipitation, due to dynamic cooling. Surface temperatures appear to be too warm for significant accumulations. However, snow can cause the temperature to drop to near freezing due to latent-heat absorption during the melting and evaporation process (energy taken from the environment), especially at night in the absence of solar insolation.  For now, I continue to forecast surface temperatures to remain above freezing, but I will keep an eye on both radar and temperature trends Thursday night.
I will continue to monitor and analyze the data, and I may add a few additional graphics to this page.
Note:  As always, downtown Dallas may be immune from seeing snow with this event due to the urban heat island effect.  In marginal situations like this, Dallas typically struggles to cool sufficiently in the lowest 500 feet of the atmosphere to support snow.  The best chance of snow in Dallas appears to be with the second round Thursday night, but I have very low confidence.
Forecast Sounding (Thermodynamic Profile) for Noon Thursday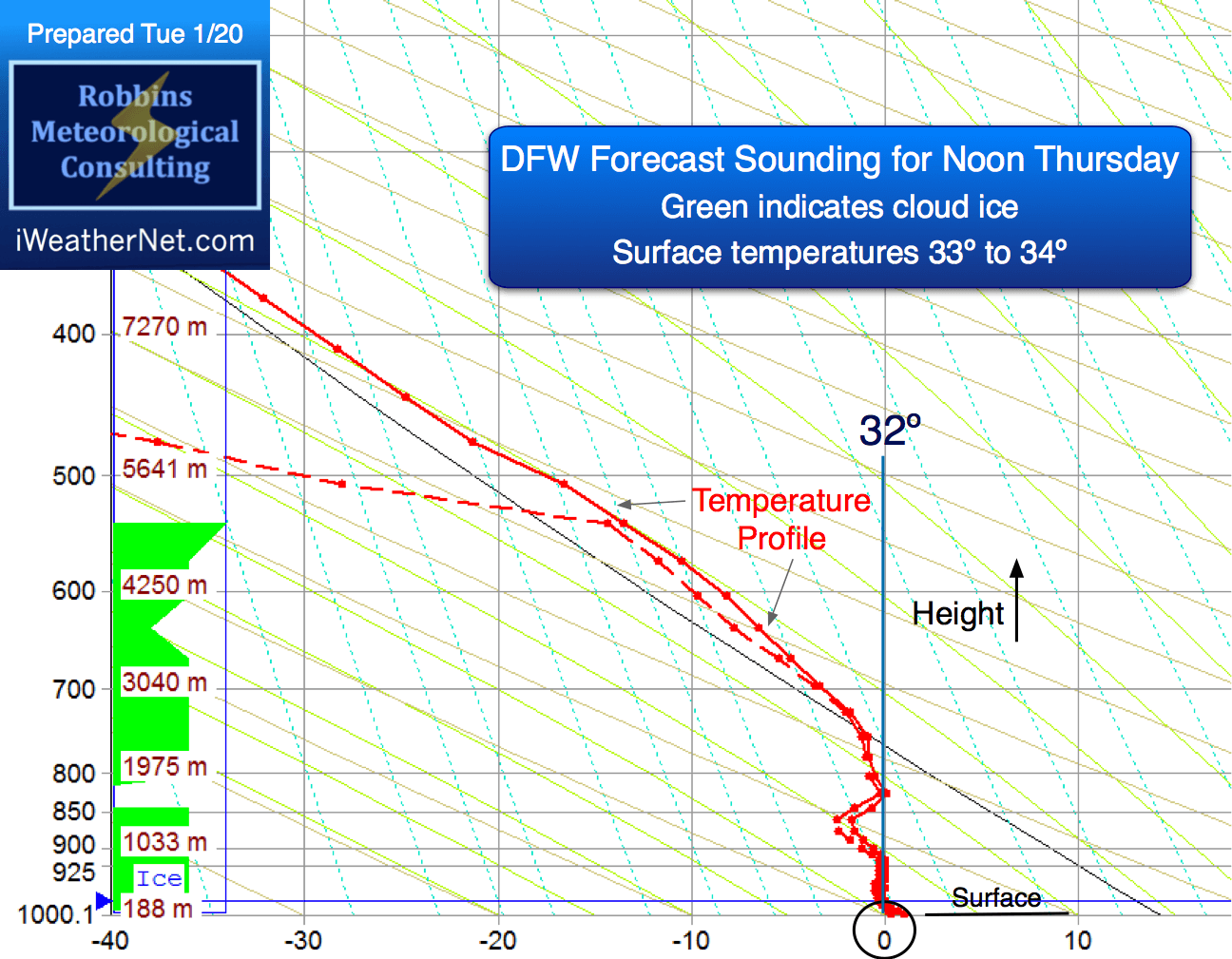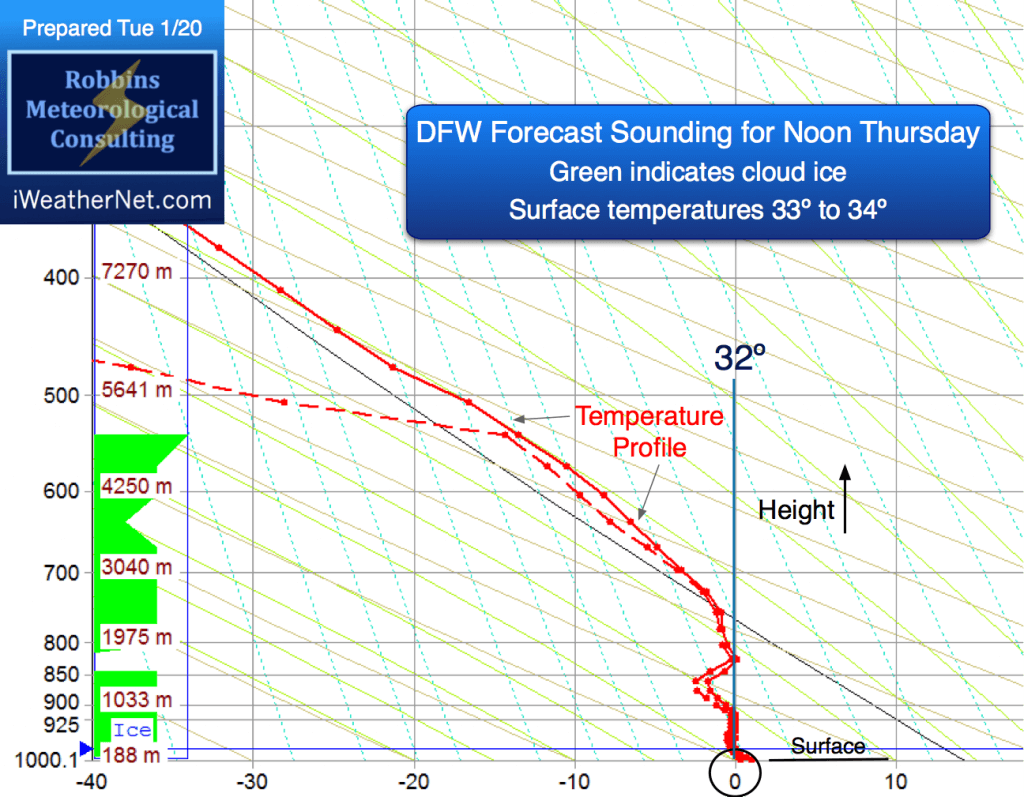 Most Favorable Areas for Snow Thursday through Friday Morning
I've drawn the areas which stand the best chance of seeing snow Thursday through Friday morning. As I've been saying, areas east of DFW Airport (i.e., Dallas), stand the lowest chance of seeing snow. The areas with the greatest chance are WEST of a line from Gainesville to Denton to Fort Worth. As the main upper low moves over Texas Thursday night, a rain/snow mix may occur west of the dashed line.  Edit: Previous snowfall accumulation graphics were removed because they were model-simulated amounts, seemed extreme, and were causing some public confusion.  The best chance for snow will be with the synoptic lift associated with the upper low as it passes over North Texas Thursday night and early Friday.  Surface temperatures should preclude significant accumulations.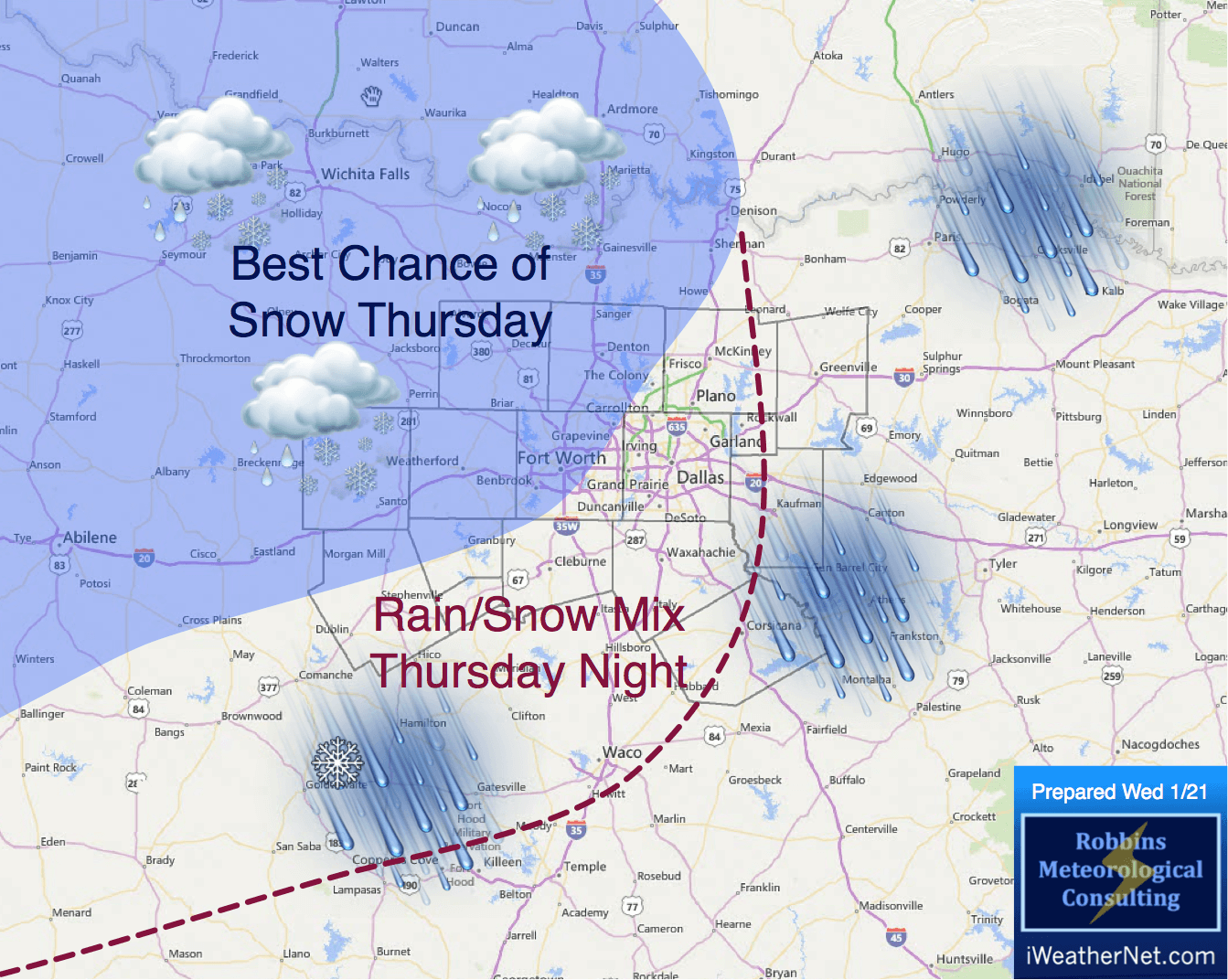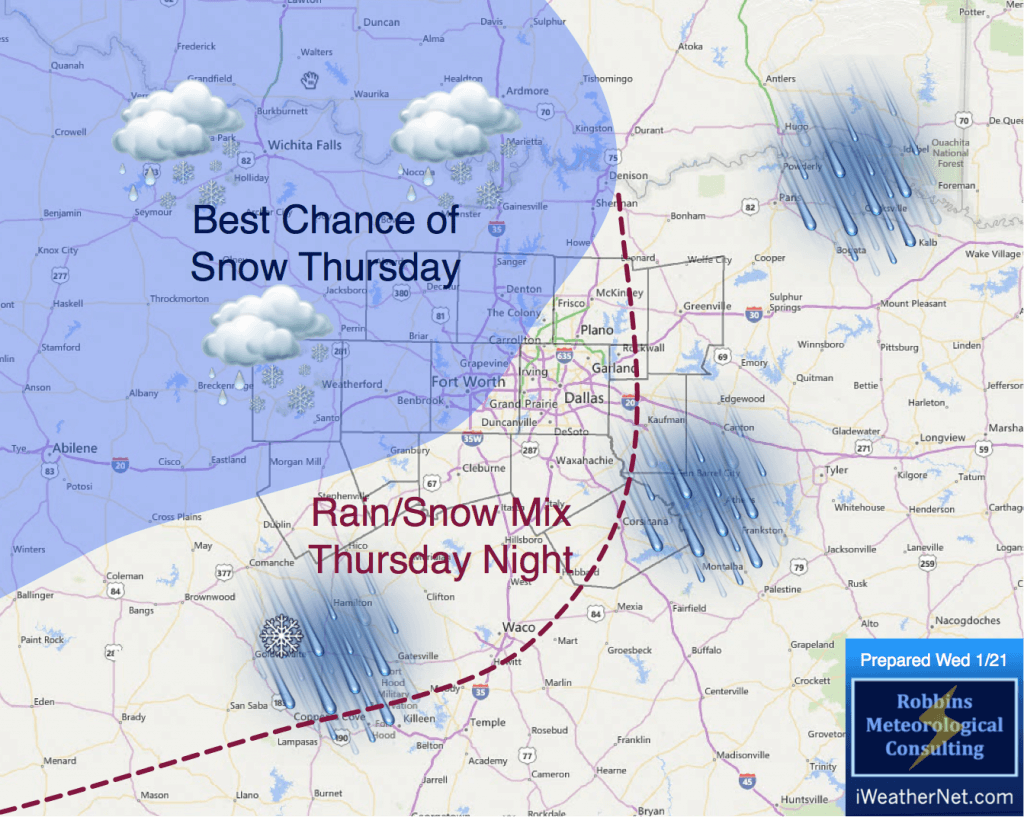 Forecast Prepared Tuesday, January 20, 2015
Rain and thunderstorms developing Wednesday evening
Rainfall heavy at times Wednesday night & Thursday
Total rainfall 1 to 3 inches by Thursday morning (localized flooding may occur)
Chance of rain Wednesday night/Thursday is 100%
Windy Wednesday night through Thursday: Gusts to 35 mph
Thursday's high in the mid 40s at midnight, falling to the mid-upper 30s during the day
Rain may mix with or change to wet snow WEST of a line from Gainesville to DFW Airport

Thursday Night

(30% chance)
Downtown Dallas may struggle to cool sufficiently for snow (typical in these marginal situations)
I will update, as necessary, with future data…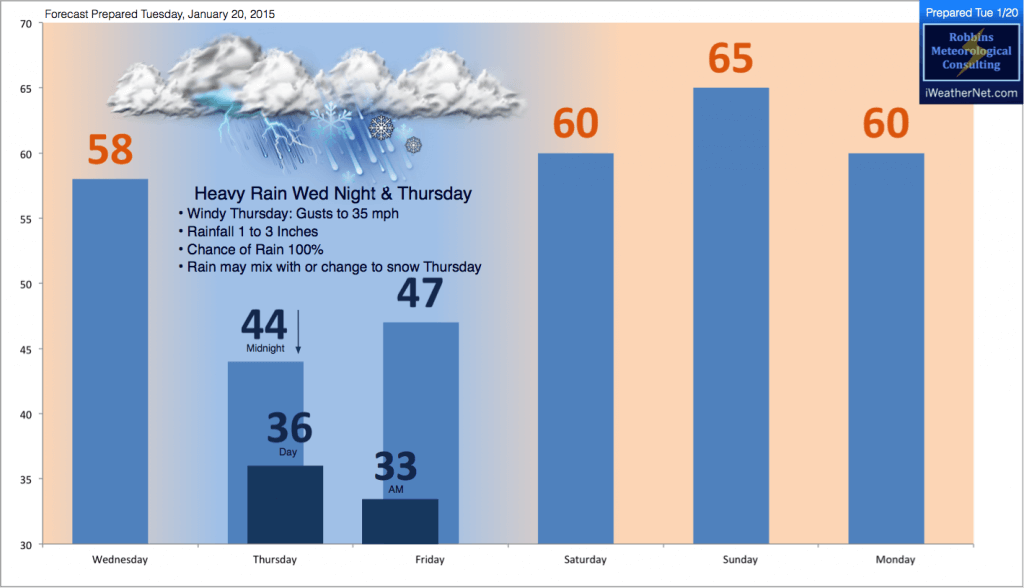 ---
Previous Forecast from Monday, January 19
Showers developing Wednesday evening
Rainfall heavy at times Wednesday night & Thursday
Some thunderstorms possible
Total rainfall 1 to 3 inches by Thursday evening
Chance of rain Wednesday night/Thursday is near 100%
Windy W

ednesday night through Thursday: Gusts to 35 mph

Thursday's high in the mid 40s at midnight, 30s during the day
I will update, as necessary, with future data…