Special Update [Saturday 4/18 7:40 pm]
Significant thunderstorm wind damage is likely in the path of this downburst throughout Tarrant County, with winds in excess of 70 mph possible. It is moving northeast through Tarrant County.
Velocity Image at 7:40 pm: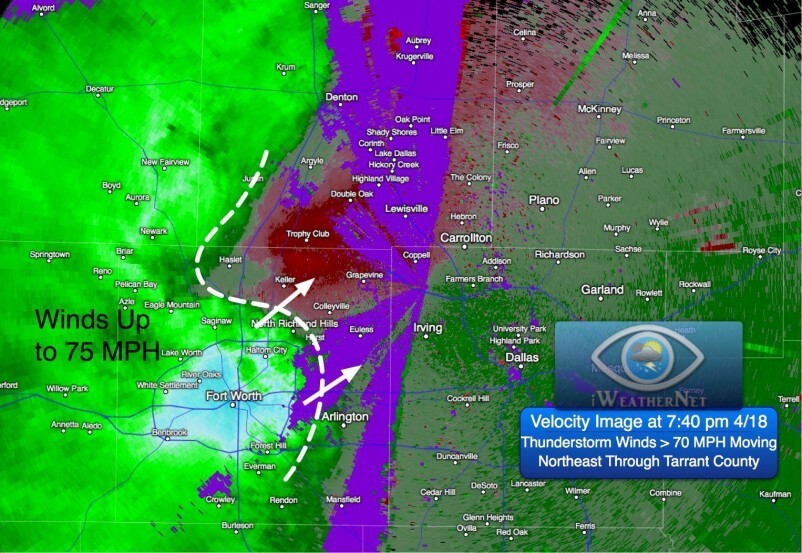 ---
Fourth Forecast Update [Saturday 4/18 5:45 pm]
***Severe Thunderstorm Watch Until 1 am***
Includes the D/FW Metroplex
All future updates will be posted on the WeatherNet Facebook page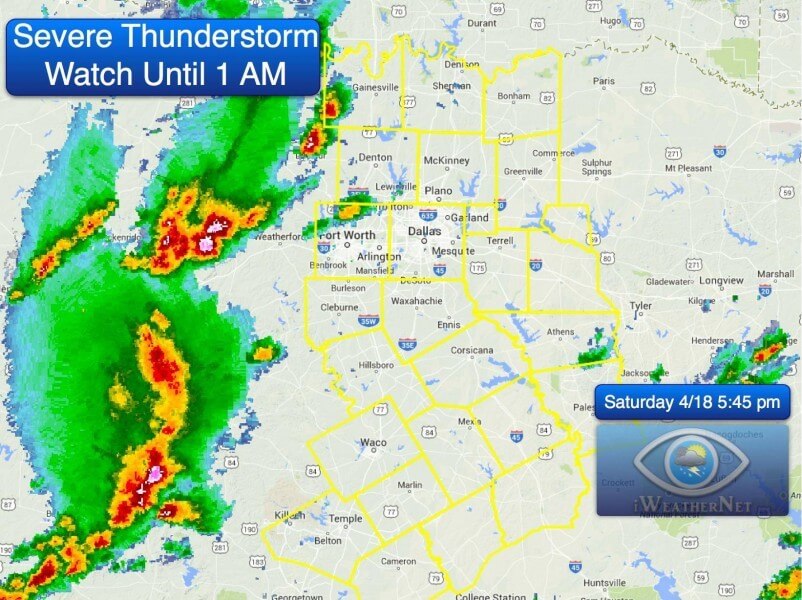 ---
Third Forecast Update [Saturday 4/18 1:15 pm]
This is my partial analysis using surface data from 12:39 pm CDT. The color-fill is relative humidity, the solid contours are dew point temperatures. The dry line stands out very well. It will mix/propagate a little to the east today, and thunderstorms should develop along it by late afternoon. The upper-level dynamics/forcing coupled with thunderstorm outflow (cold pool propagation) will allow the thunderstorms to move rapidly to the east, into North Texas, this evening. It appears that a line of thunderstorms may develop, and they will thrive on their own outflow as the dry line retreats back to the west. Thunderstorms this evening may be severe, as I discussed earlier.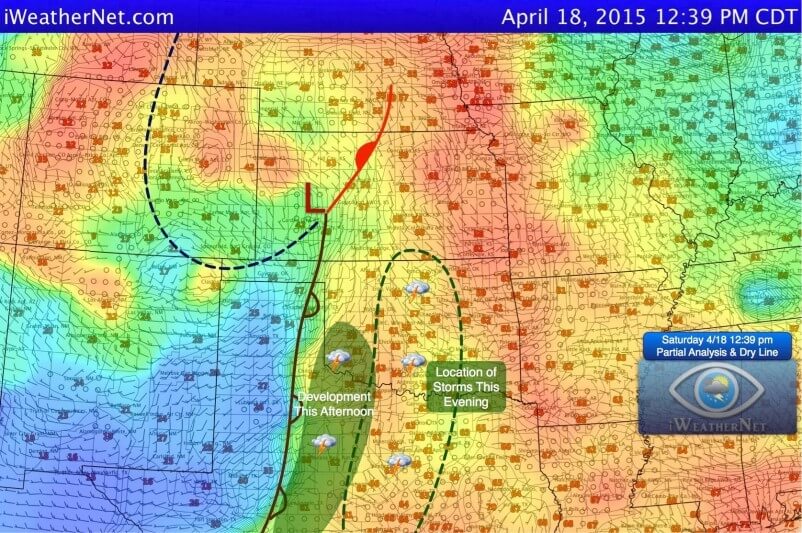 → Discussion on Facebook: Facebook Update #3
---
Second Forecast Update [Saturday 4/18 at 10 am]
***Severe Thunderstorms Possible Late Today***
About an hour ago, I posted my forecast for today.  With new data coming in, and with the sunshine/warmer temperatures, my concerns are increasing that parts of North Texas (including the D/FW Metroplex) could see severe thunderstorms. A few supercells (per my previous technical explanation) are possible.
Some of the newer vertical thermodynamic profiles produced by the mesoscale models for later today are indicating significant instability (CAPE > 3,000 J/kg).  When CAPE is that high, thunderstorms can produce hail to baseball size. Again, PLEASE understand the nature of thunderstorm updrafts: they form from local parcel buoyancy giving them a natural scattering. Where some parcels rise, others sink.  Not everyone is going to experience severe thunderstorms; however, the chance is there and some folks may be dealing with very large hail and wind damage.  Others may have just heavy rain.
It will be important today for everyone to pay attention to future updates.  As I said an hour ago, a weather watch may be needed later this afternoon.  I see no suppressive capping inversion, and there is no large-scale subsidence. Unlike yesterday, we have a jet streak that may provide some additional atmospheric dynamics that are necessary for severe thunderstorms.  I will post updates, as necessary.  The following is a link to my previous forecast update in case you missed it.  Also, as always, you can use the interactive data tools on my website.
→ Discussion on Facebook: Facebook Update #2
---
Initial Forecast  Discussion [Saturday 4/18 at 9 am]
Good morning North Texas. Beautiful day in store, with temperatures in the low to mid 80s (80º to 85º). The dry line will approach the western parts of N. TX later today, with significant instability in place. Convective available potential energy (CAPE) will exceed 2,000 J/kg later today, with little to no convective suppression (cap). An upper-level jet streak will pass to our north this afternoon, placing North Texas in a favorable quadrant for thunderstorm development.
I do expect to see thunderstorms form to the west this afternoon, some of which will become severe with large hail and damaging winds being the primary threats. Mid/upper-level winds will be stronger than they were yesterday which may increase the chance for supercells (supercells are rotating thunderstorms but the mere word in and of itself doesn't necessarily mean "tornadic"). I believe the threat of severe thunderstorms is higher today, whereas yesterday was primarily heavy rain. A weather watch may be needed later today for parts of North Texas, especially areas closer to the dry line. As thunderstorms move east, away from the dry line, their sustenance will be a function of atmospheric instability.
We may see a conglomerate of thunderstorms later today, which would mean another round of heavy rain for D/FW. Again, I will also be watching the potential for severe thunderstorms. I will not be able to questions about the forecast for a particular location at a specific time. Those questions are impossible to answer, especially since I have a lot of forecasting tasks to work on today. So… stay tuned, and check back to my page later this afternoon. As always, you can use the interactive tools on my website, because it's physically impossible for me to post on Facebook continuously; but, I will do my best.
→ Discussion on Facebook: Facebook Update #1
---
First Published Forecast For Severe Thunderstorms
Forecast last updated: Friday, April 17 at 11:00 pm
Today: Mostly sunny. High of 80º to 85º.
This Afternoon: Increasing clouds but continued partly sunny. Scattered thunderstorms developing west of the metroplex late, and moving east. Some thunderstorms could become severe, with large hail and damaging winds this evening.
Tonight: Scattered showers and thunderstorms this evening. Some may be severe. Low in the mid 60s.
Sunday: Mostly sunny. High in the mid 80s.