How does the first freeze of 2015 compare with normal (climatology)?
❄️  The average first freeze at DFW is November 22.  Therefore, this year's freeze was right on schedule, based on the current 30-year average (1981-2010).
Other Freeze Statistics for DFW:
Average first freeze: November 22
Average last freeze: March 13
Earliest freeze on record: October 22, 1898
Latest first freeze on record: January 4, 1972
Most freezes in a season:  62 in the winter of 1977-1978
Fewest freezes in a season: 14 in the winter of 2011-2012
---
❄️  Archive of Forecasts Posted Before the Event: First Forecast | Second Update | Third Update | Final Forecast
Outcome… Posted Sunday 11/22 8:40 am
◙   DFW Airport recorded its first freeze of the season, with a low of 31º on the morning of November 22, 2015.
◙  The well-predicted freeze materialized as expected and many areas were below freezing for more than 8 hours.  This freeze brings the growing season to an end across North Texas.
◙  As expected, those who live inside the man-made urban heat island were much warmer, and parts of Dallas avoided a freeze (this is extremely localized). The low temperature at Dallas Love was only 33º.  At DFW Airport it was 31º very briefly.  I am in Southlake, just 6 miles from the airport, and it was 26º here.
◙  Here are some low temperatures from around the area along with the approximate duration below freezing:
• Arlington … 31º (2 hours)
• Cleburne … 28º (7 hours)
• Dallas Addison … 34º (0 hours) ***  Urban Heat Island
• Dallas Love … 33º (0 hours) *** Urban Heat Island
• Denton … 26º (8 hours)
• DFW Airport … 31º (1 hour)
• Fort Worth Alliance … 23º (9 hours)
• Granbury … 27º (8 hours)
• Greenville … 30º (6 hours)
• McKinney … 28º (7 hours)
• Mineral Wells … 26º (7 hours)
• Southlake … 26º (6 hours)
• Terrell … 31º (3 hours)
• Waco … 31º (2 hours)
***The urban heat island is real and I accounted for it in all of my forecasts this week…
---
Final Forecast Update Posted [Saturday 11/21/15]
***Freeze Warning for Tonight***
If you have followed my forecasts for the 5 days, then you are prepared for the first freeze of the season in North Texas. Precautions to protect sensitive vegetation should be rushed to completion as this will mark the end of the growing season.
Lows tonight generally in the 20s to lower 30s (warmest south of I-20 and inside the urban heat island).
---
Third Forecast [Wednesday 11/18/15]
***Significant Freeze Saturday Night***
***Lows in the 20s to lower 30s***
***Protect Sensitive Plants***
***Official End of the Growing Season***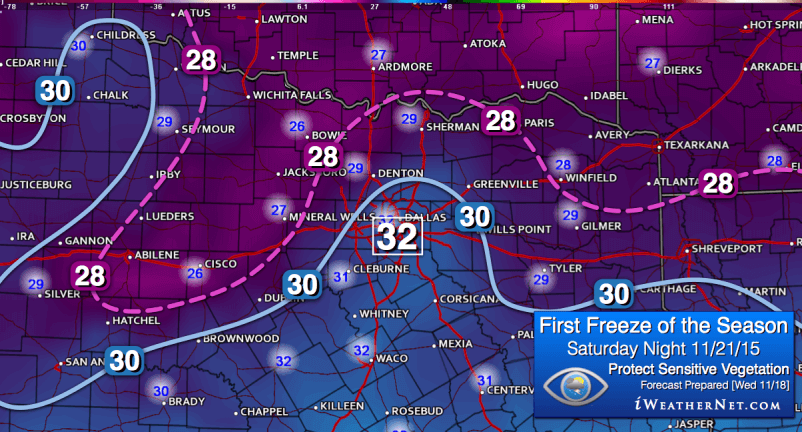 ---
Second Forecast [Tuesday 11/17/15]
***Coldest air of the season arrives Saturday***
***Frost possible in some areas Sat night***
***Light freeze northern half (outside of the city)***
A strong cold front will move through North Texas very early Saturday, possibly before sunrise. Overcast and areas of light rain will be possible along/behind the front. If you saw my forecast a couple of days ago, I am still forecasting temperatures on Saturday to stay in the 40s. Our high for the day will likely be the temperature around midnight, then falling behind the front.
---
First Forecast [Monday 11/16/15]
Saturday 11/21:  A strong cold front will move through North Texas early Saturday, bringing one of our coldest days so far this season. Much of the area will stay in the 40s on Saturday.
I am forecasting a frost Saturday night and at least a light freeze for parts of the area (outside of the urban heat island). I will have more information on this with future data.