Final Rainfall Amounts [Posted Saturday 10/31 at 1:25 pm]
The NWS in Fort Worth prepared this graphic depicting storm total rainfall amounts. Using the legend, I drew the 2-inch line. Clearly, most of the area saw 2 to 4 inches, but there was an area of 4 to 7 inches in Tarrant, Dallas, Johnson, and Ellis Counties where significant flash flooding resulted in swift water rescues.
In my forecast early Friday morning, I increased my rainfall forecast to widespread 2 to 4 inches, isolated higher. That part of the forecast verified well.
Here are some rainfall totals from yesterday's heavy rain event:
• DFW Airport: 2.24 inches
• Dallas Love: 3.44 inches (breaking the daily record)
• Arlington: 4.18 inches
• Denton: 2.65 inches
• McKinney: 2.05 inches
• Corsicana: 4.11 inches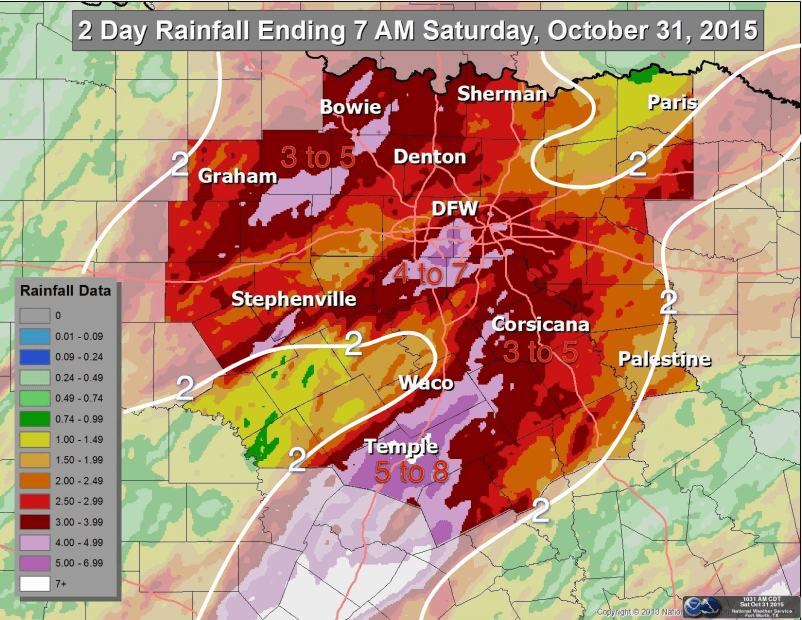 To Date, Wettest Year on Record
So far this year, DFW has received 48.42 inches of rain. That makes this year the wettest on record for the January through October period.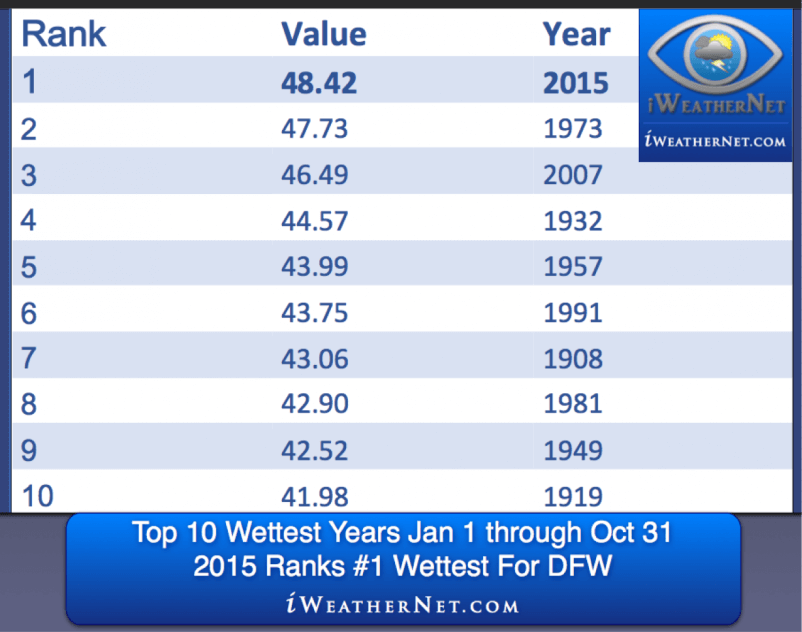 October 2015 is now the 2nd wettest October on record (records date back 117 years to 1898).
As predicted back on Tuesday, we jumped from the 9th wettest October on record to the 2nd wettest October on record with this event.
---
Third Forecast Update – Friday 10/30 6:00 pm
I nailed the wind forecast for today. Wind speeds are technically within Wind Advisory criteria.  At 6 pm:
DFW Airport: Sustained 26 Gusting 38
Dallas Love: Sustained 28 Gusting 35

Fort Worth Alliance: Sustained 23 Gusting 35
Today's Peak Wind Gusts
DFW has had a peak wind gust of 40 mph today
Love has had a peak wind gust of 41 mph
Alliance has had a peak wind gust of 38 mph
Official High at DFW Today (Friday October 30, 2015):  69ºF
---
Second Forecast Update Prepared Friday 10/30 7:30 am
***Heavy Rain Event Today/Tonight***
***Widespread 2 to 4 inches of rain, locally higher***
***Becoming windy this afternoon***
***No severe weather expected***
◙ The first round of heavy rain will move through during the morning rush hour.
◙ Atmospheric precipitable water content is increasing and by midday will exceed the 99th percentile for this time of year.
◙ Rainfall rates of 1 to 2 inches per hour will be possible.
◙ I am forecasting widespread 2 to 4 inches of rain, with isolated amounts greater than 5 inches. Some flash flooding will be possible.
◙ As I've been forecasting all week, today's rainfall record is in jeopardy.
◙ October 2015 is currently the 9th wettest October on record. This event will push October 2015 into the top 5, and likely into the top 3.
◙ As a surface low develops today, the increasing pressure gradient will cause the wind to increase this afternoon into the 25 to 35 mph range with gusts to 40 mph.
◙ The saturated soil from last week's event has weakened tree stability in North Texas. Wind gusts of 40 mph may cause some trees to uproot, especially if locally higher gusts from thunderstorms occur. This may cause some power outages (in addition to any power outages from lightning).
◙ The chance of rain today is 100%.
◙ Today's temperatures will stay in the 60s.
◙ There are no changes to the timing of this event. Halloween evening will be dry, as predicted all week.
I will post updates throughout the day… Don't forget that you can use the free radar tools on the website, including Doppler radar and high-resolution regional composite radar.
Note: This forecast was also posted on the iWeatherNet Facebook page at 7:34 am Friday 10/30.
---
Initial Forecast Prepared Tuesday 10/27 at 8:15 pm
**Heavy Rain Friday/Friday Night**
**Near-Record Rainfall Possible Friday**
**Dry For Halloween Night**
→ The following is a detailed, semi-technical forecast discussion for Dallas, Fort Worth and surrounding areas of North Texas.  For now, Halloween Night looks dry, with temperatures in the low to mid 60s.
◙ Generally unremarkable weather for the next 60 hours or so. Clear days/nights, highs in the mid to upper 70s tomorrow and Thursday.
◙ Thursday night, clouds will increase as moisture begins to surge north from the western Gulf of Mexico. The moisture flux is remarkably similar to last week when deep tropospheric moisture originated over the western Caribbean and advected northward through the western Gulf and into Texas.
◙ By Friday, atmospheric precipitable water content will approach the 99th percentile for this time of year (based on a 65-year PWAT climatology for North Texas). PWAT values this high are conducive to rainfall rates greater than 1-inch per hour within the heavier downpours and/or embedded thunderstorms.
◙ I believe showers will enter the western part of North Texas around sunrise on Friday, then overspread North Texas during the morning.
◙ The chance of rain on Friday is 100% and rainfall will be locally heavy at times into Friday night.
◙ I am forecasting widespread 1 to 3 inches of rain with locally higher amounts (especially west and northwest of the metroplex).
◙ The daily rainfall record for Friday will be in jeopardy (currently 2.43″ set 10/30/1973). So far, this is our 9th wettest October on record with 7.57″ officially at DFW Airport. We will likely enter the top 5 by the time this event is over and we may end the month in the top 3.
◙ To reach the top 5, we only need 0.63″. To enter the top 3, we need 1.76″. Finally, to end the month in the top 2, we need 1.88″. All of these are easily attainable with this system. The #1 spot is out of reach (we would need 6.61″ which is not expected).
◙ With overcast and rain on Friday, we will not rise out of the 60s. I am forecasting a high temperature in the mid 60s.
◙ It looks to me that wind speeds on Friday will increase as the surface low deepens. For now, I am forecasting sustained winds of 25 to 35 mph, with gusts to 40 mph.
◙ I expect the rain and embedded thunderstorms to continue into the overnight hours, then taper off Saturday morning. As of this moment, I expect the rain to end by 2 pm Saturday (possibly earlier), leaving us with a dry Halloween evening.
◙ While there are many similarities to last week's system (particularly the excessive deep tropospheric moisture content) one significant difference is that this system will move through quickly with just two shortwave perturbations that will enhance rainfall rates Friday/Friday night. Last week's system was very convoluted, with at least 5 individual disturbances that generated 5 distinct rounds of heavy rain. Of course, I will continue to monitor all future data and will update the forecast daily as the system approaches.
◙ As a side note… I sometimes use the phrase "heavy rain event" which I have used for over a decade to describe a specific type of heavy rain situation. I have my own criteria and generally reserve that phrase for an event with persistent/training thunderstorms, slow-moving systems with multiple rounds of heavy rain, or tropical disturbances that lead to widespread 2 to 4 inches of rain. Right now, I am expecting this to be a progressive system (i.e., moving fairly quickly) and I am forecasting 1 to 3 inches of rain (locally higher). If you see a forecast update with "heavy rain event" as a headline, then you'll know that I have increased my predicted rainfall amounts.
◙ Having said that, we only need 2.43 inches of rain on Friday to break the daily record and there may certainly be some flash flooding because of the saturated ground and swollen rivers/streams. I would not be at all surprised to see a Flash Flood Watch issued for Friday at some point on Thursday.
If you're making outdoor plans:
Friday night: reschedule.
Halloween night: the party's on!