Below is my partial/subjective surface analysis using 2 pm data. There is certainly a convoluted mess of fronts associated with this surface low. However, the dry line is obvious with at least one dry-line bulge southwest of the metroplex. Surface-based convective available potential energy (CAPE) in that area exceeds 4,000 J/kg. There is a θe (equivalent potential temperature) ridge to the south, and I expect to see enhanced/deep moisture convergence in that area very soon with possible rapid development of thunderstorms.
The skies are clearing and temperatures are rising. We should see updrafts developing to the west and southwest and thunderstorm initiation on radar in that area shortly. Thunderstorms today will be capable of very large hail, to the size of baseballs, frequent to excessive lightning, and possibly a few tornadoes within the green encircled area. Atmospheric precipitable water content will continue to exceed the 99th percentile for this time of year (based on a 65-year PWAT climatology), so rainfall rates up to 2 inches per hour and some flash flooding (especially where flooding has already occurred) will be possible.
2 pm 5/9/15 Surface Analysis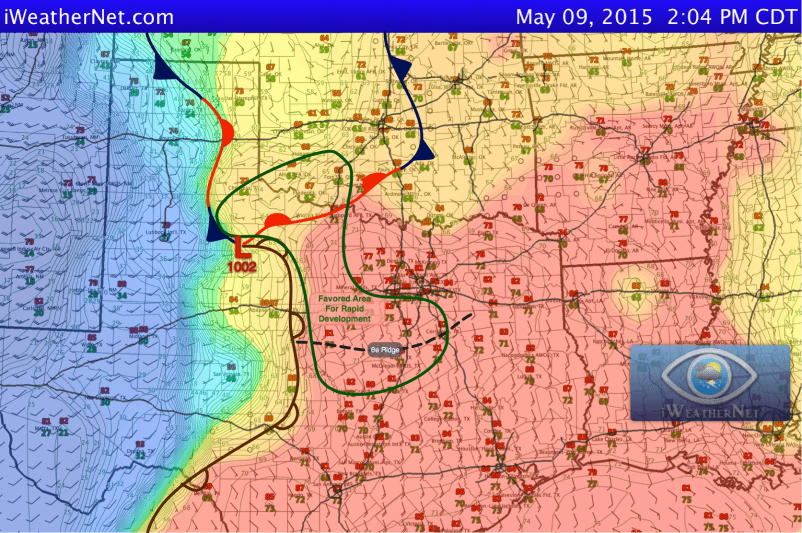 Tornado Watch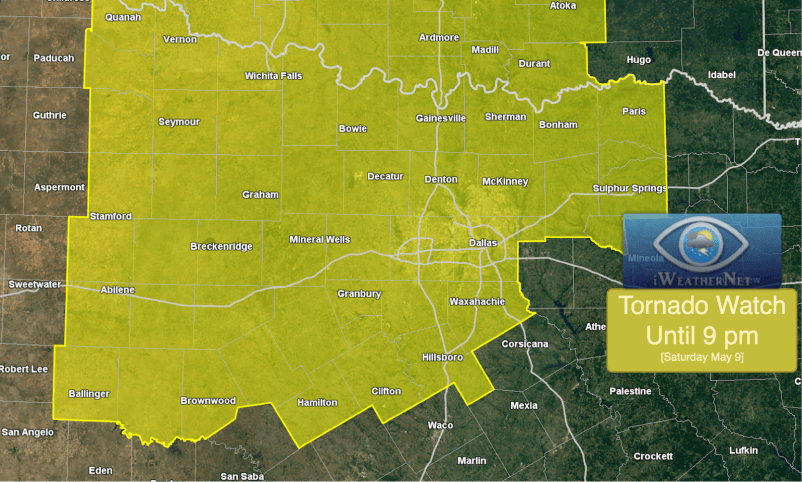 Higher Chance for Thunderstorms
IN the Metroplex

Sunday

I believe a thunderstorm complex will develop over southwest Texas Saturday night and overspread North Texas after 5 am.  Additional thunderstorms will be possible throughout the day Sunday.

The atmosphere is favorable for training thunderstorms and atmospheric precipitable water content continues above the 99th percentile for this time of year. Rainfall rates of 1 to 2 inches per hour will be possible. Much of North Texas could easily see 2 to 4 inches of rain by Sunday evening, with some areas receiving more than 6 inches (total from Saturday evening through Sunday evening). I will be watching the data/radar closely, as this could be a long 24 hours with rounds of thunderstorms and possible flash flooding.