UPDATE: Thursday 4/9 at 4 pm [Update Regarding Convective Initiation]:
My map yesterday placed convective initiation along a McKinney to DFW Airport to Stephenville line.  I am adjusting it west by about 20 miles to from Pilot Point to Fort Worth to Stephenville.  This shift wouldn't normally be significant (it's within the margin of error), but since it affects a heavily populated area, it is worth noting.  I will post updates on the Facebook page as thunderstorms develop today.  See the Previous Forecast from 4/8.
---
Discussion [Wednesday 4/8 2 am]
I expect much-needed rainfall in North Texas this afternoon through tonight. Thunderstorms should develop in southwest Texas this morning, and move/develop northeastward into North Texas this afternoon. Thunderstorms may produce locally heavy rain.
For Today: As I've been forecasting this week, a windy day is in store for North Texas today (Wednesday). I expect southerly winds to increase to 20 to 30 mph, with gusts to 40 mph possible (especially this afternoon).
An upper-level disturbance will move northeast across Texas today, and I expect a large area of showers and thunderstorms to develop to the west and overspread N. TX this afternoon. As of this moment (2 am), the radar is clear and the precipitation doesn't exist. I believe it will develop to the west later today, and many of us will see some much-needed rain this afternoon though tonight.
The nature of this disturbance and the atmospheric setup are suggestive of multi-cellular/clustered thunderstorms, with only marginal support for hail. Therefore, I am not forecasting severe thunderstorms at this time. However, given the time of day (max heating), I can't rule out an isolated, marginally severe thunderstorm with hail being the primary threat.  A second disturbance will move across N. TX tonight, with the potential for a second round of showers and thunderstorms after 11 pm.
For Thursday (4/9): A cold front will enter North Texas during the afternoon, and it appears that thunderstorms will develop south and east of a McKinney to DFW Airport to Stephenville line. Thunderstorms south of that line may become severe Thursday afternoon/evening. This is one of those situations where convective initiation will be very close to the metroplex, and pinpointing the precise location of formation will be difficult. If thunderstorms develop a little further north, a larger part of N. TX could see severe thunderstorms. For now, I am downplaying the threat for the metroplex, and focusing on the area south/east of D/FW for formation/intensification.  More information about Thursday is presented below this rainfall map.
My Forecast For Today (Wednesday 4/8)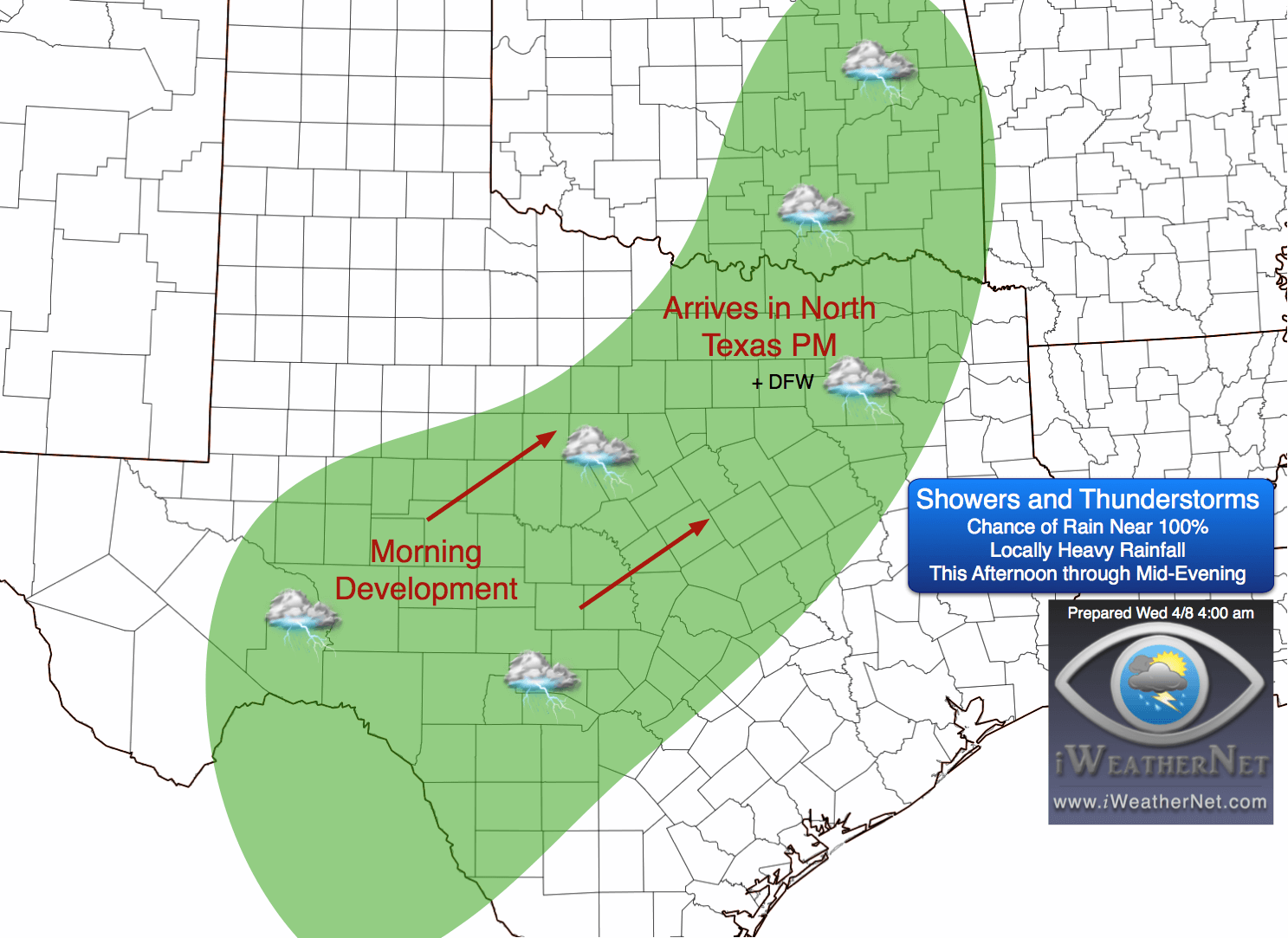 Severe Thunderstorms Thursday
***N. TX Severe Thunderstorms Possible Thursday***
I've indicated the approximate area of convective initiation Thursday afternoon. As I said earlier today, this is a very difficult forecast, because the forcing for thunderstorm formation will be very close to the metroplex Thursday afternoon. At this time, I am forecasting development along/near the dashed line (McKinney to DFW Airport to Stephenville), with thunderstorms intensifying and increasing in coverage as they propagate to the east. Thunderstorms in the red shaded area have the potential to become severe, with large hail and downburst winds the primary threats.  I will fine-tune the forecast with future data, and adjust the convective-initiation line if necessary.