Update #5 Friday 3/20 at 1:30 pm [Final Update]:   A few official rainfall amounts over the past 24 hours
Sister Grove Ck (Collin): 1.86
Melissa (Collin): 1.43
Prosper (Collin): 1.24
Dallas, Irving Blvd (Dallas): 0.51
Gainesville (Cooke): 1.56
Valley View (Cooke): 1.67
Denton (Denton): 0.81
Ladonia (Fannin): 2.93
Celeste (Hunt): 2.17
Alvord (Wise): 1.14
---
Update #4 Friday 3/20 at 9:25 am: A Flood Warning has been issued for central Hunt County and also for central Collin County. These are for:
The East Fork Trinity River in McKinney
The Cowleech Fork Sabine River in Greenville
Additional warnings may be issued as the heavy rain increases in coverage.  With atmospheric moisture in the 99th percentile for this time of year, rainfall rates > 1 inch per hour are likely with thunderstorms today.
---
Update #3 Friday 3/20 at 5:30 am: These are radar-estimated rainfall amounts as of 5:30 am. Overnight, there was a large area of 1+ inches through northern Wise/Denton/Collin Counties. Yellow/orange colors are 2″ or more, with nearly 3 inches of rain between Sanger/Pilot Point and Howe. As of 5:30 am, new thunderstorms are developing west of the metroplex, moving east. If you haven't seen rain yet, most of us will see much-needed rainfall this morning. I also expect another disturbance to bring more rain to North Texas tomorrow (Saturday).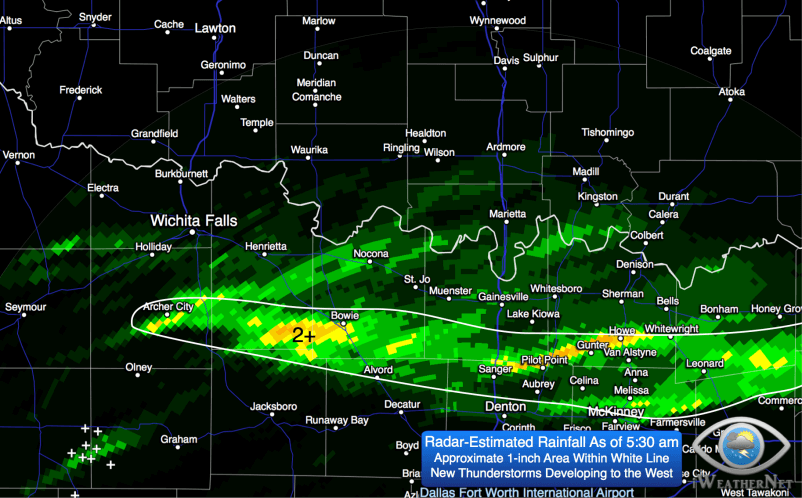 ---
Update #2 Thursday 3/19 at 10:50 pm: Showers and thunderstorms will increase in coverage late tonight, with heavy rain possible, mainly north of DFW Airport. However, a second area of thunderstorms will develop to the west of the metroplex toward sunrise, and move east into the area. Many locations will receive 1 to 3 inches of rain by noon Friday. With atmospheric precipitable water content above the 99th percentile for this time of year, some localized flooding may occur where thunderstorms become most persistent. Frequent lightning will also be possible with thunderstorms tonight and Friday.
---
***Thunderstorms with Heavy Rain Possible Late Thursday Night into Friday Across North Texas***
Original Forecast [Posted Wednesday 3/18 at 11:45 pm]: This time tomorrow night (Thursday night), a modest cold front will be approaching the Red River on its way into North Texas. Moderate instability and low-level shear/helicity will be in place ahead of the front, all of which point to the possibility of thunderstorms. I think the best coverage of thunderstorms will be from I-20 northward. The "severe" parameters are not impressive, but I can't rule out some hail, frequent lightning, and of course very heavy rain with any of the thunderstorms that form. The low-level shear is suggestive of *some* rotation, and even an isolated supercell, which could locally enhance hail size.
I do have concerns about the potential for very heavy rainfall with the thunderstorms because atmospheric precipitable water content will exceed the 99th percentile for this time of year, and (assuming perfect prog, using NAM) may even approach record levels based on a 65-year PWAT climatology. I will monitor all of this very closely tomorrow and I will be at the helm as thunderstorms develop to the west tomorrow night. For the daytime hours, I do believe we will see some sunshine in the afternoon, with temperatures approaching 80º. The best time for thunderstorms appears to be from 8 pm (Thursday night, mainly north of the metroplex) through noon (Friday).  The initial thunderstorm activity will likely be north of DFW Airport, with development further south into the metroplex Friday morning.

Precipitable Water Statistics for March 19/20 at DFW
PWAT 99th Percentile for March 19:  ~1.35″
Max PWAT in the Historical Record:  ~1.72″
Model Prog PWAT:  1.55″ (10 pm) to 1.68″ (2 am) to 1.40″ (8 am Friday)

Period of Study: 1949 through 2014 = 65 years
Atmospheric precipitable water content this high is conducive to very rapid rainfall rates, often on the order of 1 to 2 inches per hour within the heaviest downpours. Fortunately, the thunderstorms should be progressive (i.e., moving and not stationary), which should mitigate (but not eliminate) flooding concerns.
I will have updates through Friday, so check back.
-Chris Robbins, Meteorologist, M.S.