The "atmospheric river" is taking a direct aim on California, and that will result in eye-popping rainfall totals, heavy mountain snow accumulation, flooding, and mudslides. Weather conditions are ideal for an impressive and climatologically rare heavy-rain event over the weekend over a large section of California. Rainfall amounts from 8 to 12 inches are expected. Localized amounts greater than one foot are likely in the higher elevations of the northern and central Sierra Nevada.
What are Atmospheric Rivers?
Atmospheric rivers are very long and relatively narrow corridors of water vapor moving through the atmosphere.  They transport enormous amounts of moisture (water vapor) around the globe –  an amount of water vapor roughly equivalent to the average flow of water at the mouth of the Mississippi River. When the atmospheric rivers encounter a forcing mechanism for lift (rising air), the water vapor condenses resulting in very heavy rain or snow.  Examples of forcing mechanisms include synoptic (large scale/long wavelength) disturbances, orographic lift (upslope), and mesoscale disturbances such as frontogenesis and differential heating (thunderstorm updrafts).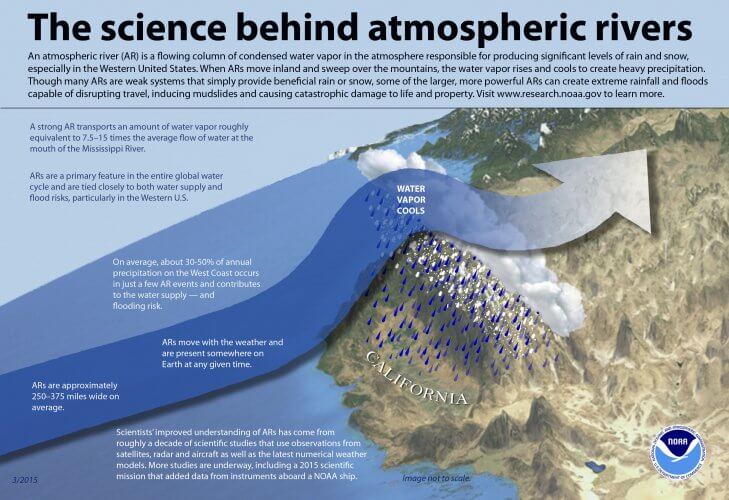 Coastal sections of California and much of the Central Valley could see 3 to 5 inches of rain. The National Weather Service in Sacramento, California says that this is a one in 10-to-25 year storm for areas south of Interstate 80. This storm has forecast similarities to a devastating storm system back in December of 2005 that produced widespread flooding and mudslides.
Set Up For Excessive Precipitation
A major storm will affect much of California this weekend. The heavy rain will be produced by what is called an atmospheric river, or the pineapple express. These terms are defined as a long plume of moisture that originates from the sub-tropical and/or tropical regions of the Pacific Ocean. 
A strong ridge of high pressure aloft (bulge in the jet stream) has set up just west of Alaska. Meanwhile, a trough of low pressure (dip in the jet stream) is setting up in the eastern Pacific Ocean. This will transport a persistent plume of moisture into California. As the moisture rises when it reaches higher elevations (orographic lift), the air is condenses and can produce even higher amounts of rain.
Because this weather system has originated in subtropical regions of the Pacific, the air is relatively warm and snow levels will be very high in the Sierra Nevada given deep, rich moisture associated with this system. So, rain will be the dominant precipitation type in the lower elevations. Snowfall levels will be near elevations at least 8,500 feet above sea level, or possibly higher.
Storm Impacts
Due to recent heavy snow events, and the high snow level expected for the weekend storm, rain will be absorbed into the current snowpack.  As a result, there will be considerable runoff. This will result in a high flood potential for rivers and streams. The heaviest precipitation should fall from Saturday night to Monday.
Generally speaking, here are some expected impacts across the Sierra Nevada mountain range:
Widespread flash flooding with mudslide and debris flows (especially in burn scar areas and canyon roads)
Strong, gusty winds could result in downed trees
Many flooded roadways
Significant flooding of rivers, creeks and streams
High avalanche danger in mountain locations
High surf and coastal flooding (especially along the central coast)
Monday commuter problems around cities like San Francisco and Los Angeles
Please be extra careful if you are traveling around the affected areas.
More Storms Ahead
As the weekend storm winds down on Monday, another Pacific storm will come into the picture. This one will likely arrive later on Tuesday and will last through Thursday. This storm isn't likely to produce as much rain, but the ground will be so saturated that flooding is once again likely.
Because the source region for this storm will be from the colder North Pacific, snow levels will be lower (more likely around 5,000 feet above sea level).
There is yet another storm possible in the region by next weekend, so all in all parts of California could be looking at a historic week of weather.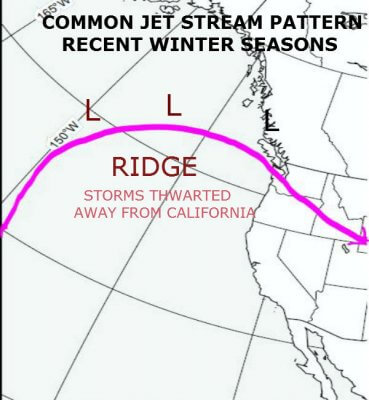 Effect on California Drought?
Since 2011, much of California has had to endure significant to exceptional drought conditions. One key factor has been the general jet stream pattern over the past few years during the "normally" wet season of winter. A ridge of high pressure aloft has set up in the eastern Pacific, west of California. This feature tends to thwart Pacific storms northward and away from California.
The latest drought monitor issued by a combination of NOAA, NWS, NCEP, and the CPC, shows that nearly 40.0% of California is in either excessive or extreme drought conditions.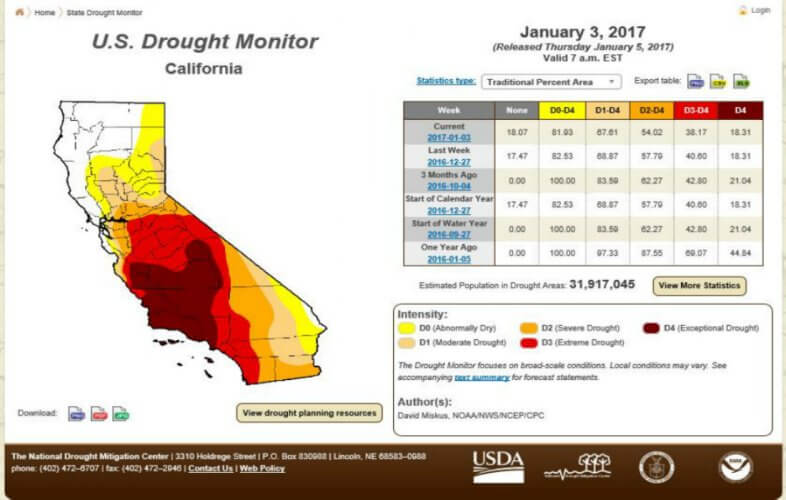 Snowfall has been well below the average for many of these winter seasons resulting in a low snowpack in the mountains as spring arrives. With less snow melting, the runoff is lessened and the amount of water flowing into the lakes and streams in the lower elevations have been severely reduced. All of this had led to extreme measures by the California state government, in terms of water use, by the public and for agricultural concerns as well.
So far this winter, more Pacific storm systems have moved into California. Although the upcoming storm will produce heavy rain, it could actually melt some of the mountain snow in the Sierra Nevada because snow levels will be quite high. By Monday, snow levels will come back down so some snow will fall, so hopefully any negative effects will b at a minimum.
The second storm (from Tuesday to Thursday) will feature lower snow levels in the Sierra Nevada. Although there will be several negative impacts with this storm, hopefully it will be more of a benefit to the current drought.
With nearly three months remaining in the traditionally wet season, it is hoped that more Pacific storms will be able to affect the state (hopefully not as harsh as this one).