A strong mid-latitude cyclone over the southern U.S. resulted in widespread flash flooding from August 10th-14th, where rainfall totals were in excess of 30.00″ (inches) in some areas. Catastrophic flooding occurred across the Deep South, where over 1,000 motorists were stranded on Interstate 12 in eastern Louisiana. Since the flooding, everyone stranded on the interstate in eastern Louisiana has been rescued via helicopter and/or boats from the locals. The Louisiana State Police released this message via social media on August 14th in response to the rescue operations on Interstate 12:
"The break in the weather in the Baton Rouge area has allowed the Louisiana State Police Air Support Unit to deploy to I-12 to continue support efforts for those stranded. Hundreds of cars are stranded on 'islands' on I-12 in eastern Livingston Parish. The Louisiana State Police have been working with other public safety agencies to support these efforts. Rescues were made into the night with Louisiana National Guard's high water vehicles until the rising water prevented additional access. Boats were unable to reach the stranded motorists due to the sporadic areas of dry land between the 'islands'. Multiple public safety agencies are involved in these efforts. Five Louisiana State Troopers have been on the ground with the stranded motorists for the duration communicating needs to the Emergency Operation Center. These efforts will continue until every person is rescued."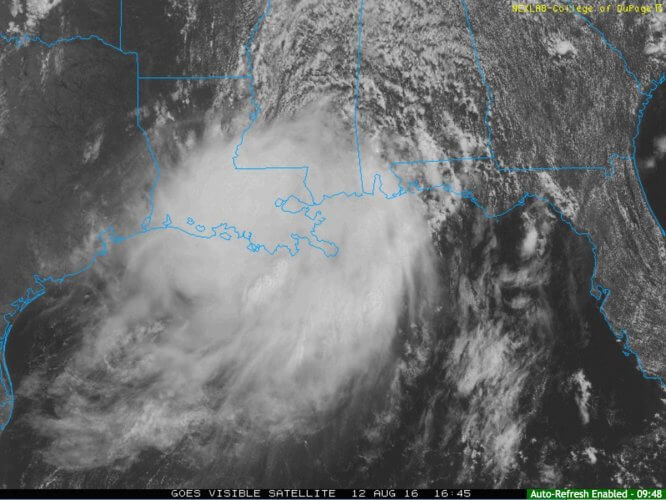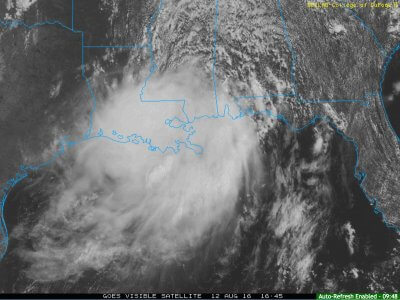 This event had ample forecast lead time days in advanced, and the Weather Prediction Center issued a High Risk for flash flooding across eastern Louisiana on August 12th. Days prior, the National Weather Service office in New Orleans, Louisiana, began issuing statements about the increasing threat for dangerous rainfall across eastern Louisiana and southwestern Mississippi. Forecast certainty began to increase, and Decision Support Service codes (DSS codes) began to increase to Code Orange for the region.
The DSS code legend implemented by the National Weather Service is as follows: Green = No weather impacts require action; Blue = Long-fused watch, warning, or advisory in effect or a high visibility event; Yellow = Heightened impacts with short-fused watch, warning, or advisory support; Orange = High impacts including slight to moderate risk severe weather events, or nearby tropical systems; Red = Full engagement of severe weather events or direct tropical threats of national significance.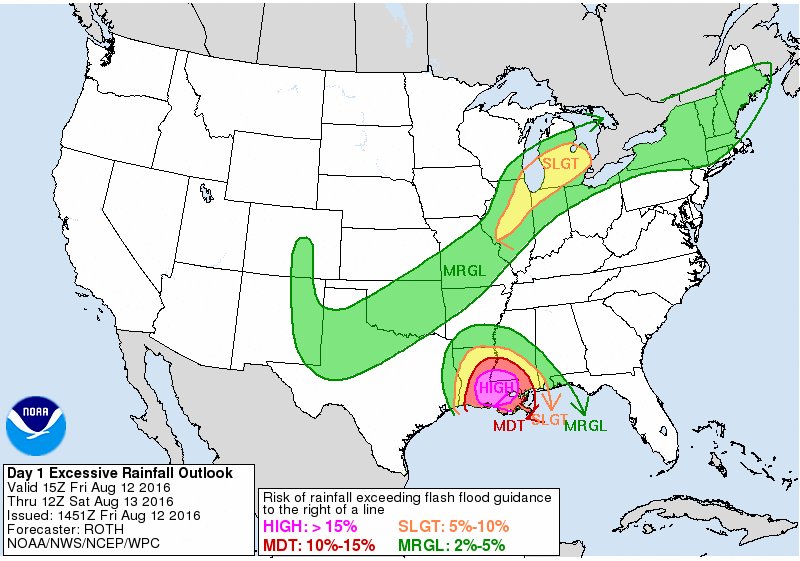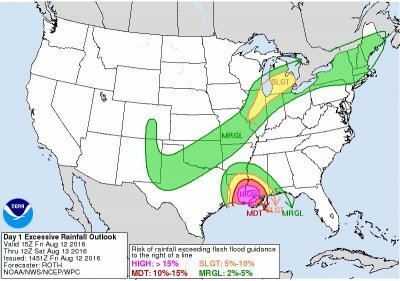 As of yesterday, August 14th, the Federal Emergency Management Agency (FEMA) issued a major disaster declaration East Baton Rouge, Livingston, St. Helena, and Tangipahoa Parishes in Louisiana. More information for those affected by the disaster can be found here.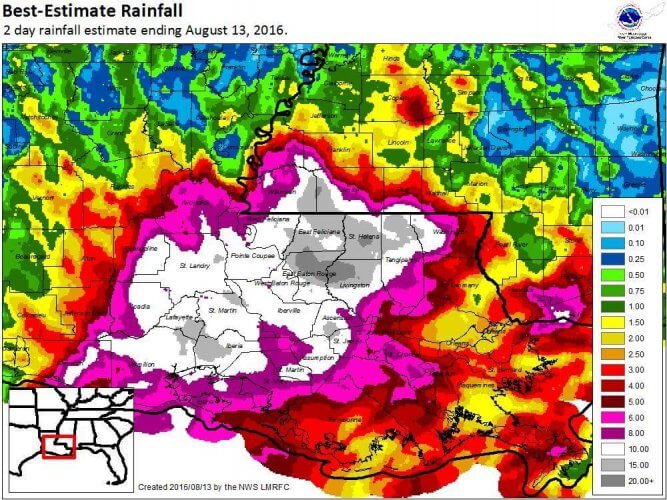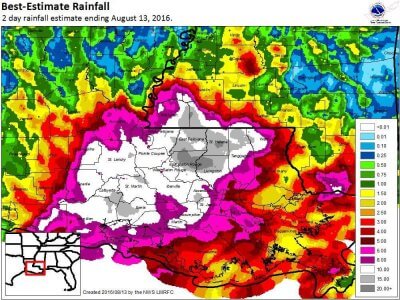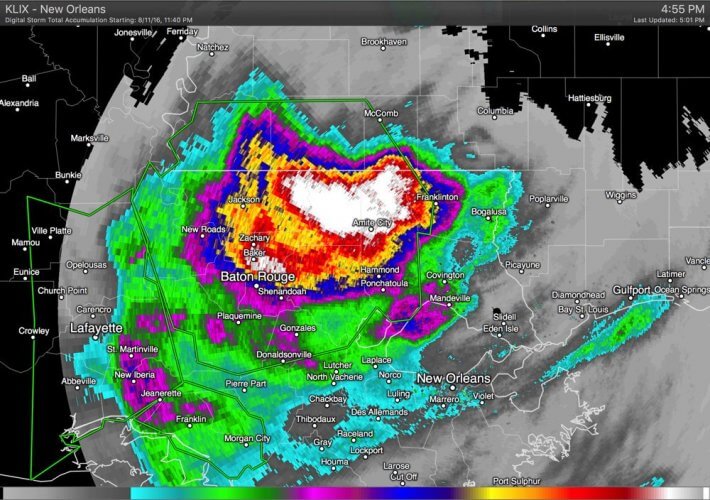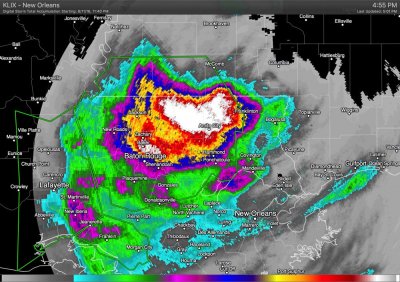 3-Day Radar-Estimated Rainfall Totals
What was the cause of such persistent heavy rainfall? An area of low pressure propagated westward from Georgia/Alabama, advecting copious amounts of moisture northward in the counterclockwise circulation. Atmospheric precipitable water content was well above the 99th percentile for this region and time of year. As a result, tropical downpours producing rainfall rates in excess of 4 inches per hour at times. This, combined with the very slow propagation of the overall disturbance yielded many hours of excessive rainfall, causing extreme… if not historic… flooding across much of eastern and south-central Louisiana.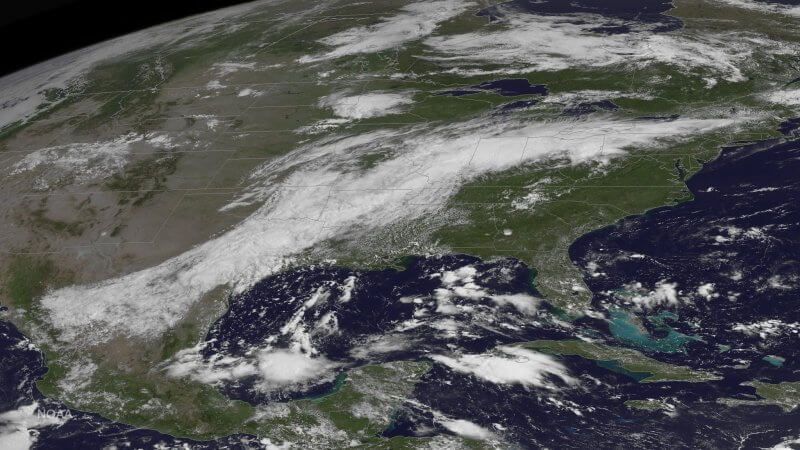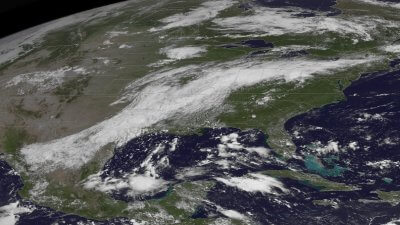 It is always a good idea to be prepared no matter the strength of a system, whether it be a mid-latitude cyclone or a tropical cyclone. One way to be prepared is to have a NOAA Weather Radio, and a way to receive the forecast in a timely manner. We discuss this in another section on our website about being prepared for when hazardous weather strikes. Excessive rainfall and flooding is one of the number one killers in the United States annually. So far, 9 deaths have been reported in the Louisiana flooding event with thousands of people misplaced.