For well over 100 years, revelers by the thousands have flocked to Times Square and braved the elements to see the annual ball drop to ring in the New Year. Since the 1940's millions more have been able to watch the festivities on television. Fortunately, most of these events have been without precipitation , with a few exceptions, but there can be quite a temperature variation.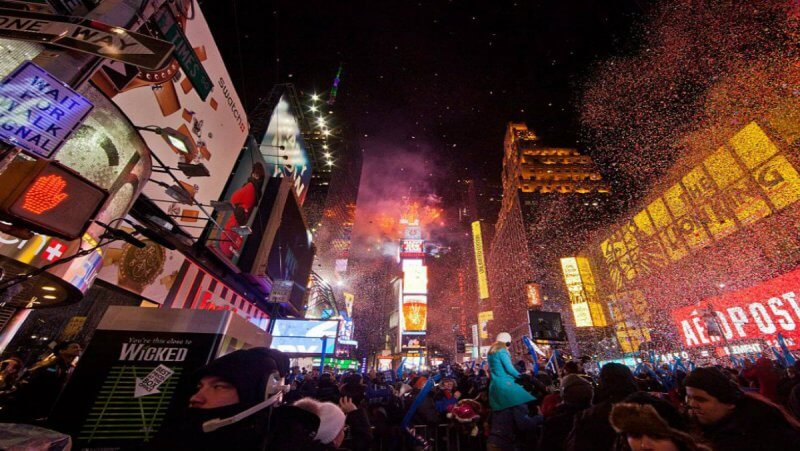 History of Times Square New Year's Eve Ball Drop Ceremony
The gathering of crowds around Times Square to celebrate the New Year actually began in 1904. There was no ball drop then but there were fireworks displays sponsored by the New York Times. The first "ball drop" during the one minute period from 11:59 p.m. until midnight began in 1907.
The tradition has continued to this day, with a number of different balls used. The only years since 1907 when there was no ball drop was in 1942 and 1943. Lights were dimmed and spectators engaged in a moment of silence with chimes ringing from sound trucks to honor our soldiers during World War II.
CBS began televising this event in 1946 and that continued through 1976, featuring Guy Lombardo and his Royal Canadians, allowing millions more to witness the festivities. With a large, young generation, Dick Clark began an annual TV event "New Year's Rockin' Eve" in 1974, which continues to this day. After the passing of Dick Clark, Ryan Seacrest now hosts this show.
Over the years, spectators, media and live performers have had to deal with a variety of weather conditions.
Coldest Temperature During The Ball Drop
Way back in 1917, the mercury stood at 1 degree above zero according to the National Weather Service in Upton, New York). The average ball drop temperature over the years is 34 degrees. The weather map below is from a few hours later showing a large arctic high pressure system over eastern Canada and some very cold air flowing into the New York City area. The wind chill varied from -15 degrees to -20 degrees. Notice that the temperature in New York City dipped below zero by morning.
The second coldest temperature for the ball drop was 11 degrees in 1962.
There were three consecutive years in the 1990's when the temperature was very cold.  In 1996 it was 15 degrees, 17 degrees in  1997 and 23 degrees in 1998.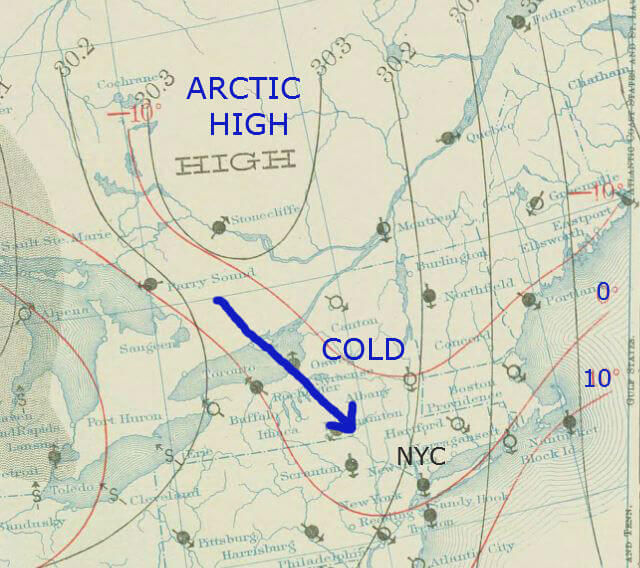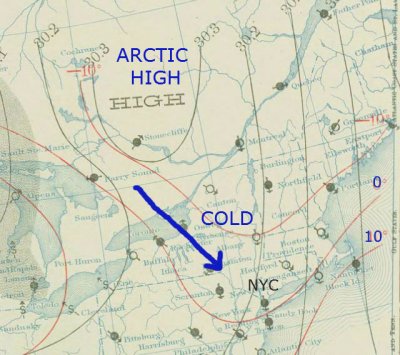 Warmest Temperature During The Ball Drop
There is actually a tie in this category. It was a balmy 58 degrees in both 1965 and 1972.
Snow Falling During The Ball Drop
If you watch enough movies, you would think that is snows all the time in New York City. That actually isn't the case. Snow has been reported only seven times during the ball drop and on only one occasion was it significant.
On New Year's Eve in 1967 an area of low pressure, moving quickly up the East Coast, interacted with an approaching cold front, resulting in snow for New York City. By midnight, two to three inches had accumulated in the area. The weather map below, from a few hours later, shows this low pressure system along the East Coast, along with widespread snow.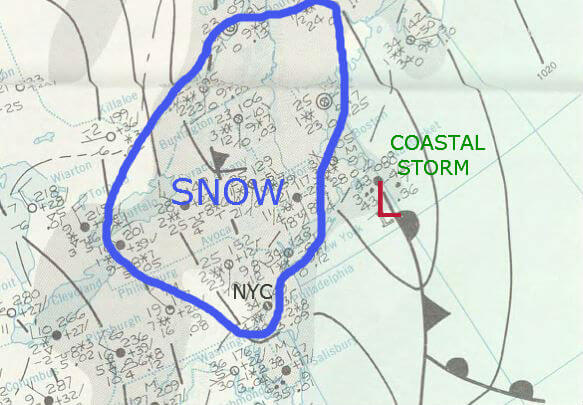 Miserable Weather During The Ball Drop
There was also a storm along the East Coast on New year's Eve in 1975 but this time it was not quite cold enough to snow in New York City. Instead, a cold rain fell with a temperature of 34 degrees. What made matters worse, was that there was a stiff northeast wind blowing from 15-20 mph as it approached midnight and the wind chill was below 20 degrees.
The weather map below, from a few hours later, shows that this area of low pressure continued to move eastward, away from the coast, and the rain gradually tapered off by morning.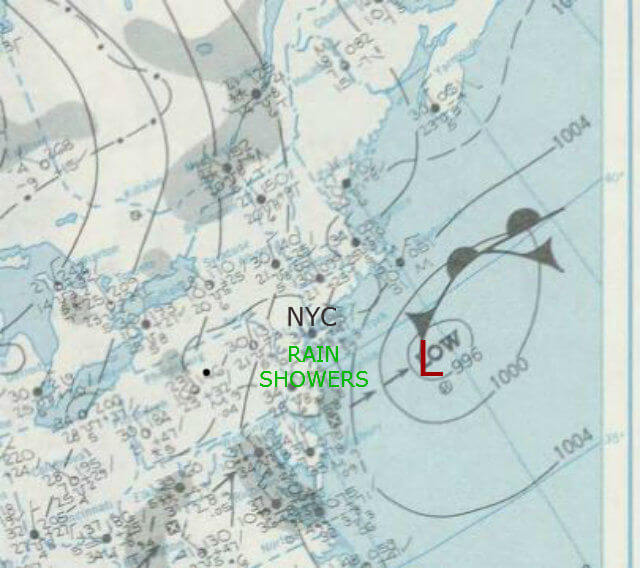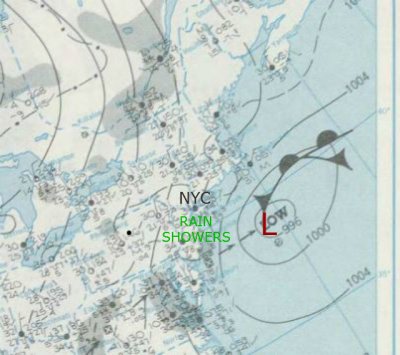 Ball Drop Conditions For This New Year's Eve
At the current time, it looks like this year will feature cloudy skies and temperatures in the upper30s to near 40. There is also a slight chance for a light rain shower, but nothing significant.
Similar Posts: