This page was updated on Tuesday 12/23 at 1:17 pm EST:  A Flood Watch has been issued
Useful Tools on iWeatherNet:  Advisories | Interactive Radar
Christmas Week Forecast/Event Timing:
Monday/Monday Night

: Rain likely. Temperatures steady in the mid 40s.

Tuesday

: Dense fog much of the day.  Rain and thunderstorms developing late. Rain increasing in intensity during the evening.  Temperatures steady in the 40s most of the day.

Tuesday night

: Cold-air damming will retreat, and the shallow cold layer will erode after a warm front moves from southwest to northeast across Atlanta.  Temperatures will rise into the 60s Tuesday night.  Rain will be heavy at times, with a few strong to severe thunderstorms.  Sustained wind increasing to 20 to 30 mph, with gusts to 40 mph possible.

Wednesday (Christmas Eve)

: Rain and thunderstorms in the morning.  Storm-total rainfall amounts ranging from 2 to 4 inches, with locally higher amounts. Cold front will pass around by late afternoon, with gusty winds.  Temperatures in the upper 50s to around 60º, falling into the 40s by late afternoon.

Christmas Day

: Clearing.  Becoming sunny, but remaining cold.  High in the mid 40s.
Travel Alert:  If you have a flight out of Hartsfield-Jackson International Airport (or any other airport in the Southeast) on Tuesday/Wednesday, be prepared for significant delays and cancellations.  Call ahead to check the status of your flight.
---
Special Update Tuesday 12/23 at 1:16 pm EST:  A Flood Watch has been issued for much of the state, including the Atlanta metro.  There are no changes to my forecast rainfall amounts (shown further down this page).  Here is the Flood Watch outline: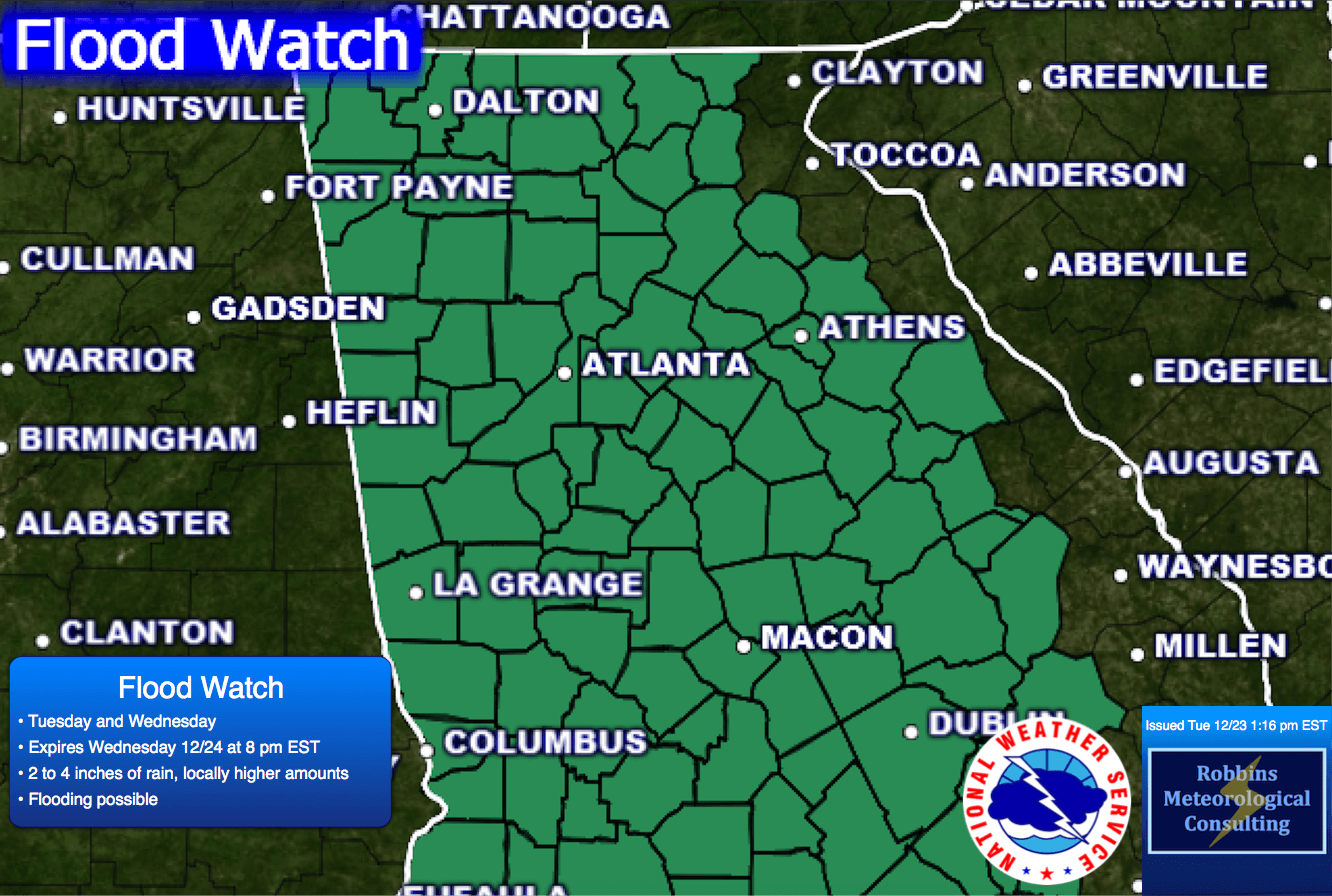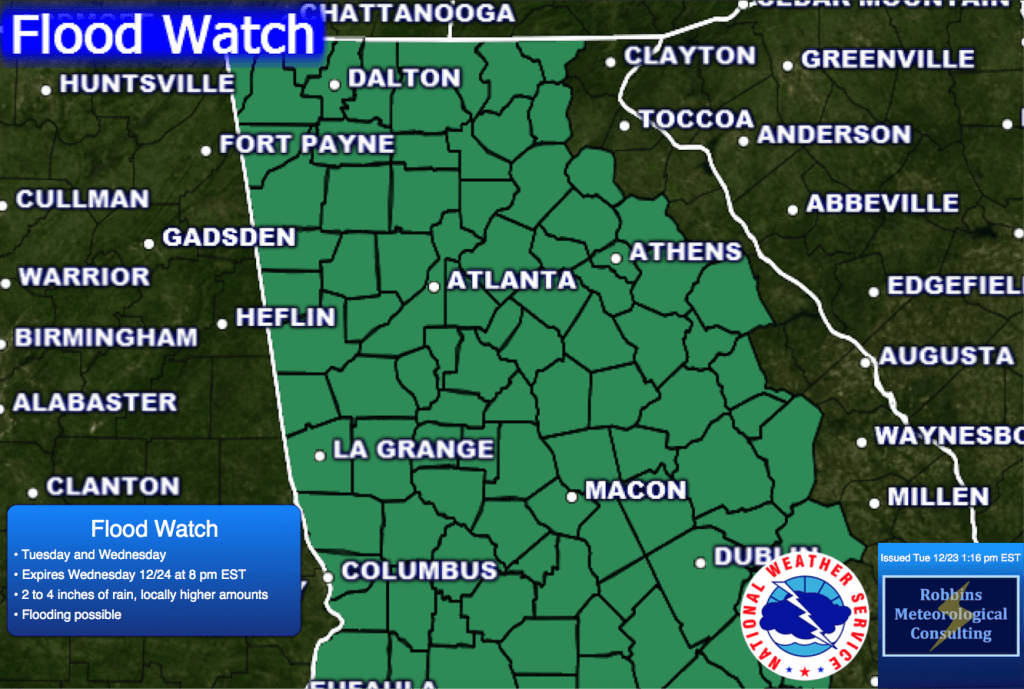 Meteorological Synopsis
A strong upper-level disturbance will induce the formation a surface low in southern Texas Monday night.  By Tuesday afternoon, the surface low will be near the Louisiana coast and will deepen/intensify rapidly as it propagates northeast through eastern Mississippi, northwest Alabama, and eventually into Tennessee/Kentucky by Wednesday morning.  The following map shows the position of the surface low and the cold front early Wednesday morning (roughly 7 am EST).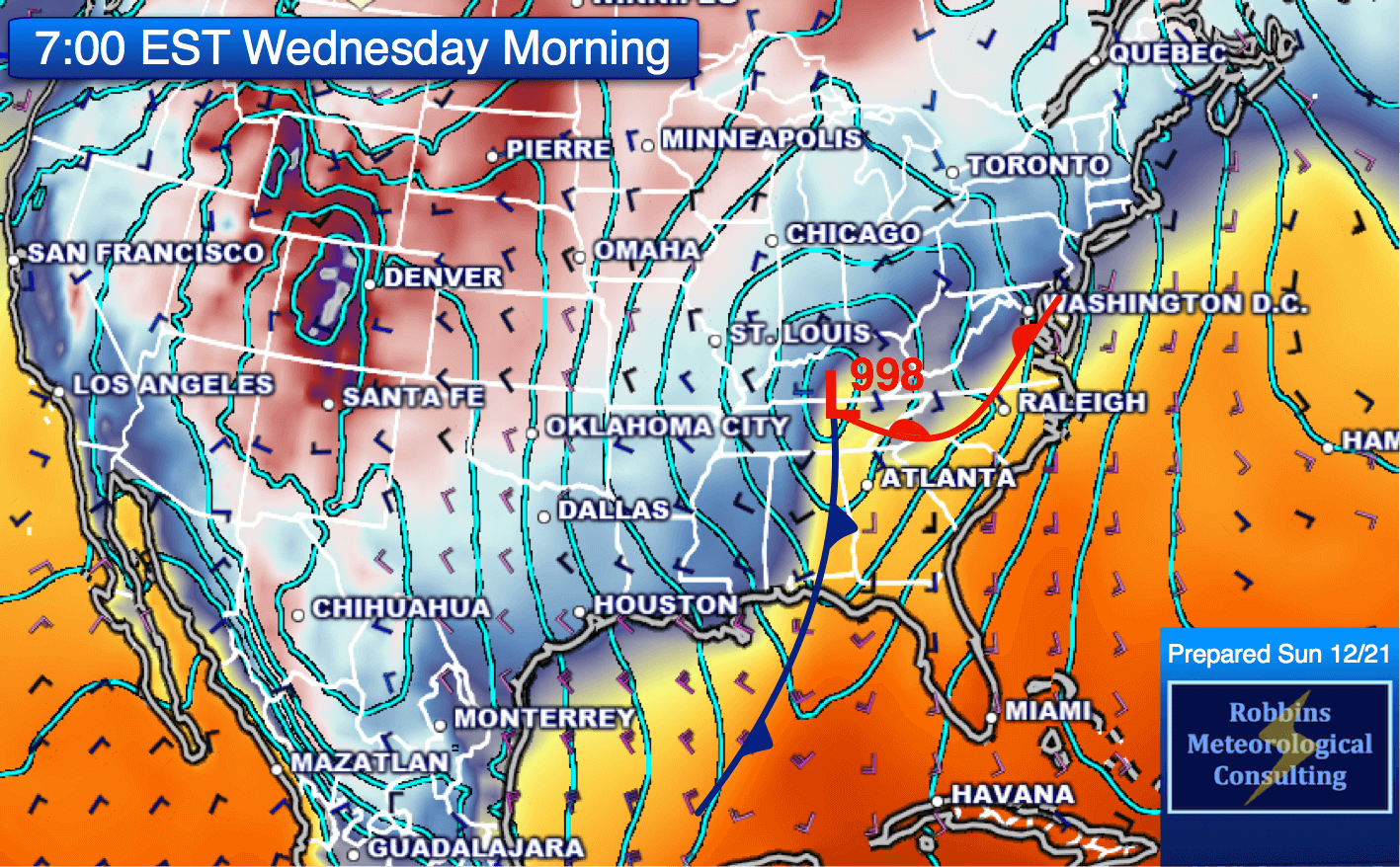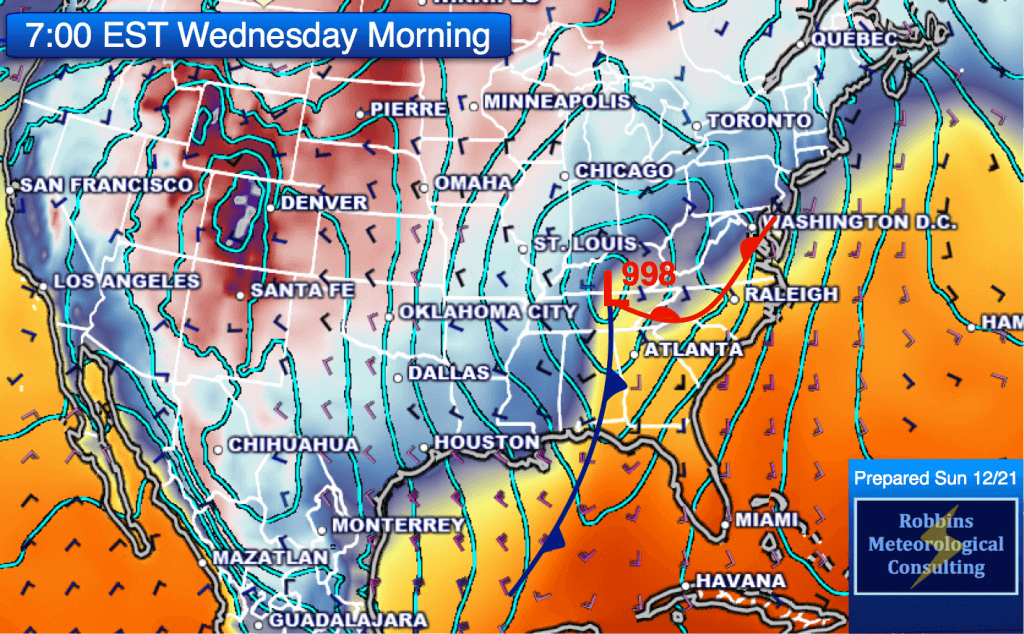 Strong Winds Will Develop Tuesday Night
As the surface low intensifies, so to will be the base-state winds surrounding the system.  This will mean a significant increase in winds here in the Southeast, including the Atlanta area Tuesday night.  I expect sustained winds of 20 to 30 mph to develop, with gusts to 40 mph possible.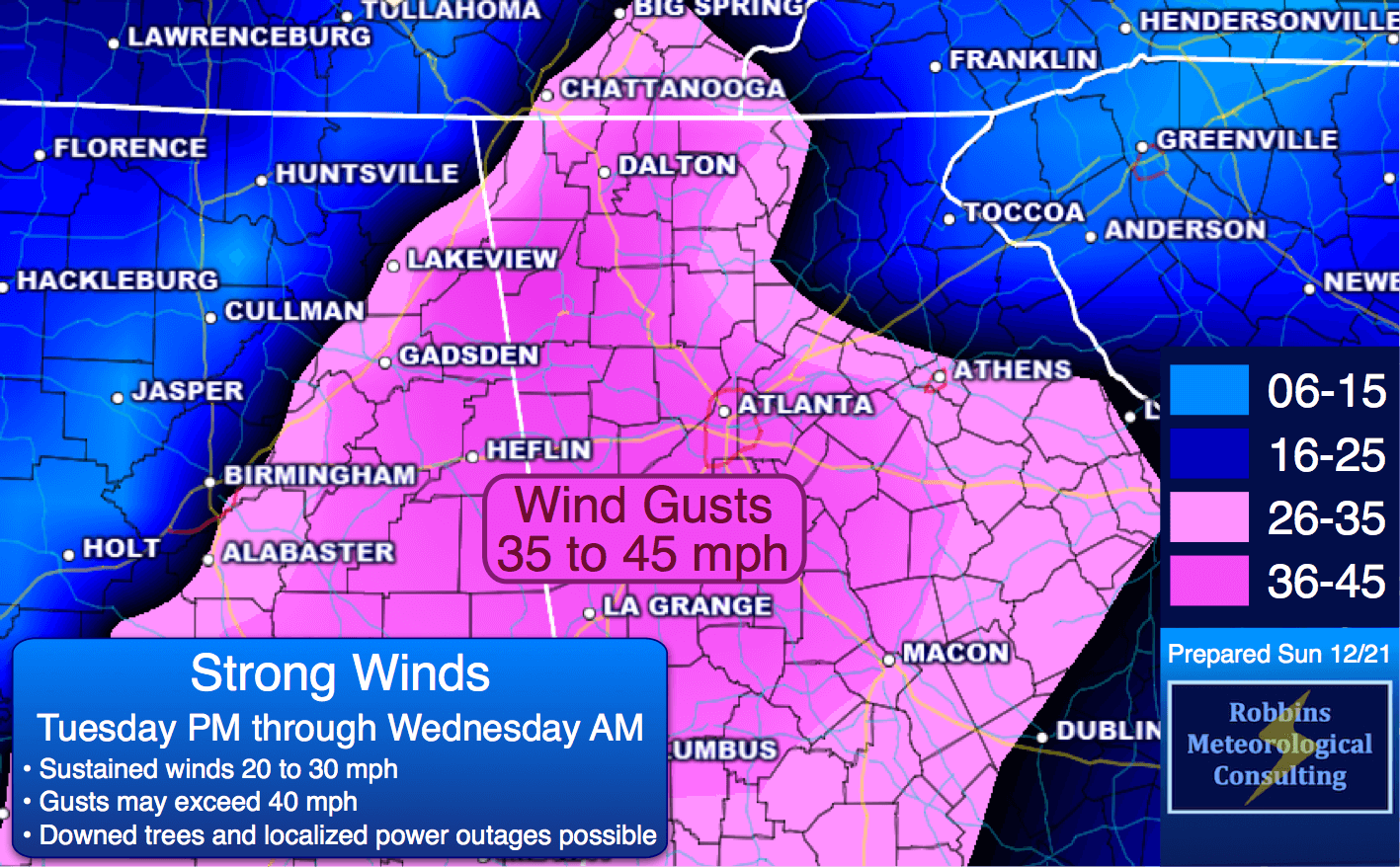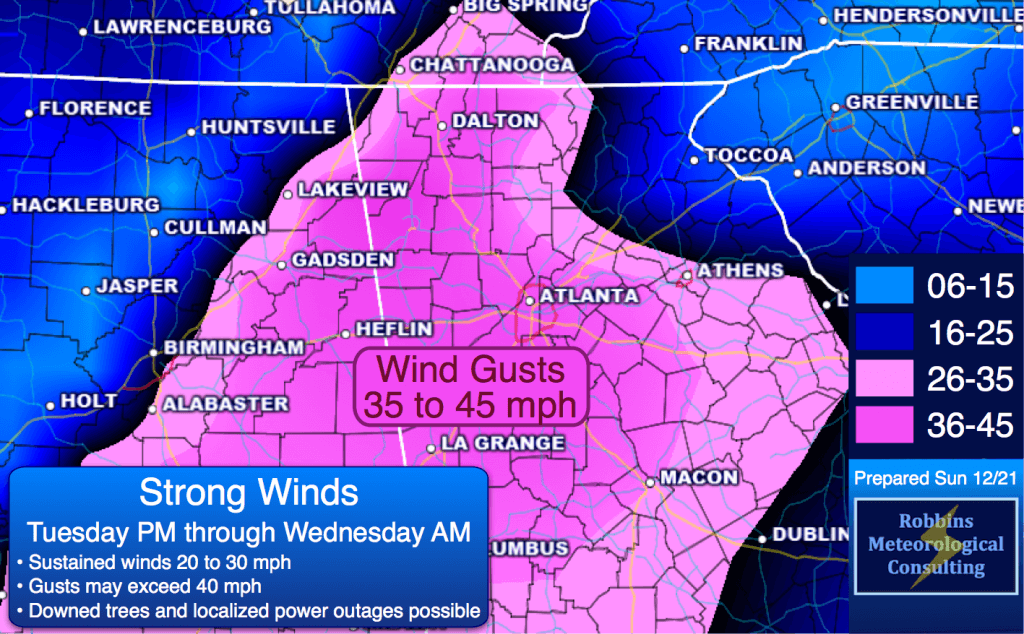 Heavy Rainfall and Localized Flooding Possible
A warm front will move over the Atlanta area Tuesday evening/night, with temperatures surging into the 60s.   Rain will develop over the area Tuesday (ahead of the warm front, and continue behind the warm front).  After the warm front passes, atmospheric precipitable water content will exceed the 99th percentile for December.  When this happens, thunderstorms are capable of producing very heavy rainfall, with rainfall rates in excess of 1 inch per hour.  This could lead to localized flooding, particularly in the areas where thunderstorms are most persistent.  Widespread 1 to 3 inches of rain are expected during this event (portions of the area are in the 2-to-4 inch zone as depicted on the map below).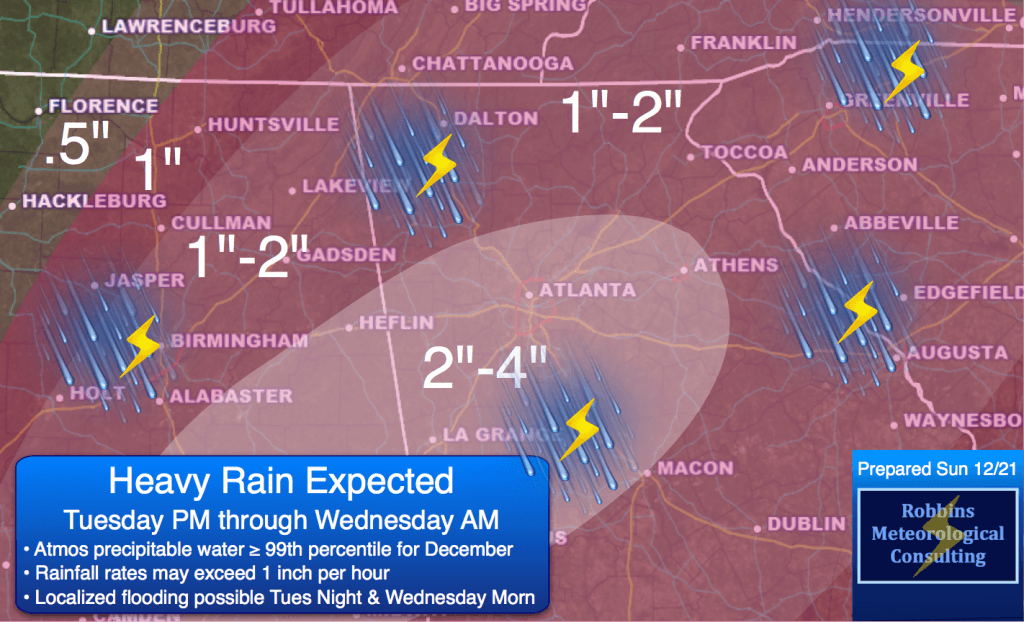 Risk of Strong to Severe Thunderstorms
In addition to the heavy rain potential, significant low-level wind shear and high 0-1km helicity (a measure of atmospheric spin) will be present.  This set up is favorable for a few severe thunderstorms with damaging winds. The high helical values also suggest the potential for isolated tornadoes.  The limiting factor will be a very shallow surface cold layer from Atlanta northeastward (cold air damming) that must erode before thunderstorms can become surface-based.  I do believe the damming will retreat and that the surface cold layer will erode; however, the numerical models suggest that the 0-1km helicity will be on the decline after that happens.  For now, I will highlight the threat of severe thunderstorms northeast of Atlanta as "marginal", and await future data to reassess the threat.  All other areas may see strong to severe thunderstorms as depicted in the next map.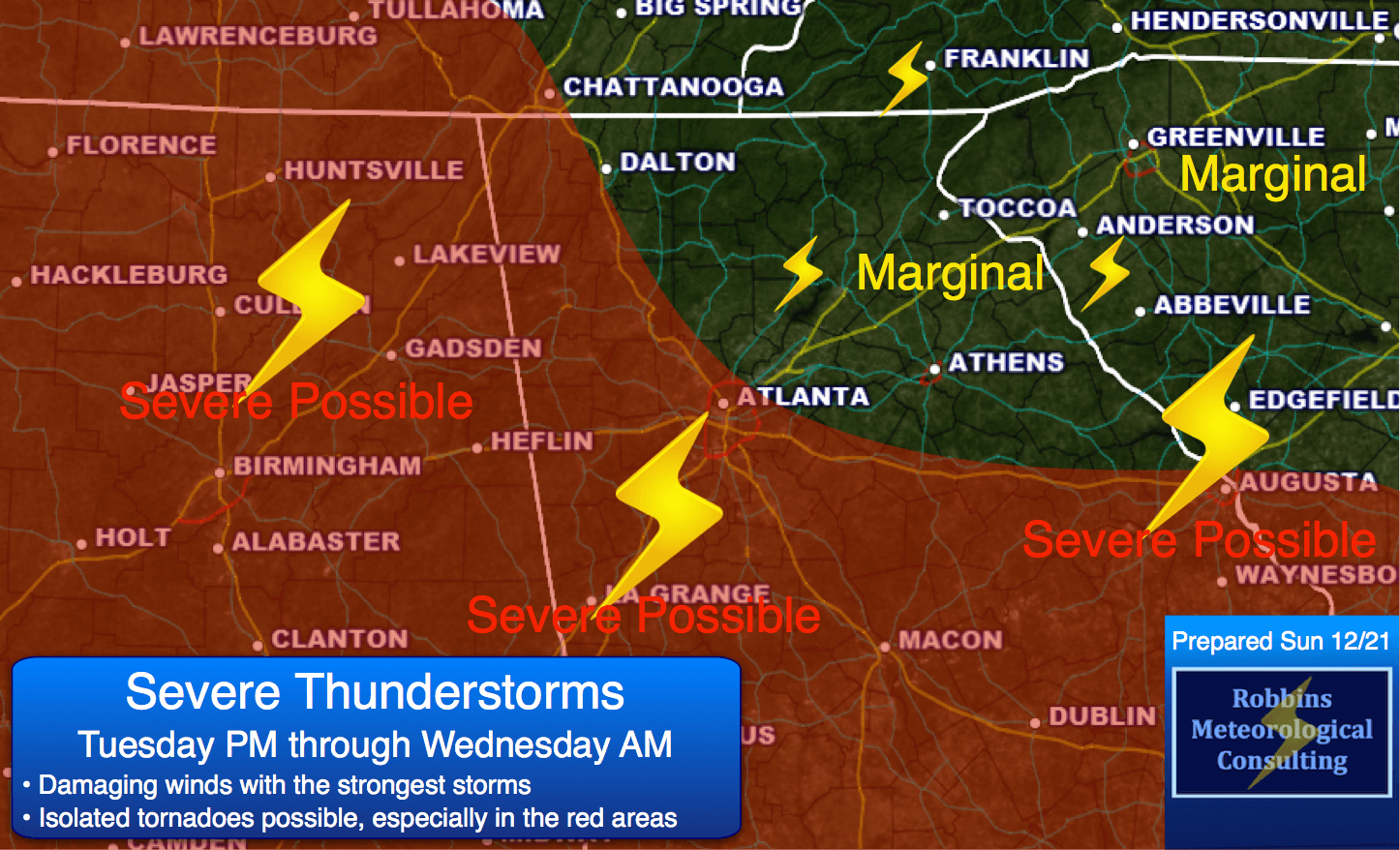 Much Colder by Wednesday Afternoon (Christmas Eve)
The strong cold front (refer to the first map) will move into western Georgia Wednesday afternoon.  Temperatures will be in the 50s to near 60º much of the day, falling into the 40s behind the front by late afternoon/early evening. I will make adjustments to these temperatures (and the timing of the cold front), as necessary, with future data.
Forecast Summary
Heavy rain and thunderstorms developing by Tuesday afternoon/evening
Rainfall amounts of 2 to 4 inches expected by Wednesday morning
Some thunderstorms may be strong to severe, with damaging winds and isolated tornadoes
Gusty winds of 15 to 25 mph, gusts to 40 mph possible (especially near thunderstorms) Tuesday night/Wednesday
Combination of wet soil and gusty winds may lead to some downed trees and power outages
Plan ahead if you are traveling
Expected Impacts From This Event
Damaging winds from stronger thunderstorms
Downed trees and some power outages from strong base-state winds (large-scale/non-thunderstorm winds)
Localized flooding from 2 to 4 inches of rain (locally higher amounts)
Highway and airport delays
This storm system will be out of the area by Christmas Day. I expect clearing skies on Thursday, but temperatures will remain cold… with highs on Christmas Day in the 40s.
Please check back for updates on this developing weather situation.