Wednesday, October 22, 2014 – There are indications that the first freeze of the season may occur in about 10 days from now (around Halloween/Nov 1/2/3).  Stay tuned for future updates.
Update #1 – Thursday, October 23, 2014 
***Strongest cold front so far this season one week from tomorrow (Halloween) followed by the first freeze***
I still expect the first freeze of the season, with lows in the 20s over much of the area (and afternoon high temperatures only in the 40s), next weekend (Oct 31- Nov 2)
With my first post about this yesterday, I have given you 8 days to prepare. If you and your family will be outside on Halloween night, I would plan to dress warmly.
I will refine the timing of the cold front and tweak temperatures with future data, as necessary.
Update #2 – Saturday, October 25, 2014
Here are my projected low temperatures for next Saturday night (Nov 1):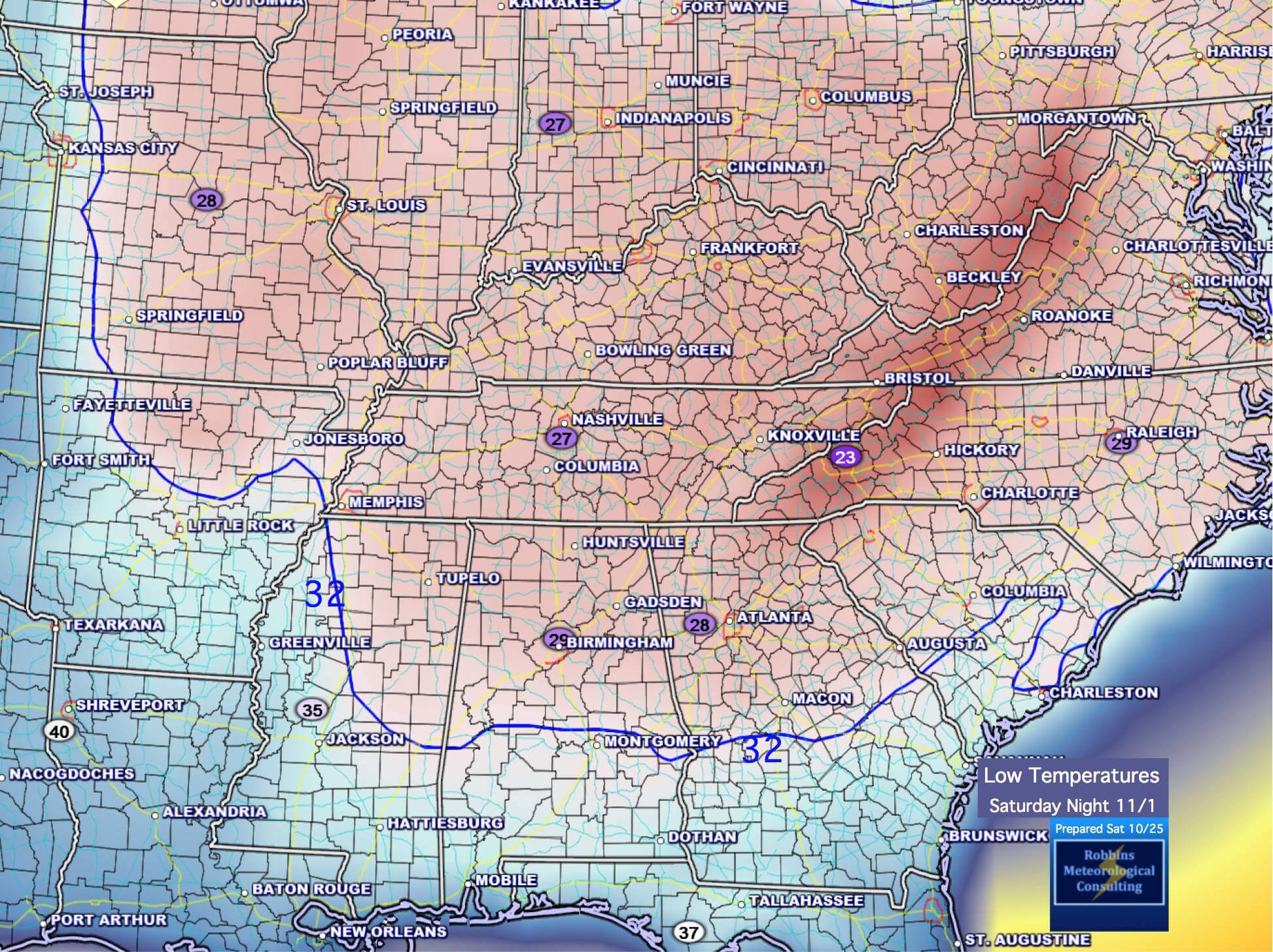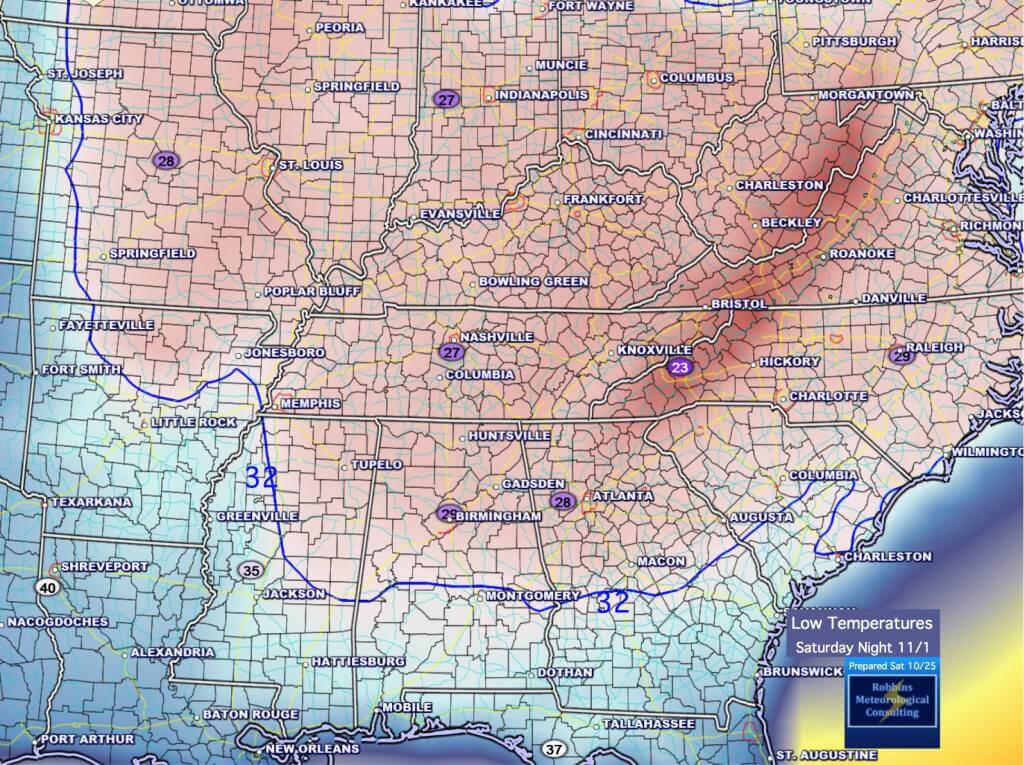 Update #3 – Tuesday, October 28, 2014
***Strongest Cold Front So Far This Season Still Expected Friday***
The front will pass through during the afternoon on Friday
If you have evening Halloween plans, temperatures will be in the 40s
Temperatures falling to freezing in most suburbs Friday night
High temperature on Saturday in the upper 40s to lower 50s
Freeze again Saturday night (especially suburbs)
Prepare sensitive vegetation for the first freeze of the season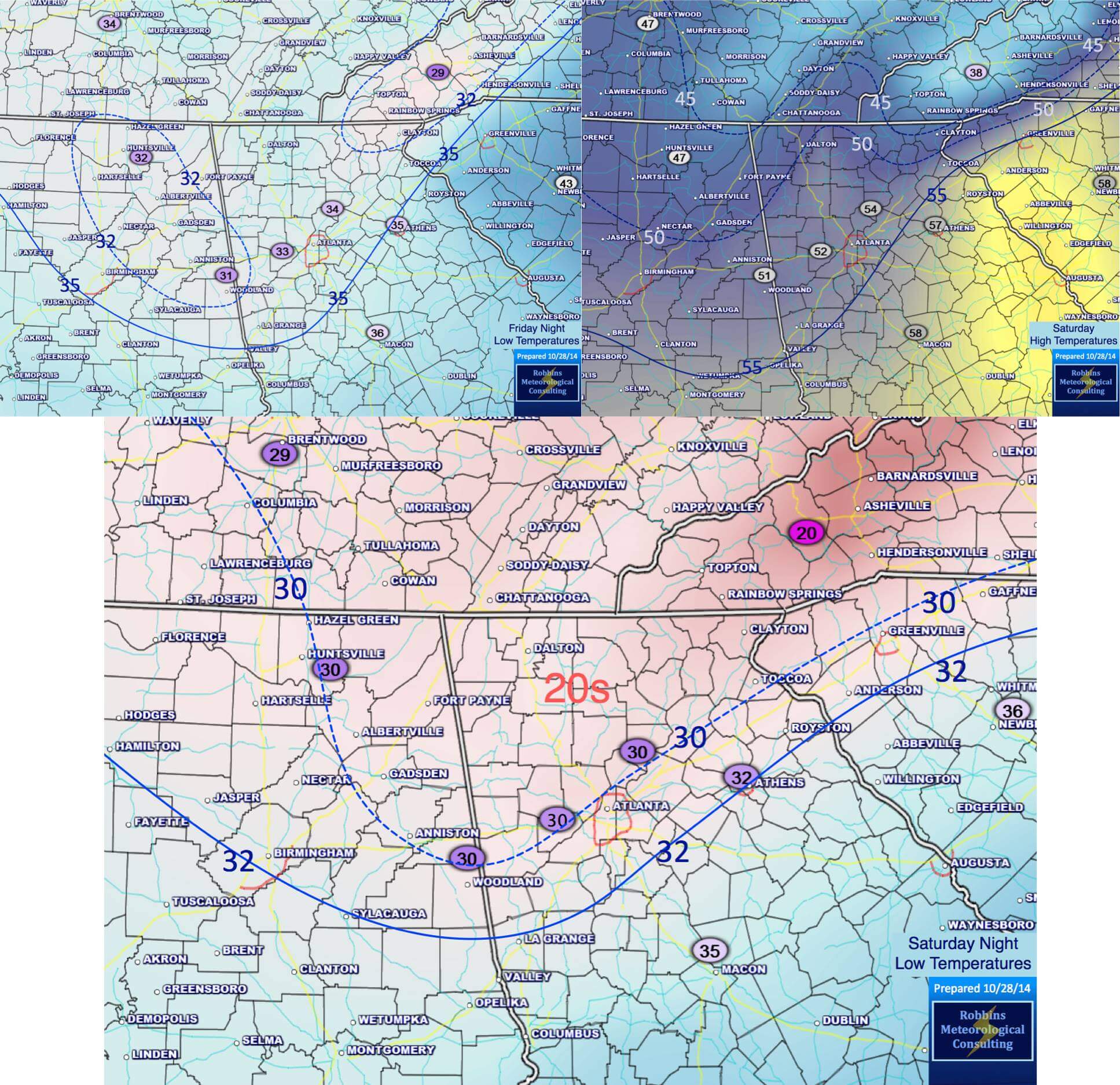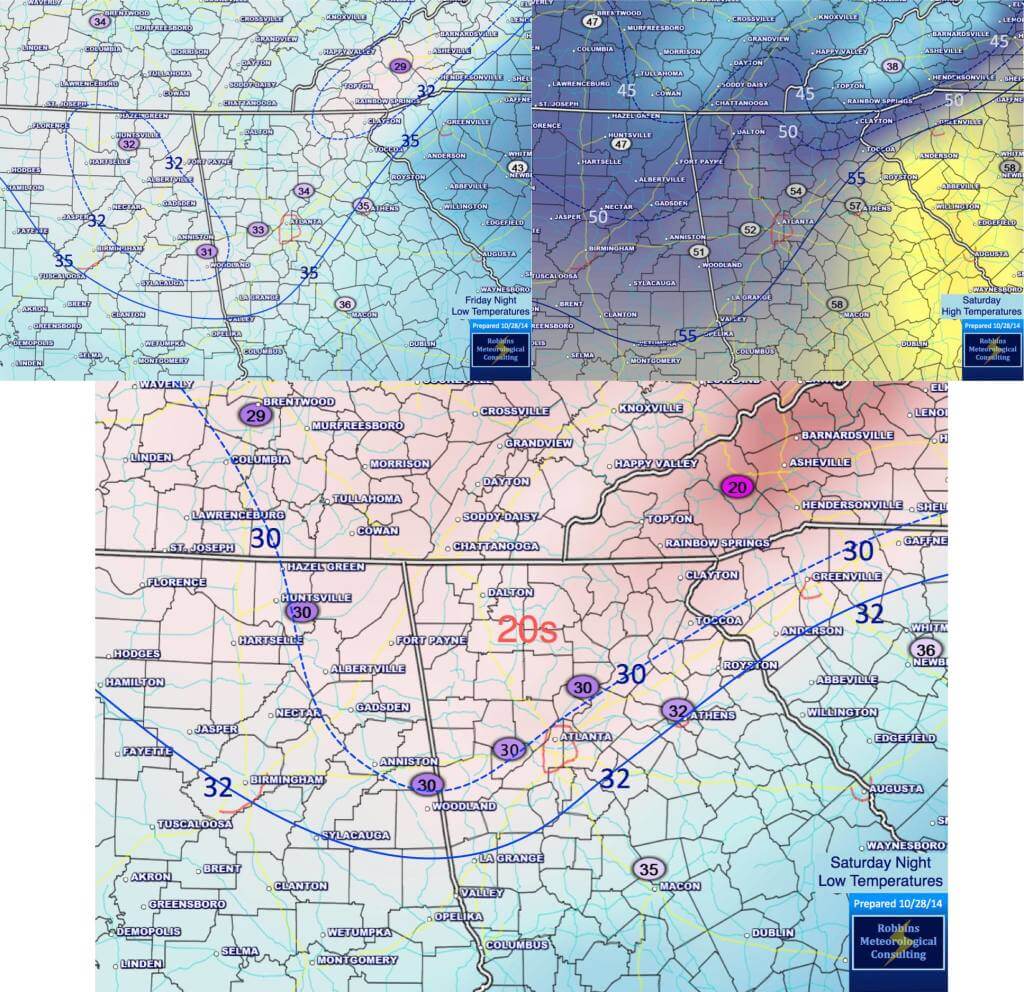 Update #4 – Wednesday, October 29, 2014
Forecast update: Here are some highlights:
I am lowering my forecast highs for Saturday down to the 40s. I do not expect temperatures in Atlanta to rise above the 40s at all on Saturday. This has been a possibility that I've been mentioning since last Wednesday.
There will be no changes to my low temperature forecast. Around freezing Friday night, upper 20s to lower 30s Saturday night.
Saturday will also be quite windy, with north winds of 20 to 30 mph.
The mountains of TN/NC and possibly extreme northern Georgia may see some light snow Friday night/Saturday. I wouldn't be surprised to see Winter Weather Advisories issued in TN/NC by Friday.
I also wouldn't be surprised to see frost/freeze advisories issued for much of northern Georgia as we approach the weekend.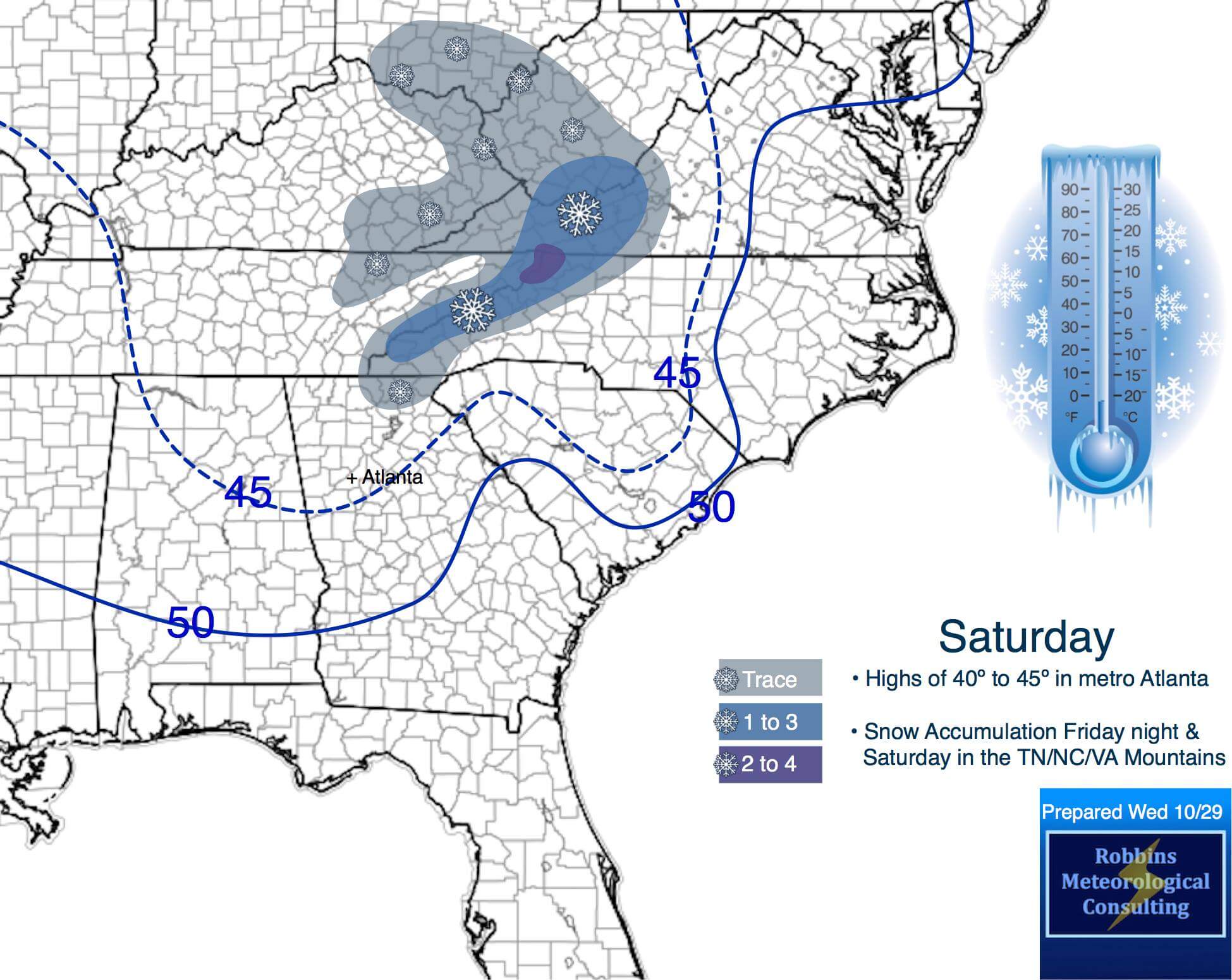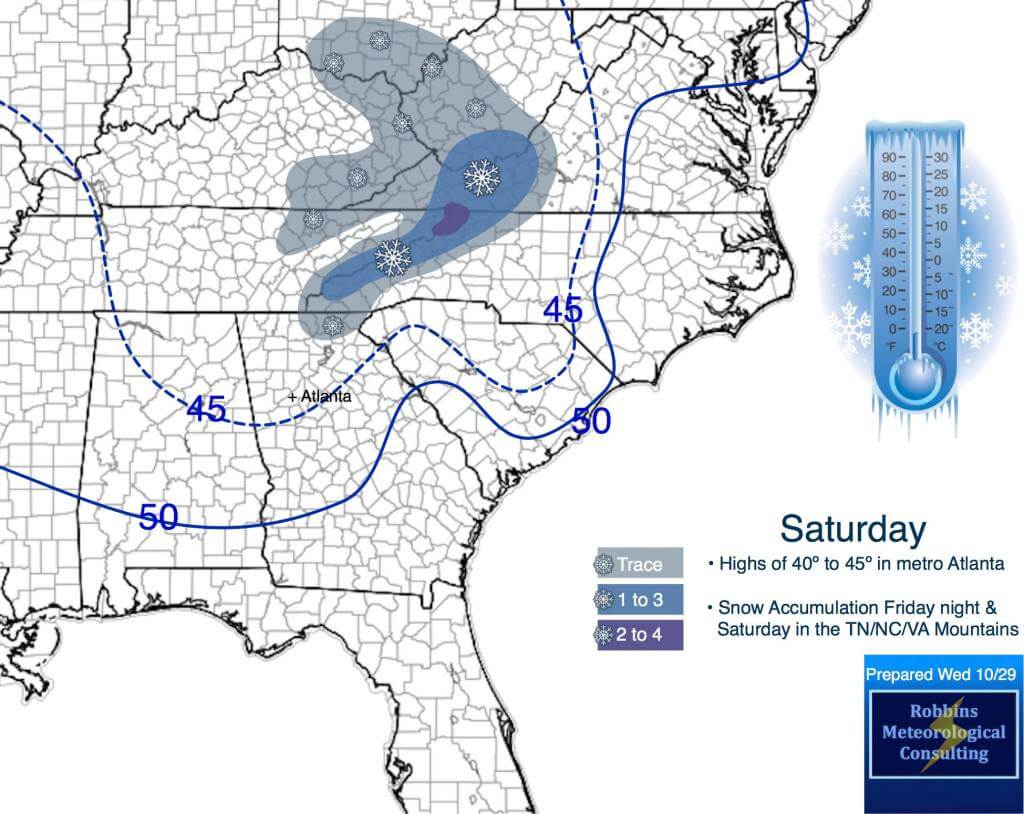 Update #5 – Thursday, October 30, 2014
***Strongest cold front so far this season is moving south into the Northern Plains and will move into Atlanta tomorrow evening***
Take final precautions to protect sensitive vegetation from a freeze.
I still expect the cold front to move through tomorrow evening (Friday evening), with temperatures falling through the 40s after 7-8 pm (of course soonest in the northwest counties) Behind the front, the wind will increase to 20-30 mph (gusts to 40 mph).
Strong winds will continue on Saturday Dress in layers for trick-or-treating, especially if you will be out past 8 pm.
Temperatures falling into the lower 30s before sunrise Saturday (a few locations west and north of Atlanta may fall into the upper 20s). With the wind, I expect a wind chill in the teens Saturday morning (especially before 10 am).
High temperature on Saturday in the mid 40s (wind chill in the 30s at times).
Freeze again Saturday night (especially in the suburbs).
Light snow possible Friday night/Saturday in extreme northeast Georgia. Heavier snow in the mountains of NC/TN/VA where a Winter Storm Watch has been issued.
The official record low for Saturday in Atlanta is 30º set in 1993. Some locations will fall below that.
I believe a Freeze Watch will eventually be needed for much of the area, and I wouldn't be surprised to see an initial Freeze Watch issued for areas northeast of Atlanta at some point today. Any watches that are issued may be expanded southward and upgraded tomorrow. I also wouldn't be surprised to see a Winter Weather Advisory issued at some point for extreme northeast Georgia (for the light snow that is possible tomorrow night/Saturday).
Update #6 – Thursday, October 30, 2014
New data are coming in and they reveal no changes to the forecast. The only thing of interest is a disturbance moving southeast behind the cold front early Saturday morning that may generate light snow northeast of Atlanta… especially north of Gainesville. I've already discussed this in previous forecasts. However, I can't rule out a few snow flurries in the Atlanta metro, flying around in the brisk northwest wind. The atmosphere will be cold enough for ice crystal growth; and in this pattern, the terrain and forcing from the disturbance, can trigger snow flurries. This is more of a novelty than anything, considering that Saturday is only November 1. Temperatures will fall to around freezing after 4 am Saturday in the Atlanta metro. High temperatures Saturday afternoon only in the mid 40s. I will post a final update or two tomorrow (Friday) before the cold front moves through.

See the next post for further information.