An unseasonably warm weekend is about to commence over North Texas, with temperatures in the mid to upper 70s.  That will come to an abrupt end first thing Monday morning, with the passage of a very shallow, quick-hitting Arctic front.   Temperatures Monday will be about 40 degrees colder than those of Sunday.  So, get out and enjoy the warm weather this weekend.
At this time, it looks to me that the front will pass through the metroplex by sunrise Monday, with rapidly falling temperatures.  The high temperature on Monday will occur just after midnight (upper 50s to lower 60s), then fall into the 30s by 9 am.  I expect temperatures to stay in the 30s all day Monday with overcast.  Some light rain or drizzle will be possible early in the day, but that should come to an end by afternoon as drier air advects into North Texas.
Track the Front in Real-Time
This temperature map is provided by the National Weather Service and will refresh every hour.  You can watch the progression of the shallow Arctic airmass as it propagates rapidly to the south over the next 24 hours.  You can also use our custom interactive WeatherNet data tools.  My forecast details are further down the page, just below this map.
Springlike Weather on Saturday and Sunday
This map shows temperatures at 3 pm Sunday.  This is a snapshot, and the actual high temperatures may be a little warmer than those shown here.  I expect highs on Sunday to be in the upper 70s to lower 80s.  Notice the colder air (Arctic front) is just entering northern Oklahoma at this time.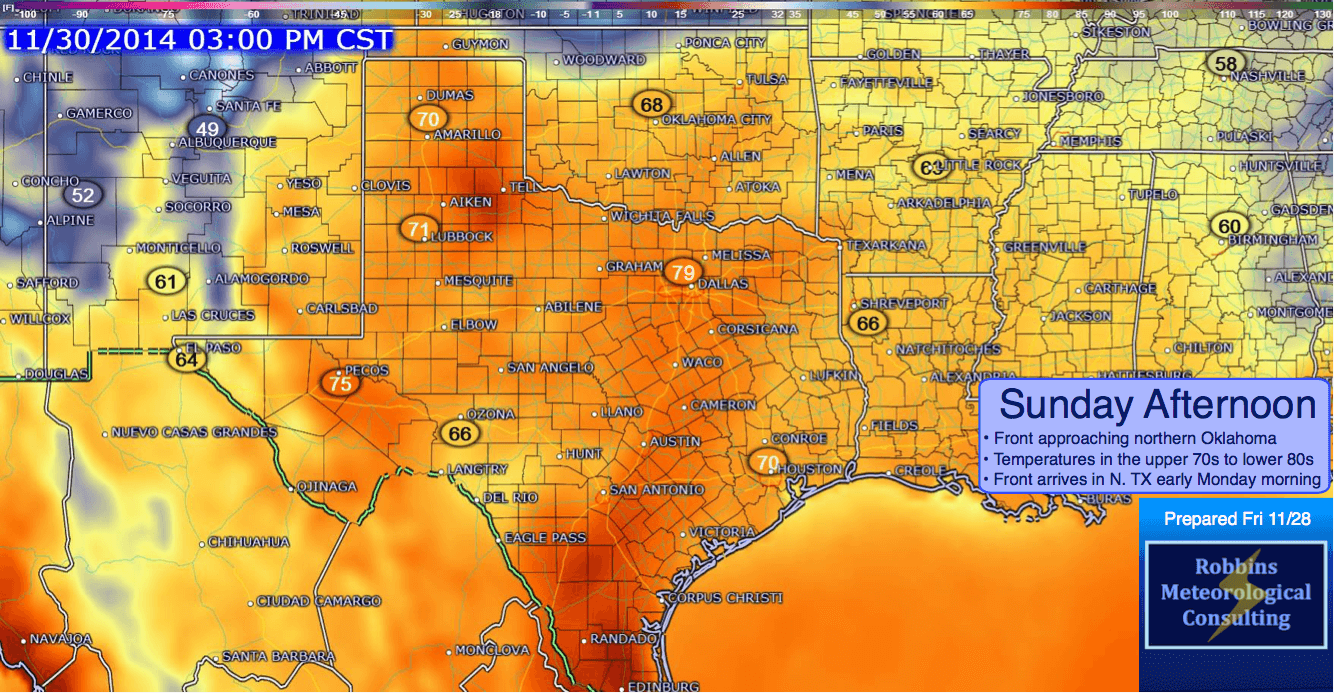 Monday, December 1st – Front by Sunrise, then 40-degrees Colder
The map below shows a snapshot of temperatures at 9 am Monday.  I've also indicated the position of the cold front, which will pass through the metroplex by sunrise (as it looks right now).
Fortunately, the core of the Arctic airmass will pass well to the northeast of Texas.  However, a piece of the airmass (very shallow in nature, with a depth of less than 3,000 feet) will move through North Texas early Monday.  As I mentioned above, temperatures on Monday will fall through the 30s during the morning and they will not rebound.   On the upside, the very shallow nature of this airmass will allow it to modify quickly.  This rapid modification is a due to the relatively high sun angle (compared to mid-winter) and radiational heating from the warm ground.  As a result, the overlying Arctic air will warm/modify more quickly than it would if the deeper core of the airmass were to make a direct hit over North Texas (or if it were mid-January as opposed to December 1).
Temperature Forecast Summary:
Saturday: Mid 70s
Sunday: Upper 70s to lower 80s.
Monday: Cold front by sunrise. Temps falling through the 30s during the day. Drizzle early.
Tuesday: Mid to upper 40s
Wednesday: Near 60º
Thursday: Upper 60s
So, long story short: get out the shorts and flip flops for the weekend, and also have the winter coat, gloves, and scarves handy for Monday.  /Robbins