The Arctic front is on schedule, and the colder air is filtering into North Texas as of 11 am (Sunday, 11/16).  This map shows temperatures at 11 am.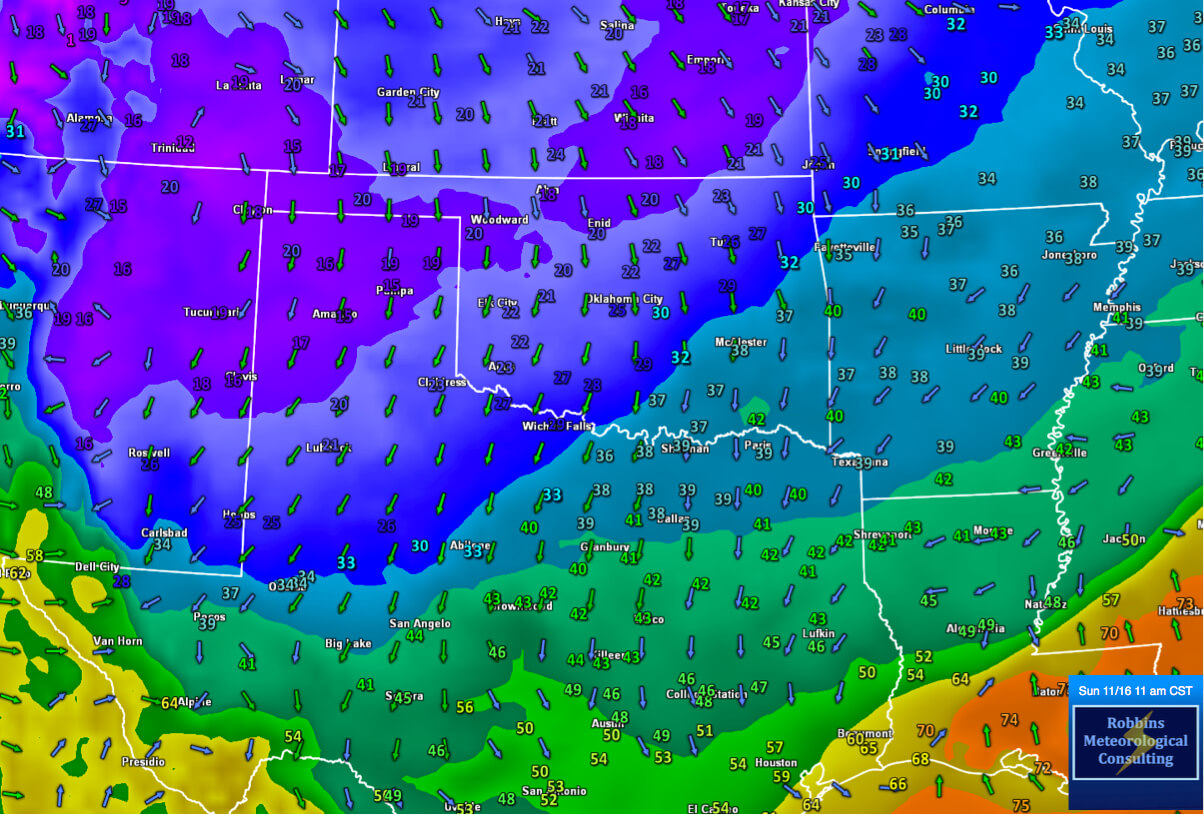 Upper-Air Data (Morning Sounding and Forecast Soundings)
Throughout the morning, drizzle and light rain have been falling across North Texas with temperatures in the mid to upper 30s.  Temperatures have been slowly dropping, as expected, and the decline will accelerate over the next few hours.  The concern continues to be the potential for winter precipitation as I've been discussing since Wednesday (and updated on Friday)  The atmosphere will cool from the surface up as the Arctic air deepens over North Texas.  This morning's sounding from Fort Worth showed a significant warm layer at 5,000 ft.
Forecast Sounding at 5 pm CST Today
As the Arctic air deepens over North Texas this afternoon, the surface layer will cool rapidly and the warm layer will gradually erode.  This cooling process should result in a transition period, with the light rain/drizzle changing to light sleet this afternoon.  This is the forecast sounding for 5 pm CST today.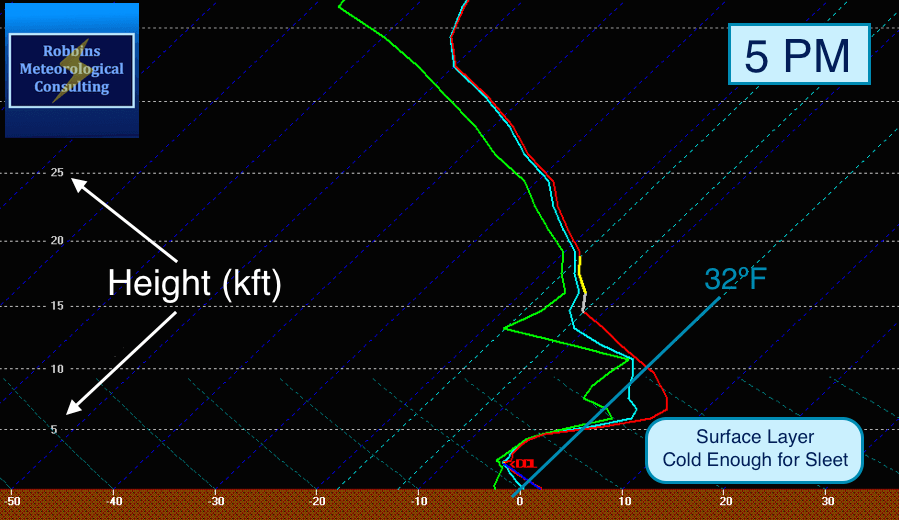 Forecast Sounding at 7 pm CST Today
As you can see in the forecast sounding above, the surface layer has cooled significantly, and will be sufficiently cold/deep for sleet.  Also, as temperatures drop below freezing this evening, some bridges and overpasses may become slick.   As we progress through the early evening, the entire column continues to cool, becoming sufficiently cold for light snow as illustrated on the following forecast sounding.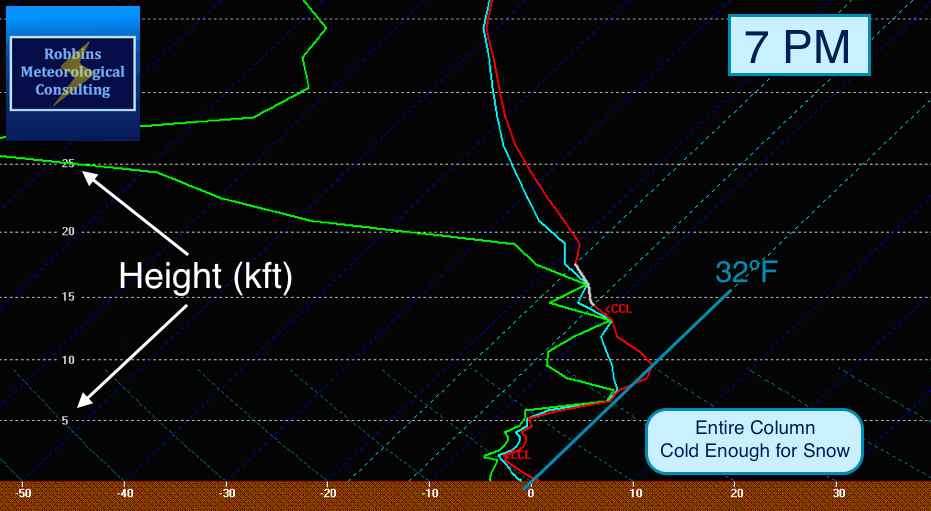 Upper Level Disturbance
The impetus for light winter precipitation is modest forcing from an approaching upper-level disturbance which will utilize the scant atmospheric moisture to produce light sleet and light snow.  I've been stressing all week that this will not be a major winter storm; however, the timing of this event (evening hours) and my forecast temperatures for tonight, may allow for a light accumulation of sleet and snow.  This is the 500-hPa vorticity and geopotential height forecast for 6 pm this evening, which clearly shows the approaching disturbance.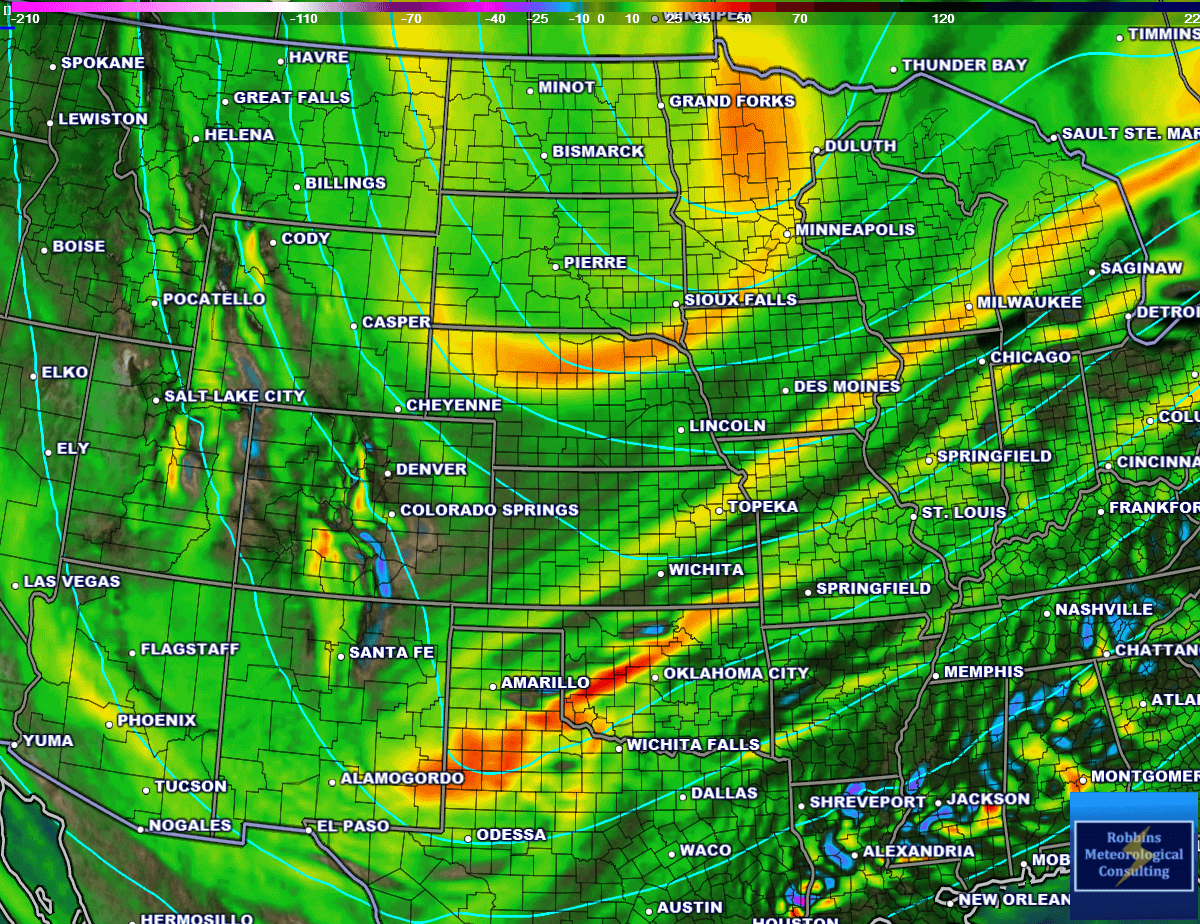 Accumulation Forecast and Impacts
Again, I have not changed my accumulation expectations.  This will be a combination of ice pellets and light snow.  Up to 1/2 inch will be possible in the metroplex this evening, mainly on grassy areas, rooftops, and other elevated surfaces.  I will monitor the radar and trends closely.   While accumulations will be light, it is certainly a novelty for mid-November.  Unfortunately, with temperatures falling into the 20s tonight, residual water may freeze on some bridges and overpasses.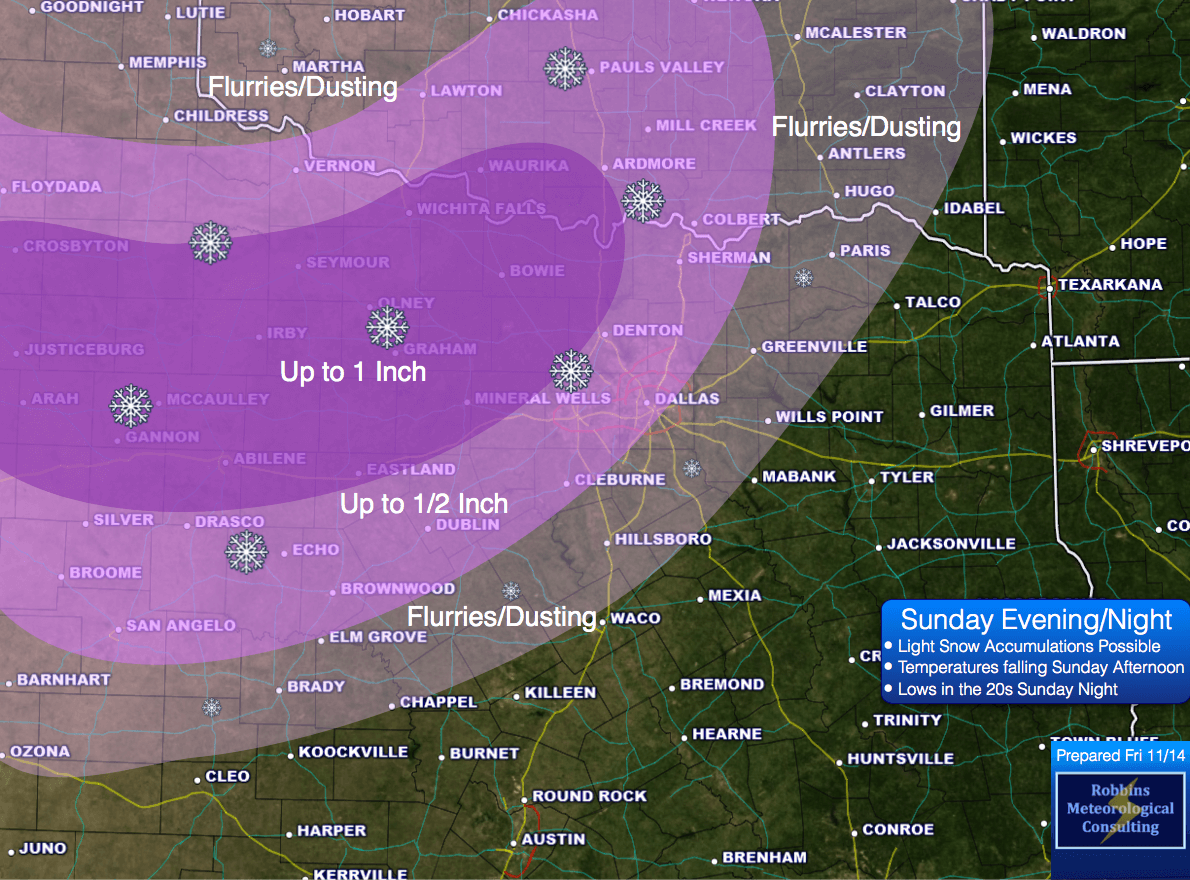 Useful Resources on this Site:
Current Advisories (in the event advisories are issued, or if you are traveling to other impacted regions)