Atmospheric gravity waves, known as undular bores, are waves in Earth's atmosphere that often show up quite well on satellite and radar imagery. They are notorious for creating wave-like clouds, which clearly propagate as waves when viewed in rapid time-lapse photography.  Low-level atmospheric stability is implicated in the formation of undular bores.  Large static stability in the lower levels of the atmosphere is common in the wake of cold fronts and thunderstorm outflow boundaries.  Research has also shown that gravity waves/undular bores can locally enhance the formation of showers, aid in the intensification of thunderstorms, and may play a role in tornadogenesis1.
1.  Coleman, T. A., 2008: The Interactions of Gravity Waves with Mesocyclones and Tornadoes. Ph.D. Dissertation, University of Alabama in Huntsville, 220 pp.
July 30, 2016 – Frederick, Oklahoma Radar Loop
The following radar loop is from the Doppler radar at Frederick, Oklahoma on the morning of July 30, 2016.
More Subtle Examples of Undular Bores
The following radar loop is from the Fort Worth Spinks TX Doppler Radar (KFWS) on the evening of April 23, 2015 between 9:55 pm and 11:15 pm.
Undular Bores over D/FW Evident in Doppler Velocity Data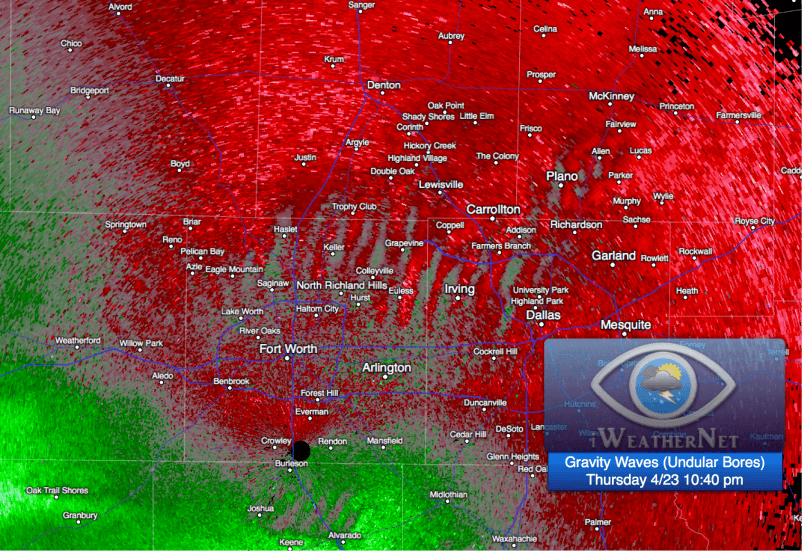 Gravity Waves Interacting with a Supercell
This animation was made the following day, as faint gravity waves continued over parts of Texas.  This was from the San Angelo Doppler radar (KSJT) on the evening of April 24, 2015 (6:15 pm).
To Understand Gravity Waves in the Atmosphere, Think about Water Waves