Daylight saving time (DST) begins: Sunday, March 14th, 2021.
---
A Few Interesting Facts and Myths About Daylight Saving Time
1. Terminology: Daylight saving time, not "savings".
2. Bottling daylight most of the year. In the United States, we spend about 65% of the year (~238 days) in daylight saving time.
3. Two states do not observe DST: Hawaii and Arizona, except for the Navajo Nation. A few others, including Indiana and Michigan, did not participate in the past but do now. Additionally, several U.S. territories do not observe daylight saving time (American Samoa, Guam, the Northern Mariana Islands, Puerto Rico and the United States Virgin Islands).
4. How many countries around the world participate in DST? 82 countries (about 70% worldwide) observe daylight saving time.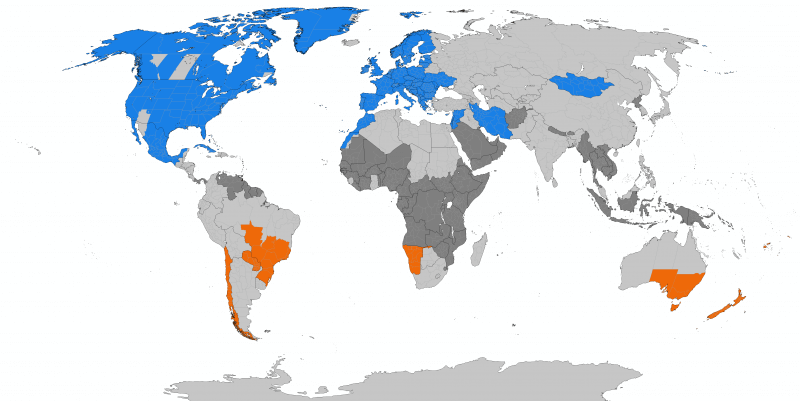 5. The Uniform Time Act of 1966 standardized the start and end dates of daylight saving time across the United States, ending the time chaos that resulted from multiple start and stop dates across the country. Before the act was enabled, states and local city governments determined if and when they would observe DST. At one point, Iowa had 23 different start and end dates for daylight saving time, and passengers going from Steubenville, OH to Moundsville, WV would travel through seven time changes. States that choose to remain on standard time year round are allowed to do so.
6. Daylight saving time in the United States was not implemented for the sake of farmers. Farmers rise with the sun not with the clock, and some consider daylight saving time to be an interruption to their normal routine. Daylight saving was implemented as a means of energy conservation during the first and second world wars, to mitigate blackouts and allow for more cost-effective war-time production.
7. The United States was not the first country to utilize daylight saving time. Officially, Germany is recognized as the first country to formally implement DST. Technically, it was first used in the United States in 1918 for strategic reasons in support of World War I, but it only lasted for seven months. It was not until 1942 that daylight saving was formally and permanently established in United States. On April 30, 1916, Germany became the first country to use daylight saving time as a means of conserving electricity. A few weeks later, the United Kingdom introduced what they called "summer time."
8. The annual duration of daylight saving has changed several times since its inception in the United States. From 1987 through 2006, DST ran from the first week in April through the last week in October (~7 months). The Energy Policy Act of 2005 amended the Uniform Time Act of 1966 by adding four weeks to DST effective in the spring of 2007. The new policy moved the onset of DST from the first week of April to the second week of March and pushed end date from the last week in October to the first week of November. Initially, the 1966 Uniform Time Act required all states to observe daylight saving time beginning on the last Sunday in April. The Act was modified in 1986 to move the onset of DST from the last Sunday in April to the first Sunday (effective spring 1987). Prior to 1966, DST was used inconsistently and primarily during war time.
9. Benjamin Franklin did not "invent" daylight saving time. In his 1784 essay, An Economical Project, he jokingly asserted that Parisians could economize their candle usage by falling out of bed a bit earlier in the day. He suggested economic advantages of evening sunlight utilization in lieu of expensive candles and oil lamps. His proposal was not to actually adjust time itself; rather, he suggested that people adjust their sleep schedules in order to benefit from the free, natural lighting provided by longer solar days (hours of sunlight) during the warm season. He closed, "I say it is impossible that so sensible a people, under such circumstances, should have lived so long by the smoky, unwholesome, and enormously expensive light of candles, if they had really known, that they might have had as much pure light of the sun for nothing."
Daylight Saving Time = War Time
The first table below demonstrates the sporadic use of daylight saving time by the Federal Government during the 1st and 2nd world wars to conserve electricity for war production. It was first used in the United States in 1918, then again on a much more urgent scale starting in 1942. In fact, in 1942, President Roosevelt urged the term "war time" be used in lieu of "daylight saving time".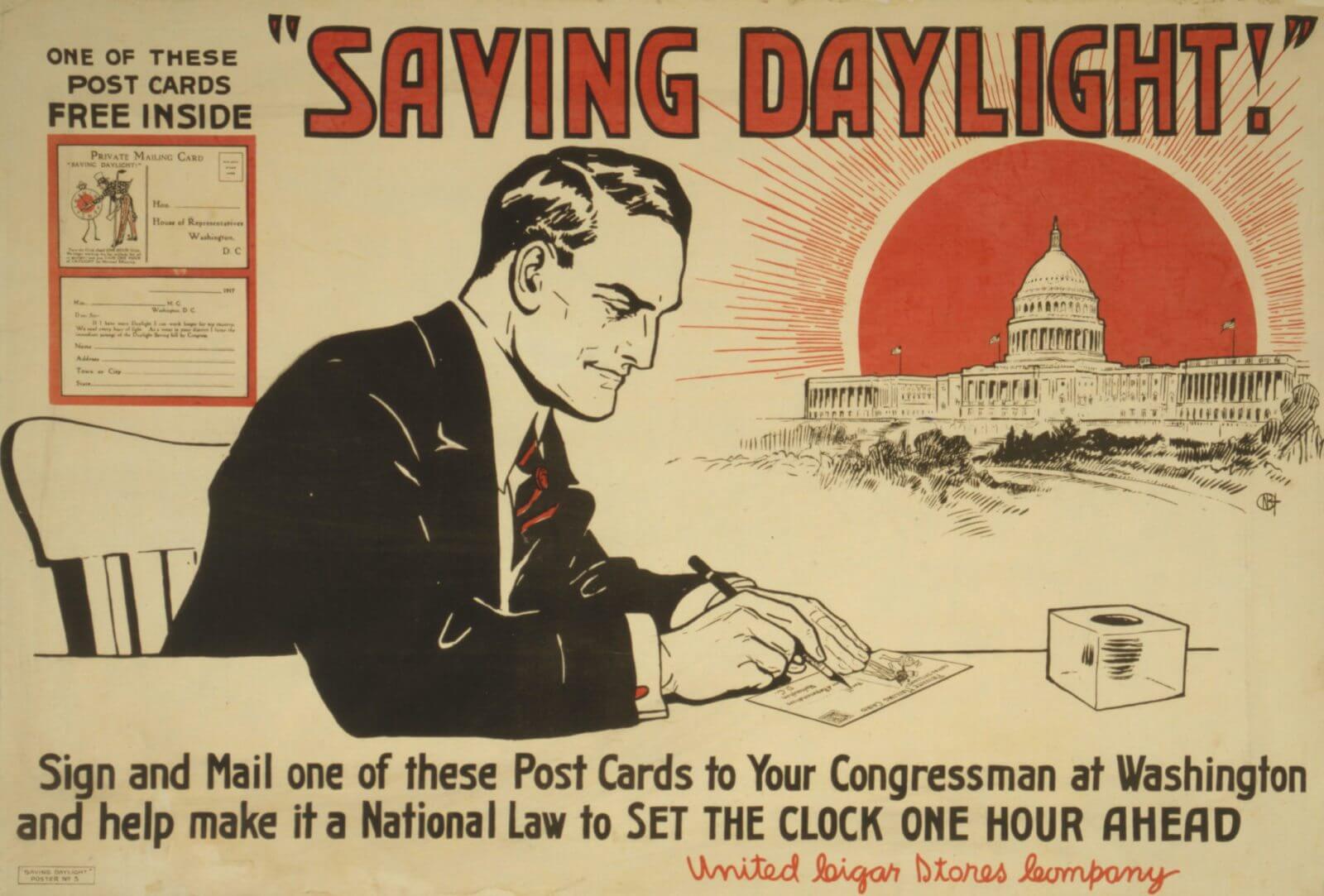 As shown in the newspaper clippings, "war time" was indeed used, even in reference to specific time zones (e.g., "eastern war time", "central war time", etc.). DST/War time was implemented by act of Congress in January 1942 following the nation's entry into World War II the previous month. Daylight saving time for World War II ran for 1,329 days, beginning on February 2, 1942 and ending on September 30, 1945.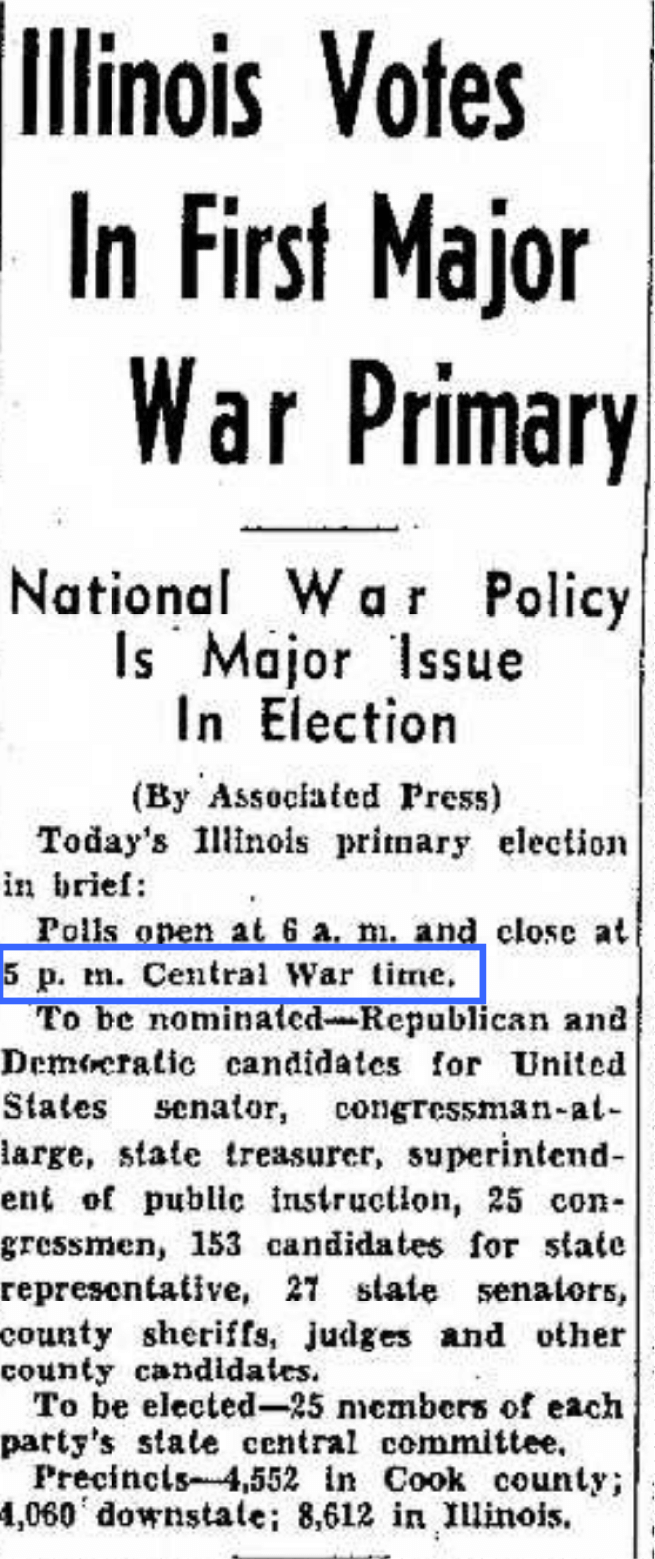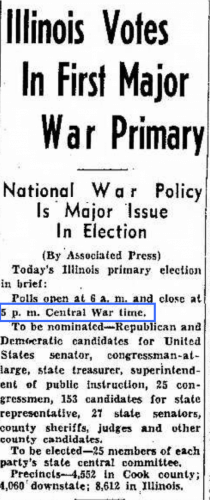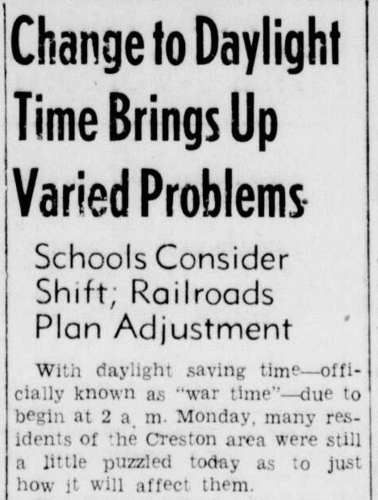 Energy Conservation for both World Wars
| Year | Start DST (aka: "War Time") | End DST (aka: "War Time") | Duration DST (#days) |
| --- | --- | --- | --- |
| 1918 | 31-Mar | 27-Oct | 210 |
| 1919 | 30-Mar | 26-Oct | 210 |
| 1942 - 1945 | Began Mon, Feb 9, 1942, 2:00 am; lasted 3.5 years | 30-Sep-1945 | 1329 |
DST 1966 to Present…
| Year | DST Start | DST End | #days |
| --- | --- | --- | --- |
| 1966 | 24-Apr | 30-Oct | 189 |
| 1967 | 30-Apr | 29-Oct | 182 |
| 1968 | 28-Apr | 27-Oct | 182 |
| 1969 | 27-Apr | 26-Oct | 182 |
| 1970 | 26-Apr | 25-Oct | 182 |
| 1971 | 25-Apr | 31-Oct | 189 |
| 1972 | 30-Apr | 29-Oct | 182 |
| 1973 | 29-Apr | 28-Oct | 182 |
| 1974 | 6-Jan | 27-Oct | 294 |
| 1975 | 23-Feb | 26-Oct | 245 |
| 1976 | 25-Apr | 31-Oct | 189 |
| 1977 | 24-Apr | 30-Oct | 189 |
| 1978 | 30-Apr | 29-Oct | 182 |
| 1979 | 29-Apr | 28-Oct | 182 |
| 1980 | 27-Apr | 26-Oct | 182 |
| 1981 | 26-Apr | 25-Oct | 182 |
| 1982 | 25-Apr | 31-Oct | 189 |
| 1983 | 24-Apr | 30-Oct | 189 |
| 1984 | 29-Apr | 28-Oct | 182 |
| 1985 | 28-Apr | 27-Oct | 182 |
| 1986 | 27-Apr | 26-Oct | 182 |
| 1987 | 5-Apr | 25-Oct | 203 |
| 1988 | 3-Apr | 30-Oct | 210 |
| 1989 | 2-Apr | 29-Oct | 210 |
| 1990 | 1-Apr | 28-Oct | 210 |
| 1991 | 7-Apr | 27-Oct | 203 |
| 1992 | 5-Apr | 25-Oct | 203 |
| 1993 | 4-Apr | 31-Oct | 210 |
| 1994 | 3-Apr | 30-Oct | 210 |
| 1995 | 2-Apr | 29-Oct | 210 |
| 1996 | 7-Apr | 27-Oct | 203 |
| 1997 | 6-Apr | 26-Oct | 203 |
| 1998 | 5-Apr | 25-Oct | 203 |
| 1999 | 4-Apr | 31-Oct | 210 |
| 2000 | 2-Apr | 29-Oct | 210 |
| 2001 | 1-Apr | 28-Oct | 210 |
| 2002 | 7-Apr | 27-Oct | 203 |
| 2003 | 6-Apr | 26-Oct | 203 |
| 2004 | 4-Apr | 31-Oct | 210 |
| 2005 | 3-Apr | 30-Oct | 210 |
| 2006 | 2-Apr | 29-Oct | 210 |
| 2007 | 11-Mar | 4-Nov | 238 |
| 2008 | 9-Mar | 2-Nov | 238 |
| 2009 | 8-Mar | 1-Nov | 238 |
| 2010 | 14-Mar | 7-Nov | 238 |
| 2011 | 13-Mar | 6-Nov | 238 |
| 2012 | 11-Mar | 4-Nov | 238 |
| 2013 | 10-Mar | 3-Nov | 238 |
| 2014 | 9-Mar | 2-Nov | 238 |
| 2015 | 8-Mar | 1-Nov | 238 |
| 2016 | 13-Mar | 6-Nov | 238 |
| 2017 | 12-Mar | 5-Nov | 238 |
| 2018 | 11-Mar | 4-Nov | 238 |
| 2019 | 10-Mar | 3-Nov | 238 |