What is Flood Insurance?
Because standard homeowners insurance doesn't cover damage from flooding, you will need to purchase a separate flood insurance policy to obtain coverage for your home and its contents. Fortunately, flood insurance is widely available from insurance companies that participate in the National Flood Insurance Program (NFIP), a partnership between the Federal Emergency Management Agency (FEMA) and the private insurance industry. A handful of insurance companies also offer excess flood insurance policies that can supplement NFIP coverage.
You are eligible to purchase national flood insurance if your community is one of the approximately 20,100 nationwide that participate in the NFIP. Participating communities must adopt certain floodplain management practices in exchange for the availability of flood insurance for their residents.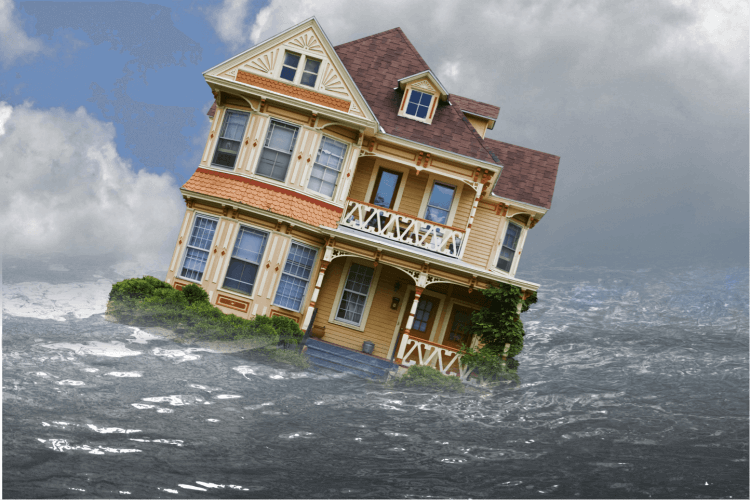 You May Need Flood Insurance
You should consider purchasing flood insurance even if you don't live in a high-risk area for floods. According to FEMA, approximately 25 percent of all flood insurance claims come from areas that are at low to moderate risk for floods. Even if you don't live near the ocean, a river, or other body of water, factors such as storms, melting snow, inadequate or overloaded drains, or hurricanes can cause serious flooding.
For some homeowners, making the decision to buy flood insurance to protect their home is easy; they can see or walk to the ocean or a large body of water from their home. For others, it can be a more complex decision. However, there are some good reasons to protect your home against external flooding, even if you are not ocean or lake front.
Water Damage is Expensive
Damage from flooding involves more than just a little water. If your home is flooded, you could have structural damage, waterlogged floors and underlayment, and even mold. Having the water removed the right way is essential, otherwise you'll have structural integrity or mold problems later. Flooding is not only limited to the beach; if you live near a pond or water basin, or simply in a neighborhood with poor drainage systems, you risk expensive repairs if your home is flooded.
Black Mold is Costly to Remove

Black mold can form within days of a flood; it is toxic and very difficult to eradicate.   You may not notice the mold on the exterior of a wall, but once you pull down the sheet rock, its presence is unmistakable.  The cleanup process is expensive and will require the hard work of trained professionals to remove everything that may have been exposed to the water and the mold, including the baseboards, sheet rock or paneling, and insulation.   In order to fully recover from a flood, even a seemingly minor flood less than a foot deep, will be costly, stressful, and time-consuming.  Make sure you are properly insured before a flood comes along hellbent to take your nice furniture and your soul.
Your Homeowner's Policy Won't Cover Flood Damage
While your homeowner's policy will likely pay for floods from internal sources — if the tub overflows or a pipe bursts, for example — most do not cover floods from external sources. Combining the high cost of repairs with a lack of coverage could make it impossible for you to repair your home in the event of a flood. Many New Jersey and New York residents found this out the hard way when Hurricane Sandy slammed ashore in 2012; homeowners without flood insurance are still working on repairs and waiting for FEMA help years later. Their insured neighbors have recovered and are enjoying long, lazy days at the shore this summer.
If you are buying a home located in a high-risk flood zone, and are obtaining a federally backed mortgage, you will be required to purchase flood insurance.
Flood insurance is Quite Affordable 
Costing only a few extra dollars each month for most homes, opting for flood coverage gives you peace of mind about your home. If the worst happens and you do experience a flood, you'll have the funds you need to recover and restore your home without excessive delays or costs.
The right insurance can help you recover after a big storm or other event floods your home. Your regular homeowner's insurance alone simply isn't enough to protect you.
How can you purchase flood insurance?
Flood insurance policies are sold through private insurers and backed by the federal government. If your home insurer doesn't offer flood insurance, you can call the NFIP Telephone Response Center at (800) 621-3362 for a list of agents near you. 
How much flood coverage can you get?
You can purchase coverage for your home through the NFIP up to the following amounts:
$250,000 for the building
$100,000 for the contents
If need additional insurance, you can consider purchasing excess flood insurance through a private insurer. Excess flood insurance covers amounts above the $250,000 federal limit, and unlike NFIP coverage, may cover your home for its full replacement cost. You may be able to purchase these policies even in high-risk flood zones. A few insurance companies have begun offering flood policies designed to replace NFIP coverage, but these policies are generally available only in low- to moderate-risk flood zones.
Renters can also obtain coverage through the NFIP.
Important things to know about flood insurance
Homeowners policies don't cover damage from flooding. However, you can purchase flood insurance separately. The cost of flood insurance depends on many factors, including the type of occupancy (e.g., single family, nonresidential), the amount of coverage, and the location, design, and age of the building.
If you have a mortgage on your home, it's likely that your lender required a flood hazard search on your property at the time you obtained your mortgage in order to comply with federal standards. If your home turns out to be in a flood hazard area, you will be required to purchase flood insurance. However, even if you own your home outright or don't live in an area that lies in a flood plain, consider purchasing flood insurance to protect your property. Flooding doesn't happen only along the banks of rivers, lakes, or other bodies of water; it can also occur in other low-lying areas or in areas where drainage is poor, or it can result from heavy rains, melting snow, and backed-up sewers, among other things.
Tip: If your insurance company doesn't sell flood insurance, call the National Flood Insurance Telephone Response Center at (888) 435-6637 for a list of insurers that do sell flood insurance policies. If your area was recently struck by a flood and you have difficulty purchasing flood insurance, you may be able to purchase coverage through a state or federally operated insurance pool, although you'll pay more for coverage.
Can Your Flood Insurance Premiums Rise Due to Multiple Claims?
Maybe. It depends on how many claims you've filed, and what you've done to reduce the risk of flood damage.
Under a pilot program established by the Bunning-Bereuter-Blumenauer Flood Insurance Reform Act of 2004, individuals who own "severe repetitive loss properties" face flood insurance premium increases if they file numerous claims and have not taken steps to reduce flood risk.
A "severe repetitive loss property" is one for which four or more separate flood damage claims exceeding $5,000 have been made (with the cumulative amount of claims exceeding $20,000) or a property for which at least two claims have been made (with the cumulative amount of claims exceeding the value of the policy).
If your property meets this definition, you must accept flood loss mitigation assistance from your state and local governments in order to keep your flood insurance premium from increasing. This flood loss mitigation assistance includes measures such as the elevation of your property or the buy-out of your property. If you do not accept this assistance you could face premium increases as high as 150 percent.
If My House is Near a River, do I need Flood Insurance?
Considering the potential damage that flooding can do to your home, you should seriously consider flood insurance. Flooding from a river (or any other source, such as melting snow, heavy rains, or inadequate drainage) is not covered under your homeowners insurance policy. To get coverage, you'll need to purchase a separate flood insurance policy.
Start with your insurance agent. Many companies that issue homeowners policies also issue flood insurance policies. Or, you can call the National Flood Insurance Program at (800) 621-3362 for a list of insurers that write these policies.
Keep in mind that if your home is located in a flood zone and you're obtaining a federally backed mortgage, your lender will require you to purchase flood insurance. Whether your property is located in a flood zone will be determined by special flood-zone maps prepared by the Federal Emergency Management Agency. If your property is located in a minimal-risk area, your lender won't require flood insurance, though you can certainly purchase it on your own.
Similar Posts: