On Sunday June 5, 2016, Tropical Storm Colin formed in the Gulf of Mexico, making it the earliest "C" tropical storm on record.  View iWeatherNet's tropical cyclone page for more information.
See Also: January 2016 Hurricane Alex: Strongest Atlantic Winter Hurricane on Record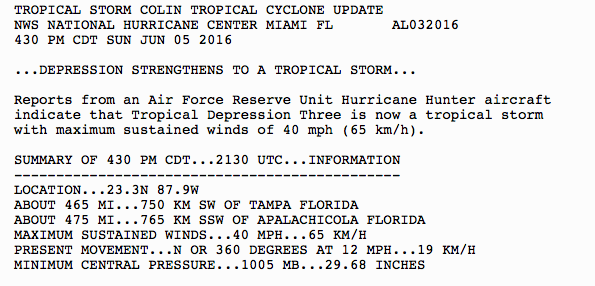 The Earliest "C" Storms Found in the Historical Record
For the Atlantic basin (including the Gulf of Mexico and Caribbean)
Note: This is an edit from my original post which also included the East Pacific… the stats have been modified to exclude the E. Pac.
COLIN 2016
Jun 5, 2016 to — Jun 7, 2016
Max Intensity: Tropical Storm
CHRIS 2012
Jun 17, 2012 to Jun 24, 2012
Max Intensity: Cat. 1 Hurricane
CANDY 1968
Jun 22, 1968 to Jun 26, 1968
Max Intensity: Tropical Storm
Has there ever been a "D" Tropical Storm in June?
Yes. Debby in 2012. The 2012 season got off to an early start, with Tropical Storms Alberto and Beryl in May, then Chris (June 17-24) and Debby (June 23-27).  Tropical Storm Debby in June of 2012 is the earliest "D" storm in the historical record.