I've been posting updates about this airmass on my Facebook and Twitter pages, but I thought I'd go ahead and write a short discussion about this airmass.  It has the potential to be the coldest air we've seen in a year or so, at least when measured by the low temperatures Wednesday night/Thursday morning.
Precipitation Chances: Very Low
I've been receiving a lot of messages asking about the chances for winter precipitation, and I am still not forecasting any at this time, at least not for areas north of DFW Airport. I addressed that yesterday in the last section of this page.  A disturbance will move across Texas on Friday as a reinforcing shot of Arctic air moves in. I expect overcast, but precipitation chances are very low. Areas south of the metroplex may see a light mix of precipitation with a few very light/scattered showers in Dallas/Tarrant Counties, but it will be a very narrow band (due to the nature of the forcing that will create it) and it should move quickly to the east (short duration)…again, this appears to affect areas from the metroplex southward only.  The primary forcing mechanisms are channeled vorticity and frontogenesis. The atmosphere will be very dry, so these forcing mechanisms not only have very little moisture to work with (for generating precipitation), but the dry air near the surface may mean that most of the precipitation that manages to form will sublimate/evaporate before reaching the ground (virga).  
Map Indicating Area of Weak Forcing from Frontogenesis through Friday Afternoon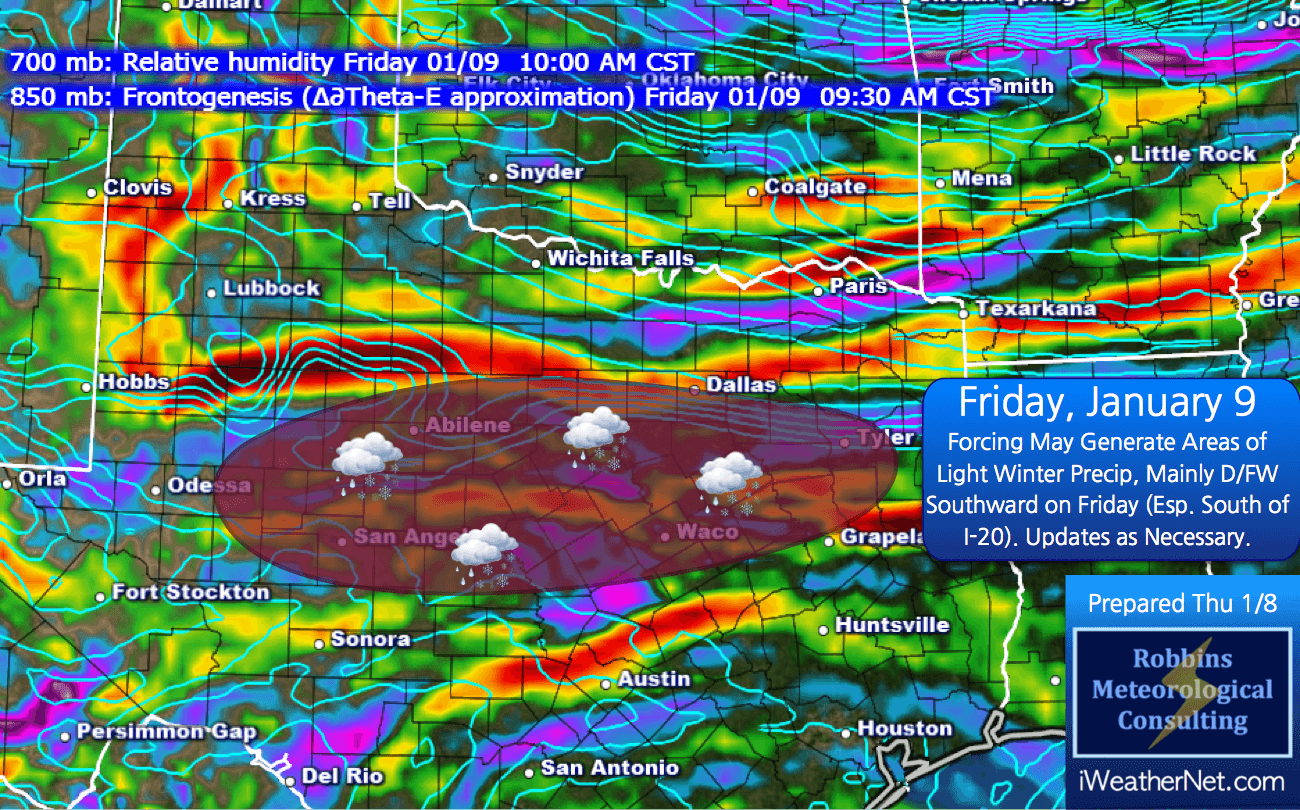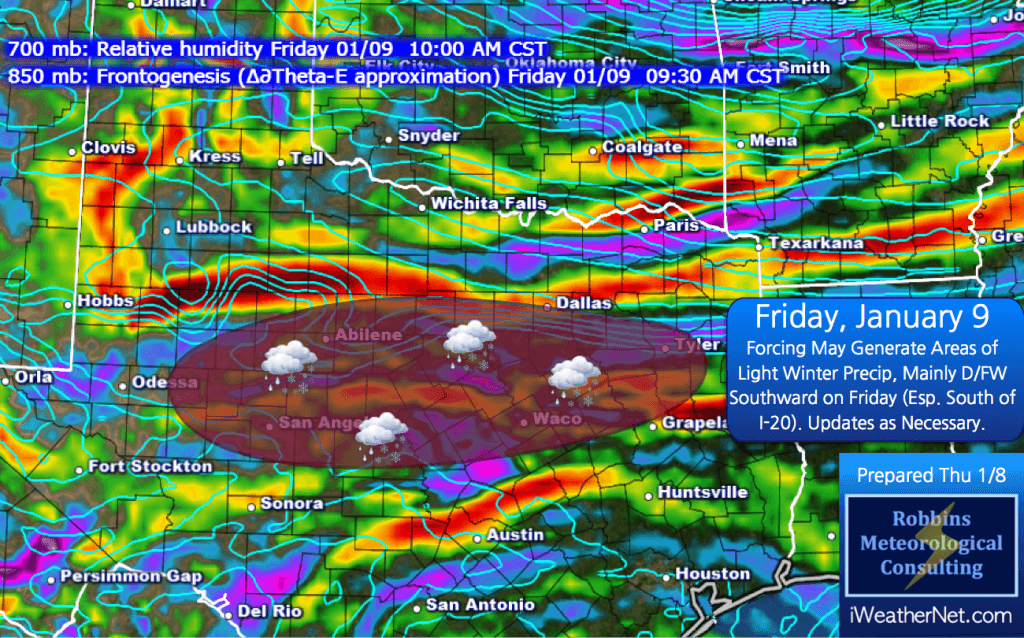 What to Expect in DFW Tomorrow (Wednesday 1/7/15)
Arctic air will infiltrate North Texas tomorrow morning
Temperatures in the mid 30s much of the day, falling into the 20s late
North winds increasing to 25 – 35 mph, with gusts to 40+ mph, especially during the afternoon
Wind chills will be in the teens at times, especially by late afternoon/evening
Lows Wednesday night: 7º to 15º (coldest in the northern suburbs, warmest in urban areas)
Tuesday, January 6, 2015 at 12 pm CST (Partial Analysis)
The following is my partial analysis using today's 12 pm CST surface data.  A cold front is slowly moving into North Texas, with temperatures ahead of the front in the lower 50s at noon.  The cold front depicted on the map is not the leading edge of the very cold Arctic airmass that will infiltrate North Texas on Wednesday.  Rather, the main (parent) surface high is still located over Saskatchewan as of the time of this analysis.  The Arctic high will intensify as it builds and propagates southeast into the lower 48 late tonight and Wednesday.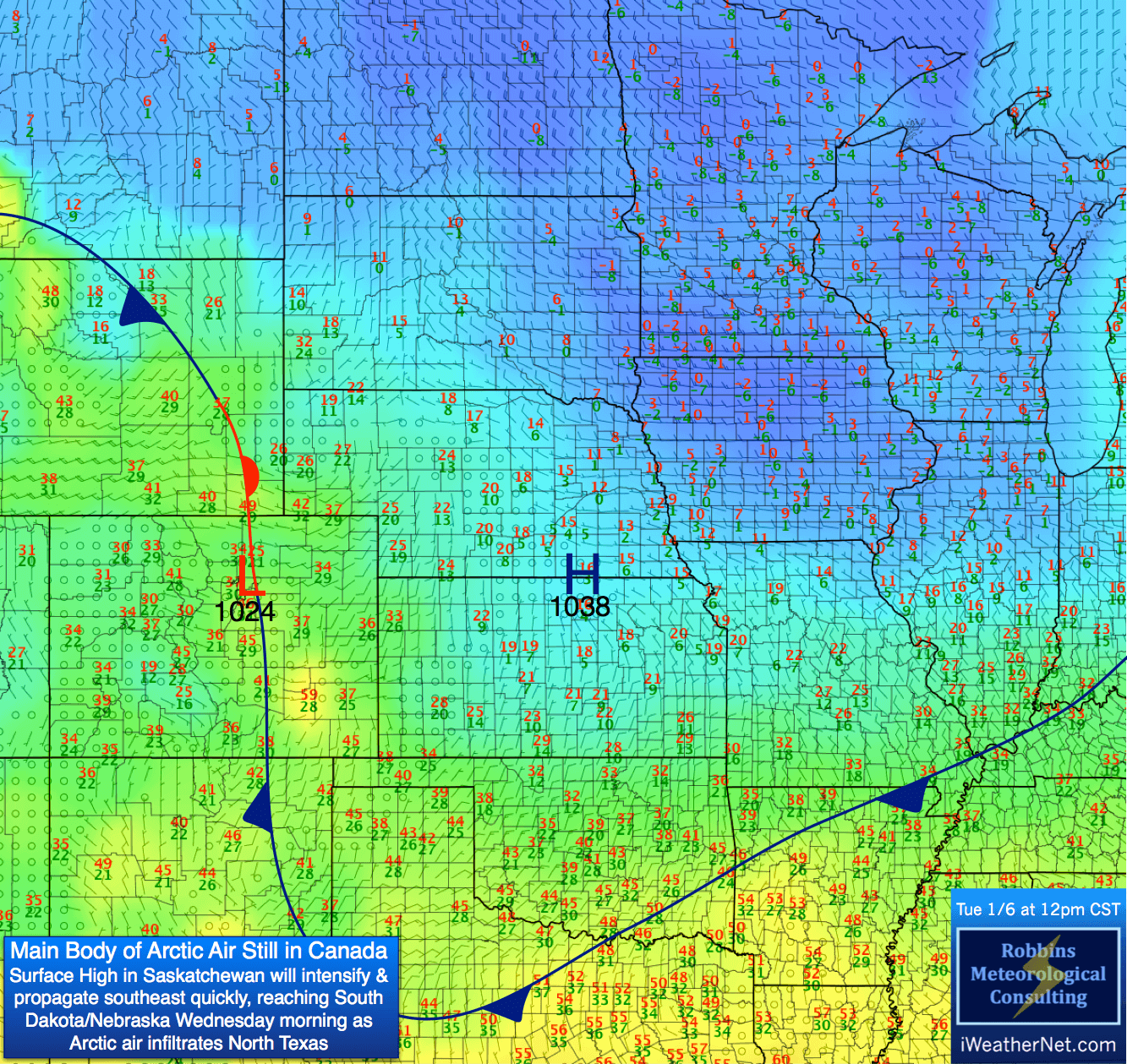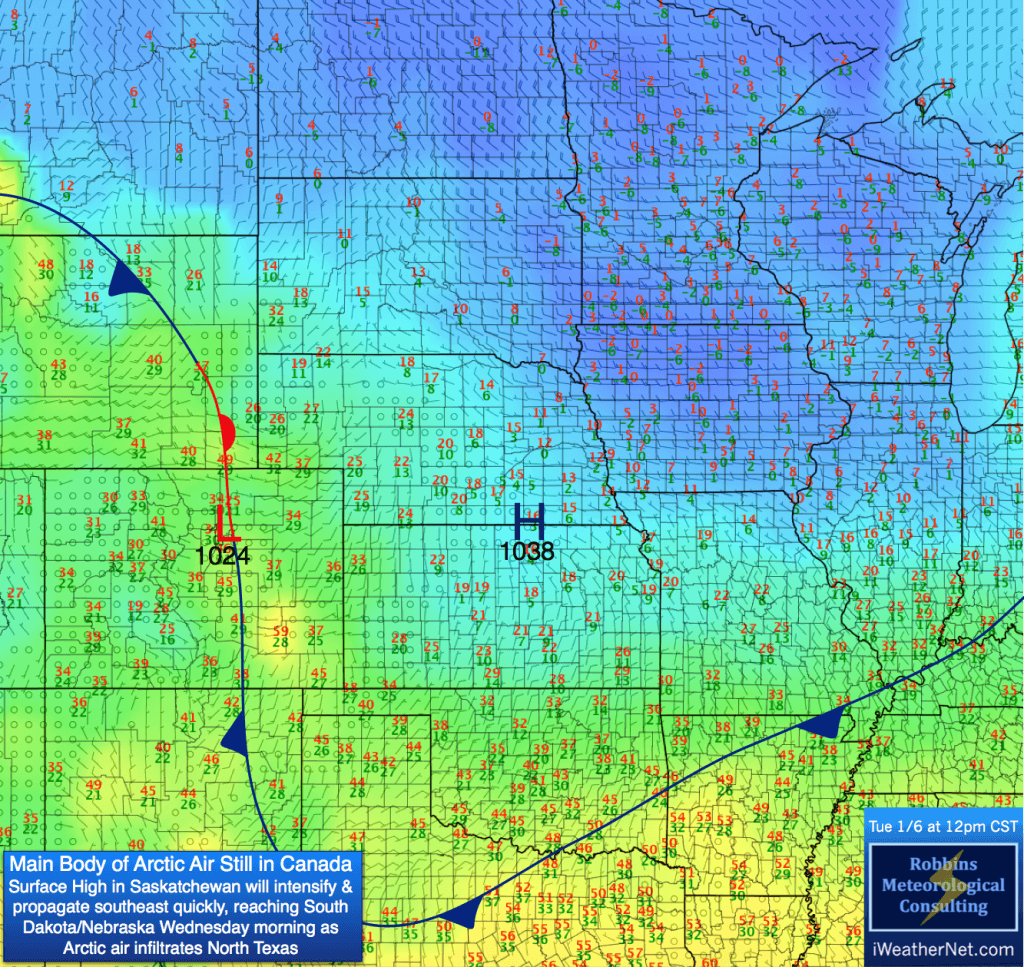 Evolution and Propagation of the Arctic High
A couple of days ago, when I prepared a forecast update for Atlanta, Georgia, I created this animation depicting the evolution and propagation of the Arctic high pressure.  While I have uncertainties that the surface pressures will actually build to 1060-mb, the predicted evolution and motion remain the same.
Expected Low Temperatures in North Texas & DFW Wednesday Night
Update (Tuesday 1/6 at 8 pm): Temperatures may be colder than what I've depicted below.  I will try to generate a new image soon.  Temperatures in the outlying areas of DFW, particularly north of the metroplex, may fall into the single digits.  This would include areas like Denton and Gainesville.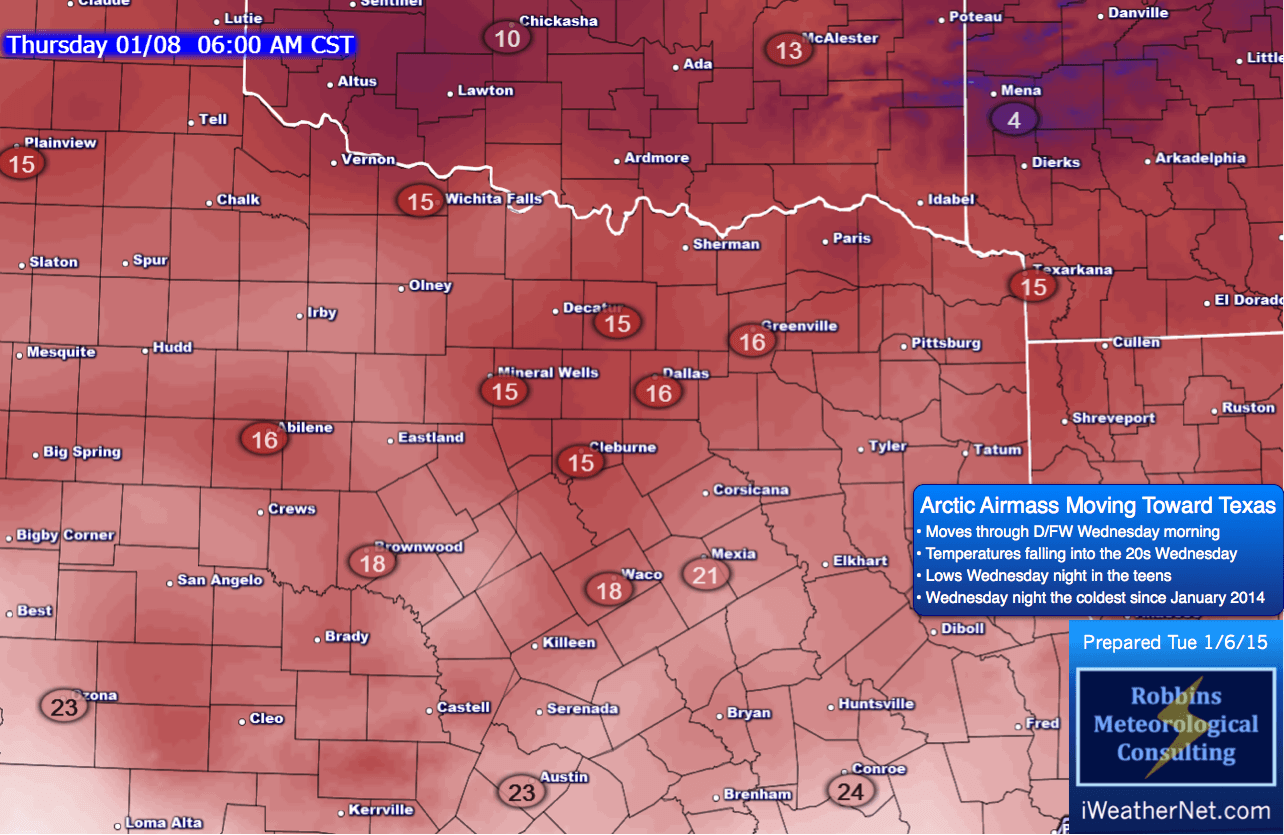 Temperature Trend (Meteogram) for the Rest of the Week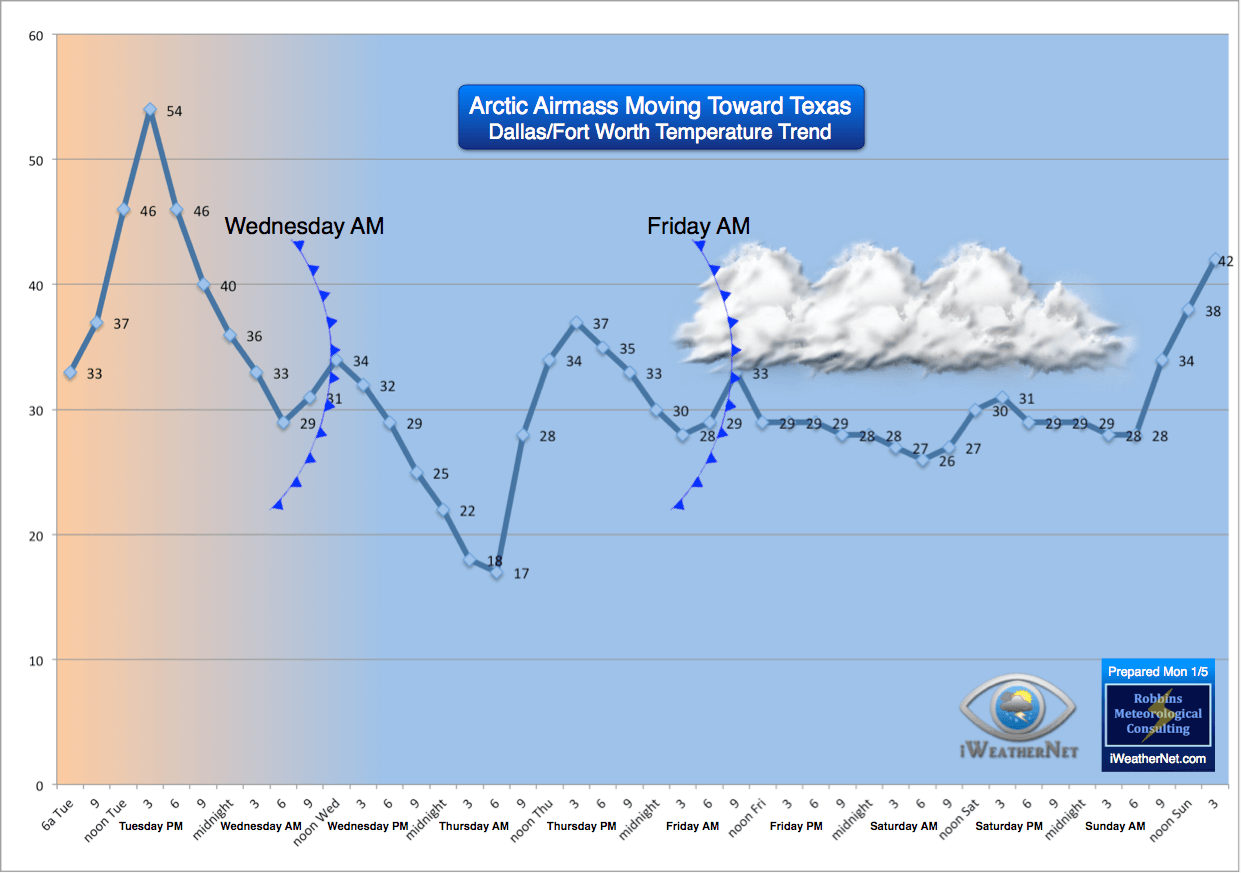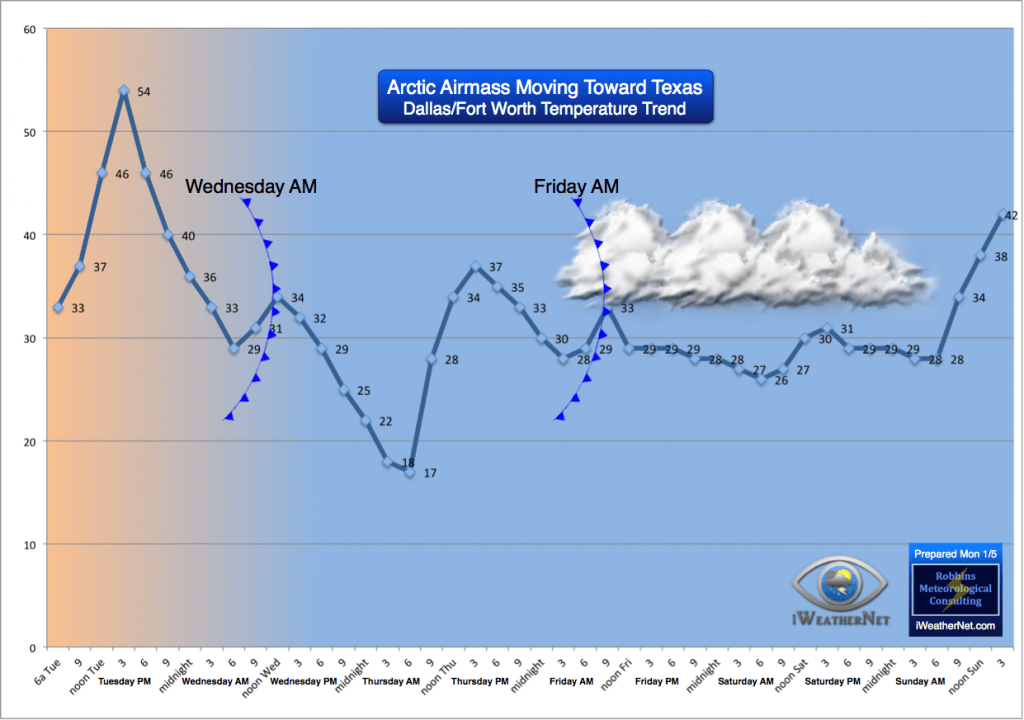 Arctic Reinforcement and Overcast for Friday
A reinforcing shot of Arctic air will move in on Friday, with temperatures remaining below freezing all day.  I have been watching a disturbance over the Eastern Pacific that will bring overcast to North Texas Friday, as indicated in the graphic above.  There is insufficient support to include precipitation in my forecast at this time, but I am monitoring the disturbance and potential frontogenesis, and will update the forecast with future data. Please refer back to this page for future updates.
Note:  This page will be updated as conditions and future data warrant.  Please bookmark this page and check back.  You can also follow all updates on my Facebook and Twitter pages.
–Chris Robbins, Meteorologist, M.S., B.S.