Slow-moving, training supercells brought enormous rainfall amounts to the southern Oklahoma City metro on Wednesday, May 6, 2015. Rainfall rates of 3 to 4 inches per hour occurred with the thunderstorms.
Update: The rainfall total has been updated to reflect the final official amount as confirmed by the NWS.  The change was minor (a tenth of an inch) and does not impact any of my initial assessments.
Event Summary and Records
The official daily rainfall for Oklahoma City (Will Roger's World Airport) was 7.10″(NWS confirmed)
This ranks as the #3 greatest 24-hour rainfall on record
This also broke the record for the date (previously 2.61″ in 1930)
This was the largest daily amount ever recorded during the month of May
Areas south and southwest of Will Rogers received more than 8 inches of rain
Radar estimates of up to 15 inches of rain near Tuttle
This was definitely a historic rainfall event (compare to the historical data tables below)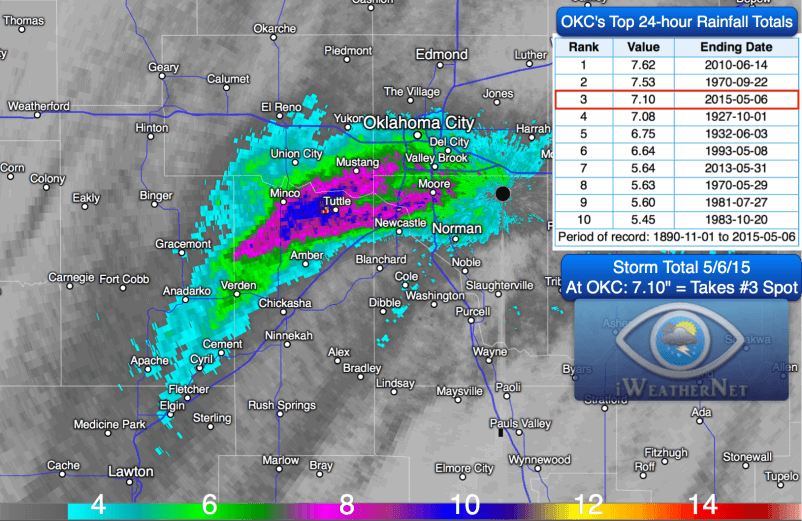 Flash Flood Emergency
Flash Flood Warnings were already in effect; but due to the urgent and historical nature of the developing situation, the National Weather Service in Norman upgraded to a Flash Flood Emergency at 9:09 pm. This was the first ever issued by the Norman forecast office.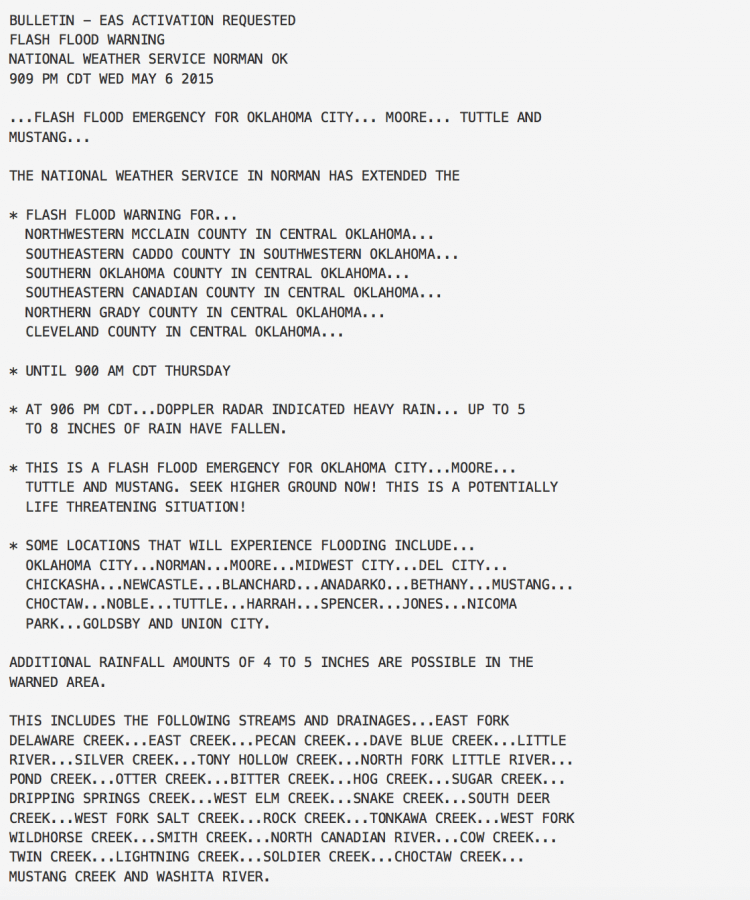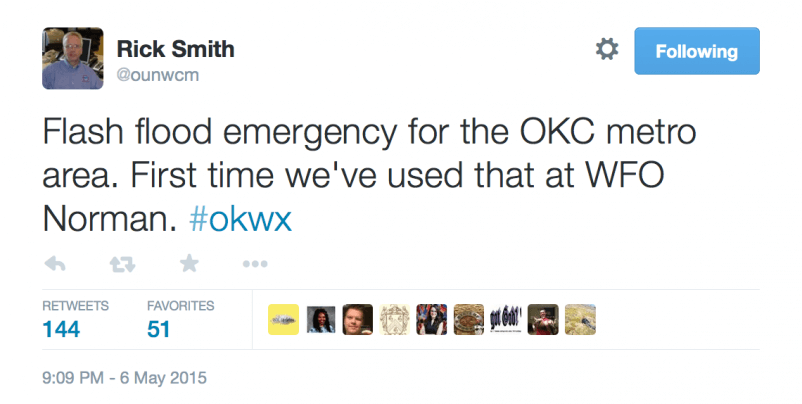 Top-10 Historical Rainfall Data for Oklahoma City
I've tabularized the top-10 largest rainfall amounts for Oklahoma City (includes the new record).
Largest Daily Rainfall Totals (Any Day of the Year)
| Rank | Amount | Date |
| --- | --- | --- |
| 1 | 7.62 | 2010/06/14 |
| 2 | 7.53 | 1970/09/22 |
| 3 | 7.10 | 2015/05/06 |
| 4 | 7.08 | 1927/10/01 |
| 5 | 6.75 | 1932/06/03 |
| 6 | 6.64 | 1993/05/08 |
| 7 | 5.64 | 2013/05/31 |
| 8 | 5.63 | 1970/05/29 |
| 9 | 5.60 | 1981/07/27 |
| 10 | 5.45 | 1983/10/20 |
---
Largest Rainfall Totals for the Month of May
| Rank | Amount | Date |
| --- | --- | --- |
| 1 | 7.10 | 2015/05/06 |
| 2 | 6.64 | 1993/05/08 |
| 3 | 5.64 | 2013/05/31 |
| 4 | 5.63 | 1970/05/29 |
| 5 | 5.38 | 1987/05/27 |
| 6 | 4.71 | 1950/05/10 |
| 7 | 4.24 | 1899/05/05 |
| 8 | 4.16 | 1908/05/23 |
| 9 | 4.14 | 1918/05/05 |
| 10 | 4.06 | 1903/05/24 |
Period of record: 1890-11-01 to 2015-05-05