As the peak of the 2016 Atlantic Hurricane Season nears, it was 18 years ago today, on the morning of August 28, 2005, that the National Weather Service in Slidell, which has responsibility for New Orleans, Louisiana, issued a dire bulletin in advance of Hurricane Katrina as she headed towards the Gulf Coast. At the time of the warning, and after undergoing a period of rapid intensification, Hurricane Katrina was a Category-5, the highest category on the Saffir-Simpson scale, with sustained winds of 175mph and wind gusts to 190mph.!
Hurricane Katrina Death Toll:
Final: 1,836
Mississippi: 12% (238)
Louisiana: 86% (1,577)

 See radar loops of Katrina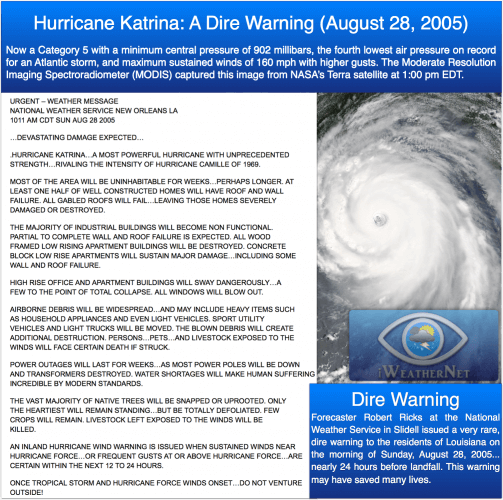 Katrina maintained its Category-5 strength throughout the day on August 28th, 2005, before weakening to a Category-3 strength upon landfall in New Orleans on August 29th. As Katrina neared New Orleans, the National Guard delivered supplies to the Superdome as it served as a shelter for those who could not get out of the city in time. Katrina made landfall at 6:10am CDT on Monday, August 29th, 2005, with sustained winds of 125mph and a storm surge of over 27 feet recorded across areas along the Gulf Coast.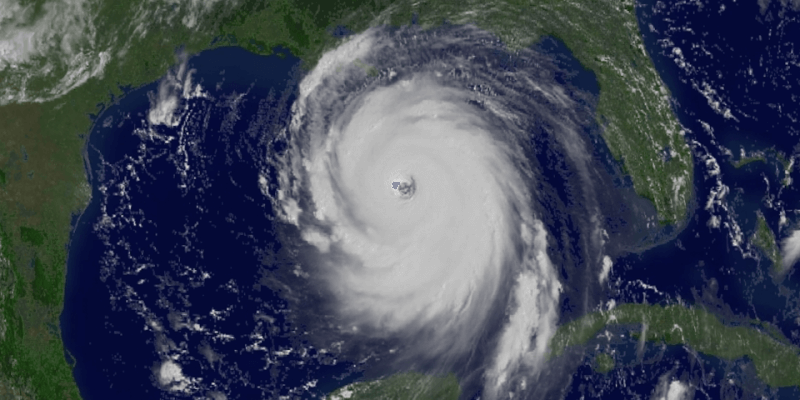 It will be eleven years since a major hurricane (Category-3 strength or greater) made landfall on the U.S. on October 24th (Wilma; 2005). Being prepared is always important, regardless of the strength of a tropical cyclone. Here are some safety and preparedness tips that can help you develop a plan of action for when a tropical storm or hurricane threatens your area.
Location of the NWS Office in Slidell.
This map shows the location of the National Weather Service in Slidell, Louisiana, which has forecast responsibility for New Orleans, relative to Lake Pontchartrain.