On this, the 17-year anniversary of Hurricane Katrina's final landfall east of New Orleans, I wanted to share some graphics and the very rare, dire warning issued the National Weather Service in Slidell, Louisiana that likely saved many, many lives.
---
Brief Overview of Katrina's Formation and Rapid Intensification
Katrina formed on Tuesday, August 23, 2005 as tropical depression #12 in the Atlantic.  The next morning, the depression had strengthened into a tropical storm and was given the name "Katrina".   Shortly after becoming a category 1 hurricane on Thursday, August 25, Katrina made landfall over South Florida around 6:30 pm EST between Aventura and Hallandale, Beach.  At landfall, she had winds of 80 mph and a very well-defined eye.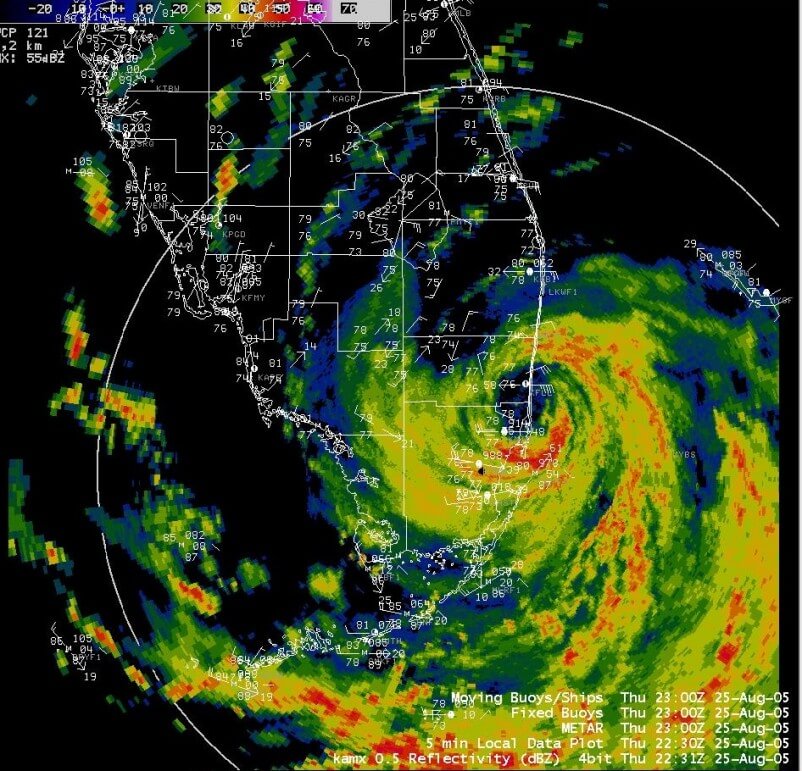 Katrina continued westward, eventually into the Gulf of Mexico.  As she encountered the very warm waters near the Gulf Loop Current, she underwent two rounds of rapid intensification.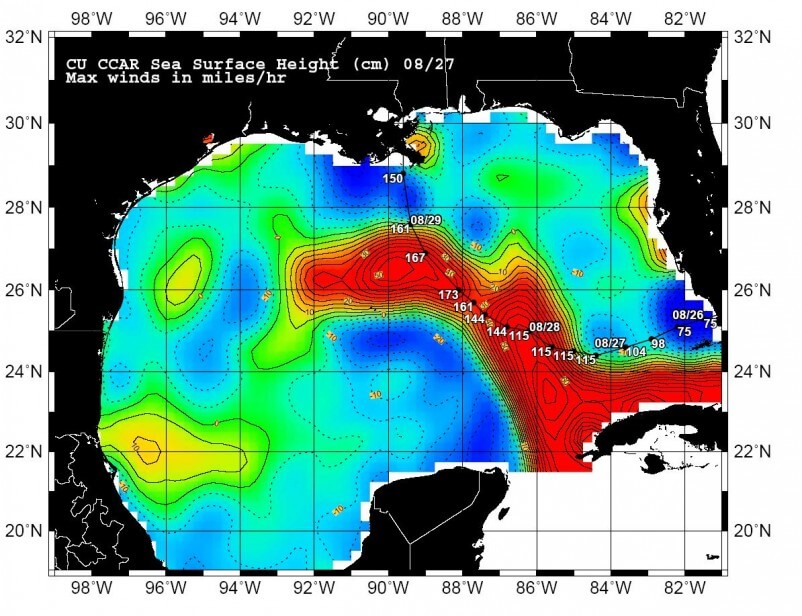 Conditions were primed not only for strengthening, but rapid intensification. When Katrina moved into the Gulf of Mexico, the atmosphere was characterized by large-scale weak shear, very warm sea surface temperatures, and the aforementioned Gulf Loop Current.  Her first period of rapid intensification was on Saturday, August 27 when she was upgraded to a category 3 (major hurricane) status.  After stabilizing for 18 to 20 hours, she entered a second period of rapid intensification which began around 7 pm CDT on Saturday August 27.
Just 6 hours later (approximately 12:40 am Sunday, August 28, 2005), she had strengthened to category 4 status (maximum sustained winds of 145 mph).  In yet another 7 hours, she had intensified to category 5 status (7 am CDT 8/25/05), and by 1 pm CDT she had maximum sustained winds of 175 mph (gusts to 213 mph).  Her central pressure was 902 mb, the 4th lowest ever recorded in the Atlantic basin up to that point (a record that would be surpassed just a few weeks later by Hurricanes Rita and Wilma).
The Dire Warning
On the morning of Sunday, August 28, 2005, nearly 24 hours before landfall, Forecaster Robert Ricks at the National Weather Service in Slidell issued a very rare, dire warning to the residents of Louisiana. This warning may have saved many lives. In fact, Mayor Ray Nagin ordered the first-ever mandatory evacuation of New Orleans in response to the heavily worded warnings.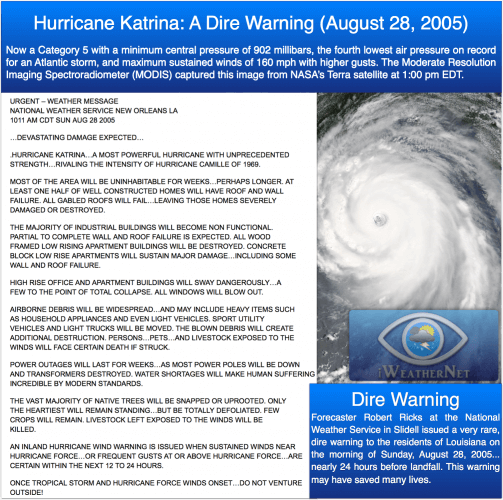 That warning was issued nearly 24 hours before landfall.  Of course, stern warnings had been given for a couple of days prior, but this particular warning caught the attention of many people and the media.  Katrina made landfall at 6:10 am CDT on Monday, August 29 as a category 3 hurricane (maximum sustained winds of 125 mph) east of New Orleans, near Buras-Triumph, LA.
Hurricane Katrina Radar Animation During Landfall
Hurricane Katrina Satellite Loop Making Landfall
This is Hurricane Katrina over the Gulf of Mexico as a category 5 then making landfall as a Category 3.
Where is the National Weather Service Office for New Orleans?
This map shows the location of the National Weather Service in Slidell, which serves the New Orleans area, relative to Lake Pontchartrain.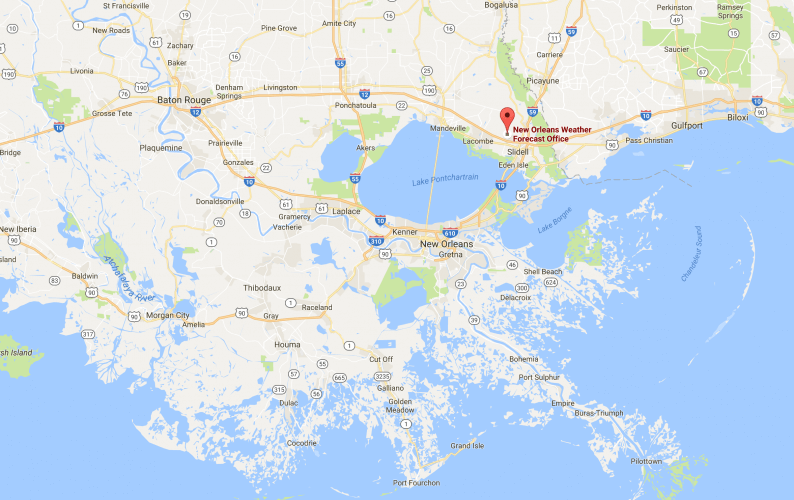 Similar Posts: