On September 27th, 2016, a tropical depression had formed in the eastern Atlantic Ocean that had traversed across the Atlantic Ocean as a disturbance of thunderstorms days prior. The next day on September 28th, a tropical storm formed. Its name: Matthew. 
Over the next few days, Matthew would undergo a rapid intensification process and strengthened into a Category-5 hurricane with 160mph sustained winds, the highest category on the Saffir-Simpson scale. Matthew was the first Category-5 hurricane in the Atlantic Basin since Hurricane Felix of 2007, the second-longest period on record.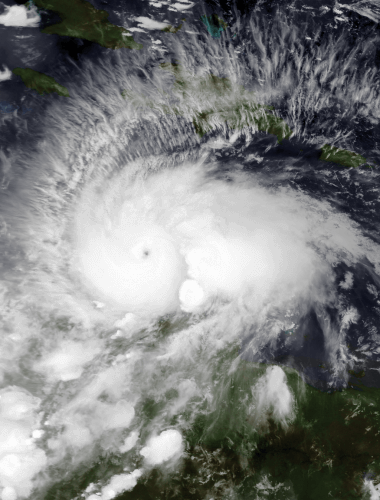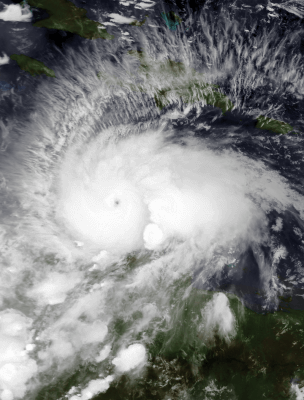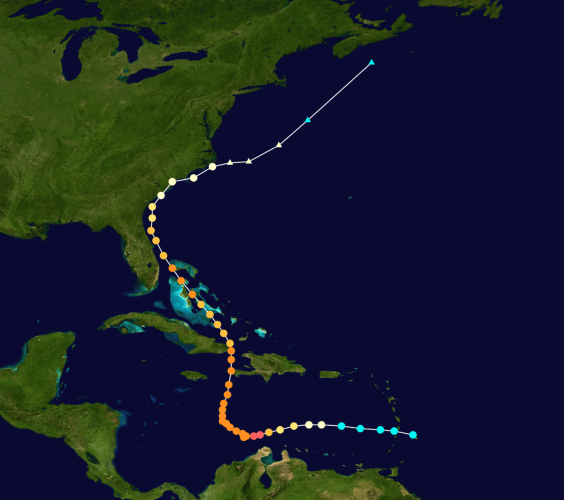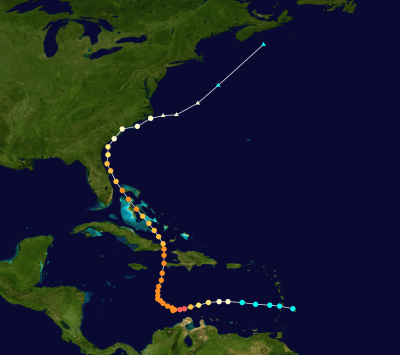 As Matthew reached peak intensity as a Category-5, it turned north* and moved towards Haiti. Matthew would weaken slightly into a Category-4 (130-156mph winds) before making landfall along the eastern peninsula of Haiti. Matthew was forecast to produce 15-25 inches of rain, with isolated areas upwards of 40 inches across Haiti and the Tiburon Peninsula.
While moving northward towards Haiti, Matthew's eye crossed right over Buoy #42058 in the central Caribbean. The buoy measured a significant drop from >80 knots to near 15 knots. As the southern eye-wall approached from the south, the winds increased drastically to well over 80 knots once again.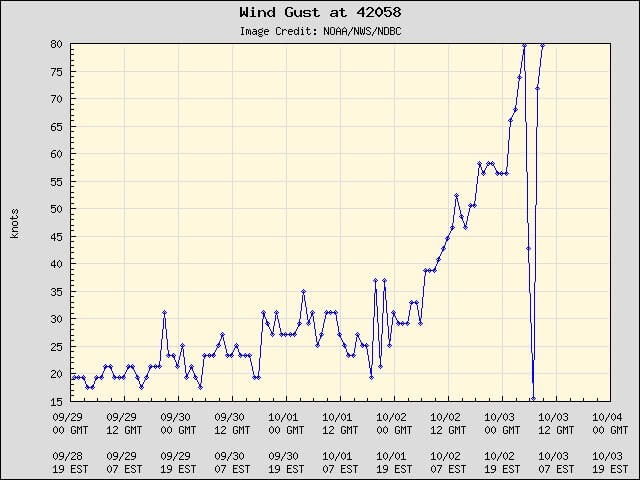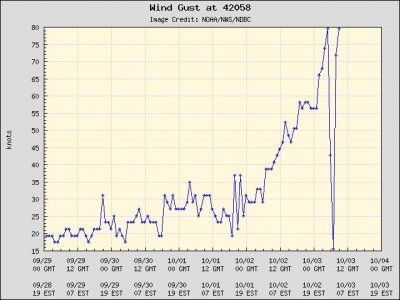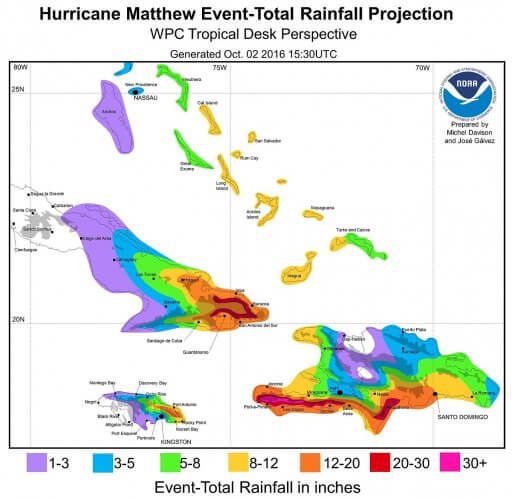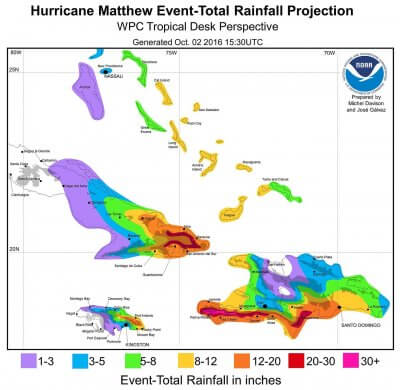 Due to a lack of forestry as a result of widespread deforestation across Haiti, the risk for mudslides and flash flooding increased tremendously. A humanitarian crisis has unfolded across Haiti since Matthew's landfall, with the death toll over 1,000 as of October 12th at 8:00pm EDT. Satellite imagery and officials estimated that over 100,000 structures have been damaged or destroyed in Haiti.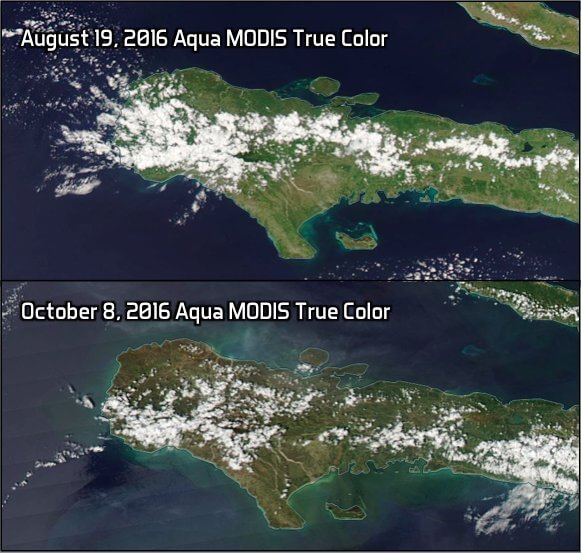 Matthew was the lowest latitudinally occurring Category-5 hurricane ever recorded in the Atlantic Basin occurring at a latitude of 13.3°N, lower than Hurricane Ivan's record setting latitude of 13.7°N in 2004. Hurricane Matthew was one of the longest lasting Category-4/5 hurricanes in recorded history in the eastern Caribbean, with a duration of 102 hours as of October 5th at 1800z / 2:00pm EDT (eastern daylight time) as per the National Hurricane Center and NOAA Hurricane Hunters. Matthew also had the 3rd highest pressure ever recorded in a Category-5 hurricane in the Atlantic Basin of 941 millibars.
After catastrophic impacts in Haiti, Matthew continued moving to the north and northwest towards Cuba and the Bahamas as a Category-3 major hurricane. Haiti's geography consists of steep terrain along the Tiburon Peninsula, and weakened Matthew slightly after landfall. However, given extremely warm sea surface temperatures (despite shallow waters) over the Bahamas, Matthew was able to regain strength into a powerful Category-4 as it neared Nassau.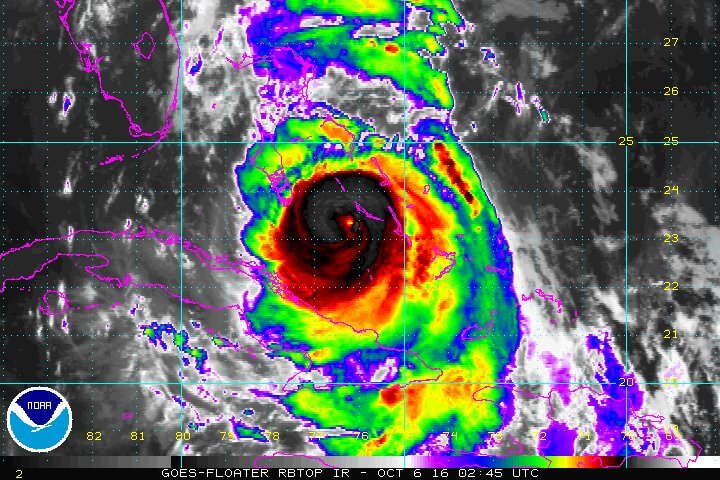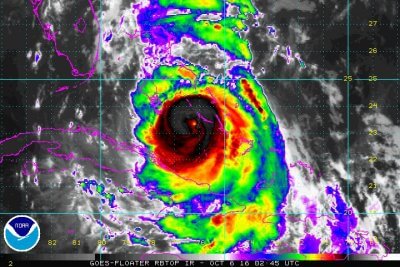 While Matthew moved into the Bahamas on October 5th, evacuations were ordered across the eastern coast of Florida where over 2,000,000 people were evacuated. Evacuation orders occurred along the coasts of Georgia and South Carolina as well, as Matthew was forecast to track dangerously close to the southeastern coast of the U.S. through the Columbus Day weekend.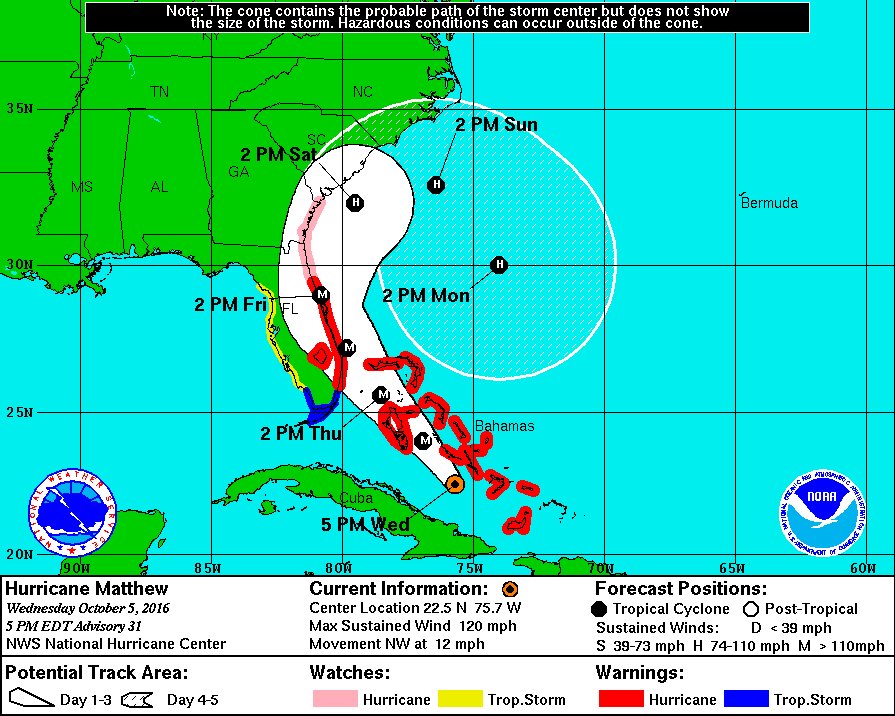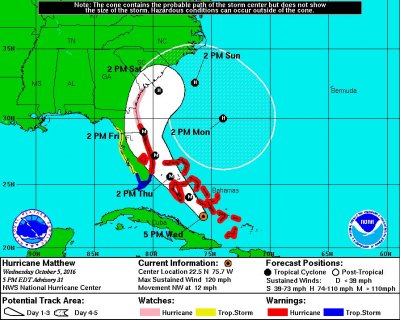 Re-strengthening into a powerful Category-4 with 140mph sustained winds as it neared Nassau, urgent messages within the impact based Hurricane Warnings were issued by multiple National Weather Service offices across the east coast of Florida. Certainty was high that Matthew would track very near the east coast of Florida, but any slight deviation to the west or east could mean a slight variation in the potential for devastating impacts.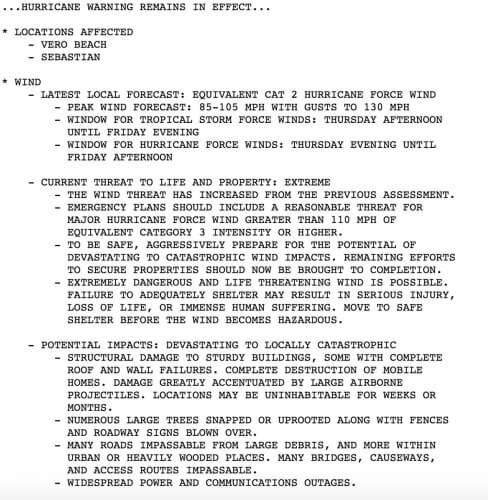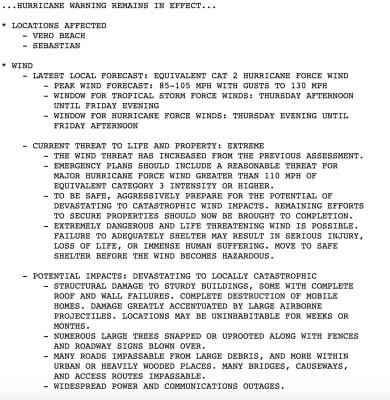 Thursday night on October 6th, Matthew approached the vicinity of the east coast of Florida, sparing the southeastern coast of Florida from complete devastation as the eye-wall remained a few tens of miles off shore. As Matthew moved northward along the Florida coast, it wobbled east-to-west slightly (of which is through the trochoidal motions mentioned previously that tropical cyclones undergo when they turn or shift in their track). The majority of the central and northern coasts of Florida suffered severe to devastating damage. Shorelines were altered, extreme beach erosion occurred, highways along the coast were destroyed or washed away, houses and small buildings were damaged, and a new inlet also formed near Jacksonville, Florida.
Picture shows damage on A1A in Vilano beach #firstalertwx #HurricaneMatthew pic.twitter.com/u7HKdoRC2v

— ActionNewsJax (@ActionNewsJax) October 7, 2016
unbelievable shot of Flagler Beach. A1A also collapsed in Vilano Beach @FCN2go pic.twitter.com/buHzxkZyjk

— anne schindler (@schindy) October 8, 2016
The eye of Matthew remained off shore from the coast Florida; however, the eye-wall came within roughly 4 miles of Daytona Beach, Florida, on Friday. Widespread damage occurred in Dayton Beach as well.
Getting our first look at the damage at Daytona Beach #MatthewOnFOX #HurricaneMatthew #Fox35 pic.twitter.com/LHqZ27sioE

— Kirstin Delgado (@KirstinWINKNews) October 7, 2016
The forecast accuracy of the operational models was extremely accurate in Matthew's track along the southeastern U.S. coastline. During the re-intensification process over the Bahamas, Matthew had a drop in its central pressure of 5 millibars in 90 minutes, and a total of 21 millibars 9 hours — a classic case of rapid intensification.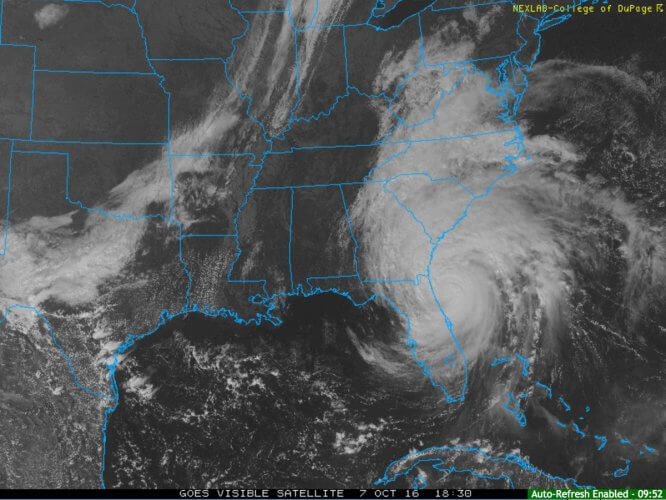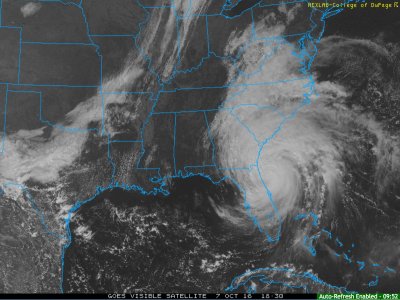 Forecasts indicated that Matthew would gradually weaken as it paralleled the southeastern U.S. coastlines. Matthew weakened into a Category-2 (96-110mph winds) leading into Friday night as it moved towards the Georgia and South Carolina coasts. Note: Regardless of a tropical system's category, it is still dangerous.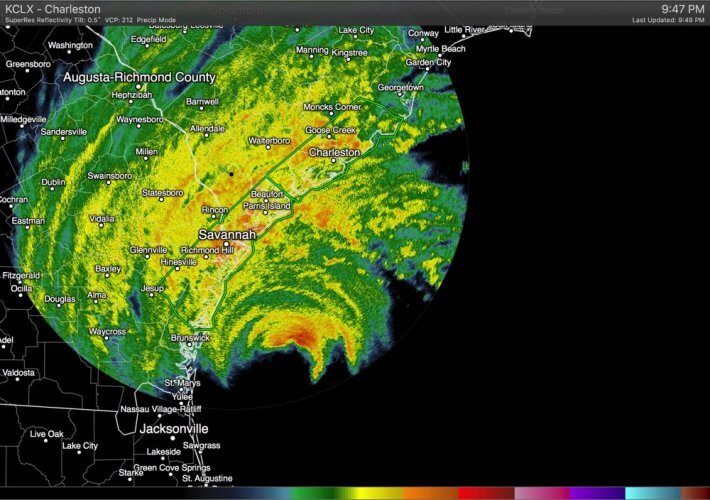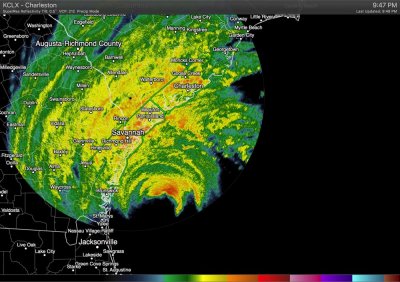 Unlike when Matthew paralleled the Florida coast and its eye-wall remained off shore, thus keeping the majority of severe storm surge away from the coast, Matthew showed no signs of wobbling eastward as it neared the South Carolina and Georgia coastlines. As a result, tidal gauges along the coastline from Savannah, Georgia, to Charleston, South Carolina, and northward, began to rise at extremely fast rates on Friday night.
The tidal gauge at Fort Pulaski near Savannah, Georgia, rose to a record breaking tidal level of 12.56 feet, surpassing the previous record of 12.2 feet set on September 4th, 1979. The rapid increase in water levels are a function of the storm surge as the eye-wall of Matthew generated very large waves, and pushed the water towards land.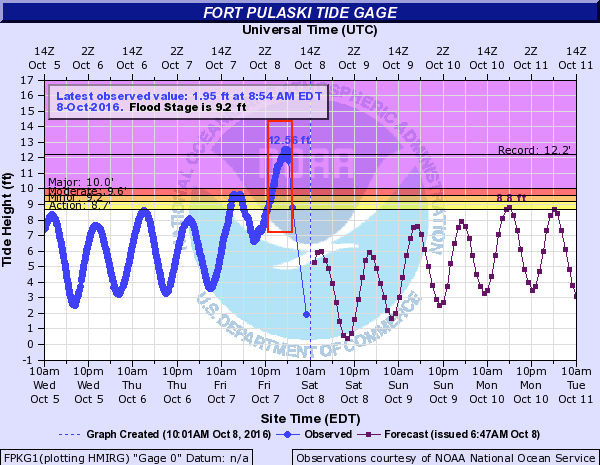 A tidal gauge at the Charleston Harbor in Charleston, South Carolina, was measuring tidal levels 3 feet higher than normal at low tide at 3:30pm EDT on the afternoon of October 7th. Throughout the afternoon, tidal levels began to rise and a tidal rise of 1.2 feet in one hour was measured just three hours later. Later Friday night, the tidal gauge measured a water rise near 4.5 feet in just 4 hours in Charleston, South Carolina, recording the 3rd highest tidal level ever recorded in Charleston of 9.29 feet.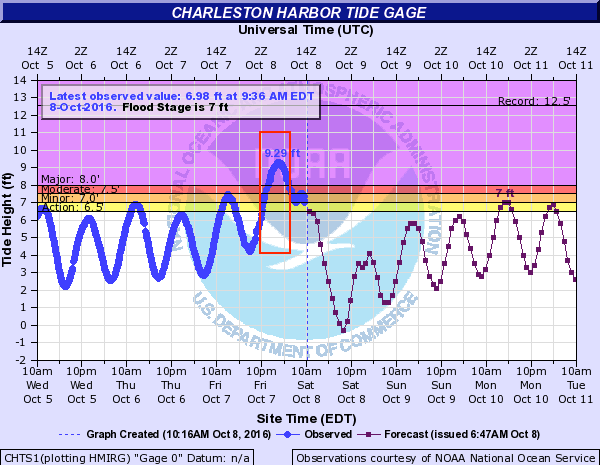 Devastating damage occurred from the Georgia coast through the eastern coast of South Carolina late Friday night into Saturday night as Matthew trekked northwards towards North Carolina. Hurricane Matthew made landfall on Saturday in McClellanville, South Carolina, as a Category-1 hurricane. 
Palmetto Road Edisto Beach,SC @chswx @ABCNews4 @Live5News @SEisbergWCIV @JimCantore @weatherchannel @FoxNews pic.twitter.com/NJUFxkdkPn

— Shawn Bergeron (@BergeronShawn09) October 8, 2016
Major inland flooding also occurred across much of eastern South Carolina, where rainfall totals were in excess of one foot in many areas, including areas near downtown Charleston.
Charleston city market is flooded out as well. Major flooding at East Bay/Market. pic.twitter.com/xn1dvLcJm7

— Bill Melugin (@BillFOXLA) October 8, 2016
After landfall, Matthew continued to move north ,and produced widespread and intense rainfall across much of North Carolina. Multiple river levels, as per river gauge data, rivaled levels that were produced from Hurricane Floyd in 1999, and many river levels set new records. The death toll in North Carolina alone is at 17, with a total death toll in the U.S. from Matthew now at 42 as of 3:45pm EDT, October 14th.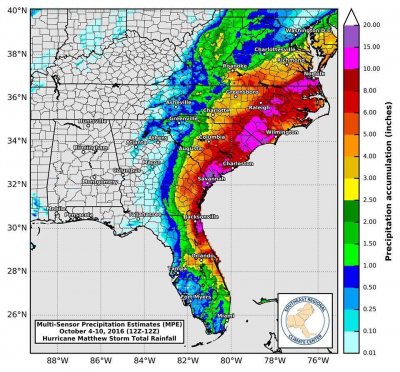 Widespread significant flooding continues across much of North Carolina, and river levels continue to rise across much of the central part of the state. River levels are expected to decline in the next week. In all, over 1,000 lives were lost in Haiti, and 33 in the United States by Hurricane Matthew (deaths also occurred in Colombia, and the Dominican Republic).
Damage in the U.S. is currently estimated at over $5 billion USD, and rising. Matthew has been one of the deadliest hurricanes in the Atlantic Basin since the 2005 season, and will likely have its name retired by the World Meteorological Organization.
Similar Posts: